Contrary to what those glossy photos on Instagram would suggest, the miles game isn't all about First Class lounges and bottomless champagne. When award space refuses to open up and mistake fares are nowhere in sight, a budget airline may offer the cheapest and most convenient way of getting from Point A to B.
That said, it probably comes as no shock that I don't look forward to my budget flights. On the occasions where they're unavoidable, I just grit my teeth and keep checking the inflight map to see how long more till landing (oh wait, there's no seatback screen to check it on). 
But when it comes to ZIPAIR? Completely different story. 
A wholly-owned subsidiary of Japan Airlines, ZIPAIR began operations in October 2020 and started flying between Singapore and Tokyo-Narita in September 2021. 
On first glance, it looks like your typical low-cost carrier (LCC), operating a single-type fleet of Boeing 787s with a premium and standard cabin. An LCC with a premium cabin isn't all that revolutionary; after all, Scoot and Jetstar have offered this for a while now. 
But where ZIPAIR really shakes things up is with its choice of premium cabin product. Instead of a recliner or angled-flat seat, ZIPAIR is offering something that would look right at home in Business Class on a full service carrier: reverse herringbone flat-bed seats, with all-aisle access.
The airline, rather unimaginatively, calls this ZIPAIR Full-Flat, and for the asking price I reckon it's a steal. I paid 78,660 JPY for a one-way Full-Flat ticket from Tokyo-Narita to Singapore, plus an additional 8,400 JPY for a Premium bundle with the following inclusions:
23kg check-in allowance
Seat selection
Inflight meal
Amenities kit
It was time to see if this could be the best LCC flight of my life. 
✈️ tl;dr: ZIPAIR B787-8 Full-Flat

ZIPAIR Full-Flat is Business Class stripped down to the bare essentials, but it's a godsend for budget-conscious travellers who can't compromise on comfort.

👍 The Good

👎 The Bad

Brand new leather seats with a very comfortable lounging and sleeping experience

Free Wi-Fi and streaming entertainment for all passengers

Wallet-friendly fares

Expect the usual LCC model of nickel and diming, whether it's seat selection, meals or luggage

No priority check-in, baggage handling or boarding for Full-Flat passengers
🇯🇵  Land of the Sinking Yen
Check-in 
ZIPAIR departs from Tokyo-Narita Terminal 1, and uses the 'C' check-in counters in the North Wing. 
Unlike other airlines which segregate check-in desks based on cabin of travel, ZIPAIR segregates them based on destination. In addition to the flight to Singapore, a flight to Bangkok was checking in at the same, creating two different lines. Make sure you join the right one!
Related to that, here's an important concept to understand: ZIPAIR Full-Flat is not Business Class. ZIPAIR offers one class, with two seats (Full-Flat and Standard). This means there's no priority check-in, baggage handling or boarding for Full-Flat passengers. It's first-come-first-serve.
In other words, all passengers flying to Singapore joined the same queue. Thankfully, this line was relatively short compared to the line for Bangkok, which snaked around several times. 
If you wish to check a bag, ZIPAIR's charges for checked bags on the NRT-SIN route are as follows: 
14kg: 3,500 JPY
23kg: 4,500 JPY
32kg: 5,500 JPY
I had a 23kg allowance, but my bag weighed in at 29kg so I had to pay a 1,000 JPY top-up fee, plus a 1,000 JPY airport service fee. Lesson learned: if you think you're overweight, go online and upsize your bag at least 24 hours before departure!
ZIPAIR doesn't offer complimentary lounge access to Full-Flat passengers (remember, you're an Economy passenger with a better seat), but my Priority Pass did let me access the Korean Air Lounge. This was a completely forgettable lounge, overcrowded with a mediocre F&B selection consisting of pre-packaged snacks and instant noodles. Skip.
Boarding began 30 minutes before departure, and didn't take place in any particular order apart from priority for passengers with infants. 
In fact, the first sign that ZIPAIR has any sort of class distinction comes at the aerobridge, where passengers are split up depending on seat type.
ZIPAIR B787-8 Full-Flat
ZIPAIR currently operates the B787-8 exclusively, with four aircraft in the fleet. These have a total of 290 seats, split into 18 Full-Flat and 272 Economy, and compare extremely favourably to B787-8s operated by other LCCs like Scoot and Jetstar (both 335 seats).
ZIPAIR uses JAMCO Venture reverse herringbone seats, laid out in a 1-2-1 configuration. All seats are upholstered in leather, measuring 20″ wide and with 42″ of pitch (incidentally, they're the same kind used on KLM's B787-10s).
Unlike ZIPAIR's mint and forest green logo and livery, the cabin adopts a black and white palette (ZIPAIR calls it "harmony grey"), with the only splash of colour coming from the patterned headrest cover. It all felt fresh and brand new, as well it should for an airline this young. 
If you want to select your seat beforehand, ZIPAIR charges for seat selection for both Full-Flat and Standard seats, with a fee that varies depending on route. 
Route
Seat Selection Fee
(Full-Flat)
NRT ⇄ ICN

300 JPY / 3,600 KRW

NRT ⇄ BKK

1,000 JPY/ 320 THB

NRT ⇄ SIN

1,000 JPY/ S$13

NRT ⇄ HNL

1,500 JPY / US$14

NRT ⇄ SJC

2,000 JPY / US$18

NRT ⇄ LAX

2,000 JPY / US$18
Be warned, you can only choose your seat once. If you later change your mind and want to select a different seat, you'll need to pay another seat selection fee. 
In case you were hoping to choose a seat for free during online check-in, bad news. First, there is no customer-initiated online check-in. At the 24 hour mark, the system will automatically check you in, assign seats and issue digital boarding passes. 
ZIPAIR states that assigned seats cannot be changed, even at the airport. I don't know how much of this is scare language designed to make you pay the seat selection fee, but I did notice the crew were quite strict about passengers changing seats even after the cabin doors had closed. 
The 18 Business Class seats are split into five rows of 2-4-4-4-4, with the first row lacking the D/G middle seats due to a storage area. Couples who take the middle seats can slide the privacy divider back, but the positioning of the side console means they'll need to lean forward to talk. 
The A/K seats are better suited for solo travellers, and I picked 4K on the starboard side of the aircraft. The seats felt very private thanks to the angle as well as the privacy wing, and when walking down the aisle you can't really see anyone unless you consciously turn your head. 
At this point I should probably ask: did you notice anything missing in the photos above?  In an effort to save weight, ZIPAIR has not installed any seatback IFE screens on its aircraft. An elastic pouch with the safety card and other informational materials is placed where the screen should be. There is inflight entertainment however, delivered via wireless streaming. 
The lack of screens means the inflight safety demonstration is done the old fashioned way- with cabin crew standing in the aisle. 
The seat's armrest could be raised for lounging or lowered for a wider sleeping surface. Its retracting mechanism was relatively new and still had a lot of spring in it. 
Located on the side console was a small storage nook, as well as the seat controls and power outlets. 
Seat controls were touch-sensitive, and featured three pre-set positions, lighting adjustments and a do-not-disturb button. There was no way to adjust individual components of the seat like the leg rest or back rest. 
Below the seat controls was a small webbed pocket that could hold a phone or loose items. 
The storage nook had to be kept clear during take-off and landing, but could be otherwise used during the cruise phase of the flight. This was large enough to fit a tablet and water bottle. Both a universal power outlet and USB Type-A port were located below, together with an attendant call and light button.
The tray table has a lovely origami design to it, sliding out from beneath the side console and then unfolding in two stages. When fully deployed, it's sturdy enough to support a laptop with no noticeable bouncing when typing. It can also be pushed away from your lap to allow easy entry and exit from the seat, even during mealtimes.
Above each seat was a pair of individual air nozzles, allowing you to get additional cooling if you wanted. 
Having flown to Tokyo in Business Class on a Japan Airlines B787-9, I want to state for the record how much more I prefer ZIPAIR's seats. First, they're upholstered in leather, which felt much cleaner than the stained fabric seats of JAL. Second, they're a lot newer than the JAL seats, which carry many battle scars from the years of service. Third, they feel much wider because of the bigger footwell and lack of a protruding tray table. 
In fact, if we ignored the soft product completely, I'd much rather fly on ZIPAIR Full-Flat than JAL's Business Class, since I hardly use the airline's IFE system most of the time! 
Amenities
My package included an amenities kit (a la carte price: 2,500 JPY), and while I can't give it any marks for presentation…
…I have no complaints about the contents. 
Inside the kit was a very comfortable and smooth fleece blanket, earplugs, a self-inflating neck pillow, slippers, and a satin eye mask. The contents felt very premium, perhaps even more so than some airlines' Business Class kits! 
However, it's interesting there was no dental kit or skincare products, which customers on ZIPAIR's long-haul flights may require. 
Amenities kits must be ordered in advance, with a 24-hour deadline for flights from Japan and 48-hour deadline for flights from other countries. 
Food & Beverage
Food and drink can be ordered through ZIPAIR's onboard portal, accessible through a set of QR codes pasted to every seat. 
All payment must be made through the portal via a credit or debit card; the crew do not have a physical POS terminal.
In terms of selection, don't expect anything too gourmet. This being a budget carrier, the focus is on non-perishable foods with a long shelf-life. Think candy bars, chips, instant noodles and canned drinks. Some sample prices are given below:
| | | |
| --- | --- | --- |
| Item | JPY | SGD |
| Kit Kat Mini | 200 | ~S$2 |
| Pringles Can (53g) | 250 | ~S$2.50 |
| Mineral Water | 250 | ~S$2.50 |
| Coca-Cola | 300 | ~S$3 |
| Instant Noodles | 300-500 | ~S$3-5 |
| Asahi Super Dry | 500 | ~S$5 |
| SUNTORY Whisky | 500 | ~S$5 |
| KEIGETSU Sparkling Sake | 700 | ~S$7 |
| Bisquertt Petirrojo Cab. Sauvignon (200ml) | 800 | ~S$8 |
| Bisquertt Petirrojo Chardonnay (200ml) | 800 | ~S$8 |
| Codorniu Clasico Sparkling Wine (200ml) | 1,000 | ~S$10 |
| Tori Soboro Don | 1,200 | ~S$12 |
The package I chose came with a hot meal that needed to be selected at the time of booking. Four options were included (tori soborodon, butter chicken curry, vegetable penne pasta and spicy chicken rice), and the rest required a top up.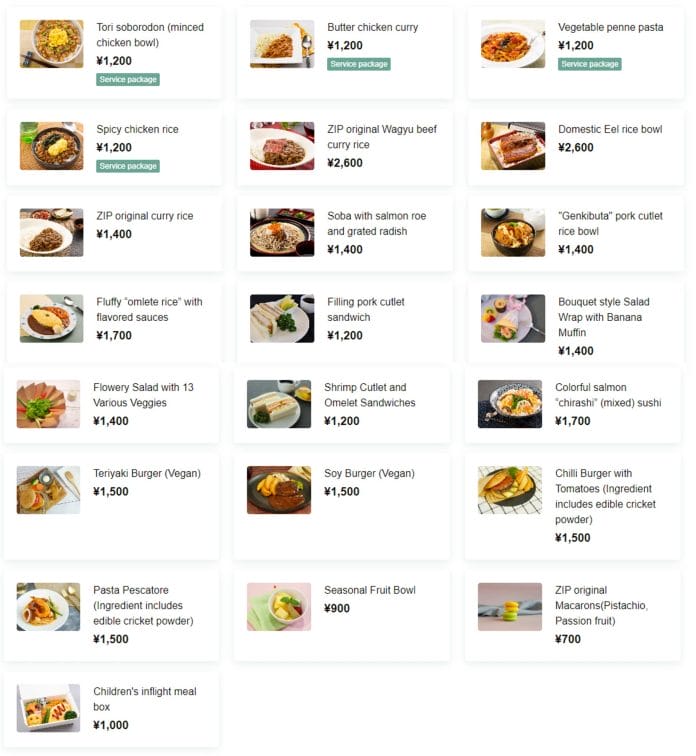 I went with the tori soborodon, a rice bowl with minced chicken. Visually speaking, it was basically an Economy Class meal, but I couldn't argue with the portion size or flavour. This, incidentally, was also the only hot item available onboard that didn't require pre-ordering, and cost 1,200 JPY. 
I paired the meal with a 250ml bottle of sparkling sake for 700 JPY. It was surprisingly good, like a slightly sweeter champagne.
In a fun little touch, the day I flew happened to be World Pocky Day (yes, it really exists), so the crew distributed free Pocky to the entire cabin!
Inflight Entertainment
All ZIPAIR passengers can enjoy complimentary streaming entertainment via the aircraft's Wi-Fi system, featuring movies, videos, eBooks and Spotify. 
The movie selection featured 10 English language movies, none of which I'd call first-run titles.
Birds of Prey

Crazy Rich Asians

Fantastic Beasts: The Crimes of Grindelwald

The Intern

Joker

The Shawshank Redemption

Sherlock Holmes: A Game of Shadows

TENET

Tom & Jerry

Wonder Woman 1984
Still, it was better than the video selection, which was basically a bunch of ZIPAIR advertisements. 
Every new selection begins with an unskippable 30 second advertisement, which might appear a little odd to someone sneaking a peek at your screen…
The streaming quality was excellent, and I didn't encounter any stuttering or buffering once playback began.
Wi-Fi
ZIPAIR provides complimentary unlimited Wi-Fi to all passengers. That's a great perk for a full service carrier, let alone an LCC. 
I was worried the network would be overloaded, but speeds remained respectable throughout most of the flight. It certainly wouldn't be sufficient for Netflix or YouTube, but I could load most webpages within 10 seconds, and stay in touch via Whatsapp and Telegram.

Sleep Experience
As the name suggests, the Full-Flat seat converts into a full-flat bed nearly 2 metres long. No mattress pad is provided, but I didn't find it necessary, given the comfortable seat padding. 
It also helped that the footwell is generously large. I could sleep on my back and still move my legs around a little, which I usually struggle to do with other reverse herringbone seats. 
Unusually for a Japanese airline, the cabin temperature was kept on the chilly side. Fortunately, the fleece blanket did an excellent job of keeping me warm (maybe they do it on purpose to sell blankets?).
If you don't want to go full-flat, there's also a preset lounging position, which reclines the seat at a roughly 135° angle.
Toilets
Don't expect any fancy bathroom amenities, because ZIPAIR's lavatories are as basic as they come. That said, the Japanese set a very high bar for "basic"; there's still automatic taps and bidet seats (in three of the seven washrooms). 
Since ZIPAIR does not have any cabin distinctions, passengers can use restrooms in whatever section they please. There are a total of seven restrooms for the 290 passengers, which is an excellent ratio for an LCC (Scoot has six for 335 passengers).
Conclusion
ZIPAIR's business model seeks to answer an intriguing question: is there a market for people who just need the comfort of a Business Class seat, and nothing more?
I seriously hope the answer is yes, because I count myself as one of them. Sure, I love the frills of Business Class, but at the end of the day what I'm solving for is (1) comfort and (2) personal space. ZIPAIR Full-Flat provides both, and with round-trip fares starting from S$1,260, it's significantly cheaper than Singapore Airlines Premium Economy (S$1,840). As a leisure traveller, I could see myself splurging. 
But even corporate travellers might bite, because if the two main concerns are productivity and rest, then ZIPAIR provides complimentary Wi-Fi and a full-flat bed. It allows them to work en route and arrive refreshed, while costing a fraction of full service Business Class. 
I'd do it again in a heartbeat.