Nestled away in a corner of Changi Terminal 1 is one of the airport's best kept secrets: the Qatar Premium Lounge. 
I say "secret" because of how blissfully unaware most passengers are of its existence. If you're flying Business Class on Finnair, Japan Airlines, or Malaysia Airlines, for example, the check-in staff will point you in the direction of the extremely mediocre contract lounges, where soggy buffet food, tetra-pack juices and dollar-store wines await.
But instead, you could be sitting down for a fine-dining experience featuring champagne and bespoke cocktails, taking an invigorating shower in a private suite with Diptyque amenities, and enjoying personalised service worthy of a luxury hotel!
It all boils down to knowing your entitlements, and those who do will always make time for what's undoubtedly the best Business Class lounge in all of Changi Airport. 
🍸 tl;dr: Qatar Premium Lounge

Beautiful interiors, excellent F&B and sublime service make the Qatar Premium Lounge the best Business Class lounge in Changi. A must visit.

👍 The good

👎 The bad

Gorgeously-designed interiors and décor

Fantastic a la carte dining menu & full service bar

Warm and friendly service by the excellent lounge team

Could do with some hot items at the buffet for passengers who need a quick in-and-out option
🇯🇵  Land of the Sinking Yen
Getting to the Qatar Premium Lounge
The Qatar Airways Premium Lounge is located post-immigration at Changi Terminal 1:
If you're coming from Terminal 1, turn left after immigration and walk towards the C gates
If you're coming from Terminal 2, exit the Skytrain and walk across the concourse to the C gates
If you're coming from Terminal 3, exit the Skytrain and look for the escalator near the C gate transfer desks
❓ Flying from Terminal 2?
If you're intending to return to Terminal 2 after visiting the Qatar Premium Lounge, it's faster to take the Skytrain to Terminal 3 and then transfer to Terminal 2, rather than walking back across the concourse to the Terminal 1 <> Terminal 2 Skytrain.
Head up the escalator near the C gate transfer desks to level 3. You'll see the Emirates Lounge, and next to it, the Qatar Premium Lounge.
Access and Operating Hours
The Qatar Premium Lounge opens from 5.30 p.m to 1.45 a.m daily (the official website says 6 p.m to 3 a.m, but I've confirmed these timings with the lounge staff directly), which means it's available to passengers on the evening QR945 and QR947 flights, but not the morning QR943. 
QR943 (departs 1055 hrs)
QR947 (departs 2025 hrs)
QR945 (departs 0200 hrs)
Access is available to passengers departing on a Qatar Airways or oneworld-operated flight:
In First Class (+1 guest)
In Business Class
In Premium Economy or Economy, provided you're arriving on a ≥5 hours First/Business Class oneworld flight, with a connection on the same day or before 6 a.m the following day
For example, a passenger arriving from London on British Airways Business Class and connecting to Kuala Lumpur on Malaysia Airlines Economy Class could access the Qatar Premium Lounge. 
Based on the current operating hours and schedule, you can use the Qatar Premium Lounge as a First or Business Class passenger on the following non-Qatar flights:
QF2 to Sydney (1915 departure)

QF72 to Perth (1915 departure)

QF52 to Brisbane (1920 departure)

MH616 to Kuala Lumpur (1930 departure)

QF36 to Melbourne (1940 departure)

UL309 to Colombo (1950 departure)

QF82 to Sydney (2005 departure)

BA15 to Sydney (2010 departure)

MH610 to Kuala Lumpur (2120 departure)

JL36 to Tokyo Haneda (2225 departure)

AY132 to Helsinki (2230 departure)

BA16 to London (2305 departure)

BA12 to London (2315 departure)

QF1 to London (2355 departure)
Unfortunately, Qatar Airways does not grant lounge access to passengers who have upgraded from Economy to Business Class using Avios (full redemptions enjoy lounge access). Passengers who purchased Business Class Lite Fares are also barred from entry. 
Likewise, oneworld Sapphire or Emerald members flying in Premium Economy or Economy Class will be sent to the SATS Premier Lounge instead (if you're a oneworld Emerald, you'll definitely want to go to the Qantas First Class Lounge anyway).
Overview: Qatar Premium Lounge
The Qatar Premium Lounge in Singapore is the airline's fifth outstation lounge after Bangkok, Beirut, London, and Paris. Opened in August 2019, it operated for just over half a year before COVID forced it to go into cold shutdown. The much-anticipated reopening took place in June this year, and while operating hours are shorter than before the pandemic, inside the lounge it's like no time has passed at all. 
An automatic glass door slides open to reveal a refreshingly minimalist entrance area, in stark contrast to the try-hard bling that some Middle Eastern carriers adopt. The sandstone wall bears an Arabic inscription reading "marhaba"- hello in Arabic, and also the much-inferior lounge that other oneworld carriers point their passengers too!
In a nod to the Singapore setting, a vase of fresh white orchids adorns a solitary table. Guests with luggage are invited to store their bags in the luggage storage room, and offered complimentary garment steaming services. 
The passageway to the lounge is lined by a decorative LED wall, where a single TV monitor displays boarding times for oneworld departures. 
With a floor space of just 700 sqm, the Qatar Premium Lounge is the smallest oneworld lounge in all of Changi. However, it never felt crowded the whole time I was there. After the passengers from QR947 cleared out just before 8 p.m, the lounge was virtually empty till I left at 10 p.m. It's a shame that so many eligible passengers miss out on this treat, but I'll take the peace and quiet!
The lounge's décor is, quite simply, gorgeous. The colour palette uses warm, muted and calming hues, as well as contemporary furnishings to create the feel of a posh living room. 
The entrance of the lounge leads into what I call "main street", divided between a communal seating area and individual lounging pods. The seating area on the left has burnt orange leather upholstered armchairs and nesting coffee tables, complete with a mini-bar and TV area.
Running along the opposite wall are five semi-private Quiet Pods. These are enclosed by soundproof walls, with universal power outlets, USB ports and a reading light. Truth be told, they're more suitable for relaxing than working since there isn't much desk space, and the chair is designed for reclining rather than sitting upright. Do note that food and drinks are not permitted in the pods (though they close one eye for water).
If you want to get serious work done, you're better off parking yourself at one of the two workstations near the entrance to the lounge, equipped with Windows desktop computers and printing facilities. Like the pods, this is a no food and drink area. 
Further inside the lounge is the first of two dining areas, known as The Garden Bistro. A lush living wall sets the backdrop for the area, offering a stylish and oh-so-instagrammable place to grab a bite.
If you just want drinks and snacks, you can opt for one of the four high tables running along the windows facing the airport's Cactus Garden.
The lounge's centrepiece is the Martini Bar, which contrary to its name, serves up every kind of libation you could ask for. It's set beneath a stunning chandelier, decorated with beautiful hexagonal tiles and finished with a white marble countertop. Eight high stools are laid out in a circle around the bar.
The Garden Bistro has space for just 12 guests, but additional seating is available at what's called The Brasserie, a more formal dining environment with seating for 16.
To the rear of the lounge are additional seating areas.
You may have noticed the low-density configuration, and indeed this is the most spacious oneworld lounge in Changi, offering passengers more than double the personal space as the Qantas Business Lounge!
| | | | |
| --- | --- | --- | --- |
| Lounge | Size | Capacity | Per Pax |
| Qatar Airways | 700 sqm | 85 | 8.2 sqm |
| British Airways | 1,005 sqm | 226 | 4.5 sqm |
| Cathay Pacific | 850 sqm | 200 | 4.3 sqm |
| Qantas First | 1,000 sqm | 240 | 4.2 sqm |
| Qantas Business | 2,200 sqm | 570 | 3.9 sqm |
If there's one thing slightly out of place in an otherwise visually-stunning lounge, it's the purple seats by the window. While these match the chairs seen in Qatar's Doha lounge, they do clash with the overall style.
Scattered throughout the lounge are nods to Qatari culture, such as books on falconry and pottery from the region.
Food & Beverage
As nice as the seating areas are, it's the dining that's the star of the show. Guests can help themselves to a cold buffet featuring breads, salads, fruits, cold cuts, cheese, and traditional Arabic mezze.
While there was nothing wrong with these, it would have been nice to see a few hot items for the sake of guests who need a grab-and-go option.
If you do have time to linger, however, take a seat and scan a QR code for the lounge's made-to-order menu. It's an impressive selection to say the least, featuring local, Middle Eastern and western options. 
For starters, I had the tempura prawns, chili king prawns and beef cubes in hoisin sauce. The chili prawns were the pick of the lot, even if "king" is a bit of misnomer. The kitchen managed to caramelise the exterior, which added that wonderful flavour that only the Maillard reaction can produce. 
For the mains, I tried the pan-seared salmon, which was served with steamed rice, mixed vegetables and a lemongrass sauce. The salmon skin was crispy and the inside still moist.
I also tried the shrimp massaman curry. I wasn't as big a fan of this dish because the shell-off prawns were very obviously frozen and lacked their natural sweetness. 
The highlight by far was the grilled rack of lamb with mashed potatoes. I asked for the lamb to be done medium, and the cook was nothing short of perfection- slightly charred on the outside for flavour, yet pink and juicy on the inside. This may very well be the lounge's signature dish, and I'd order it again in an artery-clogged heartbeat. 
During a previous visit to the lounge I ordered the grilled beef tenderloin and tagliatelle with mushroom and cream sauce, so I'll attach the photos below for your reference. The beef was decent but if you only have stomach for one protein, my advice is to take the lamb.
There's currently only one choice of dessert, so thank goodness the chocolate fondant paired with vanilla ice cream was excellent. Why change a winning combination?
In terms of drinks, two types of champagne are available: Veuve Clicquot Brut, and Bollinger Rose. Fun fact- this is the only oneworld Business Class lounge at Changi to publicly serve champagne (British Airways Lounge guests can get it too, but only on request), so make it count!
Also on the wine list are three whites and three reds, from California, France, New Zealand and South Australia. 
🍷 Qatar Premium Lounge Wine List

Wine

Type

Vivino Rating

Veuve Clicquot Yellow Label Brut

Champagne

4.3/5

Bollinger Rose

Champagne

4.3/5

Little Black Dress Chardonnay

White

3.5/5

Oyster Bay Sauvignon Blanc

White

3.9/5

Thomas Schmitt Spatlese Riesling

White

4.0/5

McGuigan Single Batch Cabernet Sauvignon

Red

3.6/5

Chateau Le Gay Merlot

Red

4.2/5

AYA Intense Syrah

Red

Not rated
You can't visit the Qatar Premium Lounge and not put the bartender through the paces. In fact, he looked positively disappointed when my first choice was champagne! He later took it upon himself to make what I suppose I'll call a Bruno Mars cocktail- not because it was derivative and offensive to all the senses, but because it was strawberry champagne on ice. 
I later asked for a classic mojito (which is actually one of the most complicated drinks to make), which was lovely too, slightly tacky plastic star stirrer notwithstanding.
If you don't fancy any of the cocktail options, feel free to ask the bartender to craft you a drink! He really loves his work, and going off-menu is no problem for him.
Here's the rest of the alcoholic options, including two choices of port, beers, and various spirits.
If you don't partake in the devil's drink, non-alcoholic options include TWG tea, freshly-squeezed orange juice, Acqua Panna and San Pellegrino water, and various mocktails. 
Self-service drinks and snacks can be found in a mini-bar area along main street.
Power & Productivity
The lounge's Wi-Fi network clocked in at 20 Mbps down and 6 Mbps up. Passwords are displayed throughout the lounge, and there's no further sign-in page required. 
Wireless charging pads are built into various table tops throughout the lounge, which reduces the number of unsightly tangled wires. 
If your phone does not support wireless charging, universal power outlets and 2x USB Type-A ports can be found beneath most of the tables. The ratio of outlets to seats is almost 1:1, so it's safe to say you won't be fighting for one here!
Showers
All toilets and showers in the Qatar Airways Premium Lounge come in individual suites, and can be found at the rear.
There's two showers each in the men's and ladies' sections, plus an additional unisex accessible shower room. Of the two shower suites, only one has an attached toilet, so take note if that's important to you.
Shower suites have luggage racks, which will come in useful for transit passengers living out of a suitcase. You can also pull out a vanity bench from beneath the sink for sitting while you wear shoes.
An invigorating shower awaits thanks to the Grohe rain shower heads, flush mounted with the ceiling. Water pressure was good, and the single-use Rituals bath products have been replaced by bulk-sized Diptyque hand wash, body lotion, shampoo, conditioner and body wash.
Toothbrush kits, cotton buds and shower caps were provided by default.
Service
The service at the Qatar Premium Lounge is absolutely top-notch. 
Staff are warm, professional, and above all personable. They approached passengers personally to inform them about boarding times, to see if their drink needed freshening or to coax them to indulge in more of the menu. Used plates and cups were quickly cleared, and toilets always in tip-top condition.
Really, this feels like the kind of service one would expect in a First Class lounge.
Conclusion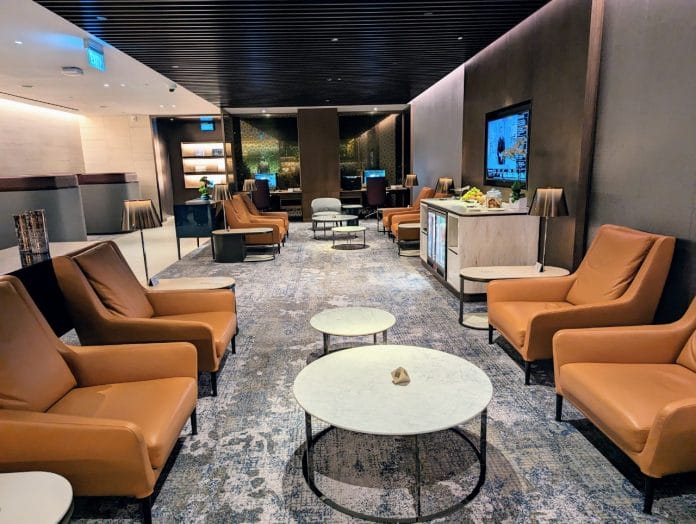 There's no doubt in my mind that the Qatar Premium Lounge sets the standard for all Business Class lounges at Changi Airport. It even beats the Singapore Airlines SilverKris Lounge, although I know that's a somewhat unfair comparison insofar as the Qatar lounge is set up to serve 85, versus the 1,150 of the SilverKris. 
The interior is gorgeous to behold, the quality of F&B is excellent, and the staff make you feel right at home. Add the unrivalled amount of personal space, and I can't see why a Business Class passenger would rather go anywhere else.
Unless, of course, they didn't know.