From now till 18 December 2022, SingSaver is running its biggest-ever offer for the Standard Chartered Smart Card, which maxes out at S$350 cash. The previous highest offer we've seen for a Standard Chartered card usually maxes out at S$300 cash.
Like all good offers, this is only available to new-to-bank customers.
Get S$350 cash with a new Standard Chartered Smart Card
Apply
❓
New-to-bank Definition
New-to-bank customers are defined as those who do not currently hold a principal Standard Chartered card, and have not in the 12 month period before application. Debit cards, supplementary cards and corporate cards do not count.
From 5-18 December 2022, new-to-bank customers who apply for a Standard Chartered Smart Credit Card will receive a choice of the following gifts:
S$350 cash
Apple AirPods Pro Gen 2
Dyson AM07 Fan
Applications must be received by 11.59 p.m on 18 December 2022 and approved within 14 days to be eligible. A minimum spend of S$500 on qualifying transactions (see below) is required within 30 days of approval.
The full T&Cs can be found here.
⚠️ Alternative Offer
Standard Chartered is running its own offer of S$300 cashback with no minimum spend.
However, do take note that the bank is now applying what I call a "lifetime cashback cap" concept. You can read the full details in the T&Cs, but tl;dr: if you previously signed for a Standard Chartered credit card and received cashback from Standard Chartered as your welcome gift, that amount will be offset from the S$300 cashback this time round.
If you're in that situation, you're better off applying via SingSaver where you'll still be eligible for a gift (so long as it's been more than 12 months since you cancelled your last Standard Chartered card).
SingSaver Score Big Draw
As a reminder, SingSaver is closing out 2022 with a campaign called Score Big, with a S$30,000 prize pool up for grabs to customers who apply for credit cards, priority banking, travel insurance and other products.
In addition to the usual sign-up gifts, customers will be eligible for the grand draw where they can win the following prizes:
3x round-trip Economy Class flights to Doha on Qatar Airways
3x iPhone 14 Pro Max 128GB
3x Macbook Air 13″ M2 Chip 256GB
3x Samsung Galaxy Z Flip4
30x Lumos Ray Smart
1x PlayStation 5 FIFA 23 Bundle
1x PlayStation 5
You'll be automatically enrolled in the draw when you apply for a Standard Chartered Smart Card, with 1x entry.
The lucky draw will take place on 30 June 2023, and winners will be announced on this page by 7 July 2023. The T&Cs for the lucky draw can be found here.
Application Steps
Apply through any of the links in this article
You will be directed to a SingSaver landing page. Enter your email address and click "confirm"
Complete your application and take a screenshot of the Application Reference Number (for Standard Chartered, it's in the format SGYYYYMMDDxxxxxx)
Fill in the SingSaver rewards form that will be sent to your email. It's vital you fill in the form– no form, no reward.
You'll be able to indicate your choice of gift in the rewards form if applicable.
Qualifying Spend
The approved card must be activated and a minimum qualifying spend of S$500 made within the first 30 days of approval.
Qualifying spend excludes, among other things:
Government transactions
Education expenses
Insurance premiums
Charitable donations
GrabPay top-ups
The full exclusion list can be found in the T&Cs.
Gift Fulfillment
All gifts will be fulfilled within 4 months of approval.
Do note that you will not receive your gift immediately upon meeting the minimum spend- the reason for the delay is the need to confirm eligibility with the bank. Please take note of this timeline before applying, and only apply if you're willing to wait.
For those who want to track the fulfillment of their reward, SingSaver provides fulfillment timeline updates for Citibank and Standard Chartered cards on its website.
Any enquiries about gift fulfillment should be sent to [email protected]
Recap: Standard Chartered Smart Card
Apply
T&Cs
Income Req.
Annual Fee
FCY Fee

S$30,000 p.a.

None

3.5%

Regular Earn

Bonus Earn

Cap

Up to 0.64 mpd

5.6 mpd/7.7 mpd on fast food, streaming, public transport

S$818 per statement month
The Standard Chartered Smart Card has a S$30,000 income requirement and no annual fee.
Cardholders normally earn a very underwhelming 1.6 rewards points per S$1 spent (equivalent to 0.46/0.64 mpd depending on whether you hold a Standard Chartered Visa Infinite or X Card- see the explainer below) on all spending.
❓ Got Visa Infinite?
StanChart's rewards ecosystem is much more favourable to those with a Standard Chartered Visa Infinite or Standard Chartered X Card. These cardholders can redeem KrisFlyer miles at an enhanced rate of 2,500 points = 1,000 miles.
All other cardholders redeem KrisFlyer miles at a rate of 3,500 points= 1,015 miles.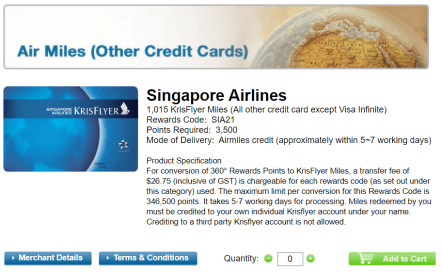 Here's the fun part. If you have a Visa Infinite or X Card, all your rewards points can be redeemed at the 2,500 points = 1,000 miles rate. You can see this illustrated in my example below- the 100 points on my Rewards+ card are pooled with those from the X Card.
tl;dr: 1 SCB rewards point= 0.4 miles for Visa Infinite cardholders, and 0.29 mpd for all others.
However, if cardholders spend on fast food, streaming entertainment or public transportation (no min. spend required), they'll earn:
the regular base rate of 1.6 rewards points per S$1 (0.46/0.64 mpd)
a bonus of 17.6 rewards points per S$1 (5.10/7.04 mpd)
This means a total earn rate of 19.2 rewards points per S$1 (5.57/7.68 mpd), capped at S$818 per statement month. That's actually really good if you frequently spend on these categories.
Category
Merchants
🍔 Fast Food

Burger King

Fun Toast

KFC

McDonald's

Subway

Toast Box

Ya Kun Kaya Toast

📺 Streaming Entertainment

Disney+

Netflix

Spotify

YouTube

🚆 Bus/MRT
For comparison, the best alternative cards would earn "only" 4 mpd on such transactions (e.g. UOB Preferred Platinum Visa for mobile payments at fast food merchants, or the Citi Rewards for monthly streaming subscriptions).
This bonus rate is valid till 31 December 2023.
Conclusion
SingSaver is offering S$350 cash for new Standard Chartered Smart Cardholders who spend at least S$500 in the first 30 days of approval, which is an excellent offer if you don't already hold a Standard Chartered credit card.
Do remember to submit your application by 18 December 2022 to be eligible.