I'm taking a year-end break, so in the meantime, do enjoy this series of posts exploring some lesser-known stories about Singapore Airlines!
The Singapore Airlines name is world famous today.
Its brand value is estimated to be in excess of US$2 billion, it's a fixture on award lists of every sort, and the average traveler has probably heard of it, even if he can't find our little red dot on a map.
But if history worked out a little differently, we might be calling our national carrier Mercury Singapore Airlines instead. It could still be the same decorated company, with the same service that other airlines talk about, but it'd have one heck of a weird name.
Fortunately, Mercury Singapore Airlines never made it to a billboard, much less an aircraft livery. In fact, the closest it got to an advertisement was a single job listing from early 1972. The name was floated, approved and retracted, all within the space of a frenzied six months that would shape Singapore's aviation legacy.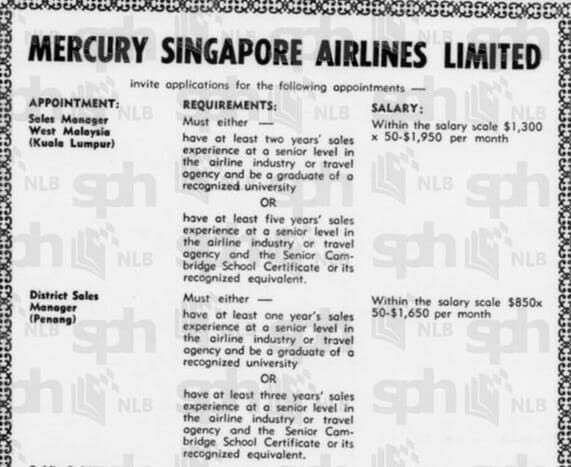 But why Mercury, anyway, and why did it make our neighbors so upset?
✈️ The Nostalgia Series

This post forms part of The Milelion's Nostalgia Series, where I look back at a different aspect of Singapore Airlines' history. If you like this post, do check out the rest!

SIA's Boeing 747 Slumberettes: So good that other airlines complained

Orchard Rows: The story of SIA's ill-fated jackpot machines

Read It!
Read It!

Cigarettes, jackpots and live bands: SIA's IFE through the years

The Young Explorer Club: SIA's FFP for kids

Read It!
Read It!

Hugo's in the Sky: SIA's gastronomic partnership with Hyatt

MSA: Mercury Singapore Airlines, or Malaysia Says Alamak

Read It!
Read It!
Before KrisFlyer: Singapore Airlines' other frequent flyer programs
Read It!
The Breaking Up Is The Hardest Part
To understand why anyone would even consider naming an airline Mercury Singapore Airlines, we first need to understand the origins of the national carrier itself.
Singapore's path to a national airline traces back to 1 May 1947, when Malayan Airways Limited began services from Singapore to Penang via Kuala Lumpur and Ipoh with a single Airspeed Consul aircraft. There was room for five passengers, the only refreshments were bottles of cold water, and there was no inflight movie. Services gradually scaled up across the region with the longer range and roomier DC-3, allowing for the introduction of "female pursers" (the forerunner of the Singapore Girl) and an expanded inflight menu (now featuring booze!).
On 16 September 1963, the Federation of Malaysia was formed, and Malayan Airways Limited was renamed accordingly to Malaysian Airways Limited. Singapore was expelled from the Federation two years later, and in May 1966, a 10-year inter-governmental agreement was reached to convert Malaysian Airways Limited into Malaysia-Singapore Airlines, or MSA.
The joint name was meant to project a picture of unity, and the hope was that MSA could follow the example of SAS, run harmoniously for decades by Denmark, Norway and Sweden. But therein lies the fundamental difference: Denmark, Norway and Sweden don't argue about who invented chicken rice.
The first cracks appeared in September 1968, when Malaysian Prime Minister Tunku Abdul Rahman voiced his dissatisfaction with the way the joint airline was being run, claiming that many decisions were taken without Malaysia's knowledge or prior consultation. Two years of on and off talks failed to reach a consensus on how management decisions would be made, and there were deep disagreements about strategy.
Singapore wanted to focus on expanding profitable international routes, while Malaysia wanted to focus on extending politically-important (but loss making) domestic services to rural parts of the country. Malaysia wanted to see more Malaysians employed in MSA, while Singapore disagreed with implementing national quotas. Malaysia was unhappy that all receipts from overseas stations were routed through MSA's headquarters in Singapore, while Singapore saw it as a simple matter of process efficiency.
Robert Kuok, then chairman of the MSA board, recounts the following in his memoirs:
You couldn't have had worse bickering than between the Singapore and Malaysian Government-nominated directors. If one side raised a point and asked for a resolution to be passed, the other side would object. Each side tried to peel off the skin to see what hidden agenda existed under that resolution.

The Board meetings grew increasingly acrimonious. I made an appointment to see Goh Keng Swee to appeal to him to hold back his aggressive Singapore directors. I hinted that the game was getting very one-sided. I was acting as referee, but I was seeing the poor Malaysian directors slaughtered at every meeting because the Singapore directors had minds as sharp as razors.

In fairness, I must say the contribution to running the airline properly and efficiently came almost entirely from the Singapore side. The Malaysian side was too subjective and often allowed their feelings to influence their comments. The writing was on the wall: the airline would separate.
There was also growing sentiment on the ground that both countries should have their own national airlines, as a matter of prestige. A last-ditch effort to save MSA by setting up a separate local Malaysian airline fell through, and on 26 January 1971, it was announced that MSA was to be split in two.
Mercury Rising
While it was hoped that this Solomon-style bifurcation would lead to peace, the divorce was always going to be messy.
Two bodies, one Singaporean and one Malaysian, would be set up to run the affairs of MSA during its transition period. Agreements had to be worked out regarding the splitting of assets including routes, 22 aircraft, local and overseas offices, ramp servicing and transport equipment, engineering and maintenance bases, right down to the last piece of cabin cutlery.
Yet the biggest fight wasn't going to be over the Kriscom IBM reservations system, or the flight kitchen at Paya Lebar Airport (which made the most excellent satay). No, things were about to go pear-shaped over three little letters: MSA.
On 29 January 1972, Singapore dropped a bombshell by announcing that its national airline would take the name Mercury Singapore Airlines.
Mercury Singapore Airlines would start operations in the second half of 1972, inheriting most of MSA's international routes and all its Boeing aircraft (5x B-707s, 5x B-737s) plus two Fokker F-27s.
Lim Chin Beng would be appointed MD of the new airline, and when quizzed by a reporter why "Mercury" was chosen, retorted "Isn't it obvious? Mercury suggests speed, swift movement." What he also said, but perhaps later regretted being so brazen about, was that the name also allowed for the retention of the initials MSA.
But if Mr. Lim knew his mythology, he might have been aware that Mercury's equivalent in the Greek pantheon was Hermes. Hermes was a cunning god, and Homer records the story of him as an infant audaciously stealing a herd of cows from his older brother Apollo.
The parallels were clear enough, and the Malaysians, understandably, cried foul.
❓ Why Mercury though?
Why most people understood the necessity of retaining the MSA initials, they were less clear on why exactly "Mercury" was chosen.
The Straits Times eventually dug up an unnamed historian who offered the following tidbits:
Sir Stamford Raffles once left Penang for Singapore in the vessel Mercury commanded by JR Beaumont

In the early 1900s, another vessel named Mercury helped play an important part in laying several hundred miles of cables for Cable and Wireless here

Later, Mercury House was built in Robinson Road for the Cable and Wireless headquarters
It feels like a tenuous connection to me, but there you have it.
Kuala Lumpur believed that there was a gentleman's agreement between the two governments not to use the initials "MSA" when forming their own airlines. And while Malaysia had skirted awfully close by calling its own company Malaysia Airline System (MAS), they probably didn't expect the Singapore side to be so brash about their choice of name.
It wasn't just the principle of the matter- there were very real financial implications. From 1966 till 1971, about S$30 million was spent on advertising and publicizing Malaysia-Singapore Airlines under the MSA banner. MSA had already developed a reputation for excellent service, and there was certainly a lot of goodwill attached to the name.
Malaysia was peeved, to say the least, and accused Singapore of acting in bad faith in a statement issued by the Malaysian Communications Ministry:
"The Malaysian Government considers that the use of the letters MSA by the new Singapore national airline is not an act of good faith. Singapore's adoption of the letters MSA is an attempt to give the impression to the general public, both locally and internationally, that the Singapore airline, which is a completely new airline company, has inherited the goodwill as well as the other assets of Malaysia-Singapore Airlines."
What then kicked off was a he said/she said saga, with MSA joint-chief J.Y. Pillay claiming he was not aware of any such verbal or gentleman's agreement, and that Singapore was not restricted in its choice of an airline name.
But it came off as a bit disingenuous, and the optics looked bad for Singapore. Mercury Singapore Airlines was going to inherit the MSA goodwill, without so much as paying a cent. Even on this side of the causeway, various newspaper columns and letters to the editor suggested that Malaysia was getting the short end of the stick.
Naturally, the issue became political fodder as some politicians in Malaysia suggested they name their own airline MSA too (Malaysia Sendiran Airline). Tunku Abdul Razak was pressured to scrap the upcoming visit of Singapore PM Lee Kuan Yew as a protest against the decision (a call he ignored), and a S$50 million goodwill payment was mulled for using the MSA name.
With all this going on in the background, Singapore and Malaysia negotiators were attempting to draw up an air services agreement that would set out landing rights for the two airlines, divvy up the lucrative Singapore-Kuala Lumpur route, establish the ability of Mercury Singapore Airlines to carry passengers between airports in Malaysia and more.
The kerfuffle about the MSA name didn't help, and unsurprisingly, talks stalled.
The clock was ticking down to the breakup of MSA, and even though Mercury Singapore Airlines was trying to hire staff and set up overseas offices, everything was in limbo until this hurdle could be cleared.
The Singapore Airlines Compromise
Someone had to blink, and on 28 June 1972, it was announced that Singapore would drop the initials MSA and the name Mercury Singapore Airlines.
It was further revealed that PM Lee had agreed in March to a Malaysian proposal to settle the dispute in court, but following further discussions in April and June, an agreement was reached.
The four points of the agreement were:
Singapore and Malaysia would settle the MSA dispute out of court
Singapore would not use the name Mercury Singapore Airlines or initials MSA for its new national airline
From 1 July 1972, each national airline could overprint its name as the Singapore or Malaysian successor in MSA advertisements
Negotiations on an air services agreement, which had been held in abeyance for some time, should be resumed
All this meant that Singapore's new airline was in need of a name, and the rumor mill carried options like Singapore Air, Air Singapore Majulah, Singapore Airlines, National Singapore Airlines, Singapore International Airlines, and Singapore National Airlines. Majulah Singapore Airlines was excluded, for obvious reasons.
The name was announced at 3 p.m on 30 June 1972 during a company-wide meeting, and really, there was only one possible outcome:
A massive worldwide advertising blitz was launched the day the new name was unveiled, with TV, radio and newspaper campaigns.
If you look closely at the ads, you'll see this little tag added to the Singapore Airlines logo- a nod to the four point agreement set out between Singapore and Malaysia regarding MSA-related marketing.
There are some who believe that the whole MSA naming saga was merely froth, serving as a convenient distraction for the masses while more pertinent issues like air defense and economic development were discussed behind the scenes. We'll probably never know, but regardless, I'm relieved the Mercury Singapore Airlines name never made it beyond the incorporation papers.
With this settled, all focus could be on the official launch of Singapore Airlines on 1 October 1972, and there were no further missteps, except perhaps that ill-advised launch party with models in SIA logo-studded bikinis…
But that's another story for another time.
Conclusion
As it turns out, the Mercury aka Hermes tale has a happy ending after all.
Apollo goes looking for his cattle and finds Hermes in a cave, where the boy god feigns ignorance and claims he doesn't even know what a cow is. Apollo drags him before Zeus, who is amused by Hermes' antics but nonetheless orders him to return the stolen property.
All the cows are returned (except two, which have been killed), and Apollo is all ready to let Hermes have it when he whips out a lyre and plays the most beautiful song that Apollo has ever heard. Apollo decides he can't stay mad at Hermes, trades his cattle for the musical instrument, and the two become besties and live happily ever after.
I think there's an object lesson in there somewhere.
Although Singapore Airlines didn't end up taking the MSA initials, they did borrow from them in other ways, most notably the slogan: A Great Way To Fly.
And it's safe to say that Singapore Airlines has, if nothing else, lived up to that.
Even if they dodged a bullet with the name.