Singapore Airlines resumed two-terminal operations in October 2022 after shifting all flights to Terminal 3 at the start of COVID. Terminal 3 handles long-haul departures, while Terminal 2 handles regional flights. 
✈️ SIA Departures from Changi Airport

Terminal 2

Terminal 3

Brunei 

Cambodia 

Indonesia

Malaysia

Myanmar

Philippines

Thailand

Vietnam

All other destinations
Both terminals have their own SilverKris First and Business Class lounges, but the Terminal 2 facilities are significantly smaller and more basic than their Terminal 3 counterparts (and keep in mind it's been more than a decade since the last renovation).
Fortunately, eligible passengers can use the lounges in whichever terminals they please, and assuming time is not an issue, should almost always default to Terminal 3. That's especially if they're travelling in Singapore Airlines First Class (as opposed to accessing the lounge via Solitaire PPS Club status), because of the Terminal 3-only The Private Room.
But for the sake of those curious, here's what the experience is like at the First Class lounge in Terminal 2.
🍸 tl;dr: SilverKris First Class Lounge Changi Terminal 2

A basic, bare-bones lounge that has none of the charms of its Terminal 3 counterpart, and is long overdue for a renovation.

👍 The good
👎 The bad

More convenient for passengers departing from Terminal 2, I guess?

Lacks seating variety, with no sleep areas or productivity pods

Smaller selection of F&B with fewer cooked-to-order items

No private shower rooms

Limited charging outlets
Getting to the SilverKris First Class Lounge
There are two SilverKris First Class Lounges at Changi Airport, one in Terminal 2, and another in Terminal 3. This post deals with the former; for a review of the latter, refer to the post below. 
Review: Singapore Airlines SilverKris First Class Lounge, Changi Terminal 3
After clearing immigration, turn left and head towards the E Gates. There'll be signage pointing you in the correct direction. 
Terminal 2 is still undergoing renovations, and the handful of shops and amenities in operation are at the F Gates. The E Gates aren't even being used for departures yet, so you'll need to budget a bit more time to cross back to the F Gates to catch your flight.
On the flip side, the featureless walk means it's almost impossible to miss the lounge. Signage is abundant, and you'll find an escalator on the right at the end of a long corridor. Head up to the third floor…
…and you'll see the KrisFlyer Gold Lounge on the left, with the SilverKris Lounge down the corridor. 
Access and Operating Hours
The SilverKris First Class Lounge at Changi Terminal 2 is open from 0500 to 0100 hours daily. Outside these hours, you'll need to shack up in the 24-hour Business Class section.
Access to the First Class section is available to passengers departing on a Singapore Airlines flight in:
First Class (+1 guest)
Any cabin, with Solitaire PPS Club status (+1 guest)
Access is also available to passengers departing on a Star Alliance flight in:
All guests must be travelling on the same flight as the eligible passenger, per Star Alliance policy.
First Class passengers and Solitaire PPS Club members arriving in Singapore on a Singapore Airlines flight may also visit the lounge, together with one guest on the same flight.
On a side note, here's my reviews of the two other Singapore Airlines lounges in Terminal 2: The KrisFlyer Gold Lounge, and SilverKris Business Class Lounge.
Review: Singapore Airlines KrisFlyer Gold Lounge Changi Terminal 2
Review: Singapore Airlines SilverKris Business Class Lounge Changi Terminal 2
Overview: SilverKris Lounge Singapore T2
The SilverKris Lounge in Terminal 2 was Singapore Airlines' flagship lounge until Terminal 3 opened in 2008. The last major overhaul came in 2011, and only minor touch ups were made during the COVID period, so it might be wise to moderate expectations.
The First Class section seats a total of 61 guests, which sounds tiny until you remember that Singapore Airlines does not offer First Class on any regional flights except Jakarta, so this is effectively a lounge for Solitaire PPS Club members. 
Just inside the entrance is a service desk, which can assist with tasks like rebooking flights, seat change requests, or adding a different frequent flyer number to your boarding pass (in instances where you want to access the lounge via one FFP, and credit the miles to another). 
Slightly further in are a soundproof room for kids, a meeting room with office swivel chairs (the best place to get work done in this lounge, since it lacks productivity pods), and two booths for taking telephone calls. All have partially-frosted glass for greater privacy.
Further down the corridor are the male and female restrooms to the right, a KrisShop display to the left, and the lounge proper straight ahead.
The First Class lounge offers a tended bar, although it must be said it isn't anywhere near as eye-catching as the Lalique crystal-adorned one in Terminal 3. Guests can pull up one of the eight bar seats, enjoying barista-made coffee in the morning (6-10 a.m), and cocktails in the evening (3-9 p.m).
Beyond the bar is the dining area, with booth seating and a smattering of two and four-top tables. 
The lounge then opens up into one big seating area, which feels very exposed, lacking any partitions for privacy or visual separation. While the furniture is virtually identical to pre-COVID days, the carpets have been updated to match Terminal 3.  There isn't a lot of seating variety here; forget recliners, productivity pods, communal tables or sofas, it's armchairs galore.
Believe it or not, but the First Class lounge in Terminal 2 has something the Terminal 3 lounge lacks: natural light, streaming in from windows along the far end (though there isn't much of a view as they look out to a concrete parapet). And yet I doubt anyone will pick Terminal 2 over 3 just for that, which just goes to show how much good interior design can compensate for.
It's also strangely empty in places, like a passageway where you'd think they could have put a few productivity pods. 
An annex with four lounge chairs and a TV can be found at the rear of the lounge. The business centre which was open pre-COVID has been blocked off by potted plants.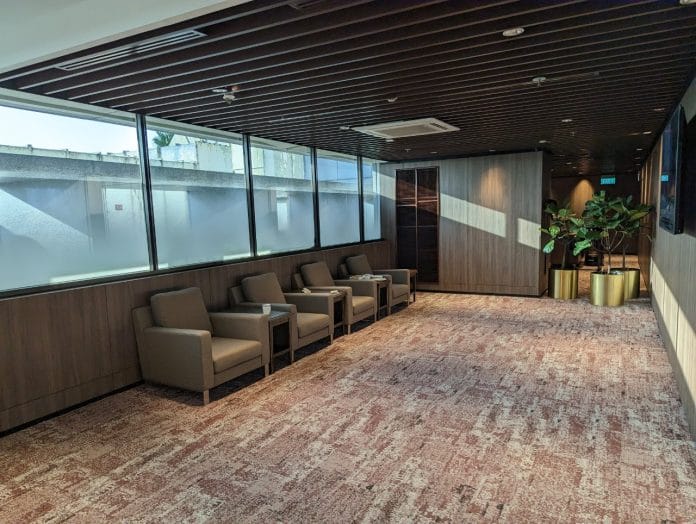 In many ways, stepping inside this lounge is like stepping into a time machine, and a reminder of how far lounge design has come in a decade. This was a perfectly good lounge in the early 2000s, luxurious even, but now feels completely inadequate. 
Food & Beverage
The lounge's buffet is laid out across several marble-topped tables, plus an island in the middle.
As this lounge is much smaller than the Terminal 3 location, sacrifices have to be made. They still find room for a live cooking station, but the selection (prata and bak chor mee) is much smaller- T3 was serving six different items on the same day. 
Next to the cooking station was a set of heat lamps with bacon and hash browns, a tureen with oatmeal, and a warm cabinet with croissants and waffles. 
Further on was a selection of breads with preserves and cereals, plus a cold area consisting of cheese, yoghurt, and boxed sandwiches. 
The other buffet items were arranged on a separate island, with the usual breakfast staples like dim sum, ham, sausage, pancakes, and scrambled eggs, as well as some unexpected items like brussels sprouts and mixed-grain fried rice.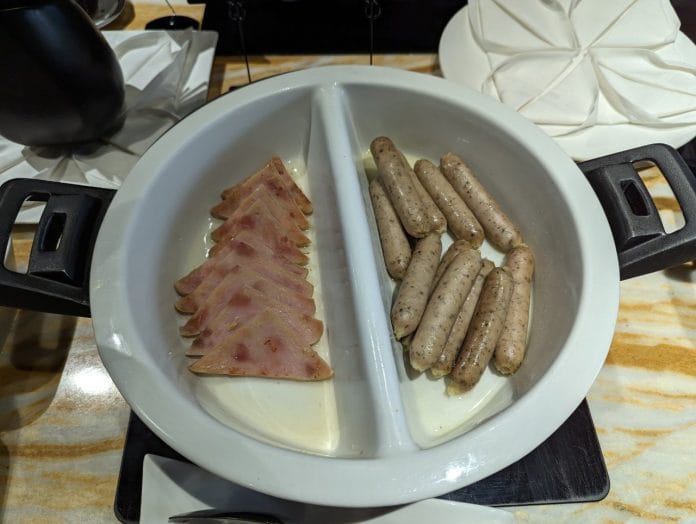 Singapore Airlines used to serve Häagen-Dazs ice cream, but haven't done so ever since July 2022 when the vanilla flavour got recalled due to high levels of pesticide. My guess is they signed a contract for Mövenpick during that period, so that's what we're stuck with for the foreseeable future. 
In terms of drinks, there's two Boncafe bean-to-cup machines and a selection of TWG teabags.
🍷 SilverKris Lounge Changi T2 Wine List

Wine

Type

Vivino Rating

🇪🇸 Ontanon Rioja Reserva 2011

Red

3.7/5

🇦🇺 Torbreck Woodcutter's Shiraz 2018

Red

3.9/5

🇦🇺 Wairau River Sauvignon Blanc 2019

White

4.2/5

🇦🇺 Giant Steps Sexton Vineyard Chardonnay 2019

White

4.0/5

🇫🇷 Taittinger Millesime Brut 2015

Champagne

4.2/5
The wine selection closely mirrors what's available in Terminal 3 (this isn't a Great Emirates Wine Hunt kind of situation), though the champagne is different. Terminal 3 was serving a non-vintage Taittinger Prelude Grand Cru, while Terminal 2 got a Taittinger Millesime Brut 2015.
Both retail at around S$100 a bottle, a far cry from the S$240-a-bottle Piper Heidsieck Rare Millesime 2006 that used to be served. 
Finally, inside the drinks chiller are canned Tiger and Heineken beer, Marigold Apple and Orange juice packets, Schweppes mixers, soft drinks, bottles of Evian and cans of Perrier. 
Power & Productivity
The SilverKris Lounge's Wi-Fi network clocked in at 25 Mbps down and 20 Mbps up, based on a lounge at 50% occupancy. This was fast enough for video calling and streaming, though it's nowhere close the triple-digit speeds that Qantas offers in its Changi lounges. 
While power outlets are abundant in the Terminal 3 lounge, they're somewhat lacking in Terminal 2. You can find universal power plugs with Type-A and Type-C USB charging ports between some armchairs, but not all (at least the plugs have been upgraded from pre-COVID days, when they accepted only Singapore plugs).
Other outlets are placed in strange locations, such as partially obscured by furniture…
…or running along a wall with no seating (the chairs that were here pre-COVID have been removed). 
Restrooms & Showers
The SilverKris Lounge has its own male and female restrooms and showers.
However, they're nothing compared to the modern and private ones in Terminal 3. Forget fancy electric bidet seats, all you get here is a hose.
Also forget about individual shower suites with en suite toilets. The two shower rooms here are inside the main restroom.
Shampoo and body wash are provided in wall-mounted pump dispensers, and in what's surely a marketing miss, have generic labels. 
Lalique hand balm and cologne are available, together with a shaving kit, dental kit and hairbrush.
Conclusion
Should you visit Singapore Airlines' First Class lounge in Terminal 2?
Well, if you're flying on Singapore Airlines First Class, you'd have to be insane to skip The Private Room in Terminal 3. There's simply no comparison in terms of the F&B you'd receive over there versus here.
Even if you're a Solitaire PPS Club member or a Star Alliance First Class passenger, you'd have a much superior experience in the First Class Lounge in Terminal 3. The décor is nicer, there's more dining options, and there's individual shower suites, productivity pods, and nap rooms. 
The only scenario I could see someone going to the Terminal 2 lounge is if they're a Solitaire PPS Club member who's seen it all, and just want a convenient place to sit before their flight (of course, there will always be those who don't know they can visit the Terminal 3 lounge, and that's just tragic).
I highly doubt that Singapore Airlines intends to leave these lounges as-is until Terminal 5 arrives in the mid-2030s. Let's hope the renovation isn't far away.
What's your take on the SilverKris Lounge in Terminal 2?