After arriving in Taipei, we had a three-hour layover before our China Airlines flight back to Singapore.
STARLUX and China Airlines don't interline, so we had to clear immigration, collect our bags, check-in again, then clear security and immigration once more. Fortunately, this took less than 30 minutes, thanks to my APEC Card (Taiwan allows cardholders to bring one guest, but in any case The MileLioness, independent woman that she is, has her own).
We spent the remaining time in China Airlines' VIP Lounge, which despite the fancy-sounding name is open to all Business Class passengers. I had high hopes based on the publicity photos, but sadly, this is an instance of a lounge looking better than it performs.
🍸 tl;dr: China Airlines VIP Lounge TPE

China Airlines' flagship lounge looks stunning, but stumbles when it comes to basics like F&B and showers.

👍 The Good

👎 The Bad

Gorgeous interior design that overcomes the inherent limitations of the space

Only two shower rooms, one of which was in very poor condition

Mediocre food and beverage selection that doesn't do justice to Taiwan's food culture
🌸 Popping My Cherry Blossom
Access and Operating Hours
China Airlines has two lounges at Taipei Terminal 1, both located on the 4th floor. They're imaginatively called 'A Side' and 'B Side', referring to which set of gates they're closer to. In reality they're located along the same corridor, barely a five-minute walk apart. 
The A Side lounge is the larger of the two, hosting 228 passengers to B Side's 65. It also has more facilities, including showers, restrooms, luggage storage, and a business centre. In any case, the B Side lounge is currently closed, so you don't have a say in the matter.
The A Side Lounge is open from 5.30 a.m to 11.30 p.m daily, and access is available to:
First and Business Class passengers departing on or connecting to/from a same-day international China Airlines or SkyTeam operated flight
Dynasty Emerald or Paragon members, or SkyTeam Elite Plus members departing on or connecting to/from a same-day international China Airlines or SkyTeam operated flight (+1 guest)
Guests must be travelling on a flight operated by a SkyTeam member airline, but need not necessarily be on the same flight. 
Overview: China Airlines VIP Lounge Taipei T1
The China Airlines Lounge in Taipei was renovated in 2014 under the airline's NextGen programme, meant to inject some life into its dated facilities and cabin products.
The results speak for themselves. Even though the lounge is almost a decade old, it's held up remarkably well in terms of design. From the moment you step inside and head down the wood and stone-lined corridor, it's hard not to be impressed by how premium the aesthetic feels.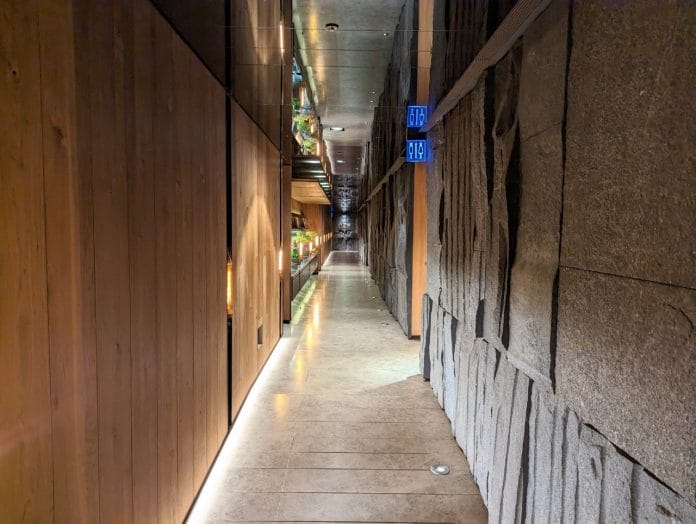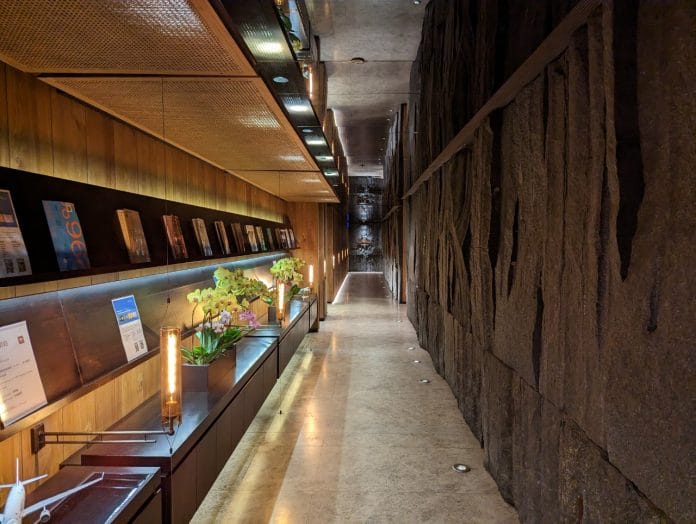 Along the corridor is a locker area, for storing carry-on items you don't wish to drag all over the lounge. Keys can be obtained from reception.
Two sleeping rooms are near the lockers, with felt-lined slumber chairs. Unfortunately, boarding announcements still play in this room, so you won't be snoozing too well. As a matter of hygiene, I thought they might have added a disposable headrest cover too. 
There's also a well-appointed nursing room, with chaise lounge, changing table and sink.
Before you reach the end of the passageway, there's a door to an exclusive area for Paragon/Emerald members. Per my understanding, this features the same food as the regular lounge, but has upgraded drinks (including champagne). It seats 74 passengers, roughly half the 154 passenger capacity of the main lounge. 
The main Business Class lounge is at the end of the hallway, marked by bronze lettering on solemn Hualien granite stone. 
Turn the corner, and you're greeted with this.
Really, you have to give the designers credit. They were given a difficult hand to play, since this lounge lacks any sort of natural light. Yet they somehow found a way to make it feel warm and inviting. In places it even feels like an upscale reading room, with leather surfaces and velvet sofa fabrics.
Towards the rear of the lounge is a dining area, consisting of two-top tables plus communal tables.
The lounge started to fill up as the evening progressed, presumably with customers connecting to China Airlines' North America and Europe flights. If I had one criticism of the layout, I'd say it's not the best for privacy. Most of the times you're seated facing other guests (such as in the sofa areas), or in full view of everyone (in the dining area). 
It would have been nice to see some productivity pods added for working, or else more partitions to divvy up the space into public and private zones.
Food & Beverage
At the entrance of the lounge is a refreshment station, featuring (stale) pastries and preserves, as well as milk tea, hot tea, juices, spirits and wine. Amazingly, this was the only place in the entire lounge where you could find water, in a single 1.5-litre bottle that was quickly emptied every time it was replenished. 
The wine selection was weak, to say the least. There was one red, one white, and no sparkling option. Wines cost US$15 or less, and tasted like it. 
The main buffet area is located at the rear of the lounge, with some pre-prepared items as well as a noodle bar. 
Hot items included dim sum (the liu sha bao was completely solid inside), noodles, stir-fried vegetables, and other items I'm sure someone in the comments section can help identify. 
A separate station had vegetarian options, including sweet potato balls, fried spring rolls and tea eggs.
The noodle bar offered four options: Taiwan beef noodle soup, noodle soup with quail eggs and Taiwanese pork, noodle with meat sauce and Taiwanese pork, and a Beyond Meat sauce noodle.
While the standees had visible reminders that the food was catered by the Novotel Taipei Airport, I'm not entirely sure if they want their name associated with this, because the quality was severely lacking. The soup was watery, the beef was tough, and the chef rather grumpy. This pales in comparison to Cathay's noodle bars, that's for sure.
Cold items consisted of salad, fruits and nuts.
Three kinds of soup were served: red bean with tangerine peel, onion, and lily flower with pork ribs.
Inside the fridge was an assortment of soft drinks, Yakult, milk, chrysanthemum tea, soya bean milk, grape juice and beer. I wonder if that's the beginning of a wonderful cocktail, though we'll never know because the lounge had no bar. 
I've seen other reviewers give glowing praise to the F&B in this lounge, but I remain unconvinced. If you've experienced Taiwan's great food culture, you'll know that this falls far short of the mark. Maybe it used to be better in the past, but there was nothing here that warranted a second bite, much less a second helping. 
Power & Productivity
The lounge's Wi-Fi network was blazing fast, clocking in at 252 Mbps down and 165 Mbps up.
Power outlets were plentiful, and could be found between seats and under tables. While they had universal sockets, there were no USB chargers or wireless charging mats to be seen.
Two desktop computers were available in the business centre along the entrance corridor, and the reception can print documents upon request.
Showers & Toilets
Showers and restrooms are located near the lounge reception. 
Male and female restrooms were generally clean, and in line with the rest of the lounge, had aesthetically-pleasing circular basins and hanging pendant mirrors. 
The showers, however, were a weak point. There's only two of them, which is woefully inadequate for what's supposed to be a transit hub (and before you point out there's a second China Airlines lounge in the same terminal, that one doesn't have showers!). If showering is a priority, I'd recommend requesting one the moment you arrive- there could be long waits during peak periods. 
Unlike the bathrooms, these felt rather icky. The water pressure was a mere trickle, the glass had a long crack patched over with tape, and the toilet lacked so much as a bidet hose. I also disliked the fact that the bath towel didn't come wrapped in plastic, because you don't know what it's been exposed to. 
Still, at least the China Airlines lounge has showers (and restrooms); these are inexplicably missing from the STARLUX Galactic Lounge!
Conclusion
While China Airlines' Taipei lounge is pretty to look at, it doesn't quite deliver what you'd expect from a flagship facility. The food & beverage quality was a let down, the showers were badly maintained (plus there's not enough of them), and it's certainty not something I'd recommend arriving early at the airport for.
I'm not a fan of EVA Air's Tron-esque lounge design, but I reckon its Taipei lounges would handily beat China Airlines' for substance.