China Airlines took delivery of the first of 25 Airbus A321neos in November 2021, which will replace its ageing Boeing B737-800 fleet by 2025. These offer a much-enhanced passenger experience, with a reimagined cabin developed by JPA Design.
Initially deployed to Hong Kong, the A321neo later popped up on other intra-Asia routes before being rotated to Singapore in February 2023. While a narrow-body jet might mean more cramped confines, this was a big upgrade for Business Class passengers since the A330-300 it replaced had ancient angled-flat seats and no inflight connectivity.
There's no shortage of quality on the Singapore-Taipei route, with Singapore Airlines, EVA Air and STARLUX all offering compelling Business Class products. Could China Airlines match up to the competition? 
Yes in some ways, no in others.
✈️ tl;dr: China Airlines A321neo Business Class

China Airlines' narrow-body Business Class offer comfortable full-flat beds, though the catering is poor and its Wi-Fi plans expensive.

👍 The Good

👎 The Bad

Full-flat seats with wireless charging, Bluetooth connectivity and 4K screens

One of the best crews I've had on any flight

Very poor quality F&B, and no champagne


Only 10

0MB of free Wi-Fi for Business Class passengers; all paid plans are volume-based
🌸 Popping My Cherry Blossom
China Airlines A321neo Business Class
China Airlines seats a total of 180 passengers on its A321neo, split into 168 in Economy Class and 12 in Business Class.
The 12 Business Class seats are customised versions of the Stelia Aerospace Elysium, split into three rows of 2-2. 
JPA says that Business Class is meant to reflect the central theme of "a traditional tea pavilion set in lush green landscapes, featuring a colour palette of rich warm brown that evokes the  feeling of a tea house interior". I certainly didn't think "tea pavilion" when I boarded, but I found the cabin to be a breath of fresh air compared to China Airlines' older aircraft- sophisticated, elegant, calming.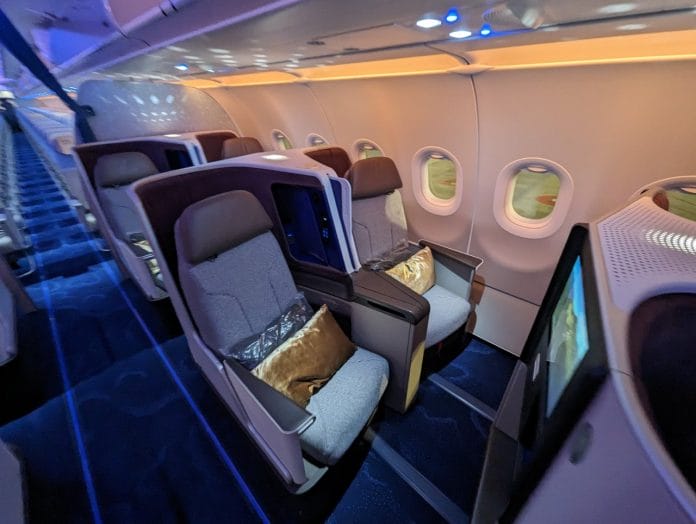 The main drawback of these seats is that they don't offer all-aisle access. If you're in the window seat, you'll need to "cowboy step" over the aisle passenger to visit the washroom. 
Then again, none of the competition offer all-aisle access on their equivalent aircraft: STARLUX offers 2-2 flatbed seats on its A321neo, while EVA only has recliners on its A321-200 (and is unlikely to upgrade them, given their pivot away from narrow-bodies). In that sense, the hard product is sufficiently competitive, though not world-beating.
We picked the third and final row of seats, 12 A/C. While some passengers avoid the final row because it's most proximate to the Economy Class cabin (with bassinets just behind), frankly speaking any noise is going to easily carry over to the front of Business Class. You're on an A321, not an A380 after all.
While window seats have good privacy, the aisle seats are lacking in this regard, since China Airlines decided against installing a wing around the headrest. Whoever sits here will be fully exposed to passengers moving up and down the cabin, as well as their neighbour across the aisle. 
On the plus side, if you don't know your seat mate, a sliding privacy divider means you won't have to see them. This has a built-in vanity mirror, though the other passenger might find it strange when you start making faces at the divider!
While footwells are angled together, they have a full-height divider to separate legs- unlike Lufthansa's infamous "footsie" configuration. 
Storage space is limited, but there's a small cubby that can fit perhaps a small tablet. Inside this cubby is a universal power outlet with a Type-A USB port, plus a wireless charging pad.
While I love wireless charging, its implementation on aircraft still leaves a lot to be desired. Charging speeds are slow (probably 5W at maximum), and because the pad is nestled inside the cubby, you can't actively monitor the screen to see if your phone is charging (as anyone who uses wireless charging knows, lining up the connectors can be fiddly). 
Instead of physical buttons, China Airlines has installed capacitive seat controls. These are easier to clean (no crevices for food or grime to get stuck), though they're harder to "blind press" because there's no notches to guide your fingers. Controls had presets for full flat and full upright; you couldn't adjust individual components of the seat.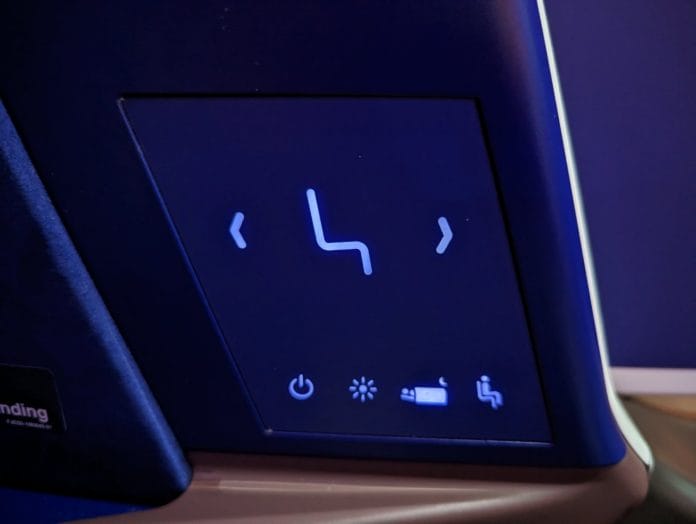 Inflight entertainment is provided on 15.6″ 4K displays, providing crystal clear images. Even though they're touch-sensitive, they're located too far forward for comfortable navigation- you'll develop gorilla arm before long. Fortunately, there's a wired remote, which has a touch-sensitive trackpad that can be used like a mouse. 
Beneath the inflight entertainment screen is a fold-down cocktail table. This added some much needed surface space, though I wish they had built a "lip" around the edges to make it feel slightly less precarious.
The tray table was sturdy, and larger than I expected for a narrow-body aircraft. I liked that it could be swivelled away from the seat to allow you to exit easily even when deployed.
Inflight Entertainment
China Airlines offers AVOD entertainment from tip to tail on its A321neos. The system supports phone or tablet pairing for screen control, picture-in-picture, and has more than 125 movie titles, plus TV shows and music. 
The selection was more than adequate for this four-hour flight; you can check out the selection on your upcoming flight here.
Generic noise-cancelling headphones are provided. They were comfortable to wear, but didn't perform as well as the ones provided by STARLUX. 
The good news is that you can pair your own Bluetooth headphones. Pairing worked seamlessly.
Inflight Wi-Fi
China Airlines offers Wi-Fi connectivity across its A321neo fleet, with the following free allowances: 
Business Class: 100MB
Economy Class: Unlimited free texting 
Unlike its A350 and B777 aircraft, which offer time-based plans, the A321neo is volume-based only. Seriously, how much surfing is 100MB of data going to get you?
Once your free allowance is consumed, additional packages can be purchased for the following prices: 
| | | |
| --- | --- | --- |
|   | Price (Cash) | Price (Dynasty Miles) |
| 50MB | US$8 | 2,000 miles |
| 100MB | US$10 | 3,000 miles |
| 300MB | US$20 | 4,500 miles |
The absence of time-based packages means you'll need to sip your data rather than gulp. In departure from usual traditions, I didn't even do a speed test on this flight because I didn't want to burn more of my allowance than I had to.
Food & Beverage
Business Class passengers were served pre-departure beverages, although China Airlines (like STARLUX) does not serve alcohol on the ground. Instead, a choice of juice or water was offered. 
The crew also distributed menus and took meal orders before departure. 
Packaged nuts were served before the meal began. No one tell Heather Cho, please!
The appetiser of ginger duck with pineapple roll and ham and asparagus mixed with mashed sweet potato didn't sound very promising, and indeed it wasn't. This was served cold, and I took one nibble and sent the rest back.
For the main course, I went with the braised chicken thigh, stuffed with burdock and served with sesame steamed rice. The rice was mushy, vegetables were overcooked, and the chicken had that taste you get when you put it in the microwave too long. Bread was served cold. 
The MileLioness had roasted turmeric sea bass in lentil tomato curry, which also went mostly uneaten. When EVA Air is partnering with Din Tai Fung and STARLUX with Longtail, this really doesn't cut it. 
Dessert was a mascarpone cream mousse cake and Häagen-Dazs ice cream. The meal might have been salvageable if it were vanilla, but alas- strawberries and cream!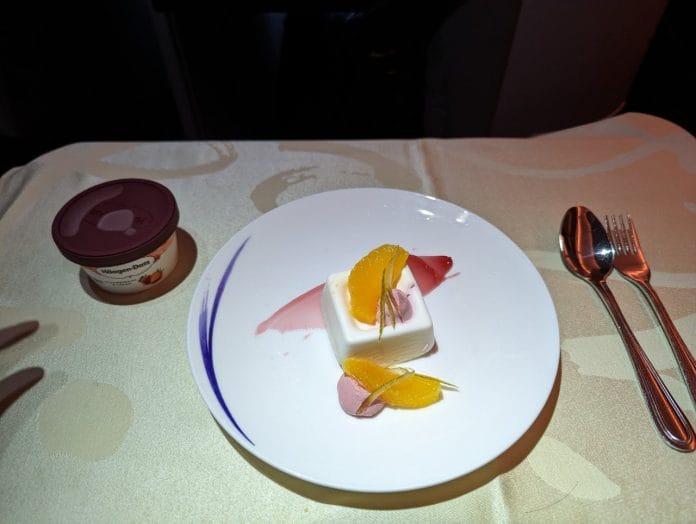 I was hoping the drinks list might be a bright spark, but it too was disappointing, especially considering we had just gotten off a STARLUX flight with its over the top selection. 
I think it's quite telling that while STARLUX proudly displays its beverage list in full colour and namedrops all its brands (Acqua Panna water! illy coffee! Kavalan whiskey! Bollinger champagne!), China Airlines prefers to remain more vague about what it's serving. 
I have to believe that's intentional. I asked the crew about the wine selection, in particular champagne. 
"We don't have champagne," she said, "but I can bring you a sparkling wine that a lot of guests really like". 
What was this wine? A crémant from Cave de Ribeauville called Giersberger Crémant d'Alsace Brut. This sells for about US$15 in stores, and let's just say it's not exactly something that warrants a second pouring. 
I also thought it strange that passengers weren't given individual water bottles. Instead of perpetually bugging the crew for refills, I thought it better to request sparkling water, which at least came in a larger can. 
In short, China Airlines' catering out of Taipei can't hold a candle to STARLUX's, whether it's food or beverages. The gulf is painfully apparent. 
Sleep Experience
Business Class seats convert into full-flat beds about 2 metres long. Even though a separate mattress pad isn't provided, the seat cushioning is very comfortable as it is, and I managed to get a solid two-hour nap before landing. 
The foot cubby was adequate for me (a back sleeper), but it might be a bit too snug for those with large feet (note the curvature that eats into some of your space).
Toilets
The six passengers in Business Class share a single lavatory at the front of the aircraft. This was kept clean and dry throughout the flight, with amenities from Pure Altitude, a spa company from France. 
Service
While the catering on this flight may have been disappointing, I can't say enough good things about the service.
This was my first experience with a China Airlines crew, and from start to finish they were superb. We were greeted warmly by name upon boarding, they took the time to chat with us and go through the menu, and one crew member seemed so proud of the crémant I almost felt bad when I sent it back an hour later, glass almost full. 
They also helped me deal with a delicate situation where the passenger sitting across the aisle didn't set his phone to silent mode, receiving messages every minute or so with a loud ping.
Conclusion
China Airlines offers a very solid Business Class hard product on its A321neo. The seats, while narrow, are comfortable and good for napping, the IFE system has 4K screens with personal Bluetooth connectivity, and while the lack of direct aisle access is unfortunate, none of the competition offer that on their narrow-body jets either. 
The soft product is more hit and miss. The service was excellent, but they're let down by a shoddy approach to catering that can't measure up to the excellence of STARLUX. It's not just the absence of champagne (though that's certainly a big miss), it's the threadbare drinks list, the unappetising appetisers and poor quality mains. When the competition is offering big-name tie-ups (that actually taste good), this simply isn't good enough. 
A decent flight, though I certainly wouldn't choose China Airlines over STARLUX or EVA.