Of the three hotels on our Japan trip, Roku Kyoto was meant to be the highlight. I figured that by arranging our stays in the order of Hilton Tokyo > Conrad Osaka > Roku Kyoto, there'd be a natural progression in the hardware, service and experience. 
Sadly, this turned out to be a textbook example of "great hardware, poor software". While Roku Kyoto offered some of the best hardware I've seen in any hotel, its indifferent service and lacklustre F&B detracted from what should have been an amazing experience.
It's disappointing in the extreme, because I really wanted to like this hotel. 
🏨 tl;dr: Roku Kyoto

The Roku Kyoto's stunning architecture and picturesque setting is unfortunately marred by indifferent service and underwhelming F&B.

👍 The Good

👎 The Bad

Mint condition rooms with soothingly minimalist interior design

Beautiful resort grounds, plus free access to a manicured Japanese garden

Outdoor heated onsen pool is a unique experience like no other

Some rooms have their own onsen tubs

Anonymous, indifferent service that fell well short of expectations

Sparse breakfast selection, with guests limited to just one hot item

No poolside food; only premade drinks available

Overpriced, both in terms of cash and points
🌸 Popping My Cherry Blossom
Roku Kyoto: Arrival and Check-in
The new-build Roku Kyoto opened in September 2021, becoming the first property in Asia-Pacific under the LXR Hotels & Resorts banner.
As Hilton's super-premium brand, the cheapest non-refundable rates start from JPY 94,166 per night (~S$939 post tax), and if you're redeeming points, it's an eye-popping 110,000 Hilton points per night. 
First things first: Don't stay at the Roku Kyoto if you want easy access to Kyoto proper. The hotel is located in an isolated corner of Northwest Kyoto, a 30-minute taxi ride from Kyoto station, and 10-minute ride from Kita-Oji station (the nearest train station to the hotel). 
Then again, that's not so much a bug as it is a feature. This is a place where solace seekers come to disconnect from city life and be close to nature. 400 years ago this site hosted an artists' village, and while the artists are long gone, the reclusive atmosphere remains.
That said, you won't be completely cut off from civilisation; Roku is part of the Shozan Resort, a 29-acre expanse of gardens, temples and restaurants. There's an on-site convenience store, and a 7-Eleven about a 10-minute walk away. 
We took a taxi from Kyoto station, which cost about 3,500 JPY. We had the address written down in Japanese — 〒603-8451 京都府京都市北区衣笠鏡石町44-1 — and the driver recognised it instantly.  
On arrival, a staff member came over to help with the bags- at least until he got distracted by another car arriving after us. In the end the taxi driver had to do the heavy lifting, and we just stood there for a while, not knowing where to go. This was our first introduction to the rather indifferent service of the Roku Kyoto, and unfortunately, not an isolated incident. 
Eventually I wandered into the Roku's main reception hall, where the check-in facilities are located. 
It looks deserted in the photos above (which I took the following day), but when we arrived the place was absolutely packed. A staff member eventually pointed me to the Tea House on the opposite side, which served as an overflow area. As the name suggests, you can enjoy an assortment of self-serve tea here, plus a Nespresso machine).
Again, the photos above were taken the following morning when the place was empty. During arrival, the whole venue was utterly chaotic. There was no sense of order, no one knew who came first, and guests who made noise were the first to be checked in. Tables were cluttered with uncleared drinks and used towels, and the staff looked completely overwhelmed. A luxury resort should be nailing the first impressions, and so far Roku was failing miserably. 
After a 15-minute wait, we were finally attended to by an associate, who did a perfunctory job of checking us in, literally checking items off a list: are you staying for two nights, can we charge the extras to this card, do you want a newspaper in the morning, do you want turn down service. It was conveyor belt stuff, as if he just wanted to process us ASAP and move on to the next guest. 
At some point during the check-in, hot towels and a matcha snack appeared. 
Hilton Diamond members used to receive a complimentary happy hour with a free flow of alcohol, but this has since been replaced by a Diamond Experience Credit:
JPY 10,000 credit for the first night
JPY 5,000 credit for the second night onwards
For example, if you stay three nights, you'll receive a total credit of JPY 20,000 (10,000 + 2x 5,000). Credits are cumulative, and do not need to be spent each day. You can spend them on any non-accommodation expense at the hotel, such as dining (including room service), spa treatments, activities, even limo and baby-sitting services. 
I mentioned to the associate that we'd like a Garden Deluxe room, if one was available. He checked and said it was, but it wouldn't be ready for another hour (it was around 2 p.m when we arrived).
In the meantime, we went to explore the grounds of the gorgeously landscaped resort.
The outdoor corridors are flanked by gardens and a zen-like water feature, the kind of thing you can't really take a bad photo of. 
There's even a chapel on the premises, styled like a Tuscan villa. This can be booked for weddings, and I imagine the photos would be eminently Instagrammable. 
Roku Kyoto: Garden Deluxe Room
Hotel rooms are located in a separate annex with indoor, air-conditioned corridors. 
A total of 114 rooms and suites are available, broken down into the following categories:
| | |
| --- | --- |
| Type | Size |
| Deluxe | 50 sqm |
| Premier Deluxe | 50 sqm |
| Garden Deluxe | 67 sqm |
| Poolside Deluxe | 82 sqm |
| PEAK Suite | 100 sqm |
| ROKU Suite | 100 sqm |
All award nights book into the lead-in Deluxe Room, but Diamond members may receive an upgrade to a Premier Deluxe Room or Garden Deluxe Room (suite upgrades are almost impossible, so don't bother asking).
My advice will be to push for a Garden Deluxe. While these ground floor rooms don't have much of a view, they have one killer feature: your own rock garden and onsen tub. 
To the left of the entrance is a huge walk-in wardrobe, with a safe, indoor and outdoor slippers, and two luxuriously soft Boca Terry bathrobes. They say that bathrobes are a barometer for hotel quality, and that's certainly true here- at least where the hardware is concerned!
Further in is the bedroom, with a king-sized bed and a seating area at the far end which can be carved out into a separate section by a sliding wooden panel. I must say, the architects got the minimalist aesthetic spot on. Clean walls, light wood and earthy tones create the air of a traditional Minka Japanese home. 
To the right of the bed was a mini-bar, containing Nespresso capsules, tea bags, as well as the usual overpriced mini-bar items. 
Two complementary glass bottles of water were provided each day; I found it odd they didn't just stock the room with the same paper cartons of water you can find in the gym/pool area (and in greater quantity- two small bottles doesn't last you long).
The wall-mounted flat-screen TV had Netflix, Prime Video, YouTube and Hulu apps (though you needed to provide your own login). It also had a nifty feature that let you check the congestion status of the gym, restaurant and thermal pool.
Each bedside has easily accessible master switches and do not disturb/make up room buttons. I was pleasantly surprised to see there were USB Type-C ports as well (although if you're going to go ultra-modern, wireless charging pads would have been good too).
If you need the older Type-A ports, they're located in a pull-out drawer beneath the bedside table, together with another universal power outlet and a HDMI port. However, this is only available on one bedside.
I want to draw special attention to the wireless speaker on the bedside table, known as BALMUDA The Speaker. This has built-in LED lights that sync to the music, providing a concert-like experience. This falls squarely into the "so unnecessary" category, but all the same I'm looking on eBay for a second-hand model to buy. 
While the room lacked a proper work desk, the Wi-Fi was blazing fast. Triple-digit upload and download speeds means it would take something special to tie up this network. 
At the far end of the room was living area with a circular table and two chairs, plus the room's onsen bath. A welcome amenity of fruits was placed in the table, though they were wilting in the harsh sunlight. 
While the outdoor rock garden eats into the room size (taking up 17 sqm of the total 67sqm space), it had the simultaneous effect of making it feel larger. Who doesn't love stone walls, moss and a few trees, entirely yours to enjoy?
The highlight of the room was, of course, the onsen tub. This isn't any ordinary bathtub- flip the lever and piping hot onsen water comes rushing in. This is scalding hot, so you'll need to mix it with some cold water before you get in (and keep children away!).
The design of the bathroom is interesting, to say the least. It runs parallel to the bedroom, a narrow space with his and hers sinks bisected by the shower area. 
The shower area had both a hand shower and rain shower, and the water pressure was somewhat lacking. The rain shower came out at a trickle; fortunately the hand shower was slightly stronger. 
The drawers came stocked with every amenity you could need: dental kits, a razor, hairbrush, cotton buds, sanitary bags and loofahs. 
Votary amenities were provided, in aluminium tubes instead of plastic bottles. These had an intriguing Rosemary scent, quite unlike anything I'd encountered before.
The MileLioness also insists that I point out the hairdryer. While it's no Dyson, it's probably just as good: a REPRONIZER 4D Plus, which retails for $470 and can apparently do miracles for your hair.
The toilet is in a self-contained room, separate from the shower area. It has its own sink, which means you have a total of three wash basins in the room! As you'd expect in Japan, this toilet came fully loaded with auto-raising heated seat and bidet functionality. 
Roku Kyoto: Spa
The Roku Kyoto's spa is open from 10.30 a.m to 9 p.m daily, with the last treatment commencing at 7.30 p.m. A total of three rooms are available: two singles, and one couple room with an onsen bath. 
We didn't visit the spa during our stay, but I did manage to snap the price list from the TV. 
The spa reception is located downstairs next to the pool, though the treatment rooms are upstairs.
Roku Kyoto: Swimming Pool
The Roku Kyoto's outdoor pool (25m x 8m, with a uniform depth of 1.2m) is open from 8 a.m to 9 p.m daily. 
Children aged under four are not allowed, while children aged 4-16 are permitted from:
Monday to Friday: 10 a.m to 5 p.m
Saturday, Sunday and public holidays: 9 a.m to 6 p.m
Guests need to make reservations of 1-hour slots, although you can stay on longer if the next slot isn't full (a maximum of 20 guests can be accommodated per slot). If you don't want sunburn, 4 p.m is the perfect slot because the sun just dips behind the hill at this time, providing some much-needed shade. 
Let me be clear: this will be a life-changing experience. Imagine a swimming pool filled to the brim with heated thermal water (38°C). It's like swimming in a huge bathtub, and so what if it's a bit chilly out? That just makes the water all the more inviting.
I'd recommend going once during the day and once during the night (you can book multiple slots if capacity permits), because it's a completely different experience. At night, you can float on your back and see the stars, with the warm water keeping the chill at bay. 
A total of 14 pool chairs with umbrellas were set up on one side of the pool. Four of these are "double chairs", perfect for couples who want to lie next to each other without a table separating them. 
On the other side were safari chairs, arranged in pods of two and three, plus a sunken seating area.
Again, it's the soft product that detracted from the overall experience. This is a splendid pool to hang out at, but guests are limited to ordering drinks only, not food. And even the drinks are underwhelming. 
You'd think a place like this would want to offer an F&B experience to match. Not so. Drinks are all off-the-shelf stuff, which just comes off as lazy. I can't tell you how disappointing it is to ask for a mojito and get an overly sweet canned version instead of something made fresh. Let's not even talk about those markups…
Near the pool is a mixed-gender thermal room (so no nudity, please), kept at a pleasant 70°C (that sounds very high, but the air is actually much cooler). Somewhat surprisingly, the hotel does not have steam room or whirlpool facilities, so take note if this is something important to you.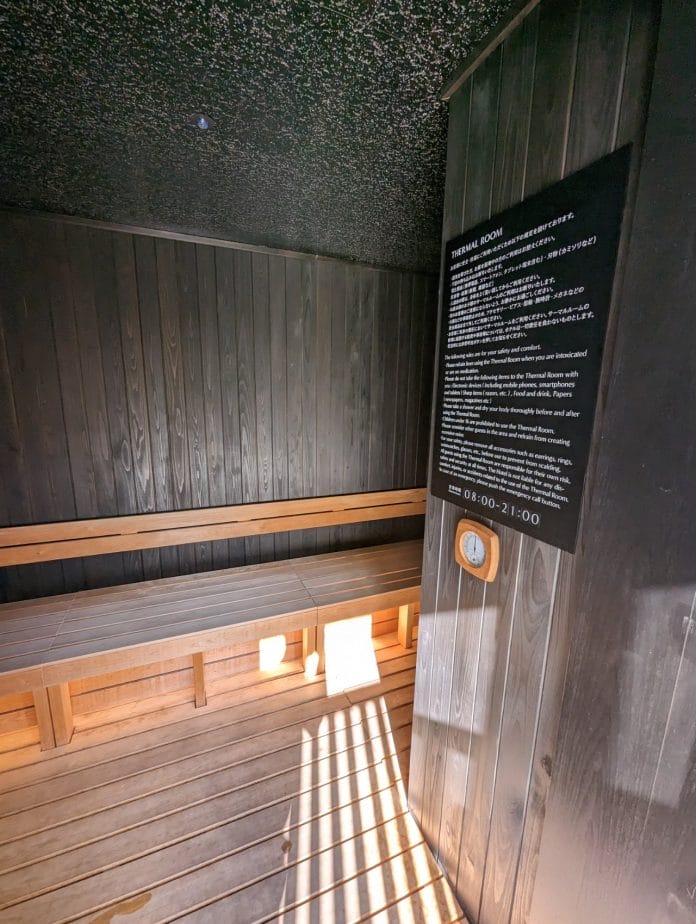 Changing rooms are gender-segregated (either a bug or a feature, depending on how you swing), and like the rest of the resort, nail the aesthetics. It's well-stocked with towels and water in paper cartons, and has shower facilities and toilets.
Unlike the rooms, bathroom amenities here are from Sundari, a premium skincare brand.
Roku Kyoto: Gym
The fitness centre is open 24 hours a day, and although the range of equipment is somewhat limited, the little that's there is modern and factory-fresh. You can connect your own Bluetooth headset or fitness tracker to the TechnoGym system, and watch YouTube/Netflix while you work out.
The gym was kept clean and well-stocked with water and towels.
Roku Kyoto: Breakfast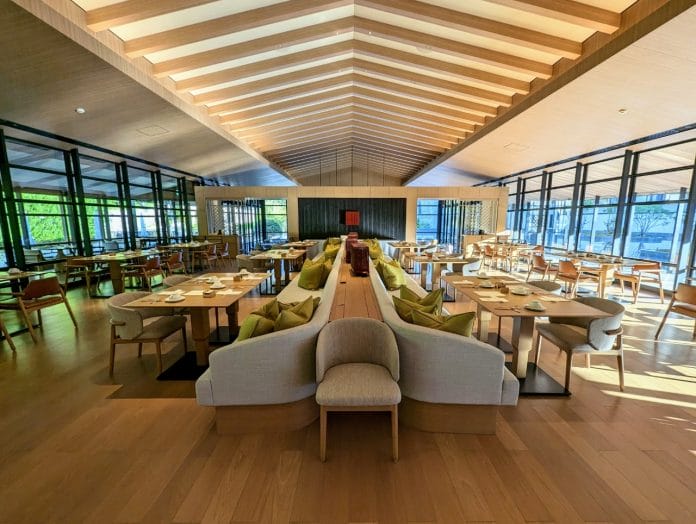 Breakfast is served at TENJIN from 7 a.m to 11 a.m daily.
No reservations are necessary, but you'll need to come early if you want an indoor seat in the glasshouse overlooking the river. Latecomers can settle for the outside area that's equally nice.
Breakfast costs JPY 5,692 per person, and consists of both a continental buffet and a choice of one hot item. Certain items (steak) entail a further upcharge, which comes off as rather nickel-and-dimey given how much guests are paying for rooms. 
First, the buffet line. The main buffet table had salad, pickled vegetables, fruit, and cold cuts. 
Compared to other luxury hotels, this was a very weak spread. Even though the selection may look big on first glance, upon closer inspection you'll realise that at least 25% of the table is given to sauces, preserves and various kinds of salt! 
A secondary table had juice and baked goods, of which the milk buns were the highlight. I ate an unhealthy number of these; just pop them into the oven for 60 seconds, make a small incision and insert some butter, and enjoy the bliss. 
Guests can order one hot item each. Western items are served with a bone-in sausage and strip of bacon, and while the food tasted passable, I can't say much for the unappetising presentation. Given how obsessed the Japanese are with packaging and aesthetics, you'd think they'd bother to  include a little side salad for colour at least.
The Japanese set was more pleasing to look at, featuring a grilled fish and red miso soup. Additional rice and soup can be requested for free. 
My overall thoughts on breakfast: woefully inadequate for the price charged. The breakfast spread lacks a single hot item, and it feels stingy to limit guests to a single cooked item. If the concern is wastage, fair enough- offer tasting-sized portions at least? 
For what it's worth, I tried my luck asking for some extra eggs and received them (at no extra charge), so ask and ye shall receive I guess.
Roku Kyoto: Dining
We ended up using our Diamond Experience Credit for dinner at TENJIN (menu), which was fairly easy to secure a reservation at.
Unfortunately, Roku's restaurants no longer participate in the Hilton Honours Dine Like a Member offer, so you'll be paying full price. I'd say the food here wasn't terrible (it's hard to find bad food in Japan, really), but was rather unmemorable and overpriced- there's much better options out there.
Dinner started with a complimentary amuse bouche of crab meat and jelly. 
We ordered the sea bream, served with Sakura shrimp and bisque (JPY 5,313). The fish skin was crispy, but the fish itself was a bit dry. 
The Tamba chicken was served with morel mushrooms and spring vegetables (JPY 7,210). While the chicken itself was passable, the skin was soggy and the vegetable portion virtually non-existent. 
Since we still weren't full (note the lack of carbs), we added on a spaghetti pescatore (JPY 3,036). The pasta was al dente, but it wasn't bronze cut and didn't hold the sauce well. The seafood portion was very limited.
Instead of TENJIN, I'd heartily recommend making a dinner reservation at the nearby muroi, a 2021 Michelin star kaiseki restaurant. Chef Shigeru Muroi is incredibly passionate about his ingredients, taking the time to explain the pedigree of each of them (he's worked around the world and speaks excellent English).
A kaiseki dinner here costs 20,000 JPY per person, and while that's not cheap, it's one of the best dining experiences I've ever had, probably the highlight meal of the trip. The staff were warm, we struck up conversations with the other diners, and the whole thing felt very collegial. 
By the way, if you're intending to order room service, I need to highlight that the system is weird in the extreme: you need to pre-select a delivery time slot, and the only available ones were about 2-3 hours away (even when the restaurant was empty).
I couldn't understand why (and based on other reviews I'm not the only one who's encountered it), but you shouldn't plan on ordering something spur-of-the-moment.
Roku Kyoto: Garden
You should budget some time to explore the resort grounds, especially the Japanese garden, which offers free admission for Roku guests. Simply show your room key to gain access. 
This is a beautiful spot for photo taking, and I can only imagine how amazing it'd be in autumn colours. 
Inside the garden you'll find a shop selling bonsai, where the very friendly owner (friendlier than any hotel staff, I can say that!) invited us in to try our hand at calligraphy. 
Roku Kyoto: Activities
Roku Kyoto guests can participate in the following complimentary and paid activities. We didn't try any of these, but I'm including them anyway for your reference.
| | | |
| --- | --- | --- |
| Activity | Duration | Price |
| Morning Yoga | 60 mins | Complimentary |
| Kyo-Karakami Paper-Printing Experience | 1 hour | JPY 7,000 |
| Personal Training | 60mins | JPY 12,650 |
| Kintsugi Experience | 2 hours | JPY 20,000 |
| Washi Paper Making | 2 hours | JPY 20,000 |
| Omuro Pilgrimage with Monk | 4 hours | JPY 20,000 |
| Yuba Tofu Skin Making Experience | 3 hours | JPY 22,000 |
| Ceramic Art Experience | 2 hour | JPY 26,000 |
| Japanese Tea Ceremony | 2 hours | On request |
Be sure to read the reviews on FlyerTalk if you're planning to do any of these, because apparently some courses are more video-watching than actual hands on. 
Roku Kyoto: Service
Before I share my thoughts about this, let's set the context once again: Roku Kyoto has just over 100 rooms, and charges close to S$1,000 a night, if not more. Therefore, I don't think it's unreasonable to expect a service experience commensurate with the intimate scale and hefty price tag.
I've already mentioned the chaotic check-in process and the disappointing breakfast and poolside selection, but what struck me the most was how anonymous the service was. From start to finish, it never felt like the staff made an effort to know guests. Quite the opposite, in fact.
For instance, guests are required to fill out an indemnity form before using the pool facilities. While this is meant to be a one-time exercise, the staff asked everyone to do it every time they came, which meant they really weren't bothering to remember who was who. Another couple picked up on this and said "but we already did this yesterday", to which the response was "oh, OK". Or another time when we returned to the hotel in the afternoon, the first thing the staff asked upon opening the taxi door was "are you staying here?" That's…really not right for a hotel of this calibre. 
I also felt that the staff weren't very good at anticipating needs. One evening, we were running late for a reservation at a restaurant near the hotel, which was about a 15-minute walk away. Even though the hotel had an electric buggy which could take us to the outer gate from which it'd be a much shorter walk, it was never offered until I asked them point blank about it.
At other high-end hotels I've stayed at (e.g. Conrad Koh Samui, Banyan Tree Lang Co), it's common for the hotel to assign each room a butler, who becomes the single point of contact for all requests. That was absent here, which would really have come in useful when planning how we should maximise our time at the resort. 
Similarly, at high-end hotels it's quite common to see management walking the breakfast area in the morning, chatting with guests to get to know them and their preferences, offering suggestions, and taking feedback about the stay. Not so at Roku. Management was completely absent throughout the stay, and the first time I spoke to a member of the team was during check-out. 
Finally, it was very hard to communicate with the front-line staff, because most of them barely spoke English, and needed a manager's intervention for even the most basic of requests. 
These are things you don't simply don't expect in a hotel at this price point, and as much as I love the hardware and ambiance, I find it very hard to recommend until they sort this out. 
Roku Kyoto: Conclusion
The Roku Kyoto was meant to be the highlight of the trip, but I walked away feeling disappointed with the whole experience. It felt so frustrating that the hotel didn't have the service or F&B to match its impeccable surroundings- I wanted it to be so much better. 
I've not stayed at the Ritz-Carlton or Park Hyatt Kyoto, but based on the reviews these are much more solid bets, and won't cost that much more than Roku. 
Certainly not worth 110,000 Hilton points per night!