Thai is a confusing airline when it comes to business class because they have so many different seat types across their fleet.
The majority of Thai's widebody fleet (B747, A330, A340, B772, B773) still has their old business class angled flat product. This is, quite frankly, an awful product to be on for any long haul flight. Angled flat products might have been ok a decade ago, but the gold standard for long haul business class is now full flat 1-2-1. Full flat 2-2-2 is already pushing it, but angled flat 2-2-2….Thai's fleet renewal can't come fast enough
Thai's A380 aircraft have 1-2-1 full flat seats. I've not flown these personally but a friend who has says they're generally comfortable enough. If you're travelling by yourself, avoid the honeymoon 2 seats in the centre like the plague because there's very little privacy from your seatmate. I'm not totally won over by the cabin from an aesthetics point of view though.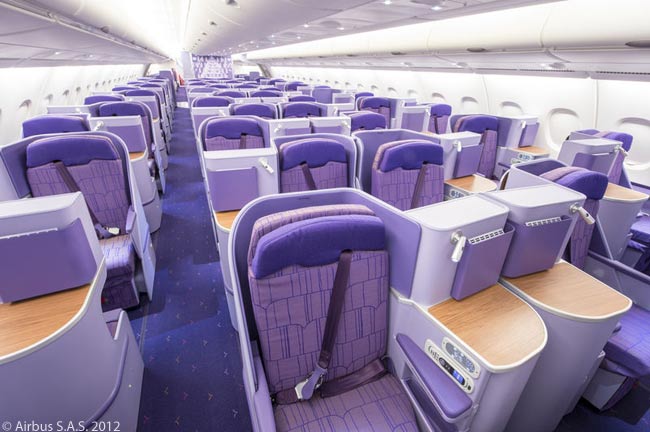 Thai's B787s have 2-2-2 full flat seats (they're similar to the ones United Airlines uses in Business Class- see my review of that seat here). I don't fancy any configuration that doesn't have all aisle access (because both the aisle passenger and window passenger at the side are inconvenienced by each other), but it sure beats angled flat.
And that brings us to TG's newest aircraft, the A350. I'm personally very excited about the A350 and am looking forward to flying SQ's version to Manchester and Houston next year. Thai's A350 has a 1-2-1 full flat configuration, but I much prefer this to their A380s as I find the finishes more classy (less faux wood and plastic, more privacy for the seats at the side). This is a seat I'd gladly take on any long haul flight.
Thai is currently bedding in their A350s by running them on short haul routes. When they first received the aircraft back in Sept it was common to find the A350s plying routes as short as Bangkok-Chang Mai and Bangkok-Phuket (where one aircraft promptly went on a euphemistically named "runway excursion"). You'd be a fairly lucky man to land a long haul J seat on a 90 minute flight.
Thai has gradually started deploying the A350 on progressively longer routes, as seen below.
Route
Departure
Arrival
Day
Flight
Bangkok – Rome
00.01
05.55
SUN, MON, WED, FRI
TG944
Rome – Bangkok
13.30
06.05
SUN, MON, WED, FRI
TG945
Bangkok – Milan
00.35
07.10
TUE, THU, SAT
TG940
Milan – Bangkok
13.05
05.55
TUE, THU, SAT
TG941
Bangkok – Singapore
08.00
12.25
Everyday
TG403
16.35
19.55
Everyday
TG404
Singapore – Bangkok
12.25
13.45
Everyday
TG409
21.00
22.20
Everyday
TG410
They are still operating the A350 on the relatively short haul SIN-BKK route. I believe that's in order to give pilots international flying experience with the A350 as the route has sufficient business traffic to warrant the deployment of a widebody premium cabin.  I don't think this is by any means a permanent arrangement, however, so when I saw on Lifemiles that TG award space from BKK-SIN was wide open, I didn't think twice about booking it.
I ended up booking the award through Krisflyer for 20,000 miles and $30.40 of taxes (SQ J would have cost 17,000 and $104. Fewer miles, but more cash…) to get home from Bangkok. Having flown the oldest of the old from SIN-BKK, it was now time to try the newest of the new…
---
My flight was scheduled to depart at 4.30pm. After checking in at BKK and clearing immigration (Thai now has a special lane near Row A for premium cabin travellers that gives dedicated security and immigration clearance), I made a beeline for the Royal Orchid Spa, reserved for Thai J and F customers. I've done a detailed review of the first class section of the spa during The Long Way to New York trip report, but this time I'd be doing the business class section.
First and Business class passengers get access to the same spa in BKK. The main difference is the type of treatment they receive. Thai's airport spa offers business class passengers a 30 minute treatment and first class passengers a 60 minute treatment. As a reminder, here are the options
Touch of Silk (Full Body Oil Massage – 60 minutes for First Class only)
Start your journey with a relaxing Touch of Silk, full-body oil massage. Performed with the unique 'Thai touch', this massage will help to prepare your body for your onward flight by increasing blood circulation as well as relieving muscular tension and helping to provide necessary hydration for your skin. On completion of your Touch of Silk massage, you will be left with an overall sense of well-being and total relaxation.
Royal Thai Massage (Full Body Massage – 60 minutes for First Class only)
Thai massage is perceived as one of the most precious of Thai traditional therapies. Royal Thai Massage helps to stimulate blood circulation, reduces edema caused by travelling and reduces body fatigue. With its unique acupressure techniques, expertly applied to your body, you will find your mind relaxed and muscles relieved, following the stress of your journey.
Neck & Shoulder Massage (30 minutes)
The Neck & Shoulder Massage is a great way to relieve stress which has built up from the rigors of everyday life from working long hours at your computer. Using specific techniques the therapist will work to loosen tight muscles around the neck and shoulders whilst simultaneously assessing how much tension is held in the body and how best to release it. You will board your flight feeling more relaxed and a little lighter around the shoulders.
Foot Massage (30 minutes)
Let's help prepare you for your onward journey, by taking the weight off your feet and giving them a relaxing massage, which they truly deserve. Foot massage is a well-known relaxation therapy to help take care of tired feet. The gentle touch of the therapists hands and the deeper pressure from their fingers, create a sense of overall relaxation and will help to stimulate your vital organs.
As a J passenger, my options were shoulders or foot. I opted for foot.
The business class spa treatments take place in small semi private cubicles (First Class has their own treatment room- you can see how those look here). Here's mine.
The treatment actually lasted closer to 20 minutes than 30. But it was just as good as any other foot massage you'd find on the streets of BKK. I can't really say I'm a connoisseur of foot massages though. I'm the kind of whimp who always says "softer".
After the treatment you're ushered back to the waiting area and served tea.
There are some light refreshments laid out in the waiting area but it's really nothing worth hanging around for. It's mostly prepackaged snacks and pastries.
Craving real food, I left the spa and walked across the hallway to the business class lounge. By this time there was less than 10 minutes till boarding started so I had to make a very quick pass through.
There are numerous buffet spreads set up within the lounge, but there's only one central hot food area with maybe 4 or 5 hot items.
The selection was somewhat limited, and TG really isn't doing legendary Thai food any justice at all. I had a plate of very anemic pad thai (yes, yes, I know pad thai isn't really pure Thai) and a pork cake, the contents of which I prefer not to know. I mean, how hard would it be for Thai to do a really kickass menu of Thai classics?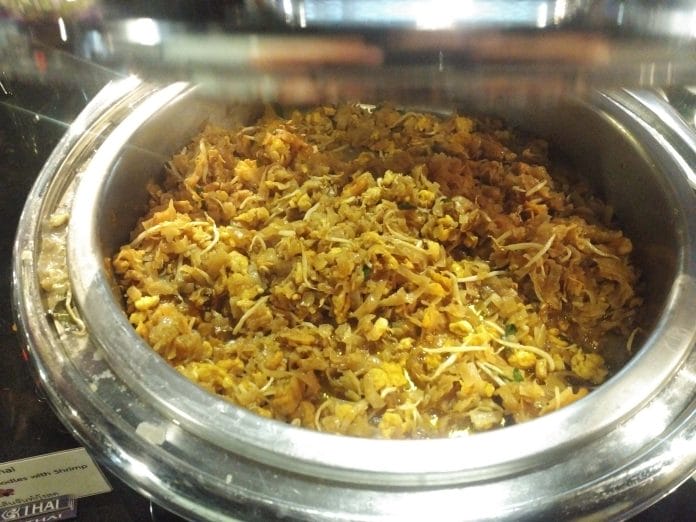 There are several satellite buffet displays set up elsewhere in the lounge with coffee, light snacks, fruit and cakes.
I chowed down for 5 minutes and started the walk towards gate G2. The signs said the walking time was 12-15 minutes, but because of my superior physique I did the walk in 6  minutes (form an orderly queue, ladies)
Boarding was just about to start when I reached the gate. I love the design of the A350. The plane is so cool it looks like it's wearing sunglasses.
When boarding started, I bounded down the jetway to try and snap as many photos as possible before the place got crowded (I had fun reading Lucky's tips on writing trip reports, and how you need to accept that you're going to be seen as a bit of a weirdo for running down the jetway just so you can get photos of an empty cabin)
First impressions of the cabin were great. This seat, to me, is a much improved version of its A380 offering. The A380 seat has some very unfortunate design elements like the copious use of plastic and Barney-esque purple upholstery. The A350's theme is more wood and dark purple, which at least evokes fewer comparisons with everyone's favourite dinosaur.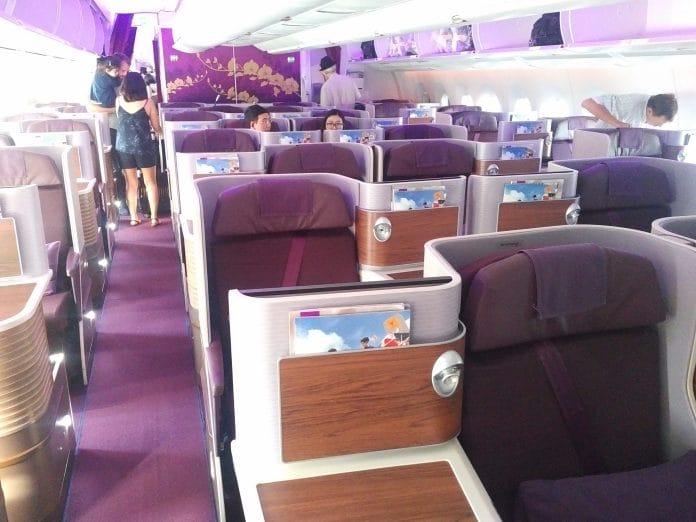 You can do a virtual tour of the cabin here if you're so inclined. Here's what the seats in the centre look like (if you're travelling solo and unable to get one of the seats at the side, this should be your next best bet)
The seats at the side, as expected, offer the best privacy. There are two types of seats at the side- those with the table separating the seat from the aisle and those with the seat closer to the aisle. Obviously the former is preferable in terms of privacy.
I know some people have misgivings about seats in this configuration because they're worried about the amount of foot space they'll have. I'm pleased to report that Thai's seat has an ample amount of space for feet in its cubby hole. Either that or I have very small feet. And you know what they say about men with small feet, ladies…
Thai is using the newfangled touchscreen IFE system. I'm still unconvinced about the actual utility of having a touch screen, because in practice (1) it hangs a lot and (2) it increases the chances of accidentally brushing the screen and exiting whatever you're watching.
Thai's earphones are nose cancelling but look and feel very flimsy. Definitely not in the same league as SQ's Phitek or ANA's Sony-branded sets.
Each seat has 2x USB ports for charging. It's a minor annoyance, really, but due to the setup of the seat and positioning of the side table, if you're plugging in a USB cable and resting your device on the side table, you're going to get tangled up when exiting the seat. It's a small issue, again, but just goes to show how far some intelligent user experience design can go. It wouldn't have been very difficult to put the USB charging ports on the table, or in an otherwise unobstructed place.
Even the A350 lights are cool. They're behind clear glass and are activated by a small button over your head.
The crew came around to serve pre-departure drinks. A general point about the TG crew is that they were competent but not really personable. It's not a criticism unique to TG, I realise that on regional flights SQ crew are more functional than friendly, but don't expect any additional touches like being addressed by name or small talk. I certainly didn't feel any warmth from this crew.
All drinks in TG J were served in these really tiny glasses. If you were uncharitable you could call this a cost saving initiative, as those glasses couldn't have held more than 100ml of champagne. FYI, the champagne on offer was Duval Leroy. It's not terrible, but not exactly what I'd call an aspirational brand either.
Having had a bit too much champagne before takeoff, a visit to the loo was in order. The A350's loos have all the bells and whistles you'd expect from a 21st century aircraft. Automatic taps are an expected feature by now…
But I was particularly pleased by the no-touch bins. Just wave your hand over it and it opens up.
The next feature I want on my aircraft is no touch door opening, because the hypochondriac in me hates washing my hands then having to touch the door latch to get out.
TG has Borghese toiletries in the loo for its regional flights.
Pushback was delayed by about 20 minutes, but the captain finally got on the PA and announced the flight details and timings.
We were stuck in a bit of a queue to take off, but I spotted this relic of the TG fleet…
We got airborne before long and were treated to some really nice sunset views  
Linner was served after takeoff. Here's the food and drinks menu.
I was a bit surprised there was no Western option on this flight, given that most carriers practice having both an Asian and a Western choice on this route. That said, all 3 Asian options sounded equally good.
I wasn't too impressed by the quality of the meal. It seemed more like an economy class meal plated on business class plates. SQ's regional catering is definitely superior to TG's, given that you can order pretty much whatever you want from the BTC menu.
That said, there was a very nice chocolate mousse that came with the meal. The crew came by to serve almonds with the post take off drinks, almost as if by afterthought.
After the meal I tried to test out the bed function of the seat. The seat goes full flat, but as I've said before I'm weird in a way that I prefer adjusting the seat to 160-170 degrees because I find a 180 degree sleeping angle a bit uncomfortable on the lower back
This was just a short haul flight so I can't say whether the long haul experience is any different- I would have liked to get a mattress pad plus a bigger blanket, but the base seat in itself was comfortable enough for a quick nap. My main concern about the seat is that it's quite firm. Some people may prefer a firmer bed however.
My overall feelings on the Thai A350 product is that it's definitely a solid enough hard product, one I'd not hesitate to select on a long haul route. Can it compare to top tier airlines like ANA, SQ and EVA? No way. But this is an important step forward for TG and hopefully they'll be able to raise their soft product to match it as well.