The Milelion's RTW Trip 2016: Trip Planning
Introduction: Around the world in 28 days
EVA Air B77W Business Class Singapore to Taipei
EVA Air B77W Business Class Taipei to Los Angeles
Silvercar LAX
Avenue of the Arts Costa Mesa
Sheraton Gateway Los Angeles
United A319 First Class Los Angeles to Mexico City
Le Meridien Mexico City
United A319 First Class Mexico City to Houston
United B767 Business Class Houston to Sao Paulo
Sheraton Sao Paulo WTC
South African Airways A330  Business Class Sao Paulo to Johannesburg
Hilton Sandton
Ten Bompas Johannesburg
Turkish Airlines A330 Business Class Johannesburg to Istanbul
Turkish Airlines A319 Business Class Istanbul to Zagreb
Westin Zagreb
Croatia Airlines A319 Business Class Zagreb to Frankfurt
Lufthansa First Class Terminal Frankfurt
Lufthansa A330 First Class Frankfurt to Riyadh
Four Points Riyadh
Air India B77W Business Class Riyadh to Mumbai
St Regis Mumbai
ANA B787 Business Class Mumbai to Tokyo
Asiana A330 Business Class Tokyo to Seoul
Westin Chosun Seoul
W Walkerhill Seoul
Asiana B744 Business Class Seoul to Tokyo
ANA B787 Business Class Tokyo to Singapore
---
I had a four hour layover in Houston courtesy of my wanting to avoid Avianca/Copa's narrow body recliner seat on a red-eye flight. This gave me a chance to sample the gastronomic bounty that is IAH. Here's Eater.com's description of the options, should you ever find yourself there-
Ruby's Diner – Burgers, shakes, and gloriously fried "ruby rings." [At security checkpoint]
Pappasito's Cantina – Enchiladas, burritos and other Tex-Mex favorites to-go. [Post-security; Near gate E1]
Einstein Bagels – Bagels with lox, sandwiches and coffee. [Post-security; Near gate E1]
Famous Famiglia Pizzeria – Your basic calzones, pizzas and pastas. [Post-security, Near gate E1]
Panda Express – It's not the best Chinese food, but it's fast. [Post-security; Near E1] (Milelion note: Panda Express must be tried at least once. To be believed)
Pappasito's Cantina – Tex-Mex from a well-known chain. [Post-security, Near gate E1]
The Market – Healthy alternative dining options such as salads, sandwiches and fresh fruit. [Post-security; Near gate E1]
Yogen Fruz – Frozen desserts. [Post-security, Near gate E1]
La Tapenade Mediterranean Café – Coffee, pastries, sandwiches and wraps with a Mediterranean flair. [Post-security; Near gates E2, E3, E8, E9]
Pappadeaux Seafood Kitchen – Texas, Cajun seafood entrees. Full service, with bar. [Post-security; Near gates E2, E3, E8, E9]
Cat Cora's Kitchen – Lots of Greek influences and global cuisine found on the menu. Full service bar and restaurant. [Post-security; Near Gates E10-E11]
Fresh Gourmet Express – Espresso and Ecuadorian coffee plus bagels and pastries. [Post-security, near gates E10-E11]
Auntie Anne's – Being stuck in the airport is the perfect excuse for those fake butter-drenched pretzels dipped in nuclear orange cheese. [Post-security; Near gates E12-E14]
Nestle Toll House Cafe – Cookies, brownies & more baked treats. [Post-security, E12-14]
Home Team Sports – Kick back and watch the game with burgers, sandwiches, salads, seafood and an array of specialty drinks. [Post security, near gates E15, E16, E21, E22]
Nature's Kitchen Fresh Cafe – Sandwiches, salads, wraps and soups. [Post-security, E23-24]
Zori Bistro – Sushi rolls, bento boxed meals, and a fusion of Japanese, Korean, Chinese and Vietnamese fare. [Post-security, near gates E23-E24]
I decided to visit Cat Cora's latest money-making venture culinary experiment, located in Terminal E near gates E10 and 11. I enjoy the occasional reality TV cooking show (even if Masterchef has descended into a farcical "let's give the single mother the prize!" procession in recent seasons)
The restaurant describes itself as serving "Modern American" cuisine, a rather nebulously defined term. That's not to say it can't be good, because Sierra Mar at the Post Ranch Inn (another review for another time) specialises in the same genre and is without a doubt one of the best meals I have ever had. But this menu featured heavy Greek and Mexican influences too.
Gordon Ramsay once ragged on Cat Cora for allegedly flaking out on a Masterchef cookoff, as Eater reports
Ramsay says that he once asked Cat Cora to compete against an amateur chef on his show MasterChef. But, he claims, "she and her agents insisted that, even if her dish wasn't the best, she win. 'Damage limitation: She needs to know she's going to win.'" Unsurprisingly, a rep for Cat Cora tells Men's Journal that the claim isn't true, saying, "Cat has competed for 12 seasons on Iron Chef against the best in the world and clearly isn't afraid of competition. Simple as that."
Now Ramsay can be an annoying, sanctimonious hypocrite  (chewing out people for using reheated meals while doing the same at his gastropubs) but I think his criticism of Cora might have some merit.
Because the food was terrible. I think there was a grand total of 7 fragments of lobster (crayfish?) in the mac and cheese, and the pasta was so overcooked in some parts it had fused together with the cheese in an unholy Chef Boyardee suicide pact.
The asparagus was passable, and incidentally enough, would be the best asparagus I'd eat that day (see below)
I concluded that while Cat Cora was probably an infinitely better chef than me (except at pasta, because I am the best there is at pasta. But only dry pasta. And only particular shapes of pasta. And only crab meat linguine), she sure put her name on some crap.
The food was depressing enough it led me to make a beeline for the United Club. I don't think food putdowns get nastier than that (but feel free to read the Yelp reviews, they're not much better)
United operates a grand total of 5 United Clubs at IAH.
You know that IAH is a hub for United when you realise the Terminal E lounge has 3 floors. The ground floor is receptions only and there were two staff members processing new arrivals (United Clubs tend to make me lapse into prison camp metaphors). To be fair, they were very pleasant and trying to help out as many people as they could.
There was a family infront of me who were asking the staff to make an exception and let their kid in, as only the father and mother had club access by right. The lady was genuinely sympathetic but insisted there was nothing she could do. Fortunately I was able to guest in someone by virtue of my Star Gold status and managed to resolve that situation for them.
After the family had gone up the lady thanked me and said "I really wanted to make an exception because it's their kid but they've got cameras watching us," she pointed conspiratorially  at the CCTV hubs monitoring the entrance. "They do a check at the end of the day of headcount admitted via their visual sensors versus the number on our computers and if those two don't match we get in a lot of trouble." I was astounded. I mean, I thought SQ's lounge dragons were bad but they had nothing on United.
It bears repeating that this lounge is huge. The second floor is accessed through the escalators but the third can only be accessed by the stairs (on the right of this picture) or the lift
Here's a view from the 3rd floor of the lounge looking down
The lounge has a great view of the tarmac, although given whose hub this is the variety of scenery shouldn't surprise you
The second floor was packed to the brim but the third floor had some seating left
You should know the drill about United Club food by now. Fruit. Granola. Veggie sticks. Sandwiches. Soup to fulfill the hot item requirement. Come back Cat Cora, all is forgiven.
There is, however, a great suite of working spaces. You can even book meeting rooms in certain United Clubs.
So this is me, from my cubicle in the United Club, waiting out the time to board. United Clubs, it must be said again, are fantastic for productivity. There are no distractions.
I made my way to the boarding gate at the stipulated time, only to end up standing in line for 45 minutes (I know, I know, you already have priority boarding so why don't you sit and wait? Well, it's because I feel awkward taking photos when there are too many people on the plane so it's important to get on first and snap as many photos of the empty cabin as I can before it gets filled up with people wondering if this strange Asian man is a threat to the security (or at very least the privacy) of their flight)
I was lucky to be travelling on one of the ex-Continental B767s as opposed to the legacy United Airlines B767s. On Continental, the seats are laid out in a 1-2-1 fashion (versus 2-2-2 on United with front and backwards facing seating)
One less seat than the legacy United configuration means more space (and a very attractive throne seat in the middle)
As expected, the "1" seats in the middle are the most popular because they don't require you to climb over anyone to get into the aisle. I suppose you could say they're a bit exposed and not very private, but on a red-eye flight with the lights off 70% of the time who's going to see you?
All the seats had pillows and blankets waiting.
As you can see there isn't really a whole lot of privacy between you and your seatmate when the seat is in the upright position. That token privacy blind in the centre doesn't do much. Fortunately when you're fully flat you don't see your seatmate.
There is a narrow, narrow cubby for your feet. Fortunately my feet fit just fine. And you know what they say about men with small feet.
I had Seat 5B, second from the back in the aisle. And no, 5A is flagged as a bad seat because it's got a misaligned window, not because it's next to me. I think.
Having been spoiled with 1-2-1 configurations so often (or at least 2-2-2 configurations where I got one of the centre 2s) I was anxious about having a seatmate. Fortunately my seatmate was a ninja. She went through the entire 9 hour flight without ever getting out of her seat, not for the loo, not for anything. She declined all meals and only had water.
Each seat had an amenities kit waiting. Score points for United for having an amenities kit in business class, whereas SQ still insists that it's not needed
"I ask myself, 'Do I want to spend $6-8 million just on an amenity kit?"' poses Mr Tan Pee Teck, Singapore Airlines' Senior Vice President for Product & Services

"At last count, I think there were 38 airlines with business class that gave amenity kits (but) you can't really differentiate yourself through an amenity kit" Tan explains to Australian Business Traveller.

"And if you travel very often, this thing is just left behind. So we decided to pump the money into other things for business class, and just make sure that our bathroom is stocked properly."
Yes, I want SQ to spend $6-8 million just on an amenity kit. I have my doubts about those figures too- I mean the amenity kit is a great way for luxury cosmetics brands to market themselves by giving away travel sized samples. Unless you're shelling out a lot on the case itself (eg Rimowa for EVA) I don't see where the real cost in producing one comes from. Surely a firm as astute as SQ could do a marketing partnership with a big cosmetics brand and cover the cost somewhere?
United's amenities kit is interesting because there's a postcard wrapped around it. You tear around the dotted edges and flip it over to write.
As for the ingredients, you had a toothbrush and toothpaste, earplugs, a sanitary wipe, a comb, Cowshed lipbalm and moisturizer, facial tissues (a big plus for me), an eye mask and a toothpick.
United has their own brand of headphones in business class. They are not noise cancelling, which puts them well behind the curve compared to other airlines.
Each seat had its own power and a USB socket. There is a design issue with the power socket when it's placed up so high- if you need to use a travel adapter (the airline port is semi-universal in that it doesn't take India plugs) the combined weight of your charger head and the adapter means it's likely to drop out unknown to you at some point in the flight, leaving you with an uncharged computer and very grumpy.
United is the proud sponsor of Team USA for the Rio Olympics, and they don't let you forget that in their in-flight safety video. Still miles better than SQ's stale stuffy one though.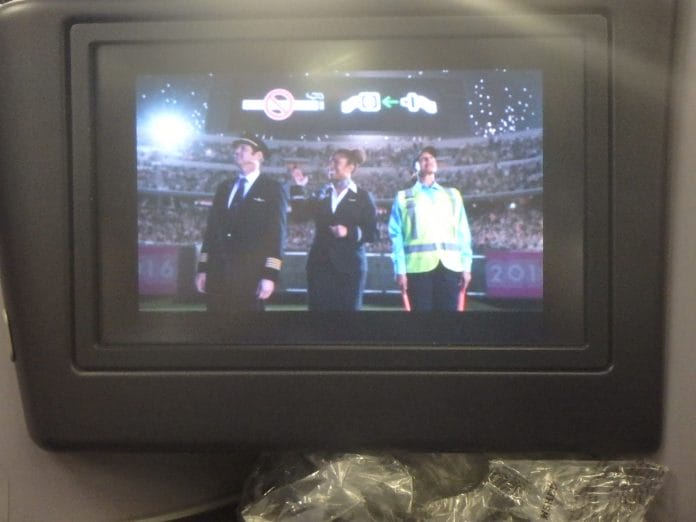 After takeoff the crew came around to distribute menus. United does offer menus on their long haul flights, although I've read reports that this can be inconsistent sometimes.
On red-eye flights the name of the game is speed. A timer starts from the moment the captain turns off the seatbelt sign to the moment the cabin lights go off after dinner. On SQ this is a reliable 90 minutes, potentially less if there's a light load or if a lot of people skip dinner.
I was eager to see how United performed on this metric. 30 minutes after takeoff, the attendants came around to take drink orders. I wondered why United didn't name the champagne they served on board but later found out it was by a vinyard called Moutard
It retails at $20-$30 a bottle (for comparison, SQ serves Piper Heidsieck that prices between $40 and $70, all prices by Wine-Searcher.com). And before you tell me that you can't judge a champagne by its price, of course you can't. But I don't know any other metric.
Nuts were served and everyone got water. Here is my pre-dinner setup, as I seek to research some UOB related thing or other.
Then an appetizer of parma ham with a single olive. If American Airlines saves $40,000 a year by eliminating a single olive, why not United!
Then a salad with 2 choices of dressing, Italian or ranch. I noted that the American habit of liberally sprinkling cheese on everything was alive and well
The beef was served shortly after, in which I sought to answer the age-old question, "Is it in fact possible to have good steak on a plane?"
No, no it is not.
Despite Cat Cora's best efforts, United's asparagus took the prize for worst asparagus of the day. The vegetables were so mushy I assumed they must have paired the steak with the infant meal.
Fortunately, it is still not possible to mess up ice cream. I finally got my signature United sundae (referred to as gelato in the menu but come on, who are we kidding)
The sundae cart came with all manner of toppings- hot fudge, caramel, nuts, strawberries and cherries.
All in all dinner took 2.5 hours to complete, hardly near the standard required on a red eye.
After dinner it was time to see whether United could at least succeed at the one thing a business class seat must deliver- a good night's rest.
Here's the bed fully flat. It doesn't look like much, but that's because I'm lousy with a camera
Here's how it would look like if a decent cameraman took a photo
United does not provide any padding or duvet or anything like that. Later on when I write my review of South African Airways and Turkish Airlines you'll see what a big difference that can make.
Before sleeping it was time to wash up and take the obligatory loo shot. United's loos are basic because all your amenities are in the kit.
Cowshed toiletries area available though. I have never heard of the brand before but that's probably because I am not big on personal grooming. Or hygiene. Form an orderly queue ladies.
Before I went to bed, I reflected on the service of the flight. Well, I didn't really but it's a more natural segue.
I wrote previously about how surprised I was to learn that United flight attendants only underwent safety training and learned service on the job. I think some aspects of that really came through on this flight. For example-
The attendants didn't clear the plastic wrappers from the blankets and amenities kits throughout the entire flight. On SQ the stewardesses actively patrol the cabin before takeoff and clear any unwrapped plastic they see from
When the time came for breakfast the crew turned the lights on to full blast straight away, instead of the common sense gradual brightening routine
Passengers were never addressed by name, except when meal orders were taken, in which case the crew were presumably reading it off the manifest infront of them. On SQ, passenger name memorization is mandatory in premium cabins
The crew didn't take breakfast orders before everyone went to sleep, meaning they just assumed whoever was awake wanted it and whoever was asleep didn't want to be waked
The crew were actually very pleasant to talk to. They just weren't very proactive. On SQ I have seldom seen an empty glass that isn't cleared/refilled quickly, nor can I recall a time there wasn't someone waiting outside the loo with a hanger after I went in to change to sleeping clothes. And that to me is why SQ, for all their many faults, their horrible frequent flyer program, their dismal cobranded cards, their I'm better than you attitude towards Star Alliance partners, why they will still be the best airline for service
On that note, I slept my standard 5 hours on the plane.
Despite the delay we still landed "on schedule" in GRU, leading me to believe United does some serious schedule padding. Although my bag had been tagged with the usual priority labels it still was one of the last pieces to come out (probably a function of me being one of the first to check in and just overall poor ground handling)
United Airlines recently announced its new Polaris business class and it looks really good, but part of me can't help but think that's because United's old business class was so underwhelming. I mean it's definitely an excellent hard product, but it's what other airlines have been doing for years now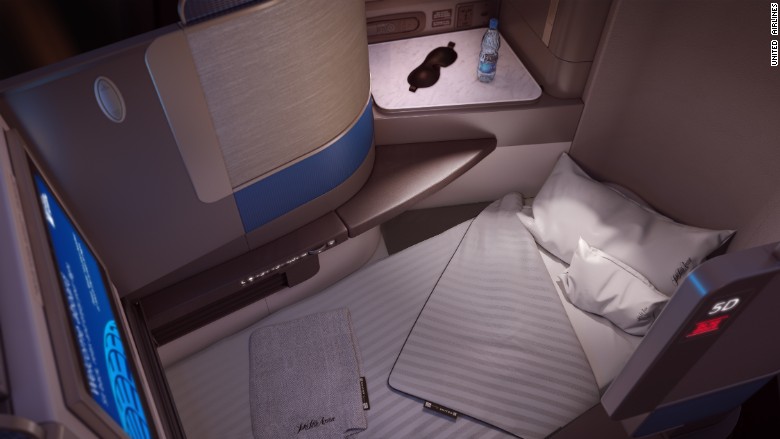 United's new Polaris business class will be 1-2-1 with all aisle access. the bed is good for people up to 2m in height, there will be bedding provided by Saks Fifth Avenue. PJs will be available (but only on flights >12 hours) on request (smart, probably counting on the fact that not everyone will know this is available and saving some money in the process). The preview has been covered extensively in a lot of the American-focused blogs, so I'm not going to repeat everything here. Suffice to say that this looks like an actual competitive business class product. Polaris starts flying 1 Dec 2016.
It's hard to say what I thought of my overall United longhaul experience, because when it's all said and done, United business will always be better than any other airline's economy.
At the end of the day, United got me a good night's rest. The rest was forgettable- food was terrible. The service was indifferent. But I slept well and was refreshed for work the next day.
So from that point of view, the United business class product passes muster and I'm going to give it a hesitant thumbs up- you don't need to deliberately re-route yourself to avoid United. Unless you're in this awful, awful 2-4-2 configured 777. No, this isn't photoshopped. This is an actual United business class cabin.
Makes you think twice about complaining about SQ.