The Long Way to New York: Trip Planning
Singapore Airlines SilverKris Lounge, Singapore
Singapore Airlines A330 Business Class SIN-BKK
Thai Airways First Class Lounge & Spa, BKK
Thai Airways B747 First Class BKK-HND
Getting from HND to NRT
ANA First Class Lounge, NRT
ANA B77W First Class NRT-ORD
United Club ORD
United B767 Economy ORD-EWR
Visiting the US Open
Sheraton New York Times Square
Hilton New York Midtown
Wingtips Lounge JFK & Delta to DC
Exploring Washington DC
Element New York Times Square West
Virgin Atlantic Clubhouse, JFK
Singapore Airlines A380 Suites JFK-FRA
Lufthansa Senator Lounge FRA
Singapore Airlines A380 Suites FRA-SIN
---
It's been said many times before but it's always worth repeating- SQ still hasn't quite mastered the ground experience yet. Although its hard product is unrivaled in the air, on the ground its lounges and other amenities leave a lot to be desired.
It doesn't have Etihad's chauffer service, for example, which picks up and drops off first and business class passengers to and from the airport. Singapore is so small; if Etihad can offer this service throughout the entire UAE (that is, you can be picked up at the airport and dropped off anywhere in the UAE), why can't Singapore at least offer this service in Singapore?
It doesn't have Virgin Atlantic's awe inspiring lounges which offer you haircuts while you watch planes take off.
It doesn't have a separate terminal for First Class passengers like the awe-inspiring Lufthansa FCT in Frankfurt.
And it doesn't have the Thai Airways First Class spa (before anyone says that spa services are disproportionately cheap to run in Thailand because of supply, that's true but there are a lot of other airlines which offer complimentary spa treatments to passengers eg British Airways and Elemis)
Of course all these carriers all don't have anything close to SQ's quality in the air. I'm just asking why we can't have the best of all worlds.
I digress.
SQ 979 had landed on time in BKK at around 2000 and I had until 2245 to get a spa treatment, dine and take lots of photos. I heard conflicting accounts about whether Thai does pick up transiting F passengers at the gate so I didn't expect anything, but was nonetheless delighted to see a staff member with my name on a sign as I moved quickly down the jetway after disembarking.
"Are you Mr Wong?"
I giggled coyly and conceded that I was.
"Please to come with me to First Class lounge"
I got on the cart and we headed off. For those of you familiar with the layout of Suvarnabhumi Airport, you'll know that the walking time between gates can be quite long as the airport is laid out in a sprawling fashion. There are numerous travelators laid out but even so you can still spend up to 10-15 mins just getting to immigration from your plane, depending where you taxi to. Anyway that wasn't a concern today.
As the cart picked up speed and we drove past other transiting passengers, I mocked them in my mind. Those bipedal perambulating savages. From now on I would only cart places. Walking was so beneath me.
It was at this point that my hubris proved fatal as the cart came to an abrupt stop at an escalator. Apparently we have not developed stair climbing carts yet so we had to get off and go up the stairs to clear security.
After security it was still a good 5 minute walk to the lounge. As we walked she took out a roster and asked to check my baggage tags, mentioning that there seemed to be some discrepancy in their system. Ruh roh, I thought. It turned out this was all down to that incident back in SIN where the counter staff told me she could tag my bag all the way through to ORD, HND-NRT transfer notwithstanding. The tag was eventually corrected in Singapore, but apparently the first tag was what went through to the TG system in BKK.
The TG lady was extremely helpful. She took a photo of my luggage tag and told me not to worry and they would sort everything out. And sure enough my bag came out at HND with no problems.
She dropped me off at the lounge and left, and I asked the staff if an immediate appointment was available at the spa and surprisingly, despite it being the evening prime time rush, there was no wait.
They escorted me out of the lounge and 10 steps away to the First Class Spa. As per the TG website, the spa is open from 6am to 1130pm every day. The spa is divided into two zones based on class of travel-
 First Class Zone Facilities:
3 Touch Of Silk Suites (Body Massage)
· 6 Neck & Shoulder or Relaxing Foot Massage Corners
·         2 Steam Rooms
·         2 Sauna Rooms
·         4 Shower Rooms
·         Toilets
Silk Class (Business) Zone Facility:
 8 Neck & Shoulder or Relaxing Foot Massage Corners
Before anyone asks, no, you have to be flying on TG to access the spa. First and Business class passengers on Star partners do not get access. You can read the full FAQ on this FT thread. 
Another bucket list item checked, I thought as I surveyed the treatment list. First Class passengers get a complimentary 60 minute treatment, Business Class get 30 minutes
Touch of Silk (Full Body Oil Massage – 60 minutes for First Class only)

Start your journey with a relaxing Touch of Silk, full-body oil massage. Performed with the unique 'Thai touch', this massage will help to prepare your body for your onward flight by increasing blood circulation as well as relieving muscular tension and helping to provide necessary hydration for your skin. On completion of your Touch of Silk massage, you will be left with an overall sense of well-being and total relaxation.

Royal Thai Massage (Full Body Massage – 60 minutes for First Class only)

Thai massage is perceived as one of the most precious of Thai traditional therapies. Royal Thai Massage helps to stimulate blood circulation, reduces edema caused by travelling and reduces body fatigue. With its unique acupressure techniques, expertly applied to your body, you will find your mind relaxed and muscles relieved, following the stress of your journey.

Neck & Shoulder Massage (30 minutes)

The Neck & Shoulder Massage is a great way to relieve stress which has built up from the rigors of everyday life from working long hours at your computer. Using specific techniques the therapist will work to loosen tight muscles around the neck and shoulders whilst simultaneously assessing how much tension is held in the body and how best to release it. You will board your flight feeling more relaxed and a little lighter around the shoulders.

Foot Massage (30 minutes)

Let's help prepare you for your onward journey, by taking the weight off your feet and giving them a relaxing massage, which they truly deserve. Foot massage is a well-known relaxation therapy to help take care of tired feet. The gentle touch of the therapists hands and the deeper pressure from their fingers, create a sense of overall relaxation and will help to stimulate your vital organs.
The waiting area is pleasant enough, but it was completely deserted. There were some packaged snacks, water and a selection of teas available. All the real food is over in the lounge.
In no time at all I was invited to the treatment room. The treatment room was ridiculously large. I mean, I've been to luxury spas in downtown BKK that were half this size.
There was a separate walk in wardrobe to hang your clothes.
And there was a full-sized shower room as well as a toilet. Toilet amenities were L'occitane branded.
As for the massage- let's just say that I don't think I'm perceptive enough to know a good spa treatment from a bad one. All I know is that I had a relaxing massage in an international airport in a huge spa suite for free. And there's very little more awesome than that.
After the treatment I headed back to the main lounge and made a beeline for the dining room area. There are buffet stations scattered around the lounge but from what I gather the dining room is their equivalent of SQ's private room- a sit down area with made to order items.
Where it's dissimilar from The Private Room is that the menu selections are decidedly Thai comfort food based. No lobster, no steak. All options are local perhaps with the odd addition of a mushroom cream soup. And that's not a bad thing per se, I suppose. But it's definitely aimed at the locals more than international travellers.
I ordered the pad thai and the grilled pork. Pad thai was alright, if not really small. They serve you bite sized portions here, perhaps to encourage you to order more variety of dishes. I thought the portions would be full sized so only ordered two dishes. The dishes took about 15 minutes to prepare and by then it was too late to order anything else.
The grilled pork was probably the stand out of the two dishes. I also tried ordering prawn cakes but they were out. Had I more time, I would probably have sampled other dishes but time was running out and I still had photos to take of the lounge.
Similarly, the drinks menu didn't really have anything special. The champagne wasn't anything near what you find in The Private Room. Non vintage, Moet quality stuff (Mumm was unavailable that day).
Here's an idea of the buffet spread outside the dining room- nothing hot, just a selection of pre-prepared items
None of them were very memorable, and I was suspicious of the fried rice plates they left out given they were stone cold.
The rest of the lounge had computer working terminals and TV rooms. No slumber rooms were available.
I was also surprised that you couldn't directly connect to the wifi, you had to go a terminal to generate a code with your boarding pass.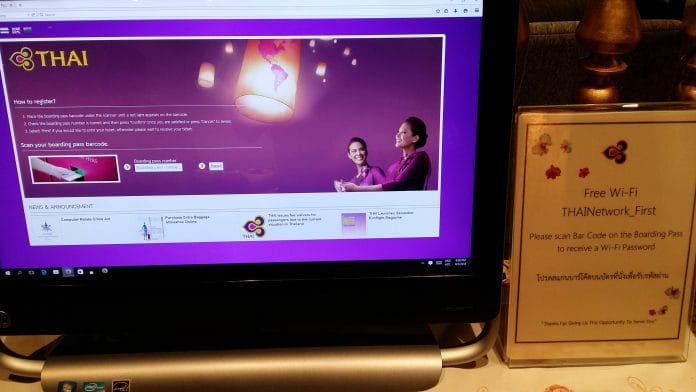 They had a few pop up displays of local handicrafts
So if I were to sum up the TG First Class lounge, I'd say their catering was disappointing for a place with such awesome food as Thailand. Their drinks selection was similarly nothing special. The spa is really the saving grace, because otherwise the lounge would more or less be a writeoff. That spa suite was luxuriously furnished and I understand other suites have jacuzzis too.
One thing that wasn't made clear upon arrival would be that we'd get escorted to our gate when the time came. They should probably have mentioned that upfront, because when I started to head out a staff member called me back and said the flight wasn't ready to board yet.
When the time came to board a staff member came to find me. As we stepped out of the lounge these two vehicles pulled up. They looked absolutely awesome but unfortunately they weren't for us. Imagine riding one of those down the hallways. Haters gonna hate.
In the absence of any carts it was time to take a long walk to the departure gate and see how Thai's 747s have been holding up.