When UOB first launched the Visa Infinite card in Singapore in 2003, it was one of those creamy de lah creamy cards that only the upper crust of society could have. Described as a card "for the top 0.1% of the elite circle in Singapore" (quick math- 2003 population= 4.115 million so 0.1% is 4,115 people, give or take), the minimum annual income requirement was $350,000 with an annual fee of $1,500.
Since then, as is the case with all credit cards, the product moved downmarket. Although the card still remains Visa's highest tier offering, it's now offered by multiple banks and if you have a minimum income of $120,000 you can even get a no-fee Visa Infinite from CIMB.
All Visa Infinite cards come with bank-offered perks and Visa-offered perks. For example, all Visa Infinite cards can book hotel rates with special perks on the Visa Infinite Luxury Hotel collection site (read more about that here), but only UOB's Visa Infinite card has access to the Tower Club.
I want to talk about one Visa-offered perk that is common to all  Visa Infinite cards- the Visa Infinite concierge.
I generally don't think much of the concierge services attached to credit cards, because very often I find it's much faster to get things done myself. Take restaurant bookings for example- in the time it takes to call up the concierge, verify who I am, convey my requirements and whatnot, I could have just picked up the phone and done it myself. Same goes for flights and hotels.
Where I think the concierge does add value is when
The restaurant is fully booked and the concierge is able to pull a bit of DYKWIA on them (I've heard the AMEX Black Card concierge maintains excellent relations with top restaurants around the world for this very reason)
The restaurant you want to dine at is in a country where English is not widely spoken
You need tickets to a sold out event and don't mind paying through the nose
You have a very unusual request
With that in mind, I decided to take the concierge on a test drive with a few routine requests. All Visa Infinite concierge requests can be made through this online form
Flights
Flight reservations should be standard meat and potatoes for the concierge, so I specified a trip in business class to Tokyo between the 28th of April and 7th of May to see what they'd come up with.
The booking request form that the Visa Infinite concierge website uses isn't the best thought through. It seems they've turned on "force response" to the most asinine fields including fax number, but strangely not made City a mandatory field. You can just specify two countries and submit the form, if you were feeling trollish (and like wasting your own time)
I submitted my request on Friday 24 Feb at around noon. The concierge got back to me on Monday 27 Feb 9am with the following two options on SQ and JAL.
The fare quotes were identical to those on the official websites, so no mark up there.
I had just told the concierge that I wanted to go to Tokyo and was surprised that they did not proactively recommend HND to me, given that the rest of my activities suggested I would be in Tokyo city proper.
The SQ flight they proposed was to NRT (despite there being plenty of HND-bound SQ flights). Although their outbound leg on JAL had me flying to HND and then returning from NRT, this was probably a byproduct of there being no availability on SIN-NRT via JAL on the date I specified. This seemed to imply that HND was almost an afterthought airport, which is very odd given that HND is an infinitely better airport for accessing downtown Tokyo.
Not all first time visitors to Tokyo will be aware of the HND/NRT difference, so it would have been more impressive if the concierge actively highlighted this to minimize the inconvenience to the traveler. This, plus the 2 day+ waiting time to get a simple quote, makes me wonder what the true value add of the concierge is here. I could have plugged in the dates on any OTA and got the same results within seconds.
Conclusion: Meh. The concierge service didn't add any value at all- I would have thought they'd proactively arrange for things like car transfers (even if they'd have to charge) and I certainly didn't expect to wait 2 days + for a simple fare quote.
Hotels
So, flights aren't a strong point of the concierge. But surely they'd know some nice places to stay?
I went to fill up the form for hotel reservations to give it a try.
The concierge took about 36 hours to get back to me with the following 3 options.
They quoted me flexible rates, so to do a fair comparison I went to pull similar rooms and cancellation policy rates from OTAs.
For the Capitol Hotel Tokyu, the Visa Infinite concierge mentioned that there was a local tax of JPY 1,806 to be collected by the hotel. However, they didn't mention this was per day. When you add in the local tax to the quote the overall price comes up to S$4,312. That was still better than any rate I could find online
For the Imperial Hotel, the Visa Infinite concierge rate of S$4,818 was slightly higher than the best rate I could find via Kayak (Agoda- S$4,794)
For Hotel Chinzanso the concierge quoted S$5,063, but I managed to find a S$4,489 rate through an OTA called CancelOn (should do a separate post on this because it's quite an interesting concept- an OTA that allows people to sell hotel rooms they can't use).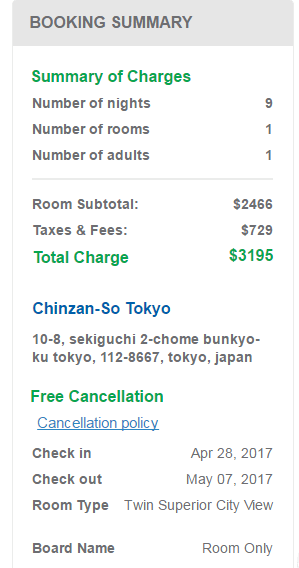 Conclusion: Hit and miss. The concierge did managed to find a cheaper rate for one hotel, but came out more expensive on two others. It's a small sample size, but I would only really be comfortable using the concierge to identify good hotels to stay at, then use my own skills to get better rates
Rental Car
No one should be renting a car for Tokyo, but for completeness sake I wanted to find out what options they'd give me.
I'm surprised they didn't use any of the standard agencies eg Avis, Hertz. Instead they got back to me with a quotation from Toyota Rent a Car, an outfit I've never heard of (with a website that seems to be down). Visa did have a special rate with them though.
Car Quotation 1 : P2 car  (Compact)
Total rate for the duration of rental : JPY 66,663 (inclusive of Visa discount )
Breakdown of the rate  :  Base rate JPY 59,940 +CDW at JPY 9,720 and minus –Visa discount JPY 2997
Inclusion : multi-lingual speaking GPS – (English or Chinese speaking) –subject to availability upon request , Collision damage waiver , Unlimited KM
Car Quotation 2 : P3 car  (Intermediate)
Total rate for the duration of rental : JPY 80,514 (inclusive of Visa discount )
Breakdown of the rate  :  Base rate JPY 74,520 +CDW at JPY 9,720 and minus –Visa discount JPY 3,726
Inclusion : multi-lingual speaking GPS – (English or Chinese speaking) –subject to availability upon request , Collision damage waiver , Unlimited KM
Those rates seemed to be pretty decent, because if you search on Kayak the cheapest rate you'd get is S$857 (without GPS). That rate, however, is for on-airport car rentals. If you were willing to take a shuttle to a location off airport you could conceivably do S$645 through a third party (again, without GPS).
Conclusion: Here's where I think the concierge might be a little useful. There's nothing stopping you from using the Visa discount rate and booking your own ride with Avis/Hertz, but it at least gives you a point of reference for deciding how much you should be paying. Another missed opportunity for value add was to suggest some driving itineraries for the region.
Restaurants
I've declared my intention to have life-changing beef, and since my decision to declare The Fat Cow as life-changing attracted so much derision on the Entertainer thread, I've resolved to try a few beef places in Tokyo during my 48 hour Garuda trip there.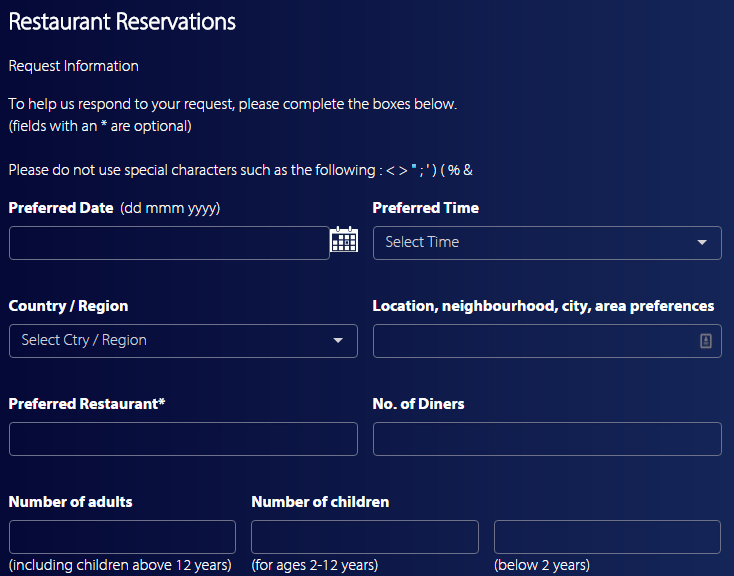 One place that was recommended to me on the comments was Aragawa, so I put the concierge on it. And just for the heck of it, I also asked them to try and get Sukiyabashi Jiro.
They managed to get Aragawa but said the restaurant had a 400gm minimum order if the booking is just for one person. That made me somewhat nervous so I think I'll probably look elsewhere. As for Sukiyabashi Jiro, I knew from the start that they want hotels to guarantee the reservation but I was hoping that the concierge could provide a credit card guarantee instead. No dice.
Conclusion: This is one area where the concierge can genuinely add value- provided you don't speak the lingua franca of the country you're going to. If you do, you're probably better off getting things done yourself. I wonder if I was being unrealistic in expecting the concierge to pull strings to get reservations or exceptions to the rule (eg Jiro), but if they can't do that (and if language isn't an issue) there's no reason not to make your own bookings.
Event Tickets
I'm heading to Miami in March to watch the Miami Masters tennis event. My gameplan is to buy last minute tickets on Stubhub, having found out during the US Open that people would let tickets go for events at 80+% discounts the day before.
But I was still curious to see what kind of pricing the concierge would get for the event. Here's their response
Ticket Website: miamiopen.com/2017-daily-tickets-en

As each session will be held at a different stadium/ venue, can you kindly advise us the session and ticket category you are looking for?

For your information, below information will be required to complete the ticket purchase:

▶ A Ticketmaster account (if you don't already have one, we can assist to set up one for you on your behalf)
▶ Full Visa card details (16-digit, expiry date and the CVV)
So they didn't really do anything beyond Googling the event and passing the information on.  Again, I would have liked to see the concierge get a bit more proactive. This would be a great time to upsell the customer by arranging some special behind-the-scenes type experience or hospitality package.
Conclusion: The concierge didn't do anything beyond what I would have done.
Conclusion
I am confused as to what value a credit concierge has, at least with respect to routine requests. I suppose if you were a super busy always shouting into phone businessman, you might see some value in this (although in the time it took you to fill out the form and go back and forth with them confirming seats, wouldn't it be faster to do it yourself?)
But perhaps I'm asking the wrong questions. Most people would be more than happy to book their own flights, hotels and cars. Perhaps the concierge would really shine if I gave them a chance to be creative.
So I sat down and thought of a few more, shall we say, unconventional requests…