The Long Way to New York: Trip Planning
Singapore Airlines SilverKris Lounge, Singapore
Singapore Airlines A330 Business Class SIN-BKK
Thai Airways First Class Lounge & Spa, BKK
Thai Airways B747 First Class BKK-HND
Getting from HND to NRT
ANA First Class Lounge, NRT
ANA B77W First Class NRT-ORD
United Club ORD
United B767 Economy ORD-EWR
Visiting the US Open
Sheraton New York Times Square
Hilton New York Midtown
Wingtips Lounge JFK & Delta to DC
Exploring Washington DC
Element New York Times Square West
Virgin Atlantic Clubhouse, JFK
Singapore Airlines A380 Suites JFK-FRA
Lufthansa Senator Lounge FRA
Singapore Airlines A380 Suites FRA-SIN
---
Attending the US Open was always a dream of mine ever since I started playing tennis religiously about 10 years ago. I had only seen a smattering of live events- an ATP 250 in Sao Paulo and the WTA Women's Tour Finals in Singapore. And with greatest respect to both those events, they're nowhere in the same league as a Grand Slam.
If the US Open is on your horizon at some point in the future, here's a little guide I hope you find useful. Even if you're not that into tennis, do read on for the full review of the SPG Luxury Suite (which I did a little teaser on earlier)
The Tickets and Logistics
DO. NOT. BUY. TICKETS. IN. ADVANCE. Let me say that again. Do not buy tickets in advance.
Unless you're going for the super prime courtside seats (which will cost you upwards of $400-500 USD easily) on Arthur Ashe, there is no need to rush onto the website and book the minute sales launch. If all you're interested in is a grounds pass, or a non-courtside seat in Armstrong or Ashe, there is no need to buy beforehand.
I learned this the hard way. Having shelled out $85 for a grounds pass, I found them selling for $10-15 on the morning of the event itself on Stubhub. I did manage to take advantage of it in the end, snagging a ticket for the semi finals at $16 when the cheapest seats offered on the official site were upwards of $90. Looking back though, I could have saved so much more money by not being kan cheong.
Take public transport. There's no reason to drive in New York anyway, and an Uber to Flushing from Manhattan would cost about $30+.
The 7 train will get you to Mets-Willets Point Station, after which it's about a 6-7 minute walk to the entrance gates. A single ride costs $2.75, although you can buy an unlimited use 7 day metrocard for $31.
Don't bring a bag. Trust me, it's not worth the hassle. There are two queues to go in- one is the express queue for those without bags, the other is the regular queue. The regular queue sometimes trailed back halfway to the station.
Wear cargo pants and put all your sunscreen (no aerosols) water and other barang barang inside.
The Tennis
There are really two stadiums of note- Armstrong and Ashe. Ashe is the much larger of the two and is where you'll find the big names playing. Not that you don't get big names on Armstrong (or Grandstand for the first week), but you can bet players like Djokovic, Nadal et al will almost always be on Ashe.
Here are a few takeaways-
Your view will vary: As awesome as the atmosphere on Ashe is, it's still one heck of a big stadium.
This means that if you're going for the cheapest tickets (upper promenade), you can forget about any other views than this-
Fortunately, on Ashe at least it's pretty much free seating within your own section, so it doesn't really matter which seat per se you choose. You can move to the front of your section if you see empty seats (of course you move when the rightful owners of those seats come around) and improve your view somewhat.
I much prefer Armstrong because even seated at the back of the stadium yields very good views.  This shot was taken from the rear of Armstrong.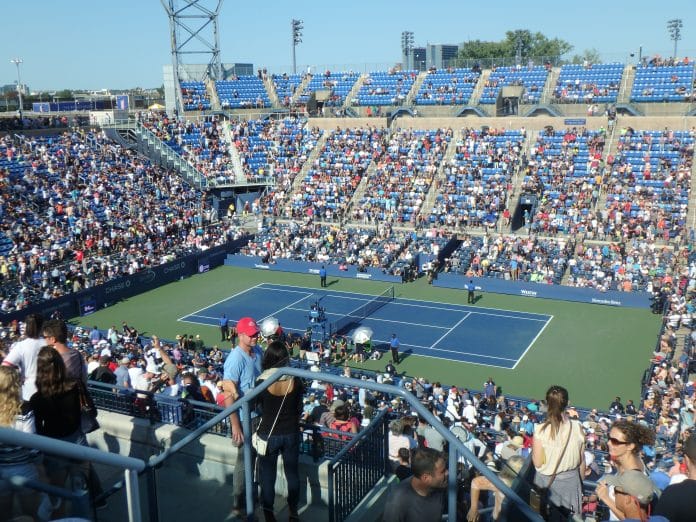 You don't really need courtside seats in Armstrong. Even sitting in the front part of the second tier yields great views. Like this matchup between Isner and Nishikori. Look at that height difference! (didn't help him though)
So there really isn't a "bad" seat in Armstrong that would stop you from getting a great view of the proceedings.
Rain or shine at Ashe: Ashe has a roof, so the matches go on rain or shine. The roof closes in just over 5 minutes. Armstrong is being demolished this year to build a new facility with a roof which will be ready by 2018.
AMEX cardholders get a free radio: AMEX is one of the title sponsors of the US Open, and they're making the most of it. Flash your AMEX card and get a free radio which lets you tune into the TV commentary, which can help add to the overall experience.
Protip: although there's a booth near the entrance where everyone crowds, there's no need to do so.  There are numerous AMEX booths around the grounds with these available. They will swipe your magnetic strip to verify your card, so be sure to activate it before you leave for the States.
The smaller courts have good stuff too: Yes, all the big names are on Ashe, Armstrong and Grandstand, but if you're willing to go to one of the smaller outer courts you'll be rewarded with much better views. You might see some of the up and coming juniors here- Monfils and Djokovic once battled on one of these courts about 10 years ago…
I mean where else can you get courtside views like this?
Don't discount the side attractions: It's kind of like Disneyland where everyone high tails it to Space Mountain and ignores the Country Bear Jamboree.
Yes you're there to see the tennis but there are other things worth exploring too inbetween matches- like the AMEX Hospitality Pavilion. You can assess the top floor lounge if you've got an AMEX card (despite the lounge moniker it's just a place to sit, you're paying for all F&B)
Or you can hang out downstairs and watch some matches on the big screen.
And if you come at the right time you can hit some balls on the only fan-accessible court on the grounds.
The Dining
You might be pleasantly surprised to know the US Open isn't just hot dog stands and bland, forgettable fast food. In fact, there are many gourmet options available, some of them from the biggest names in the NY food scene. At the 2016 US Open you'd be able to pick from names such as David Chang (of Momofuku fame), Pat LaFrieda and Iron Chef Morimoto.
Some highlights include-
Fuku Spicy Fried Chicken Bacon Ranch Sandwich (Fuku) – exclusive to the US Open: Habanero-brined, spicy fried chicken thigh on a Martin's potato roll, topped with applewood smoked bacon, Fuku ranch, and pickles.
Soom Sandwich (Soomsoom): Mesclun greens topped with a refreshing mix of diced cucumbers and tomatoes, red & white cabbage salads and four fresh falafel balls, served with a side of creamy tahini.
Korean Tacos (Korilla BBQ): Three locally-sourced corn tortillas with choice of bulgogi (marinated ribeye), caramelized kimchi and queso fresco; braised ginger sesame chicken topped with kimchi slaw and nori; or slow roasted pork with pineapple kimchi salsa and cilantro.
Mexican Style Street Corn (Angry Taco): Flavorful corn on the cob dressed with mayonnaise, chipotle puree, and lime juice.
Lobster Roll (BLT Fish Shack): Mouthwatering lobster with coleslaw, garnished with lemon and served on a New England roll.
Prosciutto Panini (Wine Bar Food): Prosciutto sandwich with vine ripened tomato, mozzarella di bufala, and fresh basil.
Nutella Dessert Pizza (Neopolitan Express): Italian imported Nutella and sliced almonds, lightly dusted with powdered sugar.
I'm a sucker for Momofuku (although an outing to their ramen place turned out to be very disappointing), so I made a beeline for the pop up fuku store.
The queues can sometimes be crazy, but if you go in the middle of a big match or outside the 12-2pm lunch window there's virtually no queue.
I had the spicy fried chicken sandwich.
Now, Americans in general are probably the biggest whimps when it comes to spice. When launching this item David Chang was quoted as saying
I want people who don't eat spicy food to say, 'That's f-ing spicy but I'll eat it and pay the price later,'"
The flavour of the chicken was great, but it was less spicy than Mcdonald's garlic chilly. The fries had a seaweed spice dusting on them and were great too. Total damage= $15-16. Yes, it's expensive to pay for a burger, but I comforted myself knowing it at least counts as a celebrity chef meal. Even if it was mass produced. And under a heat lamp. And wasn't spicy.
On day two I tried Korilla BBQ's korean beef bowl.
This one is probably even less photogenic but the flavours were great. It comes with thinly sliced marinated rib-eye steak, caramelized kimchi, bean sprouts, fire-roasted corn and garlic spinach, topped with the brand's signature sauces, like an aioli made with chipotle and gochujang. Damage= $15
There are of course more formal sit down joints if you're willing to pay. But paying more doesn't mean better quality- here's a very mediocre club sandwich.
Avoid the Food Village during 12-2pm. It's just insane. Outside these hours, waits can be as short as 2-3 minutes. Or splurge a bit and go to one of the sit down places with table service, although price is not necessarily an indicator of quality at the US Open.
The US Open Luxury Suite
As I mentioned before, I shelled out 50,000 Starpoints to redeem 2 tickets to the SPG Luxury Suite via SPG Moments. Last year these babies were going for 25,000 Starpoints so I was a bit peeved I'd have to pay double, but the whole point of SPG Moments is to get access to experiences you normally couldn't buy with money (tickets to luxury suites would usually start at upwards of a thousand dollars).
Starwood occupies Suite 137/138 in Arthur Ashe. This suite can take 40 people in total, although I think in actuality we had closer to 30.
We had two hosts and they were both awesome. They kept ensuring everyone had a full glass and made everyone on the balcony seating area rotate every 30 mins or so, meaning that even if you didn't grab a good seat early on you could rotate to one.
Goodie bags were distributed.  Above you'll see an SPG cap, SPG bottle, sunglasses, a few postcards, an iPhone cover, a gift card for some juice sponsor, lip balm and a doggy tennis ball toy (apparently the USTA forbids all sponsors from distributing actual tennis collaterals like real tennis balls, how odd).
You could supplement your bag with whatever additional collaterals you wanted thanks to a few strategically placed bowls.
At the welcome counter you could pick up an AMEX radio plus a program guide
There were also other thoughtful touches like a charging area for phones.
There's also a wet bar with an assortment of alcoholic drinks.
The bar selection is a major let down though. They only have reds, whites, beer and one cocktail- the official US Open Honey Deuce. It's not a bad drink as such (1 1⁄2 ounces grey goose vodka, 2 ounces lemonade, 1⁄2 ounce premium raspberry-flavored liqueur, frozen honeydew melon ball), but come on, bring out the bubbles!
Food was in abundance throughout the suite. There was a central display of popcorn and nuts
Chips and dip
As well as a more substantial buffet. Unfortunately, by the time the crowd cleared enough to snap photos there was some significant damage done to the offerings. I could hear David Attenborough's voice in my head
Too late to the kill, the weakest males in the pack must settle for scraps and the salad bar.
Fortunately there were other offerings too. Here's the salad and frut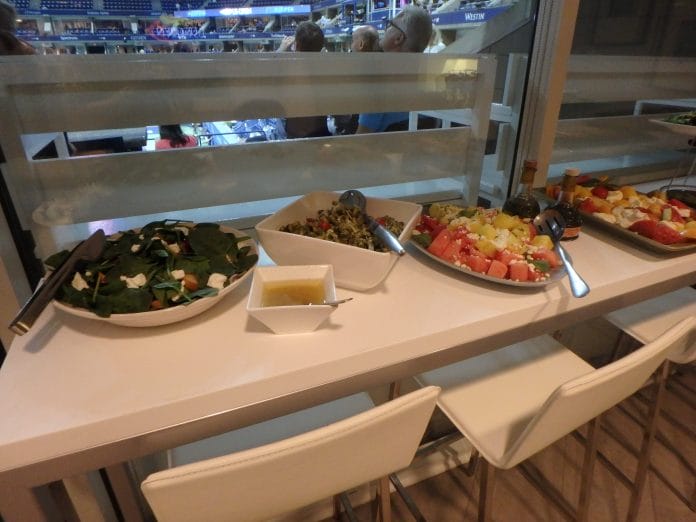 Plus an entire salmon (replaced twice) and a whole tray of butter poached lobster rolls
And they had these addictive as crack cookies. I gained 2 kg on the trip.
I took my carefully assembled plate out to the balcony when I suddenly remembered there was a tennis game going on.
The view from the balcony is pretty good. The players face away from the suite when resting during the changeover though. The men's match that evening was Djokovic vs Edmund, which was never really going any other way than a Djokovic win. So obvious was the result that by the start of the third set a group of rowdy locals had moved inside the suite to watch the NFL instead.
So that's my US Open experience! I'm bummed Nadal didn't go all the way, although the realist in me knows it's probably all downhill for him from here.
The US Open has this hotline fans can text to express any concerns about security, F&B, scheduling or transportation. I texted in my most pressing one.
He then went on to lose in the 5th set.
Can't have it all, I guess.