The Tokyo Ramen Run: Trip Planning
British Airways Galleries Lounge, Singapore
Qantas Lounge, Singapore
Japan Airlines B772 Business Class SIN-HND
My Tokyo Food Pilgrimage
Courtyard by Marriott Tokyo Station
The Great Tokyo Ramen Hunt
The Great Tokyo Ramen Lug
ANA Suite Lounge Narita
Singapore Airlines B77W First Class NRT-SIN
---
A knock on my door and 4 large boxes of Nakiryu noodles were now in my possession, delivered to my room by a very bewildered front desk associate. "I like Japanese ramen," I said helpfully.
Inside the boxes were 11 cartons…
…and inside each carton were 12 cups of the most highly sought after cup noodles anywhere in the world right now.
These babies are sold out six ways from sunday and black market prices are reaching stratospheric levels (although there are sporadic reports of some lucky folks being able to get their hands on some). And here I was with 132 cups of the stuff. It was like having Astatine on my hands.
There was only one sensible thing to do.
Fun over, I started packing the noodles, praying that I'd have enough space. Twenty minutes later I was done.
And that's when I stood up and cursed my abject lack of ambition. When ordering the noodles, my biggest fear was that I simply wouldn't have enough space to lug everything back. Hence my decision to bring two of the largest roll on bags I'd had plus four duffel bags (not pictured below)
But when it was all packed away, I still had two entire duffel bags worth of space to spare. Of course, by now my supplier was completely sold out and the Nissin website had gone listing from the Nakiryu noodles as "sold out" to removing them altogether. I was thoroughly annoyed at myself and my lack of a killer instinct. "This is why the chiobu don't come knocking" I chastized myself.
Visiting numerous convenience stores and supermarkets didn't yield any results either. Every shop assistant I asked either hadn't seen them before or mentioned that they were long gone. I did however get to see a whole range of Japanese ramen, the variety of which we can only hope to have in Singapore.
That left me with one last hope- going to the source. I wasn't able to find the Nissin factory, so I settled on the next best thing- the Cup Noodle Museum operated by Nissin. The museum hosts a gift shop selling every manner of Nissin products and I figured that was my best shot of finding more Nakiryu noodles.
The Cup Noodle Museum has two branches (making it a hipster's dilemma): one in Osaka, and one in Tokyo. Ok technically it's not in Tokyo. It's in Yokohama, which is about 45 minutes away from Tokyo by public transport.
Was that too far to travel for cup noodles? Yes. Was that too far to travel for one star Michelin cup noodles? Well, also yes. Did I have too much time on my hands? Do you really need to ask?
The train ride to Yokohama is fairly uneventful- thankfully the trains are express with limited stops, and before I knew it I was alighting at Sakuragicho station, a ten minute walk from the Cup Noodle Museum.
Here's a close up view of the environs.
You'll note "Cosmo World", which you'll definitely pass en route to the museum. It's not quite Tokyo Disneyworld but still.
The Cup Noodle Museum isn't much of a looker from the outside, but then again I believe that is the point. Kind of like cup noodles- it's not what's on the outside that matters, it's the goodness inside. If you squint hard enough, it's supposed to look like a cup noodle cup. If you squint really, really hard.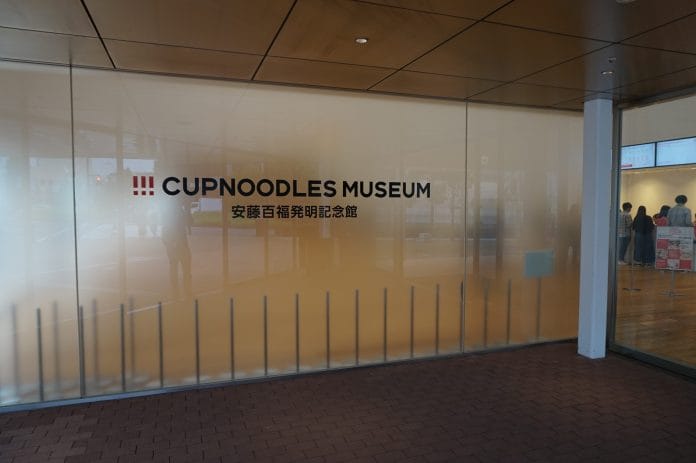 The museum is open 10am to 6pm daily except Tuesdays. Admission is JPY 500 (but you can buy an annual passport for JPY 1,500 that give you unlimited visits. No, really).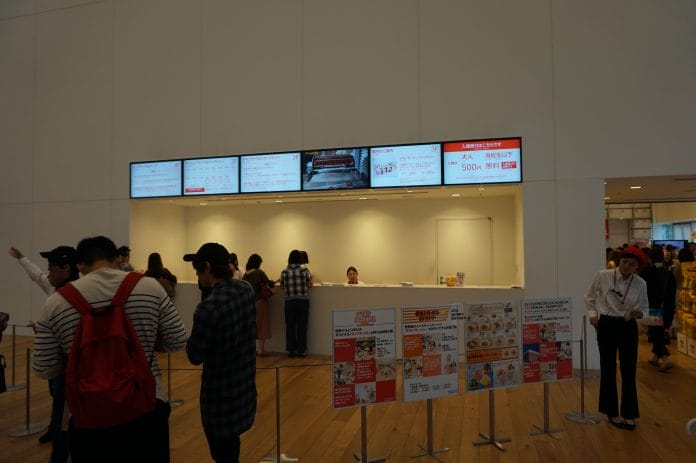 500 JPY isn't a lot in the grand scheme of things, and a few minutes later I had a museum guide, an entrance ticket and a reservation time for a "make your own cup noodle" session (more on that shortly).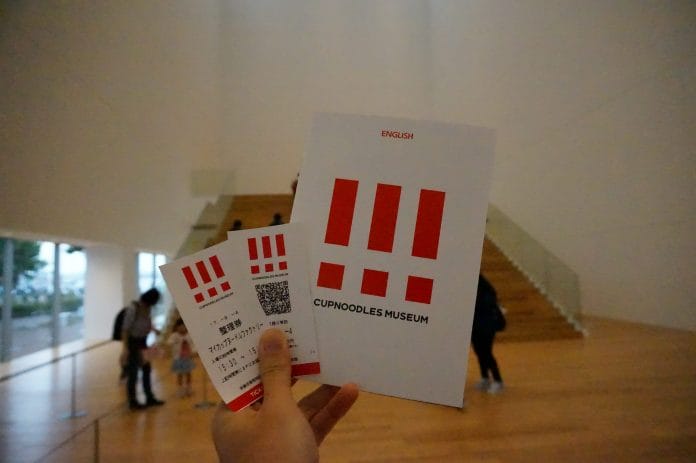 The museum uses a mix of English and Japanese, but they provide a free of charge English audio tour for the sections that are exclusively in Japanese. You just need to leave a refundable deposit with the front desk.
Before I even started viewing the exhibits, there was an itch at the back of my head I needed to resolve. I made a beeline for the gift shop, looking for my white whale.
The gift shop is fascinating in its own right. Inside you'll find all sorts of cup noodle products you never knew existed.
Here's a quick walkthrough video
And something cool for AV geeks- the Nissin museum sells JAL's cup noodles. These are specially formulated for high-altitude consumption. Remember, the higher you go, the lower the boiling point of water. So even inside a pressurized cabin, your boiling water would not be as hot as boiling water at sea level. So these noodles are made to cook properly with water that's slightly less hot.
I approached the sales staff and explained in as simple English as I could what I was looking for. After much rummaging in a back room and swiping through a digital inventory list they told me the noodles were completely gone and there was no new production on the way. Some part of me already knew this, but since I'd come all the way here there was no way I was going to leave empty-handed. If Nakiryu noodles weren't available for sale, then dammit, I was going to make my own.
Yes, that's what I said. The highlight of the museum is undoubtedly the "design your own cup noodles" experience. For a mere 300 JPY per cup, you can design a one-of-a-kind souvenir cup noodle, right down to the ingredients that go inside. As you'd expect, this is one of the most popular attractions and you need to get a timed reservation for a slot.
The process is straightforward. First, you buy an empty cup from a vending machine for 300 JPY.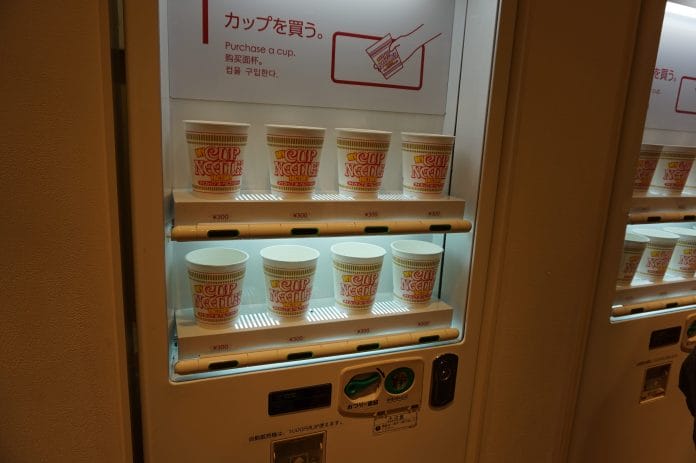 Next, you sanitize your hands. Don't even think about skipping this step! I saw the staff send a few visitors back to this station after seeing them bypass it. The Japanese don't kid around with hygiene…
Properly sanitized, you present yourself to a staff member who will assign you a table.
Scattered throughout this area are many communal tables with marker pens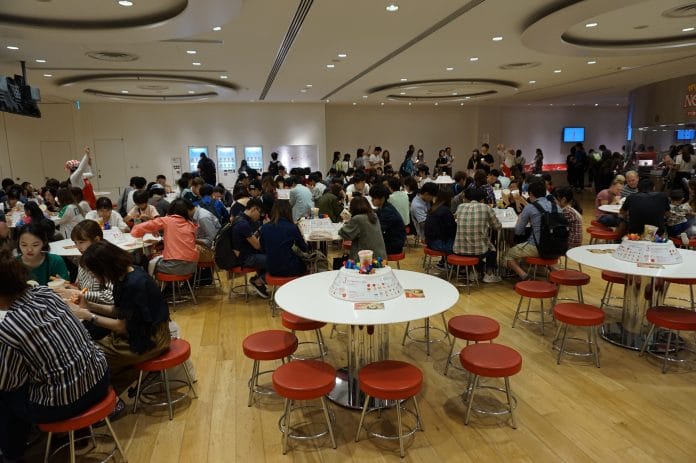 You're not allowed to use any instruments other than the markers on the table- so no stickers or pens for example. The reason being that using such things can weaken the integrity of the cup. They do inspect each cup before they agree to seal it, so don't fool around here. Otherwise, you're free to design your noodle cup however you want. I suppose drawing naughty things with many tentacles would be frowned upon, as would writing the name of any competing brands.
What would I draw? Well…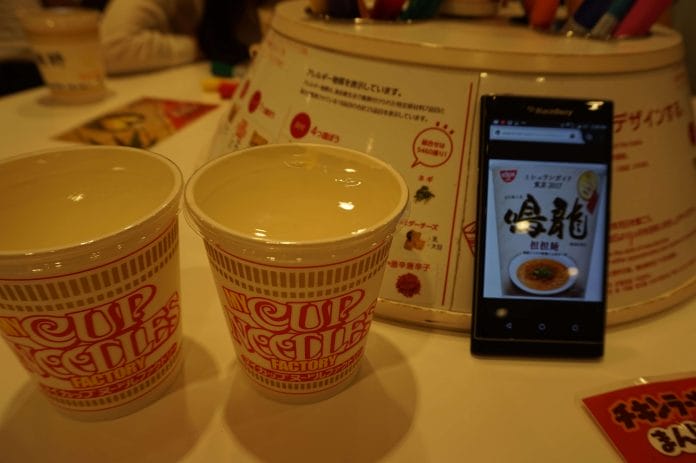 Eventually I had what I believed was an acceptable looking cup of Nakiryu noodles. No one will ever know, I told myself.
Now that your cup's made, you need to get some noodles into it.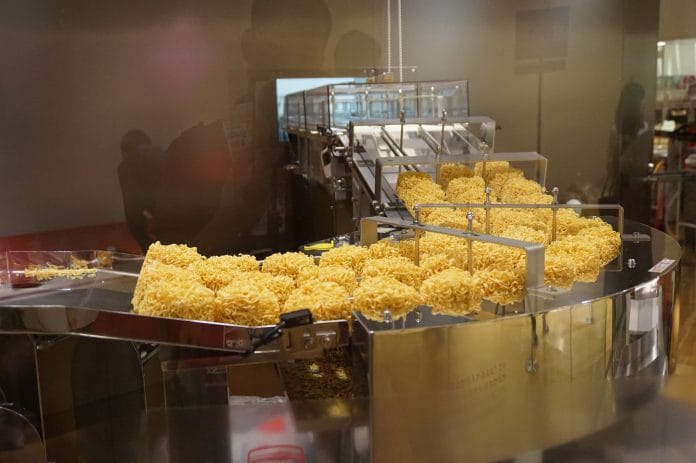 Here's where the museum tries to get you involved. The staff position your cup and ask you to give the wheel a few cranks. This rotates the cup and drops a block of ramen inside.
You're then passed a few airbags (for the final step)
Now the fun part- choosing the ingredients. Think of this as a big caifan display, just point and go. You get a choice of one soup base and four ingredients.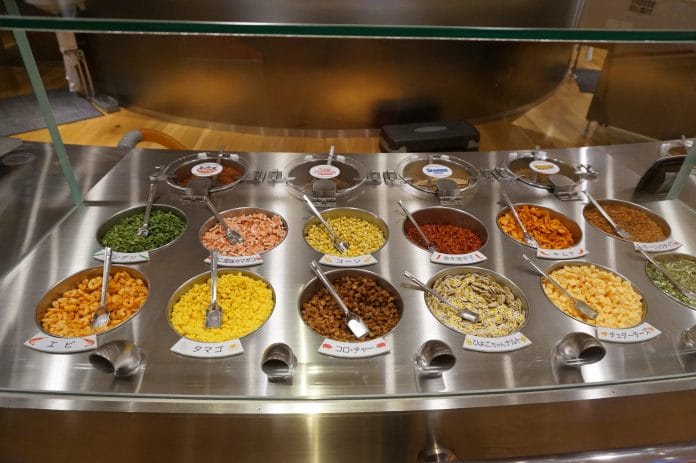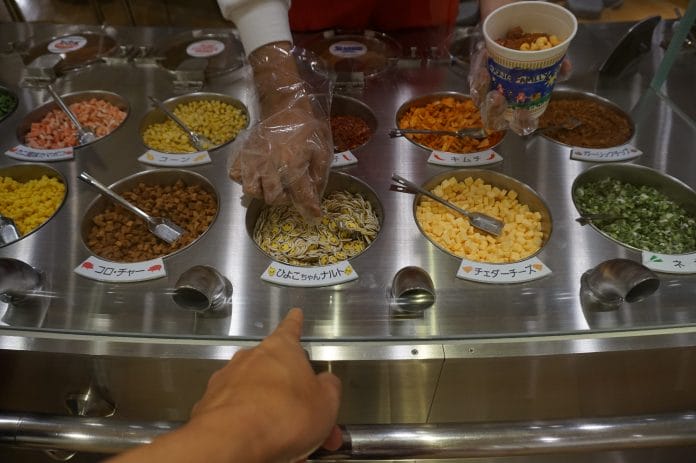 The selection is really diverse- prawn, fishcake, pork, chicken, chili, chives, cheese, garlic and egg are the ingredients that I recall.
The mission was simple: recreate Nakiryu noodles, in a cup.
I knew the soup was slightly spicy, so I picked the chili tomato soup base. I knew it had pork, so the pork cubes went in too. Chives were an obvious choice too, as well as egg (albeit in a very different form). For my final ingredient I added extra chili powder, as the soup looks quite potent.
Once your cup is filled, the tops are then placed on the cup noodles by a special machine.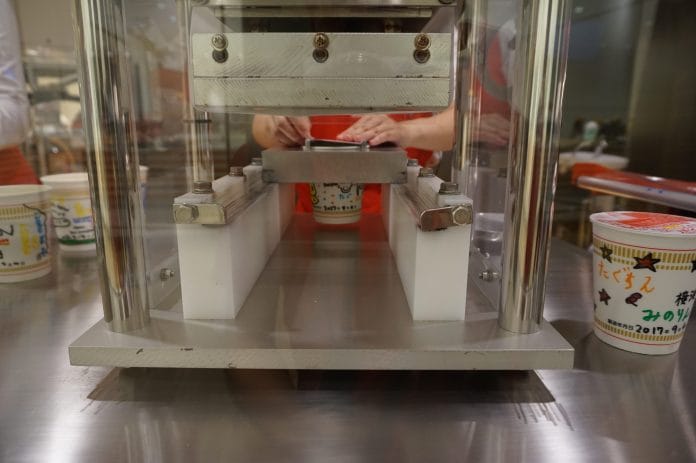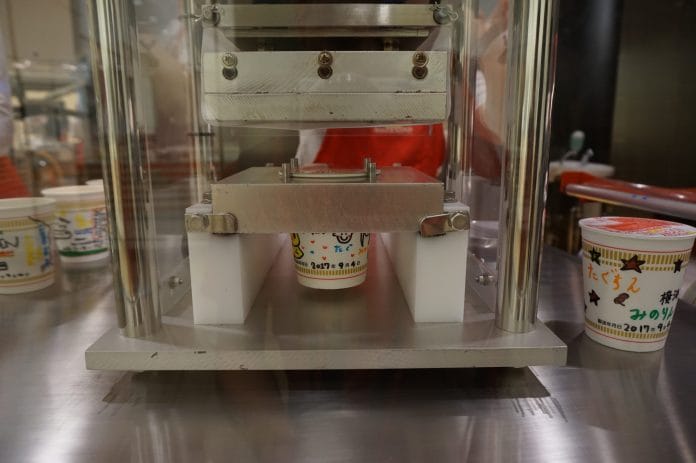 The noodles then get wrapped in clear plastic cling film…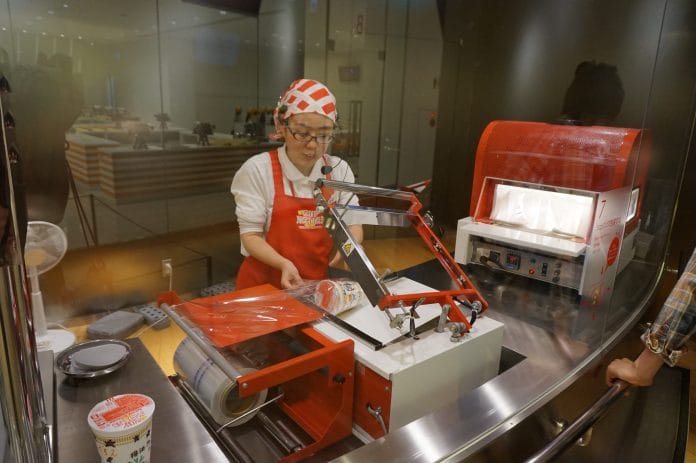 …passed through a heat sealer…
…and emerge in glorious shrink wrap on the other side.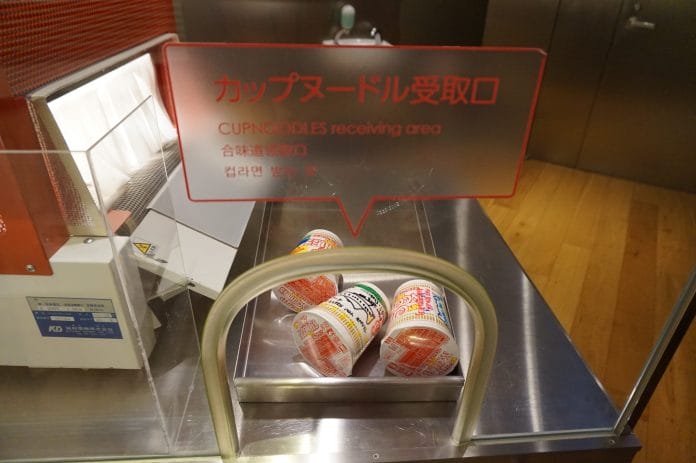 You're not done just yet. Those noodles are fragile and if a long trip home is on the cards, you'd best provide them with some protection. That's where the airbags you're given come in handy.
You pump air into the clear plastic bag until you get a lovely cushion surrounding your creation.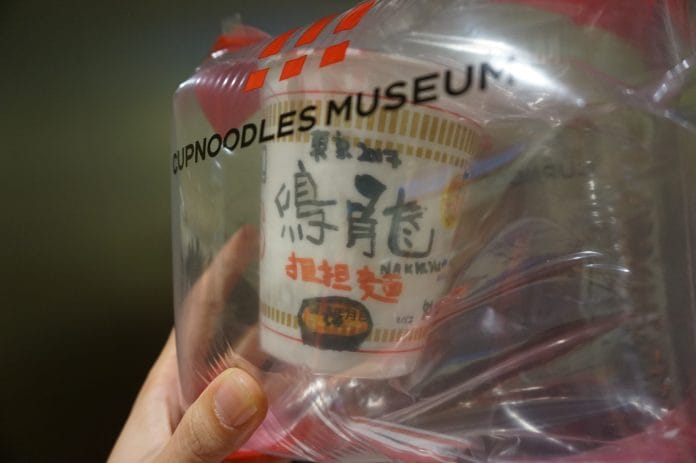 I guess I really should have read this sign before I pumped up all my bags. If you're taking a flight home, the pressure difference in the aircraft is going to be problematic for the noodles in the airbag you just pumped. I ended up having to deflate all my airbags.
I was very proud of my creation, and I reckon my Primary 3 art teacher would be too.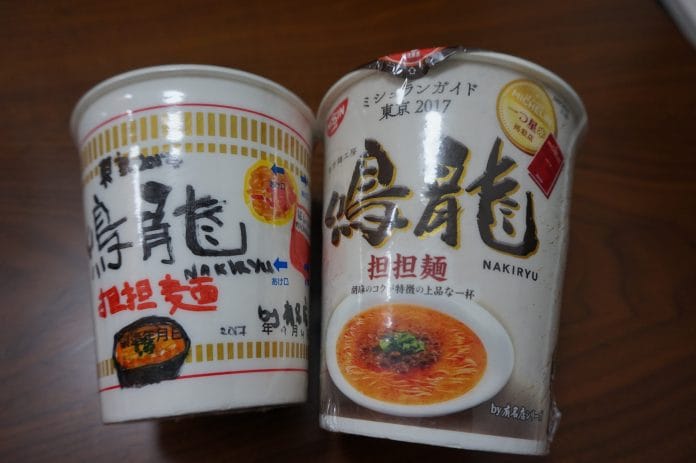 For 300 JPY, this is an unbeatable opportunity to create unique gifts for people. The experience was so fun I got a bit carried away. After making my bootleg noodles, I made more cups- one for the family, one for the Milelioness, one for the Milelion (corporate gifts yo), and one for the crew of SQ637, who the next day would have to entertain some pretty unusual requests from me.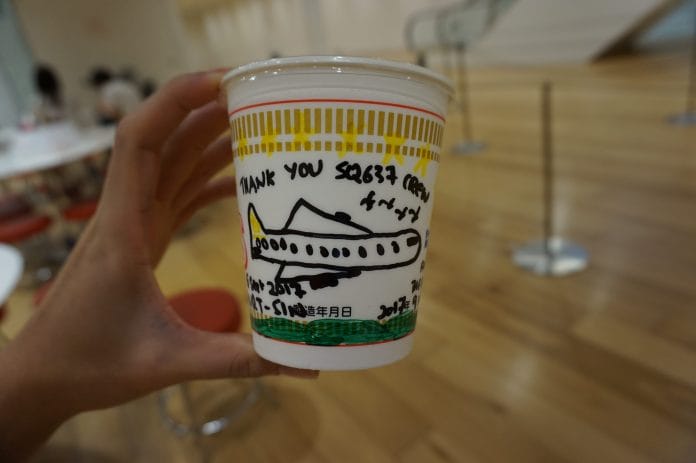 I also put a note on the cup in case SQ management was watching.
I left the station very happy, convinced that no one would know I was a tourist.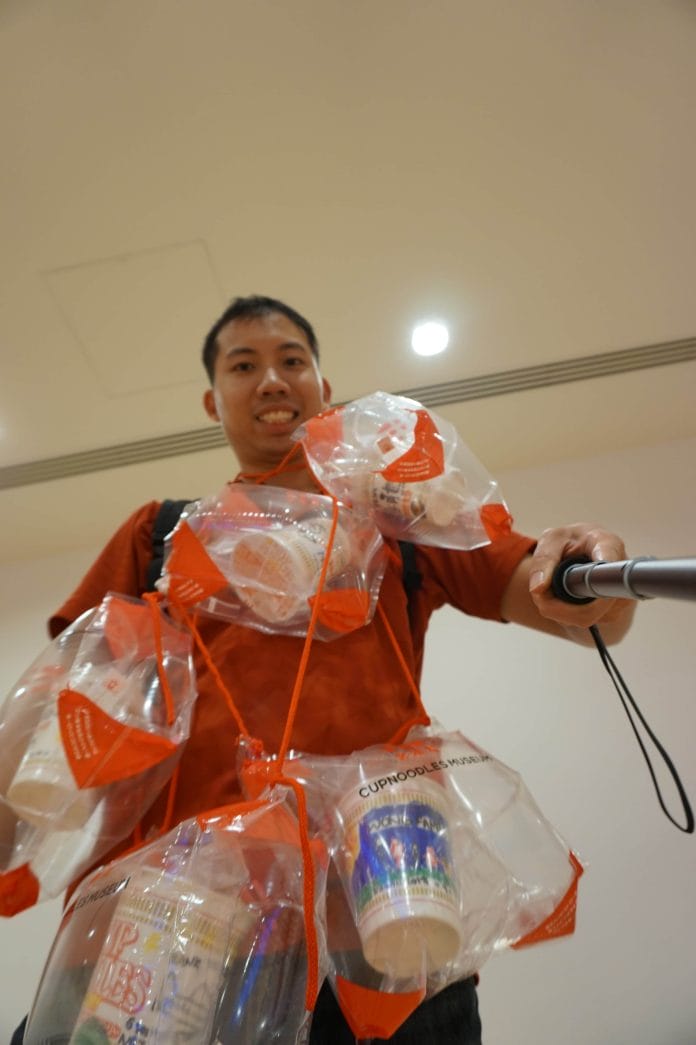 The rest of the museum? Well, it's kitsch meets advertainment. Five stories of nothing but cup noodles- the making of, the history of, the eating of. It's the kind of place you'd bring this kind of person to.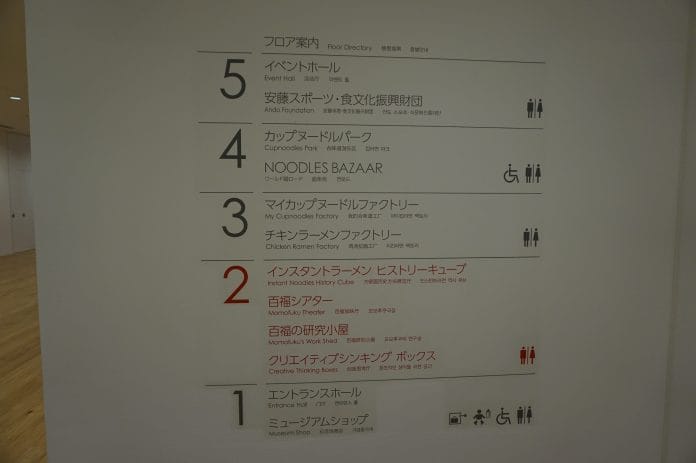 As you'd expect, there are exhibits dedicated to telling the story of the origin of cup noodles, and how Momofuku's humble invention went on to take the world by storm (they neglected to talk about the corresponding health implications)
It is pretty cool to see the cross section of a noodle cup.
As well as space ramen.
They even have a mock up of Momofuku's original hut where legend has it he had his eureka moment. It's all very Disneyesque, this idolizing of the founder. One man with a dream…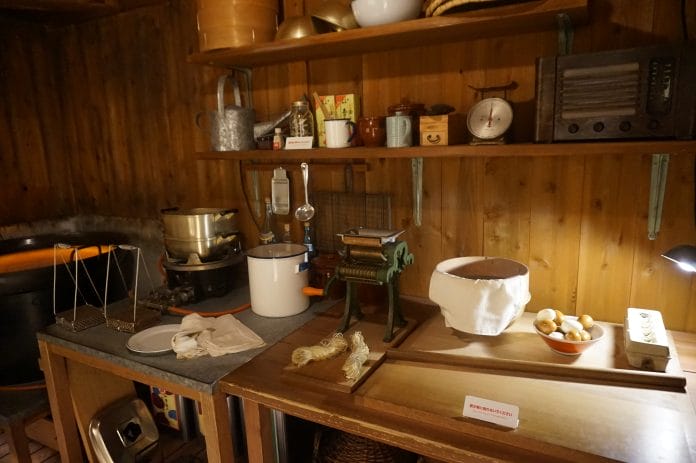 On the fourth floor you'll find the Noodle Bazaar, the museum's own food court that features different countries interpretation of ramen.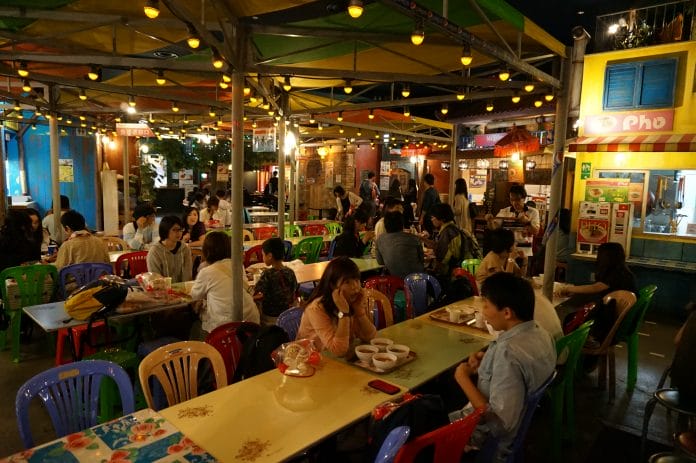 I spotted pho, mi goreng, laksa and lamian stalls.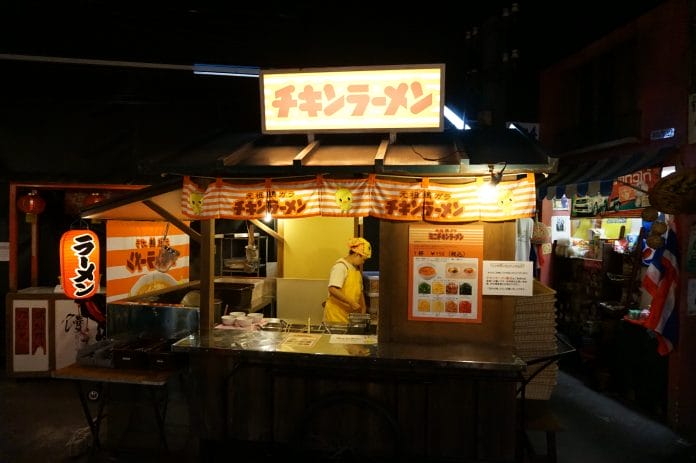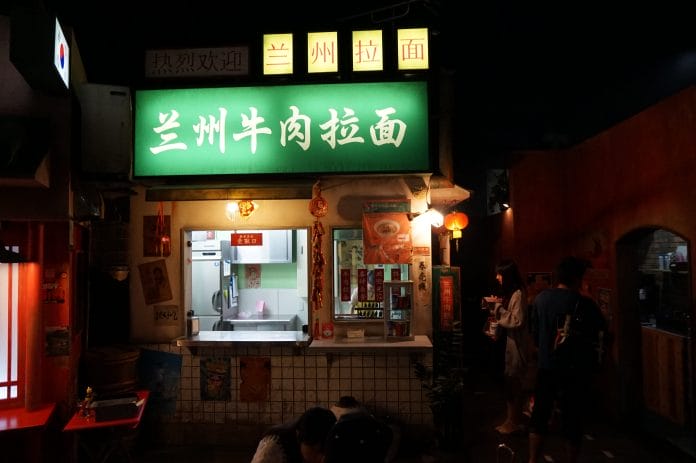 It's a fascinating concept, but I can't help but feel the purpose of the exhibit is to convince visitors that no one else does it right but the Japanese. That's at least the takeaway I had based on my sampling of Italian ramen, colloquially known as spaghetti.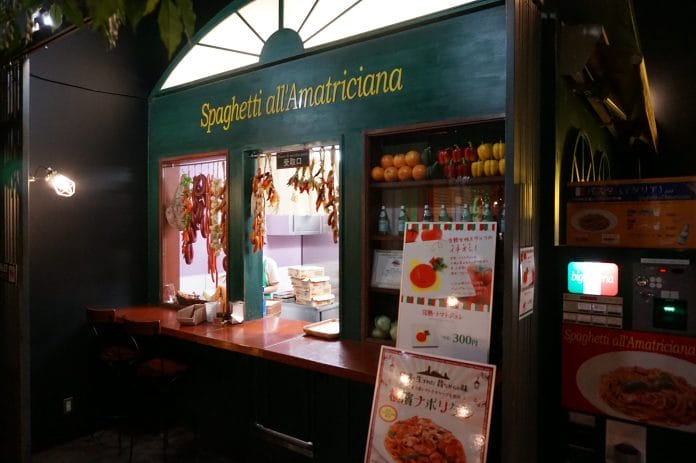 I make a mean amatriciana, as those who have tasted it before will attest to, and I can tell you that this interpretation was just vile.
Outside the food court there's something called Cup Noodles Park. This is a play area where kids can, er, I guess, pretend that they're cup noodles?
I'm not kidding. The play slides and webbing here are meant to simulate what the ramen noodles go through before they get packaged in cups.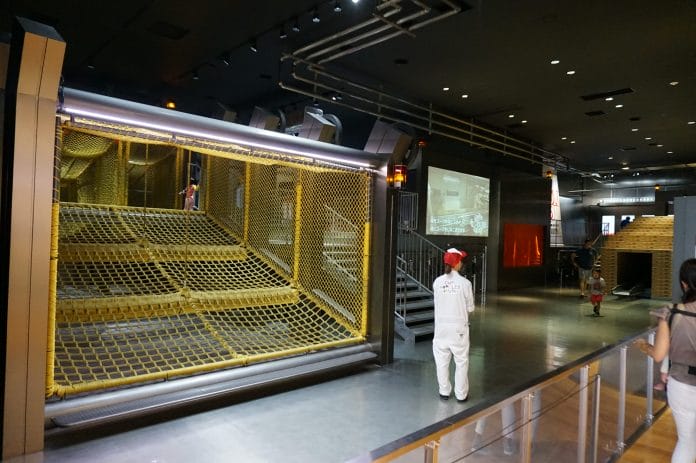 The rest of the exhibits are quite frankly forgettable, but the novelty of making your own cup noodles makes the entire visit worthwhile in my opinion. It's not for everyone, but if you're going to be in Yokohama why not drop by?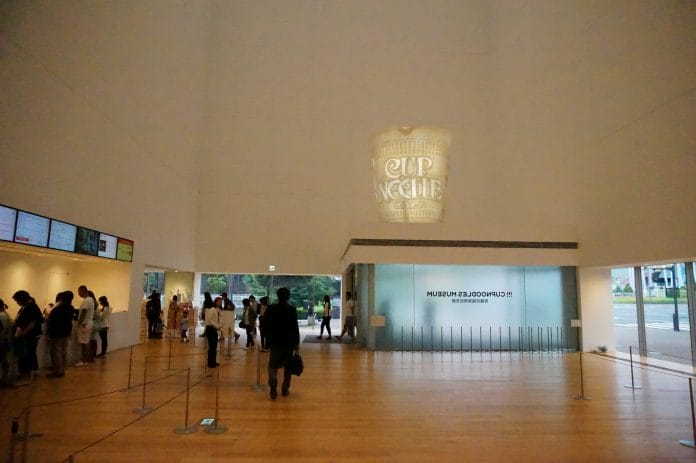 To top it off, I now had my very own bootleg Nissin Nakiryu noodles. I hope Nissin doesn't file a complaint with the WTO regarding trademark violation because I can imagine many consumers getting fooled by how similar the two are.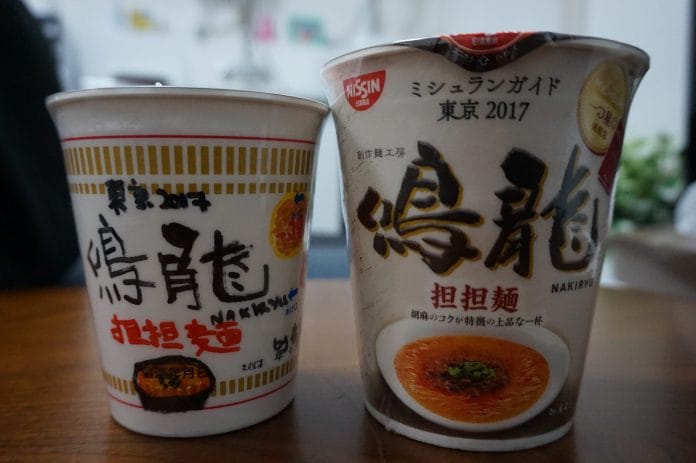 The only thing left was to get everything back home…