The Tokyo Ramen Run: Trip Planning
British Airways Galleries Lounge, Singapore
Qantas Lounge, Singapore
Japan Airlines B772 Business Class SIN-HND
My Tokyo Food Pilgrimage
Courtyard by Marriott Tokyo Station
The Great Tokyo Ramen Hunt
The Great Tokyo Ramen Lug
ANA Suite Lounge Narita
Singapore Airlines B77W First Class NRT-SIN
---
Ah, Tokyo. The only place in the world where people don't think I'm a total weirdo.
I love Tokyo, even though I couldn't care less for temples, shrines, Mt Fiji, handicrafts or fashion (as the Milelioness will attest to). But I do care for food. And my goodness, Tokyo has a lot of it. My entire itinerary for Tokyo is gastronomic. Sashimi, crab, Kobe beef, yakitori, tempura, tonkatsu, Japanese fruits, Japanese pizza, and Japanese pancakes.
Oh, and ramen.
Yes, buying 132 cups of Michelin Starred Nakiryu noodles was never the idea behind the trip, but hey, I've got all this luggage space I won't be using, and a whole lot of love for ramen. Now that some very helpful commenters have brought my attention to hotel-airport delivery services like TA-Q-Bin, I'm starting to wonder if 132 units is thinking too small. It's probably a moot point anyway because all reports I'm hearing from Tokyo are telling me the noodles are gone. Finished. Nada. I reached out to the UOB concierge to ask them to help me source more units and got this response
Thank you for your email. We have just heard back from our team in Tokyo, and they have advised that unfortunately these noodles have been discontinued. Our team contacted Nissin directly, and they confirmed that the production was limited to May 2017. The noodles have largely been sold out, and the main convenience store support lines could not confirm stock availability at individual locations.

We apologize that we could not be more helpful. We did look at other options for purchase, and it appears that even the third party sellers/resellers have stopped taking orders for this product.
That can't be good, but it's not going to stop me from looking…
Another reason I'm extra excited about this trip is it'll be a chance to test my investment in better media creation. That's right, my Sony A5000 is here, and it will undoubtedly solve every photography issue I have because technology.
So here's the gameplan:
Flights
To get to Tokyo, I'm using the remaining leg of my RTW ticket (remember I chose to start the trip in Tokyo because of the big cost savings involved) which will put me on JL36 to HND on JAL's 777-200ER aircraft.
It's always tricky to know what seats you'll get in J with JAL, as they operate so many different kinds.
Fortunately, they're one of the few airlines that publishes a schedule showing you which seats are operating which routes. A little bit of searching and I found that I'd have the Sky Suite III on my flight.
On first glance, the Sky Suite III looks like your standard reverse herringbone seat. But having tried JAL's excellent Apex Suite, I'm keen to see how the rest of their J seats measure up (well, at least the non-angled flat ones).
To get back to Singapore, I decided to burn some of my Krisflyer Miles to redeem an SQ First Class seat on SQ637 (which leaves from NRT, unfortunately. The HND flight leaves at 9 in the morning, which is too early for me. At least the NRT flight leaves at 11.10am). I tagged on an additional leg to Sydney in F with a stopover in Singapore of a few months to save miles on my next trip. 
Based on FlightRadar24, SQ637 seems to be reliably operated by a 77W with the old (2006) First Class product with 8 seats.
Most people would call this a bummer, but in this case I actually would prefer a bigger F cabin. I'm planning to shoot some video during the flight featuring an in-air taste test of the noodles, and the last thing I'd want to do is bother the other guy in the cabin (as per the seatmap it appears only one other seat is taken) with my antics. If I were in a one row First Class cabin it could be quite distracting, but at least with two rows I can occupy whichever one he/she isn't in.
I'll also need some help from the crew and that's why flying J isn't an option. I know the crew will be super busy in J and may not have time to help me out. I tend to find SQ's crew in J professional but not particularly personable, whereas the crew I've interacted with in F have been universally warm and approachable. I'm sure a lot of it comes from the fact that the crew in F often look after just a couple of passengers, but that's exactly the sort of attention I need this time round.
Accommodation
Tokyo is a tough city to find value accommodation…unless you're willing to do AirBnB, in which case you can find fantastic deals (and $40 in travel credit if you're a first time user).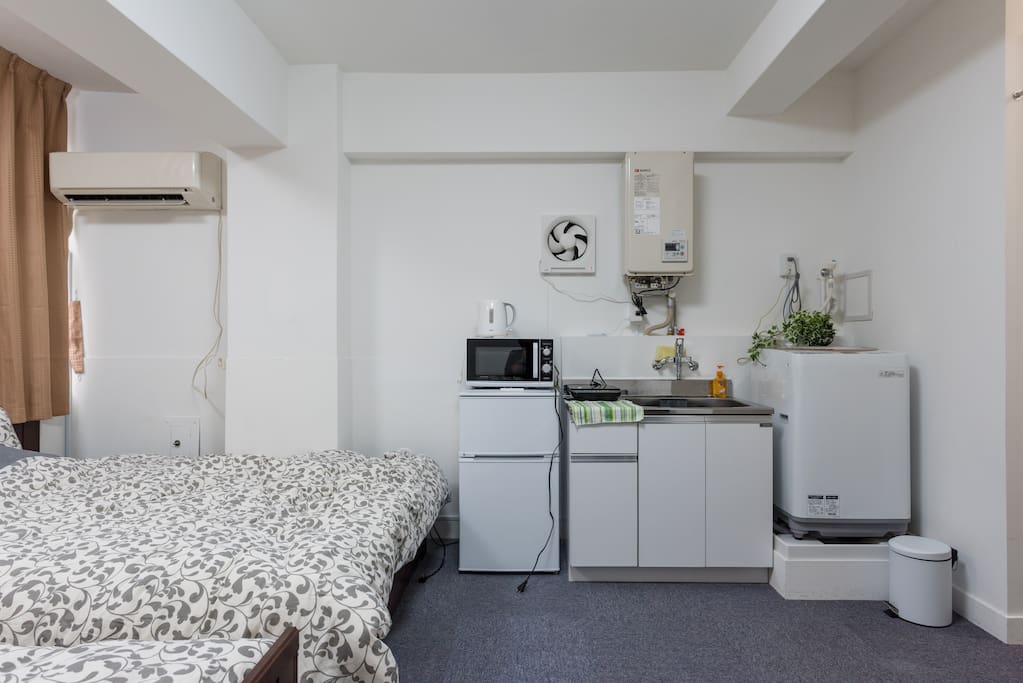 I got a studio apartment around Tokyo station for S$100 a night, all taxes and fees included. I paid for this using a combination of referral credit (thank you, everyone who used my link!) and the AirBnB gift cards I'd been stockpiling every time they go on sale for 20% off.
The problem is, if you want any chance of booking some of the nicer restaurants, you need a hotel concierge to do it for you (and if you want the really, really nice restaurants, you need a 5 Star hotel concierge). So I decided to split my stay half between AirBnB and half in a hotel.
The Starwood options in Tokyo are a good way of draining your points balance though, with the cheapest property starting at 12,000 points (and also in a really inconvenient location).
This is where I found the Starwood-Marriott tie up useful. Starwood lets you transfer your points to Marriott rewards at the ratio of 1:3. Marriott has a big footprint in Tokyo, as you'd expect. Here's what they have and how much each property costs, in terms of MR points.
So, for the equivalent of 35,000/3= 11,667 SPG points per night, I can get a hotel right outside Tokyo station, which suits me just fine (not to mention it's 900m from my AirBnB).
The Courtyard by Marriott Tokyo Station has solid reviews on the only review site that matters, and its concierge was able to get me reservations at the restaurants I wanted. Not bad for a 4 star hotel!
My only gripe was that they were very strict about booking restaurant reservations only on dates that I was staying at their property, and not the dates I was at my AirBnB. I really didn't understand this, given that either way I'd give them my credit card as security against no shows, but in the end the UOB concierge managed to help me out for the other dates.
Transportation
With 132 cup noodles to carry home, transportation suddenly becomes a very important part of the equation. I'm bringing two large roller bags + 2 collapsible duffel bags. Somehow I think that won't be enough, and I'll end up having to bring some of the noodles in the boxes they came in.
Which brings me to the second problem- getting to Narita airport. I'm going to opt for the much cheaper Keisei Toyko Shuttle bus (JPY 1,000) over the overpriced Airport Limousine  (JPY2,800), but the issue is the sheer number of bags I'll have. The Keisei website seems to suggest that strictly only one bag is allowed, and even if they're flexible I don't relish the idea of carrying 2 rollers, 2 duffels and an indeterminate amount of boxes to the bus stop from my AirBnB.
Fortunately, someone told me about TA-Q-Bin, a luggage forwarding service that can pick up your bags/parcels from an address and forward them to the airport where they'll be waiting for you. I'm inclined to go with this, even though it'll eat into my profits somewhat. If I pack my stuff properly, I should only need to pay about S$20-30 to ship everything.
So that's the plan! The real question is whether or not I'll be able to increase my 132 cup haul…but I've got a few tricks up my sleeve that I'm itching to try out.
Wish me luck.