The Tokyo Ramen Run: Trip Planning
British Airways Galleries Lounge, Singapore
Qantas Lounge, Singapore
Japan Airlines B772 Business Class SIN-HND
My Tokyo Food Pilgrimage
Courtyard by Marriott Tokyo Station
The Great Tokyo Ramen Hunt
The Great Tokyo Ramen Lug
ANA Suite Lounge Narita
Singapore Airlines B77W First Class NRT-SIN
---
By the end of my Tokyo trip I had amassed a rather healthy load of luggage. There was of course the 132 cups of Nakiryu ramen…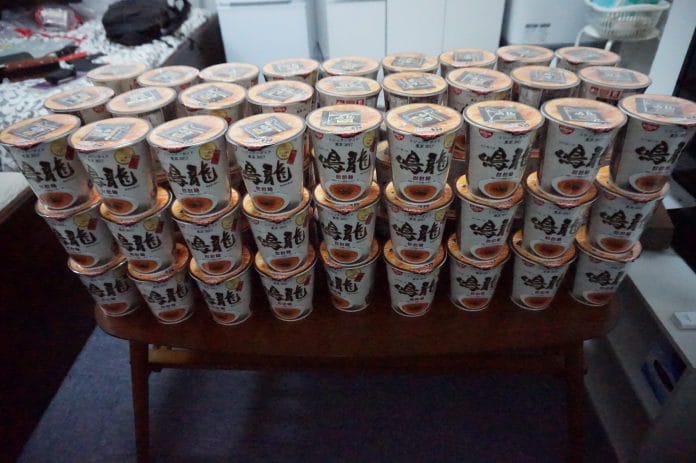 But as I mentioned in my previous post, I still had luggage space leftover. Most people would consider squeezing 132 cups of noodles into their bags as an accomplishment and quit while they're ahead. Fortunately, I'm crazy that way, so I started a spree on AirFrov and agreed to help 20 more people buy Press Butter Sands.
What are Press Butter Sands? They're like crack in cookie form. Think layered shortbread made with fresh Hokkaido butter, with buttercream and caramel pressed inside. They're made by the same company that does those famous Bake Cheese Tarts (which are now available in Singapore, in the off chance you didn't know)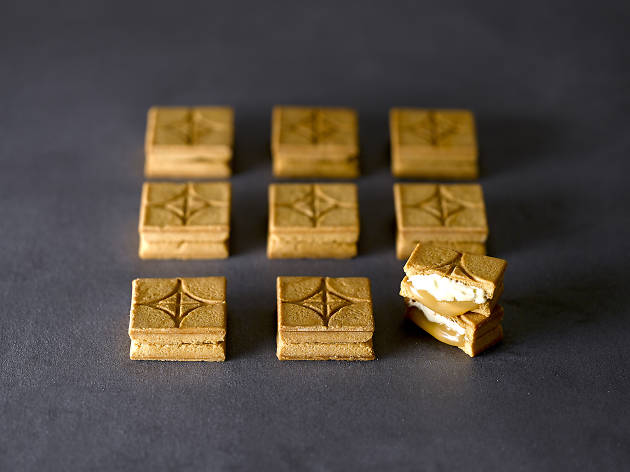 And it's Japan, so of course they come packaged beautifully. They're great gift ideas, and I'd encourage you to think about buying some back the next time you head to Tokyo (they have a 10 day expiry)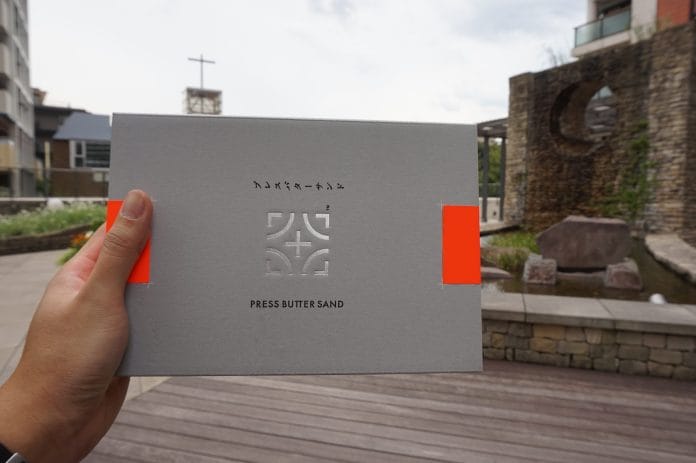 Offtopic: You have the option of buying the "Fresh" Butter Sands or the "Packaged" ones. The packaged ones come in the box shown above and cost 1,020 JPY for a box of 6 and 1,700 JPY for a box of 10. The fresh ones are individually wrapped and cost 170 JPY each. I honestly couldn't taste a difference between the two. They were both lovely and instantly addictive.
I ended up buying about 25 boxes in total- 20 for people I'd pledged to on AirFrov and the other 5 as gifts. I'd advise you go early in the day because the queues can be unpredictable (when they first opened they had a ticket system to cope with the overwhelming demand but it seems to have died down a bit). Going later in the day runs the risk of stock selling out.
I could bore you with more and more stories about how I told myself "ok, just one more item" but suffice to say that when all was said and done I had 132 cups of noodles, 25 boxes of Press Butter Sands, 4 bottles of champagne, assorted electronics, 5 cups of custom designed ramen, various green teas and a stuffed toy or two. (And for the record, GST was paid on all applicable items. IRAS has an app that allows you to declare and make payment for dutiable goods before you return to Singapore, after which you can proceed through the green channel as per normal. Despite my six bags, I wasn't stopped. I attribute this to my honest face)
What did this mean in terms of luggage? Well…
There was now the small matter of getting all that to the airport. My original plan was to take the Tokyo Shuttle bus, which would cost a mere 1,000 JPY for a one-way journey from Tokyo Station to Narita.
However, their policy on luggage is strictly one piece only. That wouldn't work out with my six pieces.
We have a trunk room in the shuttle; One (1) piece of baggage (suitcase) is checked free of charge for adults and children. Please use the courier service if you have additional luggage.
So I thought about the other option- the Airport Limo bus.
These guys cost 2.8X as much as the Tokyo Shuttle.
However, they're more generous on luggage. Two bags are allowed to be checked…
…plus they say on their FB page that they'll gladly take more if space permits.
It's interesting that the price differential between the Shuttle and the Limo is so large that if you had, say, two large bags, it'd still be cheaper to buy two shuttle tickets than a single limo ticket. I really struggle to see why that's the case- at the end of the day a bus is a bus. Both are air conditioned, both take the same time to get to the airport, both have comfortable seating, selected buses on both services have Wi-Fi…maybe I'm just missing something.
I didn't know whether checking 6 bags on to the Airport Limo would be pushing it, so decided to take the train instead. I'd never taken the Narita Express before because it's quite pricey, but it was about the same price as the airport limo (2,820 JPY) and didn't have any luggage restrictions.
The Narita Express runs from Tokyo Station to Narita in a promised time of 53 minutes (versus 80-90 minutes for the bus). The main issue I now faced was getting to Tokyo Station from my AirBnB. It was about a 1.5km walk, and I didn't fancy doing that with all the bags I had.
It seemed a taxi would make the most sense, but I had heard horror stories about how expensive Tokyo cabs could be. Fortunately, I learned about an app called Japan Taxi, which is sort of the Japanese taxi industry's response to Uber.
There's a 500 JPY voucher you can use for your first ride through the app.  Simply enter "GOOGLE" during sign up.
You'll need to send an OTP to your mobile number to activate your account. International numbers are supported.
Once you're done, confirm that the coupon appears in your account.
Although it's a Japanese app, it's clearly designed for tourists and you can enter addresses in English. The map pulls from Google Maps, so you can be sure all your key POIs will be inside.
The app provides you with a fare quote. Be very sure your 500 JPY coupon is reflecting before you click call taxi!
One quick point about the 500 JPY voucher. It can only be used if you book a taxi from Nihon Kotsu. There's no booking fee, but the app charges you a 410 JPY surcharge for pickup (so in other words, there's a booking fee). I guess you get the convenience of the taxi coming to your door, but that also means you don't end up saving that much over a street hail.
Once your cab is confirmed, you"ll receive a code to show to your driver when he arrives.
The taxi driver showed up quickly, was impeccably polite and loaded all my bags without saying a word. Cabs in Tokyo are really big (most are Toyota Crowns, but you have a Prius here and there) so boot space isn't a problem. It probably says more about how many bags I had that he had to place one bag in the front seat.
A receipt was generated immediately after drop off. My 500 JPY coupon applied and I paid 880 JPY in total. Not cheap for such a short ride, but not as bad as I feared.
It was just my luck to be heading into Tokyo station at the peak of peak hour, but after much polite pushing and shoving I made it to Platform 4.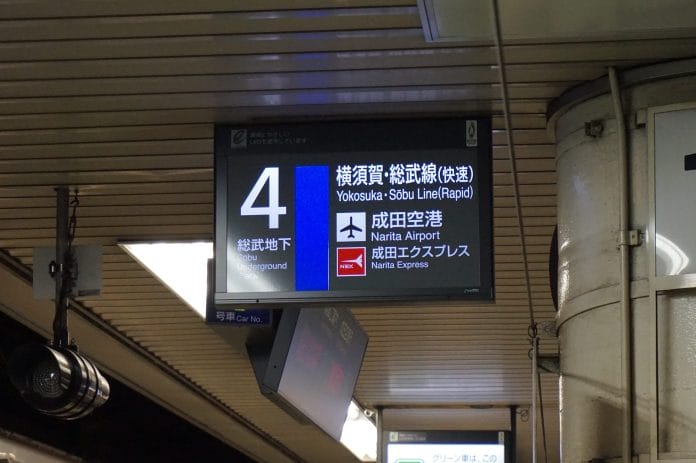 The train arrived dead on schedule (as you'd expect in Japan), and carriages filled up quickly.
Narita Express trains have 2-2 seating throughout.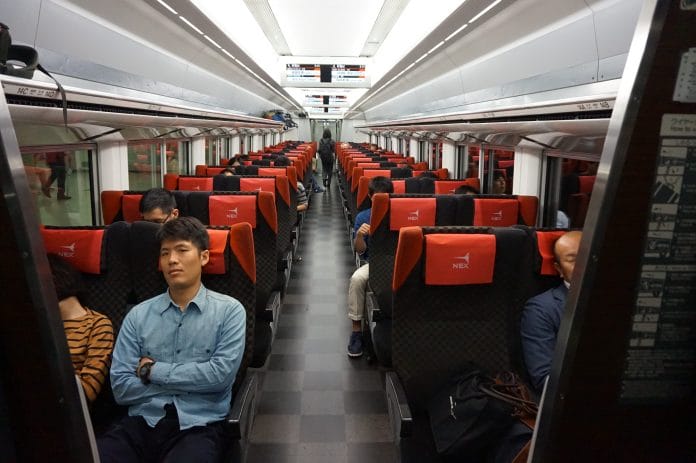 There's a lot of luggage storage space on the train in the form of luggage racks at the front of every carriage.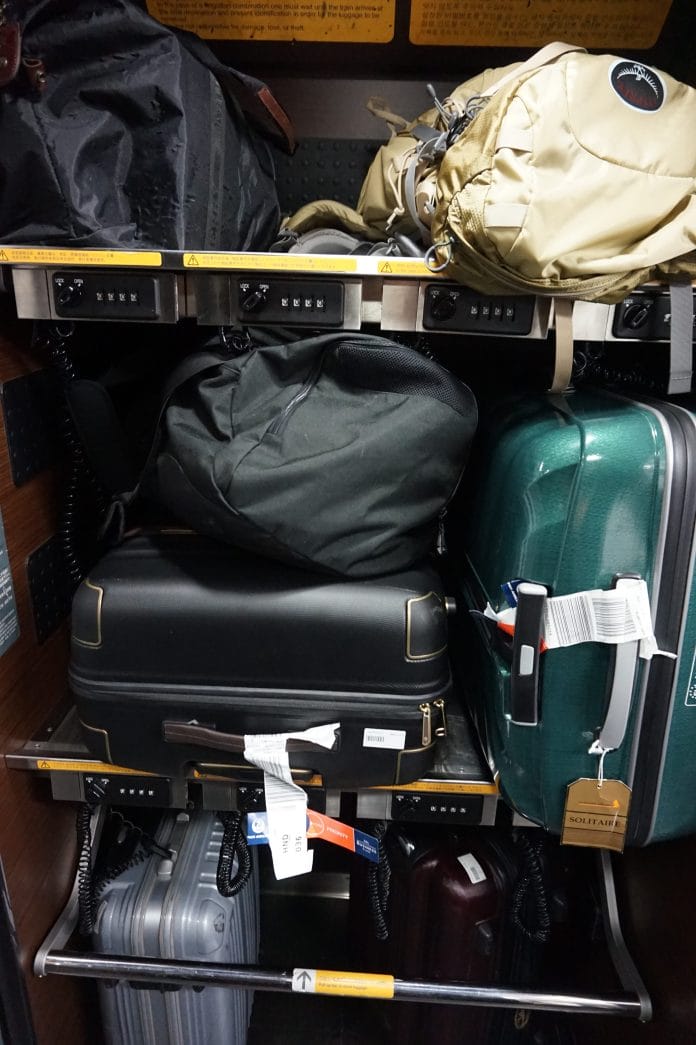 As well as overhead space above seats.
Seats are fairly wide and have a reclining function. They're good for napping.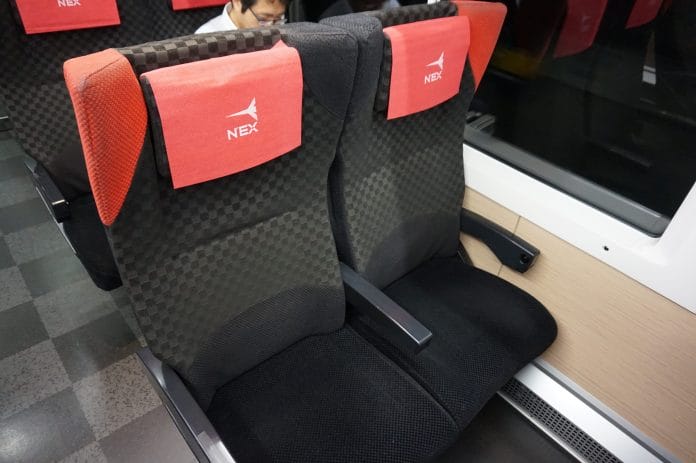 And a useful tray table that folds down from the seat infront of you (no food or drinks are served on this train). Wi-Fi was available, but it was appallingly slow for a country like Japan.
A screen above tracked the progress of the train towards Narita, and we arrived exactly on time at 9.01am. I swear the train was ahead of scheduled but deliberately slowed down as we approached if only to keep the published schedule.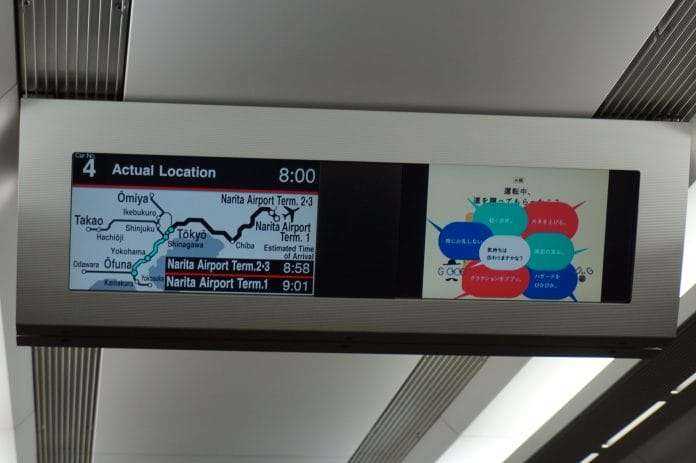 It's no doubt easier to get to Haneda from Tokyo, but as I explained in the trip planning post the timing of the flight from Narita worked better for me. I hope this post provides some clarity on the different transport options available to you if you need to get to Narita.