The Tokyo Ramen Run: Trip Planning
British Airways Galleries Lounge, Singapore
Qantas Lounge, Singapore
Japan Airlines B772 Business Class SIN-HND
My Tokyo Food Pilgrimage
Courtyard by Marriott Tokyo Station
The Great Tokyo Ramen Hunt
The Great Tokyo Ramen Lug
ANA Suite Lounge Narita
Singapore Airlines B77W First Class NRT-SIN
---
I arrived at T1, big bags in tow, all ready to go forth and build some glorious upper torso strength carrying home 11 crates of ramen. Or pull a muscle trying.
The last time I was in T1 I made the grave mistake of underbudgeting time for the lounges here. Who wants to use the dnata contract lounge, I huffed to myself, not realizing that T1 was home to not one, but two relatively new oneworld lounges operated by BA and Qantas. This time, I reached the airport a full 3.5 hours before my 2150 departure.
Japan Airline's counters only open 3 hours before departure, but they're one of many airlines who participate in the early check-in scheme at Changi, which means you can check in up to 12 hours before your flight, as shown below.
If you arrive before the counters open, you can (as a business class passenger) check in at the SATS premier check-in facility.
I'd walked past this many times but it was my first time using the facility, which reminds me of the dedicated check-in area SQ operates for First Class passengers in T2 and T3. You'd think that since this lounge was open to both First and Business Class passengers from a whole lot of airlines it'd be crowded, but the throughput rate was very good and there were a lot of open counters. I never really saw anyone spending more than  5 minutes at an agent.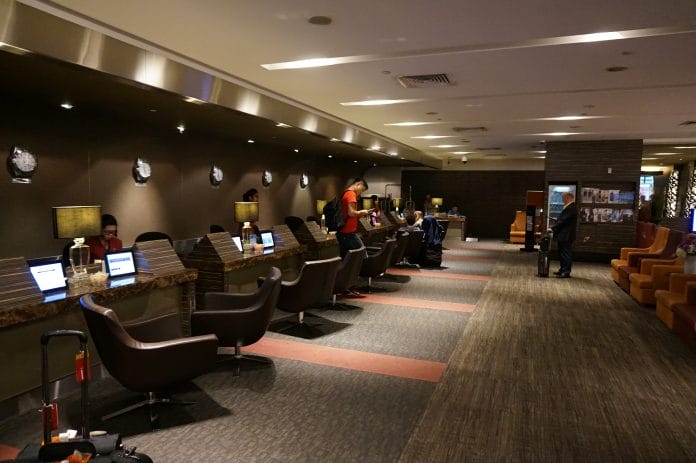 I was quickly ushered to the counter dealing specifically with JAL flights.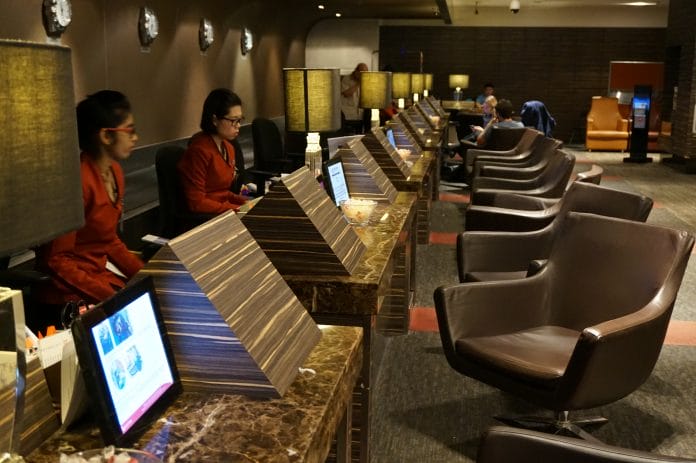 The check-in agent got really confused when she saw my itinerary. Recall that I was using up the last leg of my RTW trip which started and ended in Tokyo. For some reason she thought I was flying from SIN-HND-LAX (which is how I started the trip) and was all set to issue the boarding passes and luggage tags (would the system even let her, I wondered) before I corrected her. Apparently JAL's systems are not integrated well with the rest of oneworld so it looked as if I hadn't taken some of the legs I'd already flown.
My boarding pass was issued for Haneda. JAL unfortunately doesn't use any fancy paper for its boarding passes (nor does ANA for that matter). I know it's a small thing, but I do like that SQ has at least kept colored boarding passes for Business, First and Suites.
A printed map highlighting the different lounge options for JAL passengers was also included.
There really is no reason to linger in the lounge, but they provide some couches at the back (probably for the rest of the family to linger while one member checks in)
There's also a selection of magazines with a fridge full of water- for closers only.
A silent TV played CNA to no audience in particular.
Once you're done, there's a special door at the rear of the check-in facility that opens up to immigration.
I hadn't been to Terminal 1 in a while but they'd certainly done up the departures area. The centerpiece of the concourse (and the first thing you'll see after clearing immigration) is the so called "Social Tree", which…encourages you to be social by staring at your phone more.
Pfffft. Socializing seemed overrated, especially when I had two lounges to recluse myself in. There are very clear signs pointing passengers towards the TG, Qantas, BA, SATS and Emirates lounges.
The lounges are one level up from the main concourse.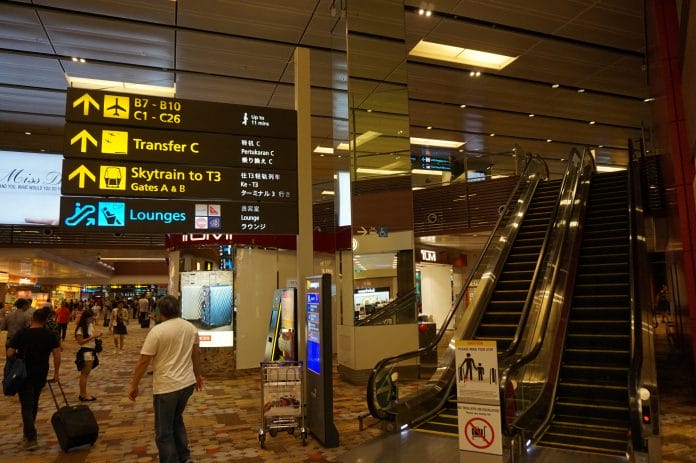 I decided to start off with the BA lounge this time round. The BA lounge received a makeover late in 2015 with BA's new lounge concept, and although AusBT wrote a rather shining review of it at the time, I couldn't help but feel it'd play poor cousin to the fantabulous Qantas facility just next door. I guess I was kind of biased against it from the start, because who in the right mind would spend time in the BA lounge when it's always happy hour in the Qantas lounge with truffle fries?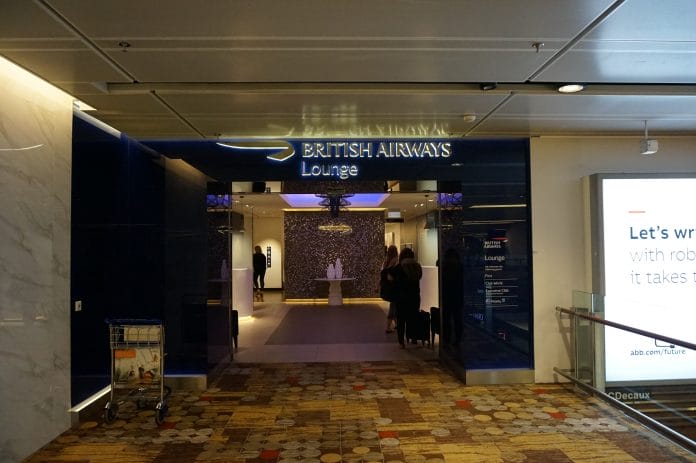 Aesthetically speaking, however, the BA lounge is stunning. I'd even give it the slight edge over the Qantas lounge, which is in itself quite the looker.
Past the reception is a bit of a tease- the Concorde Bar, reserved for BA First Class or highest tier elites only. You need to enter a special passcode on the tablet outside the door to enter, kind of like a speakeasy. For what it's worth, FT-ers report that the interior is claustrophobic and the F&B selection is mediocre. Also, the grapes are very sour.
The design of the BA lounge is homely yet urbane, with many individual armchairs flanking table lamp lit shared dividers, all of which have USB and power plugs.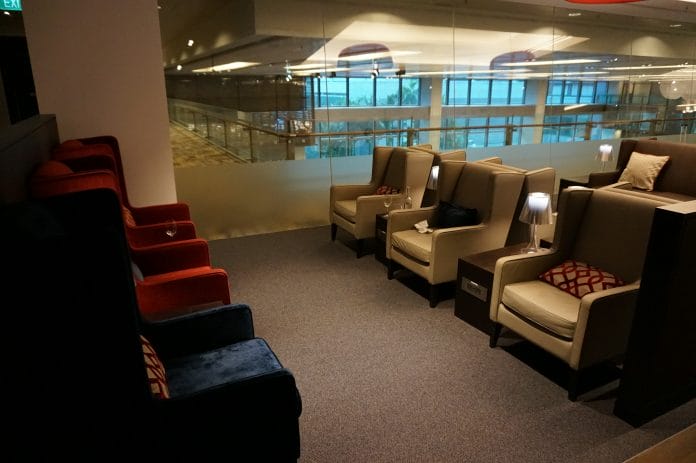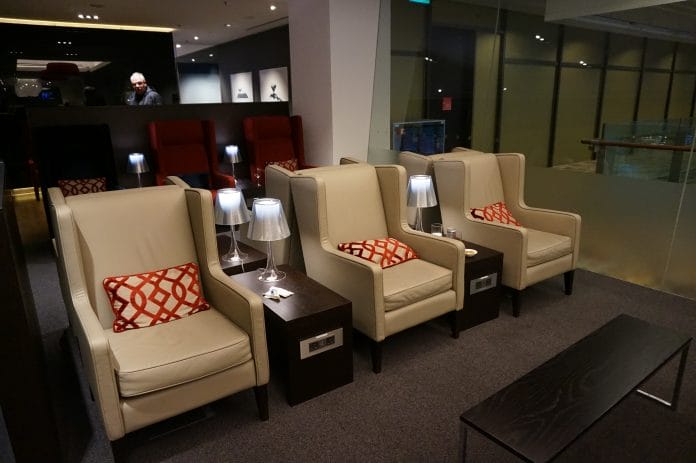 Most frequent flyers in the know will head for the Qantas lounge over this one, and it was no surprise the place was maybe 1/4 full when I visited. But empty lounges are always good- it makes me feel less pressured to snap quick photos. I was really enjoying playing with my new camera.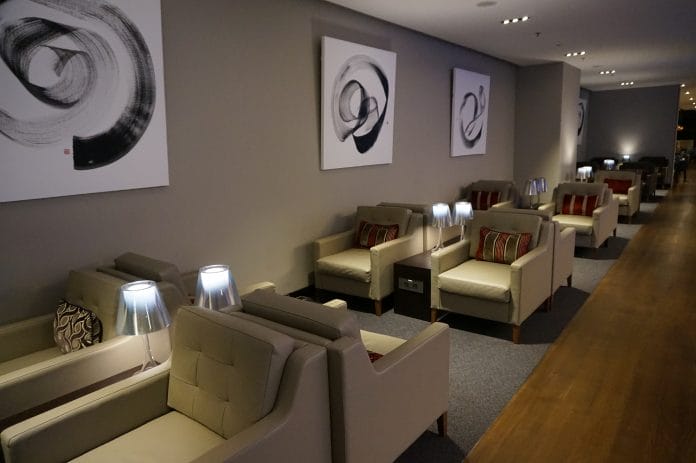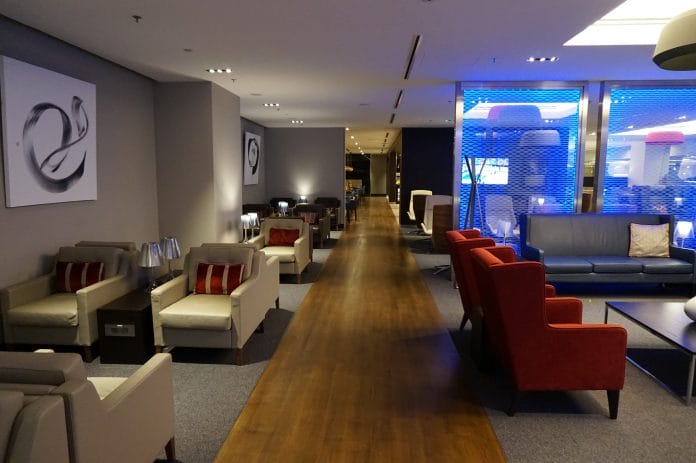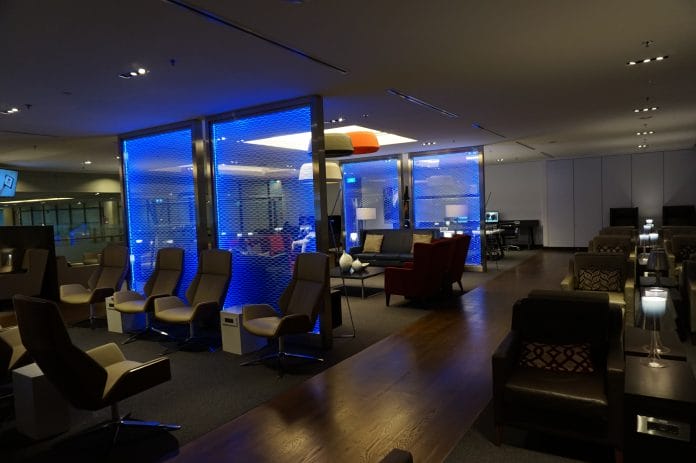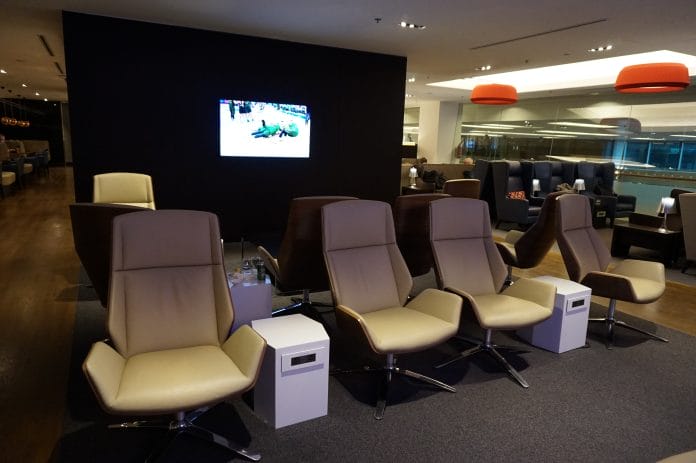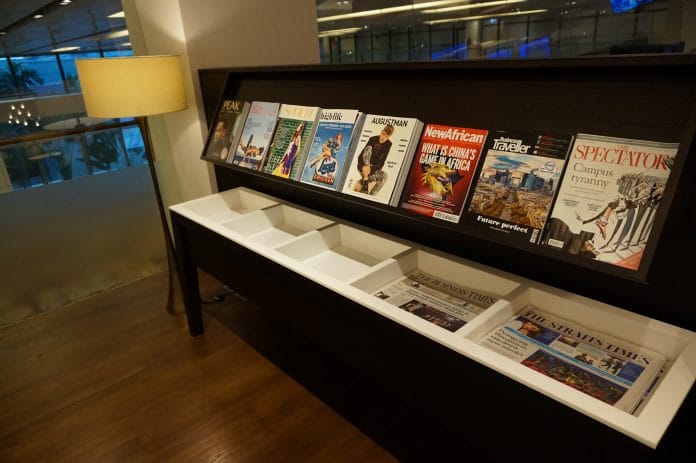 Towards the rear of the lounge are two PC terminals plus a shared communal work table.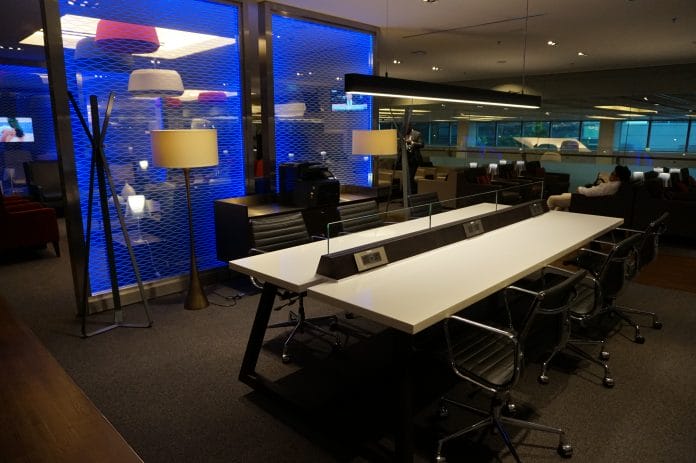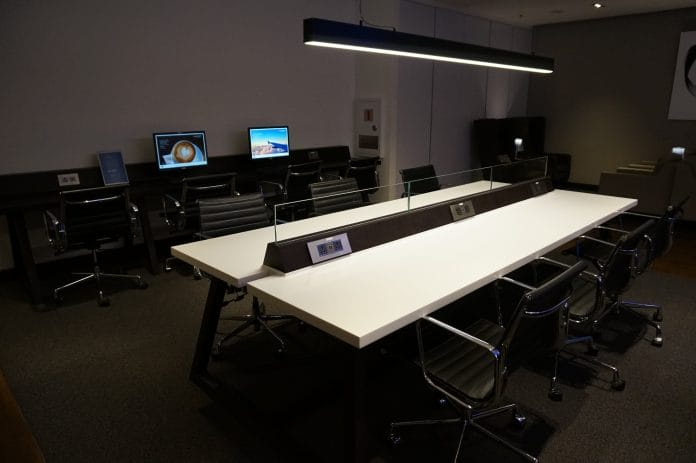 The communal work table has plenty of universal power plugs (you won't believe how many lounges forget that detail) and USB outlets.
I didn't see any printer, but I'm pretty sure the staff can help you out if you need printing.
In the middle of the lounge is the dining and bar area (BA marketing materials call this the "champagne bar" but I refuse to use that moniker when there's no sparkling wine, let alone champagne to be seen. Apparently it's on demand)
You can plop yourself down at one of the high chair tables
Or take a proper table if you'd like to spread out more.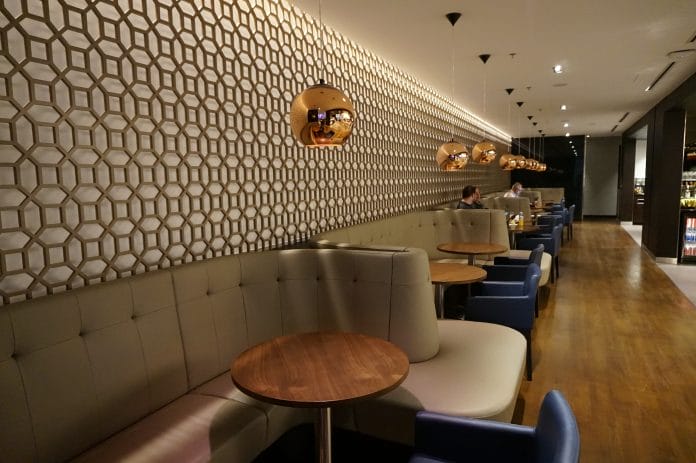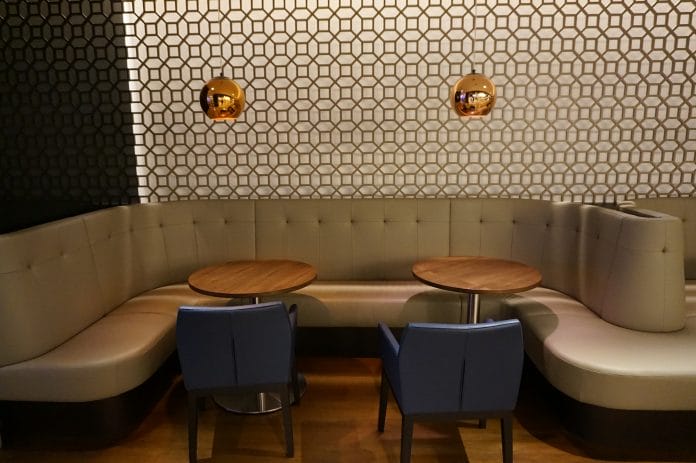 I love the balls they hang from the ceiling around the communal dining tables with little lights in them.  Just gorgeous.
So that's the glitz of the lounge, and it certainly has plenty. But how does it measure up in terms of substance? I'm sad to report that the food is decidedly average. One common criticism on the lounge's FT thread is the mediocrity of the F&B offerings, and I fully agree. Unlike the Qantas lounge, the BA one does not offer any freshly prepared items (I know the Qantas lounge probably prepares the items beforehand and "freshly plates" them, but that's still better than what we have in the BA facility). All food is from a buffet spread, and all food was very standard.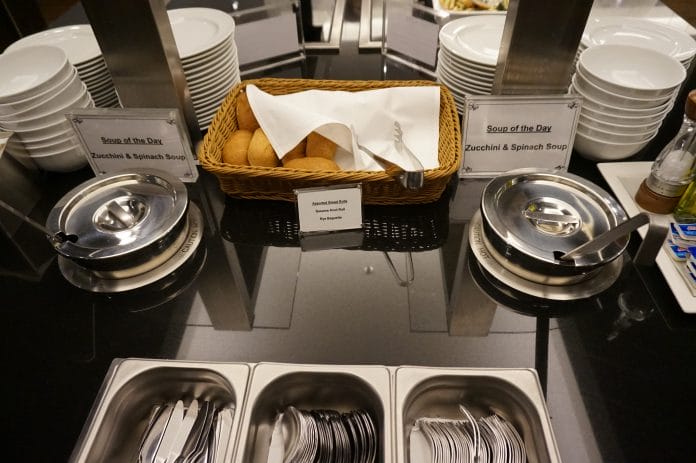 Two soups and a bread basket (no toaster)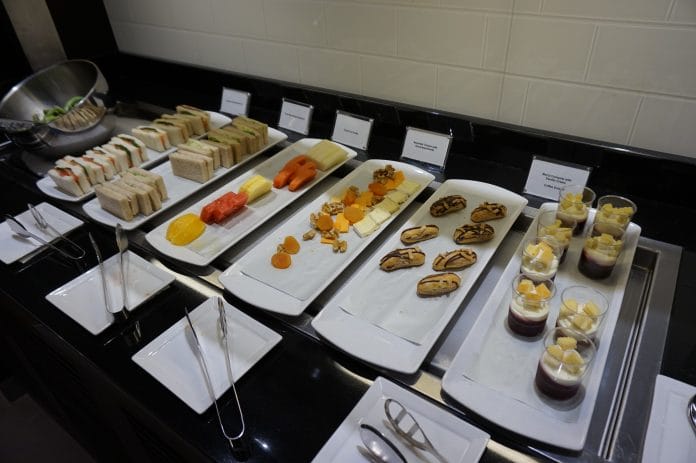 A selection of fruit, small sandwiches and pastries.
The entirety of the food selection consisted of four hot items.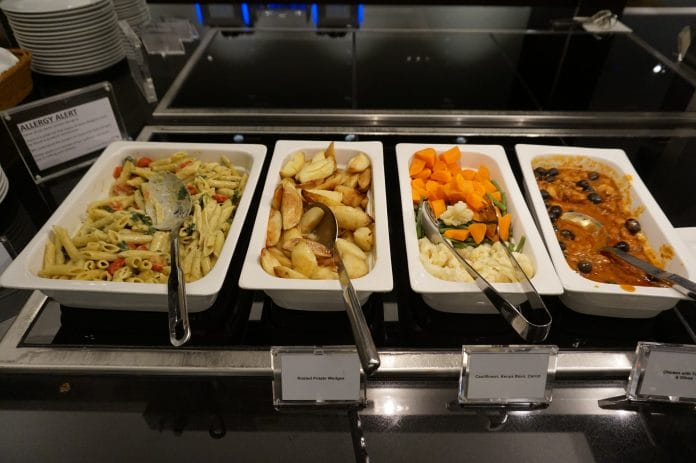 Pasta with olives, potato wedges, steamed veggies and some stew-like mixture that aspirationally described itself as chicken Marsala. I was roundly unimpressed, especially considering the much better options next door.
So strike out on the food. Could the drinks be the saving grace?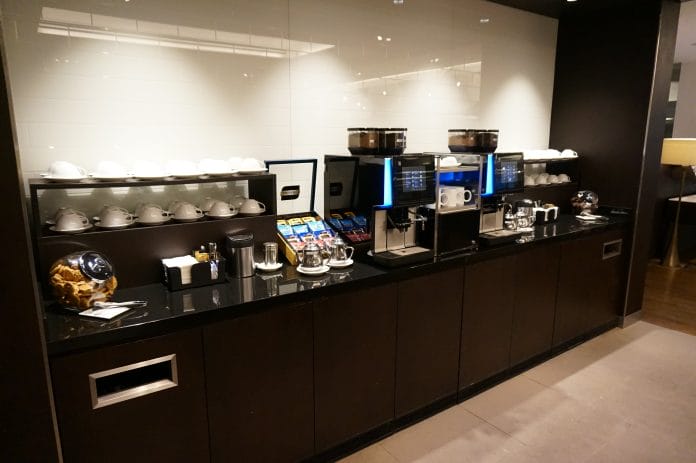 Well, it's a British lounge so you'd expect there to be a good selection of teas available. But I don't drink tea so can't comment if these were top notch brands on offer.
There's a selection of red and white wines on offer, but no champagne or anything sparkling.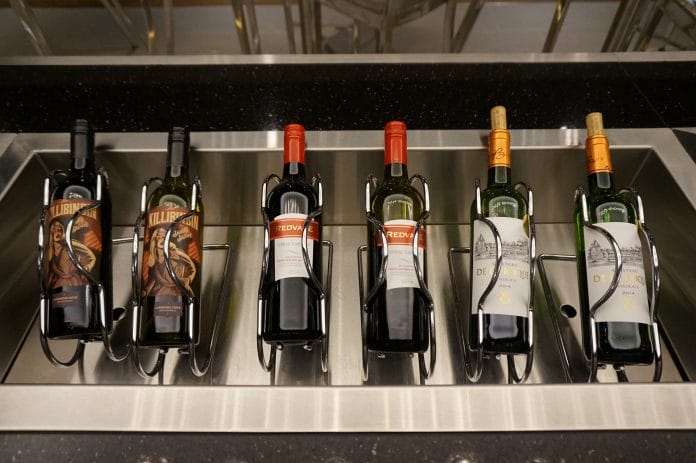 Plus a wider selection of hard liquors.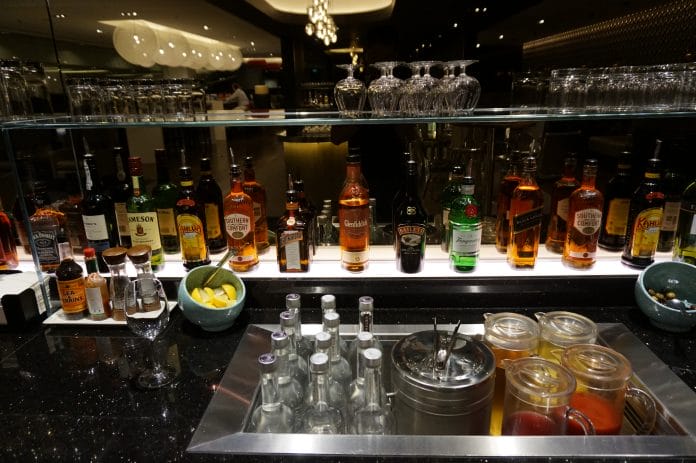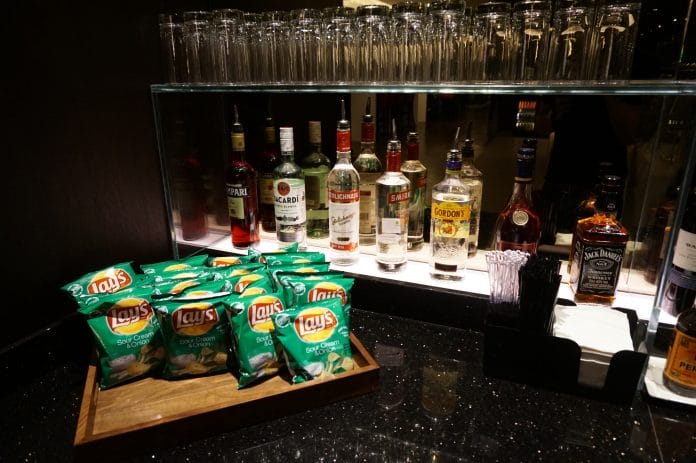 I poured a glass of (thankfully chilled) white wine, assembled a small plate and sat quietly, wondering how many rounds of made-at-table cocktails I was missing in the Qantas lounge.
Two bites later and I decided I'd had enough, but before leaving for the Qantas lounge, I went to tour the shower rooms.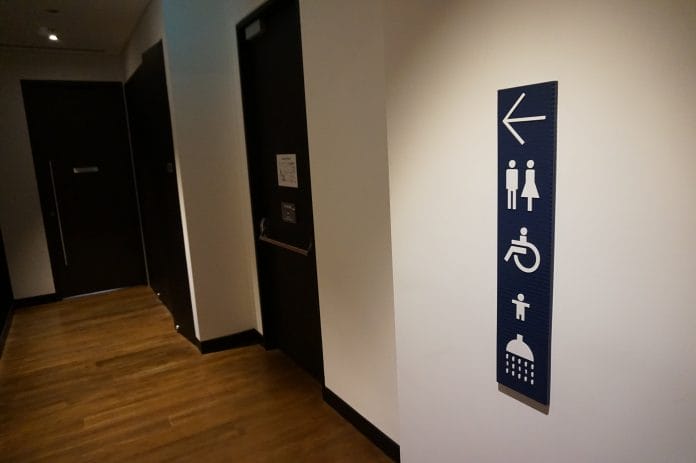 There are a total of 7 shower suites in the lounge. The suites aren't spacious, so it might be a good idea to leave your luggage in the storage area outside.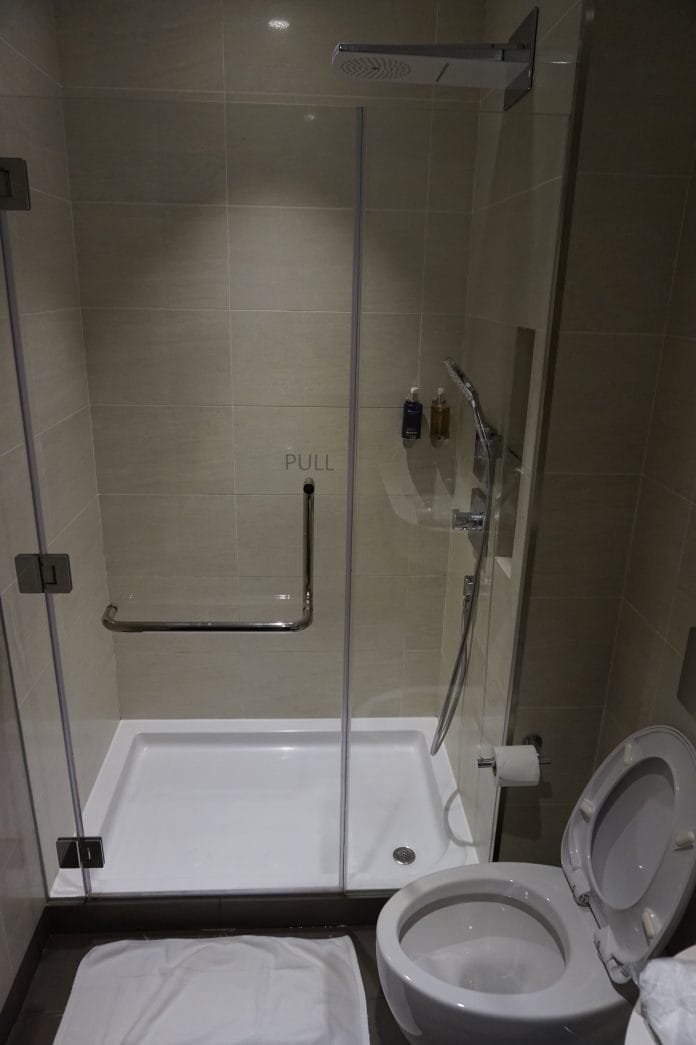 The shower had great water pressure and you had the choice of a rain shower head or a wall mounted detachable one.
Worth noting is that BA offers Elemis shower amenities as standard across all lounges.
The bathroom amenities were however lacking- by default you don't have a toothbrush or shaving kit. These need to be requested. Similarly, the towel was paper thin.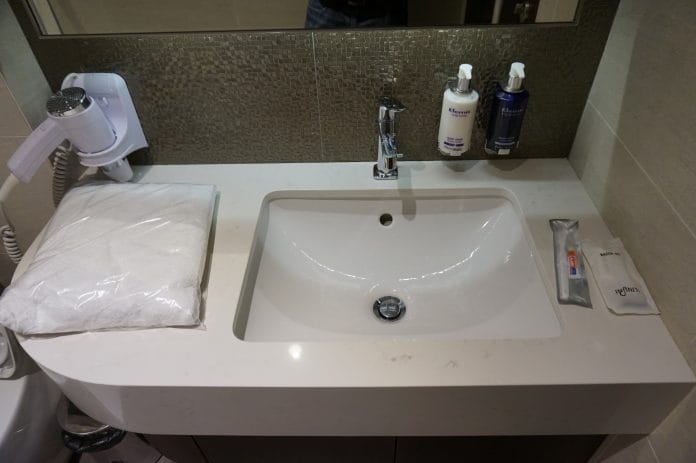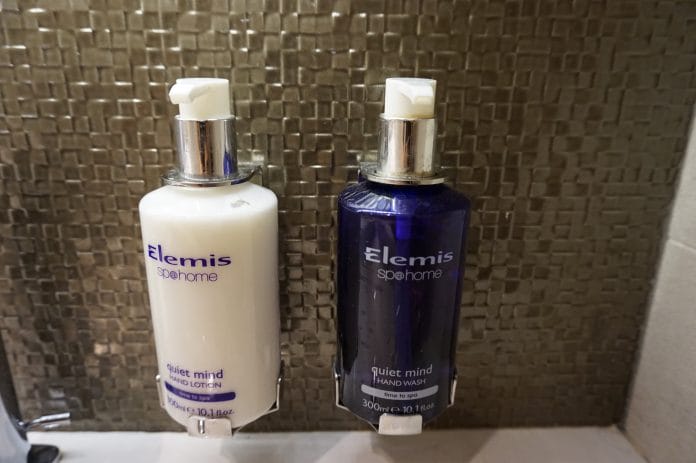 The BA lounge isn't unpleasant by any means, it's just that I can't figure out who it's meant to appeal to. If you're not travelling in First on BA, surely you'd prefer the superior F&B selection in the Qantas lounge. Maybe you prefer the quieter surroundings here (the Qantas lounge can be quite rowdy during peak period, as I'll explain in a bit) and that's fair enough, but apart from a better work environment there's nothing much else going for this lounge.
The fact that this lounge was renovated after the Qantas lounge (2015 vs 2013) puzzles me even more. I can understand them building this first and seeing it superseded by a nicer lounge, but that's not what happened. BA made the decision to refurbish and expand its existing lounge even after the Qantas lounge opened, so there must be some reason I'm not seeing why they decided it made economic sense to operate their own facility in SIN instead of paying Qantas a facilities fee to take their passengers.
Anyway- that's the BA lounge for you. Now on to Qantas, where everyone knows your name!