DBS has launched a new spend and win contest called "Win the Suite Life" with a total of 50 Singapore Airlines Suites tickets up for grabs:
New York (5 pairs)
London (5 pairs)
Paris (5 pairs)
Sydney (5 pairs)
Shanghai (5 pairs)
The qualifying period for this contest started on 13 April 2018 and runs until 31 December 2018. Winners will be announced on 1 February 2019.  You can find the full T&C here.
If you win, you must redeem your tickets between 1 March 2019 and 31 May 2019 and travel between 1 March 2019 and 31 December 2019, subject to availability at the point of redemption. Fortunately, these tickets book into a revenue bucket (see below) so availability isn't likely to be an issue.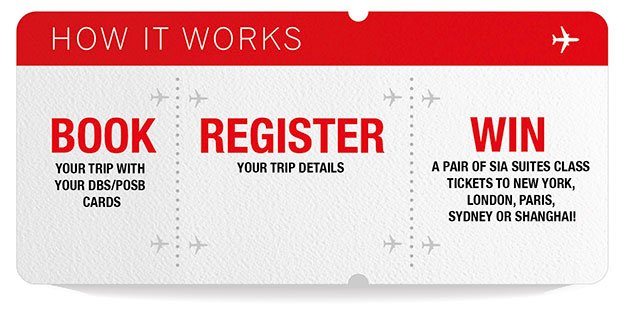 What are the mechanics of the promotion?
You need to book a trip (defined as a transaction on airlines, hotels (including AirBnB) or travel agencies) using your DBS/POSB credit cards and register it through this link. Your trip must not have started yet at the point of registration.
There is no requirement that the trip booking was made during or before the qualifying period. In other words, if you booked a trip in January 2018 with your DBS/POSB card and travel in May 2018, you can register this trip.
You earn chances to win based on the following allocation:
Any spending incurred before 13 April 2018 will not count, however. So in our above example, whatever you paid in January 2018 for your trip in May 2018 will not count towards your total. It will, however, unlock your eligibility to participate in this promotion with your subsequent spending.
Spending is cumulative and your chances will be calculated at the end of the promotional period (i.e after 31 December 2018). Note that there are exclusions as to what counts as qualifying spend, with the usual suspects not qualifying.
Tickets come with no surcharges, earn 200% miles
You don't actually have a choice of where you go if you win (the tickets are assigned randomly), although you can pay the fare difference if you want to swap your destination (one wonders how much it'll cost to swap Shanghai with, say, New York…)
What's nice about this promotion is the relative lack of strings attached to the prize. Your pair of Suites tickets book into 'A' class, which is a revenue fare bucket and hence much easier to find space for. You'll also earn 200% mileage accrual, and there's no taxes or surcharges that you need to pay. UOB could learn a thing or two about giving away free air tickets…
If Suites isn't available for your preferred flight timing (eg for Sydney, where some flights are operated by 77Ws and others by A380s), you can fly in First Class instead. Be warned- no shows will result in your entire prize being forfeited.
Conclusion
This is a pretty epic promotion, all things considered. You're quite likely to be using the DBS Woman's World card anyway for your online flight and hotel transactions (at least those which are paid in full online), with the DBS Altitude as your backup option once the Woman's World is maxed out.
Be sure to register your trip once you have one to get your chance counter accumulating.