Anurax manages a local IT consultancy and software house. His love is technology and how it can be implemented to improve lives from a social-ethical-productive perspective. Flying has always been his passion, and the view of the world at 35,000 feet has always been magical. 
Singapore Airlines A380 New Business Class SIN-SYD
Air New Zealand B777-200 Business Class SYD-AKL
HiFly A340-300 Business Class (ex-Emirates First Class) AKL-SYD
Singapore Airlines A380 New Suites SYD-SIN
Virgin Atlantic A330-300 Upper Class LHR-IAD
VS 21 and VS 22 – LHR to IAD return
Depart: 10:20am (VS21) / 7:05pm (VS22)
Arrive: 2:30pm (VS21) / 7:45am (VS22)
Flight Time: 8hrs
Cabin Class: J
Seat: 7A
Virgin Atlantic, an airline by Sir Richard Branson, where they claim their Business or Upper class is just as good as First Class. This is my first time on this airline and I was quite excited even though it would be on their A330 instead of their B787.
Seems that they were affected by the Dreamliner engine woes too.
I've combined my experience of both flights in this review as they were very similar.
On the Ground
As this was a code-share flight with Singapore Airlines, I check through my luggage to my final destination both ways, from Singapore to Washington, and from Washington to Singapore. Arriving at London Heathrow 7 in the morning, I made my way from Terminal 2, where Singapore Airlines operates, to Terminal 3 where Virgin Altantic is based. The inter-terminal transfers were done by bus.
Terminal 3 seems a lot smaller than Terminal 2 which takes about 20 minutes to walk from immigration to gate. Virgin's Lounge, the Clubhouse,  is in Lounge area H.
The entrance of the lounge is at the second floor in area H. At the entrance, I was greeted by the staff who were very pleasant and asked if this was my first time so as to give me an introduction to the lounge.
The lounge decor is very modern and has a very nice vibe, with a big dining area and a bar. As I had arrived quite early in the morning, the crowd was minimal and it was very peaceful.
The lounge even provides a concierge service to store your luggage and coat.
The toilets were very nice to use, clean and modern.
In the Clubhouse, there is a rooftop area to hang out. However, it was too cold to enjoy in winter but I could see how this could be a good place in summer, or at least when it is above 20 degrees. It had great views of the tarmac.
The Clubhouse also had its own spa.
The buffet spread was very good with a wide selection.
One of the highlights of the Virgin Clubhouse is the a la carte dining which is not common for Business Class.
One of the recommended breakfast items was the Egg Benedict.
In Washington, the lounge was very much smaller, but still works perfectly well. They also had a la carte meal service.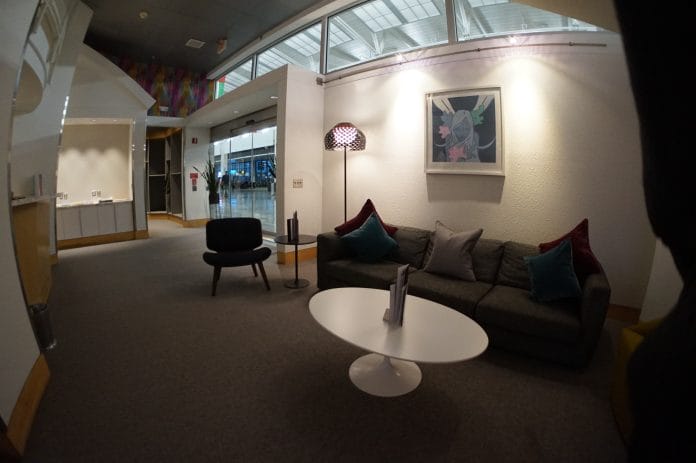 Boarding
Virgin Atlantic provides priority boarding for their Business Class (Upper Class) passengers and Premium Economy Passengers.
In the Cabin and Seat
Door 2 to the Virgin Atlantic Upper Class Cabin opens to the on-board bar. It is a really nice cozy place to hang out and stretch your legs, and comfortably sit 4 passengers. While flying, snacks are placed around the bar.
The ambiance and mood lighting Virgin Atlantic uses is both cool and soothing. I liked it a lot.
The seat is narrow and tight, and privacy is pretty much next to zero. It does offer a full lie flat bed but it really doesn't feel well worth the money spent when compared to other airlines. I feel even the Singapore Airlines regional offer more space than this and this is something I would avoid in the future.
The Entertainment
Similar to Air New Zealand, the Virgin Atlantic A330 comes with a 15" touchscreen. There is a controller but it's really not useful at all as you can do everything on the screen.
The screen is on the left side of your seat and there is a release button to tilt it to the centre. The only problem is that it must be stowed during take-off and landing or when you want to get up from the narrow seat.
The entertainment system was pretty good with a mainly Western selection.
There is USB charging below the screen which I find very annoying as moving your screen moves your cable and phone as well.
Virgin Atlantic does offer Wifi and I've heard it's pretty good but for some silly reason I was too lazy to try.
The Sleep
The seat converts to a fully lie flat bed at approx. 1.96m. Virgin Atlantic offer bedding sheets, pillow and duvet that are very comfortable and nice, even better than what Singapore Airlines offers. However, the narrowness and tightness just makes one feel like a sardine (albeit a lie flat sardine).Now I truly understand the term "coffin class" which is used for this seat.
The Meal
I had the Smoked Salmon and Seared Beef fillet on my outgoing flight, and for my flight to London, which was a sleeper service, I only woke up to have the omelette breakfast. I have to say they were all very tasty. The meals were served individually and the flight attendants were friendly and helpful in setting the table, as well as clearing.
The potato chips were awesome and served in a bowl (I think this is why Ms Park was complaining in Korean Air First Class)
In-Flight Service and Conclusion
The service on this flight was excellent!
The flight attendants were very helpful, polite and offered good British humour when chatting with me.
After doing a 48 hour, 15k mile journey from Auckland to Washington via AKL > SYD > SIN > LHR > IAD over various airlines and their premium products, it was tiring, especially with a meeting 2 hours after landing. It was also very interesting, like maximizing lounge usage like the Private room in SIN to your advantage, sleeping on the correct flights and being able to enjoy the new Singapore Airline Suites.
How would I rate the Virgin Atlantic Upper Class? The soft product, and the lounge and ground services were excellent and even near first class. I really like the a la carte dining options in the Clubhouse, but the hard product is just simply not good. The seat is something I'd rate as Premium Economy Plus. I really do wish Virgin Atlantic would switch to the Reverse Herringbone seats Virgin Australia offers.
With this imaginary combination of soft and hard product, it would truly be an awesome way to fly.
For now though, based on this hard product, I would lean towards avoidance.