The Long Way to New York: Trip Planning
Singapore Airlines SilverKris Lounge, Singapore
Singapore Airlines A330 Business Class SIN-BKK
Thai Airways First Class Lounge & Spa, BKK
Thai Airways B747 First Class BKK-HND
Getting from HND to NRT
ANA First Class Lounge, NRT
ANA B77W First Class NRT-ORD
United Club ORD
United B767 Economy ORD-EWR
Visiting the US Open
Sheraton New York Times Square
Hilton New York Midtown
Wingtips Lounge JFK & Delta to DC
Exploring Washington DC
Element New York Times Square West
Virgin Atlantic Clubhouse, JFK
Singapore Airlines A380 Suites JFK-FRA
Lufthansa Senator Lounge FRA
Singapore Airlines A380 Suites FRA-SIN
---
SQ 25/26 is probably one of the hardest routes to redeem in the entire SQ network. If you recall my analysis in this article, I pointed out that you almost never see any saver availability for the SIN-FRA-JFK route for business class unless you're within a month of departure.
If you want to fly Suites,  it's even trickier. Either you book a year out, or you play the waitlist game, with nothing opening up even within 7 days.
Since SQ award inventory is manually controlled and released, however, it means you can never really predict anything with 100% certainty.
Which is how I found myself staring at an instantly confirmable Suites saver award on a Friday night primetime departure from JFK-FRA-SIN. I dropped everything to lock it in, even though I hadn't confirmed my travel plans at the time. If you want another data point, I booked this on July 23 for a Sept 18 departure. 57 days in advance. Read into that what you will.
If you do manage to get an award seat, you're in for a treat because the total flight time is blocked at 21h 15 mins (not including a 2 hour layover in FRA). That's 21h 15 mins of Suitey goodness, if you're able to shell out the 93,500 miles + US$286
I took a Via to JFK Airport ($39.95 flat fare minus away my $10 credit for a $29.95 overall ride, versus Uber which wanted $100+ for UberX) Terminal 4. I set out at 4pm for a 8.50pm departure, but traffic was so bad I only reached just before 6pm.
There were 0 queues at all in check in, even for Economy. I assumed everyone else must be caught in traffic so I was surprised when the check-in staff told me they'd already processed 70% of the passengers.
My 3 bags were checked all the way through to Singapore without any fuss and I was briefed on the location of the Virgin Clubhouse. They didn't mention that there was a special security line for First and Business class passengers, which wasn't an issue for me because I'd travelled JFK before but might be an issue for others (given how long the regular queues were and how disinterested the TSA staff were in pointing people to the right lines)
I was sad I didn't have a chance to take a photo of my boarding pass before it was unceremoniously defiled with pen marks. I wonder if there's something in the SOP of every counter agent that they must write on your boarding pass in pen. Why can't you let this beautiful piece of paper endure for the ages?
The reason I had come so early to the airport was to enjoy the Virgin Atlantic Clubhouse, that wellspring of bliss.
The lounge itself isn't too difficult to find.
Follow the signs for airline lounges. You'll head up a flight of stairs
At the top of the stairs, turn left.
And it appears, like a magical oasis in an otherwise mid-rate airport. The Virgin Atlantic Clubhouse, where dreams (and cocktails) are made.
The clubhouse gives a great first impression, what with its stylish mood lighting and funky furniture. It's certainly a very different vibe from what you get at your typical SQ lounge of refined elegance. I suppose it's more in line with the brand that Virgin projects. I could never see SQ doing anything even remotely like this.
There are these really cool space age pod chairs scattered around the lounge.
As well as more conventional seating for getting work done
And some proper dining tables as well
There is a range of reading material but it's not exactly Newsweek and the Economist. It's more glossy magazines that are more decorative than for actual reading.
Three desktop computers are also available in what counts as the business centre. I didn't' see any printing facilities but assume those must be available.
Located at the heart of the lounge is the bar, which was my first port of call to order dinner.
I knew that there'd be good food on the flight but that was still 3 hours away and besides, photos needed to be taken. Don't worry if you can't see the menu clearly, I provided the descriptions below.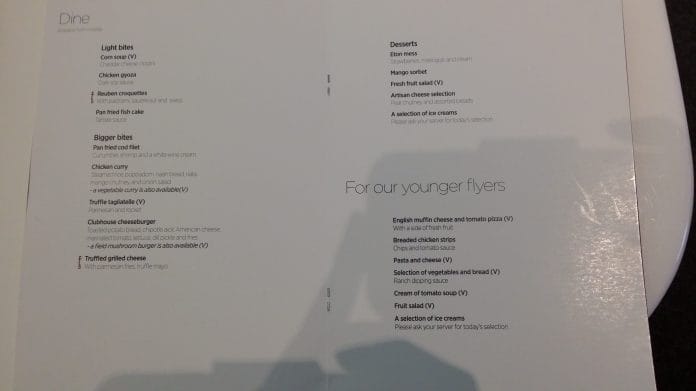 Over the course of the next few hours, I diligently set out to sample as many items from the menu as I could without feeling like I'd be judged by the waitstaff. As you can see, I have a very thick skin (and larger tummy)
Fried chicken wings: hot sauce
The chicken wings were very average. They came out slightly overcharred, although the thoughtful inclusion of a set of wet wipes was nice attention to detail which I can appreciate.
Chicken gyoza: dark soy sauce
The gyoza were disappointing and tasted like they were made by someone who had never tasted real Asian food before.
Smothered rock shrimp: buttermilk soaked, fried rock shrimp tossed in a spicy red pepper and sriracha mayo with a lemon wedge
This was a lot better and I ended up ordering two portions. The shrimp were cooked very nicely and the sriracha mayo was surprisingly hot for a western audience.
Pan fried fish cake: Tartare sauce
I was expecting a crispy Thai-style fish cake but this appeared to be grilled. Average, really.
Chicken curry: Steamed rice, poppadom, naan bread, nata mango chutney and onion salad
Virgin Atlantic is a popular carrier for Indian guests transiting onwards through London so it wasn't surprising to see some shout outs to that. This was a decent enough curry, even if the rice wasn't correct (instead of basmati they had used some sticky rice, which I think is a cardinal sin for Indian food (just like using basmati rice for Chinese food is unforgivable (I'm looking at you, every Mumbai Chinese restaurant)))
Truffled grilled cheese: with parmesan fries, truffle mayo
The grilled cheese sandwich is probably there as comfort food for American guests. Me personally, I can take it or leave it. But I had to try truffled grilled cheese at least once in my life (the truffle is of course synthetic, truffle oil is used for the flavor)
Clubhouse cheeseburger: toasted potato bread, chipotle aioli, American cheese, marinated tomato, lettuce, dill pickle and fries
The burger was very good and juicy, with just the right amount of seasoning and cheese. I realise I have a thing for potato buns and if you haven't had one yet you owe it to yourself to try it. For the uninitiated, a potato bun is a bun made with potato flower. This gives it a very spongy texture that I really like.
I didn't make it through the entire menu in the end, but I did pretty good.
Desert was ice cream and ice cream was ice cream. But it was Haagen Dazs and good enough.
There is no buffet in the lounge, everything is made to order. This is good and bad- during peak periods I can imagine the kitchen backing up, but it means no more soggy fries and warmed over pastries. For an airline to offer made to order meals for its business class passengers (to be fair, VX doesn't have First) is quite a step up from what other airlines do, given the volume of business class passengers versus first. I don't think I can recall any other airline that does this.
Throughout the meal the bartender kept the Lanson champagne flowing with generous pours. I deliberately held back knowing there was Dom and Krug awaiting on board,  but Lanson in and of itself is still an excellent brand.
Those who are homesick may like to know that there is Tiger Beer available
In terms of recreation, there's a big pool table in the centre of the lounge. It certainly makes for a good photo op, but upon reflection it's probably not the best of amenities to have because you can have at most 4 people playing at a time.
Given Virgin's hip vibe, I would have thought some PS4s or maybe even a gym wouldn't be out of the question.
There is a full service spa in the Virgin Clubhouse that offers massages and haircuts.
Virgin passengers can enjoy a complimentary treatment; SQ passengers need to pay. A 15 minute treatment costs about $20. I'm sure it's all very good but I'm not about to pay that much when I live 2 hours from Bangkok.
One area where the lounge fell short was the showers. It was strange that Virgin didn't block off the showers with key access so they could control the cleaning schedule. Normally what happens in most lounges is you need to request a key to use the shower- which ensures that the staff are able to assign you a freshly prepared one.
Instead what was happening here was that the shower rooms are all unlocked. And they have loos too. So you would have people going in to do the dirty and leaving all kinds of messes, and when you wanted to take a shower you'd be SOL.
So I decided to pass on a shower.
Even though they had some nice toiletries
The lounge isn't one for views but you can see they at least manage to park the Virgin planes somewhat close to the clubhouse.
I think the best part about the clubhouse was the food and drinks. I do wish SQ would offer something similar for its business class passengers but I know that is probably logistically impossible, given the sheer volume. I do know that in certain SQ lounges (eg London, Hong Kong) you can get made to order items which is certainly a step in the right direction.
Overall I thought the Virgin Clubhouse was great. I wish they'd revamp their shower system (you don't really want to go barefoot in a loo that everyone frequents) and add a few more recreation options, but it was still great to have on-demand food and all the Lanson I could handle. At some point I'd like to try the Virgin Clubhouse in LHR because I imagine that must be some magnitude much better.
What a lot of people forget is that it's actually possible to redeem Virgin Atlantic flights with Krisflyer miles. But it's somewhat inconvenient, given that Virgin doesn't actually fly to Singapore.
Your best bet is to get to Hong Kong and from there you can spend 250,000 miles to get to New York or 150,000 miles to get to London (round trip prices) in upper class.
To give some perspective, SIN-LHR would cost 136,000 miles round trip in SQ Business Class. SIN-JFK would be 144,500 miles, also in Business Class. So clearly there's not much value to be had in redeeming flights to North America, but Europe may still work.
3 hours in the lounge had flown by and now it was time to board the big whalejet to head back home.