The Mileymoon: Introduction
Singapore Airlines B787-10 Business Class SIN-DPS
St Regis Bali
Banyan Tree Ungasan Bali
JetQuay CIP Terminal Changi
Cathay Dragon A321 Business Class HAN-HKG
Cathay Pacific The Pier First Class Lounge HKG
Cathay Pacific B77W First Class HKG-SFO
Post Ranch Inn: History & Arrivals Experience
Post Ranch Inn: Tree House Room
Post Ranch Inn: Dining and Ranch Tour
Cathay Pacific Lounge SFO
Cathay Pacific B77W First Class SFO-HKG
Cathay Pacific The Wing First Class Lounge HKG
Cathay Dragon A330 Business Class HKG-HAN
Singapore Airlines A330 Business Class HAN-SIN
Planning a Maldives trip
W Maldives Transfer Experience
W Maldives Villa
W Maldives Dining
W Maldives Activities
---
Cathay Pacific operates four different lounges in Hong Kong, of which only two (The Pier & The Wing) have First Class sections.
What's the difference between the two First Class lounges? I've narrowed it down to what I believe to be the highlights:
The Pier (near Gate 63)
The Wing (near Gate 5)

Bar Service

Day suites

Spa Treatments

Dine on demand restaurant

Open 5.30am till 12.30am
Read a review of The Pier here

Bar service

Cabanas

Champagne lounge 

Dine on demand restaurant

Open 5.30am till last departure
The Pier and The Wing are on opposite sides of the airport, and unless you have a very long layover, it's almost impossible to properly enjoy both on a single visit. We had visited The Pier the previous time we passed through HKG, which meant it was time to tackle The Wing.
There are actually two ways of getting into the First Class section of The Wing. The more direct way is to enter via Level 7, the so-called "Balcony Level". The other way is to enter via Level 6 and then take an escalator up to the First Class section. Be careful not to miss the entrance though, because there's no indication from Level 6 that there's a First Class lounge lurking somewhere within!
Up the stairs and past the second reception, and you'll see very promising directions plastered on the wall.
Let's start with the Cabanas, which are arguably the star attraction of The Wing. I mean, how many lounges let you get nekkid in a hot tub with a glass of champagne (Lufthansa First Class terminal aside)?
There's a total of five cabanas available on a first-come-first-serve basis, which isn't a lot considering this lounge caters to 50% of all oneworld First Class traffic going out of HKG. Be prepared to wait, especially if you arrive during the evening peak period (you'll get a restaurant-style paging buzzer that alerts you when it's your turn). The Milelioness and I arrived very early (around 6.40 a.m) and had no wait at all.
In case anyone asks…yes. The cabanas are all they're made out to be and more. They're a sanctuary for unwinding and recharging after a long flight, with a soaking tub big enough for two people, a day bed for a power nap (you can request a blanket and sheet), a full-sized dressing table and an en suite toilet.
The "suggested stay length" is a very generous 90 minutes, although they obviously won't kick you out even if you overstay.
Bathroom amenities are by Jurlique, which was a bit surprising given that the rest of the Cathay lounges use Aesop.
There was also a basic range of amenities like a toothbrush kit, shower cap and sanitary bag. A razor wasn't part of the default loadout- you had to request for one.
Another neat thing about the cabanas was a wardrobe where you could hang your clothes, press a button and get them pressed in about 15 minutes (the wardrobe opens from outside the cabana too, so there's no need for human interaction).
The sheer spaciousness of the cabana makes it an oasis in a crowded airport like Hong Kong, and it's a great place to relax before or after a long flight.
For passengers who need a somewhat faster option, there are 12 regular shower rooms available in The Wing, but then you'd have to stand up and bathe like a barbarian.
The next cool feature of The Wing is the champagne lounge, which is littered with deep red leather sofas and arm chairs.
The champagne lounge wasn't seeing a whole lot of traffic in the early morning. "Their loss", I said to myself as I helped myself to a generous pour of Perrier-Jouet Grand Brut. Also available was an Ayala Rose and a vintage Thienot Brut, 2008. These were all pleasantly chilled, with stoppers to keep the gas from escaping.
It should be noted if champagne's not your thing (you monster), there is a manned bar at the other end of the hall. You can see it at the far end of the photo below:
This is where you can find an assortment of hard liquors, wines and other things that aren't champagne.
The lounge certainly has plenty of spaces to sit down and get work done. The ever-present Solus work pods are out in full force, in a handsome red trim. Although the Wi-Fi was respectably fast, it was surprising that the lounge did not offer universal sockets. You can use your Singapore power plugs here as Hong Kong has the same three-pin format, but otherwise you'll need an adapter. I also didn't spot any USB charging ports, which is a bit of an anachronism in today's world.
The wrap-around design of the Solus chairs offers some noise isolation, which is helpful considering the lounge is open to the concourse below.
If all the Solus chairs are occupied, you'll have to make do with a couple of computer terminals and desks at the work centre.
For those feeling peckish, the atrium area has a few casual food options. These are set up buffet style, with both hot and cold options available. There's also a professional-looking coffee machine with a barista.
The buffet was offering a breakfast selection during the time of our visit. It was a medium-sized spread, but the substantial dining is done in The Haven (see below).
The buffet had the usual offerings of bread, pastries and jams..
…fruit and cheese…
..and yet more fruit and cold cuts.
There were a few pastries like croissants and danishes under a heat lamp, as well as some sandwiches.
The atrium isn't really the place for hot food, but there were a couple of items like pumpkin congee, scrambled eggs and bacon and sausage.
If you're in the mood for something more substantial, you'll want to head for The Haven, Cathay's a la carte restaurant.
The Haven features table service, and a hostess efficiently seated new groups as soon as they showed up. Most of the tables were two tops, although there were a few four top booth seats by the side. The Haven doesn't have a lot of natural light, relying heavily on drop down ceiling lighting to brighten the dark interior.
The Haven was serving breakfast when we arrived, but this gets switched out around 11 a.m for the all-day dining menu.
Before we dive into the catering quality, some context is necessary. Cathay has used three different caterers at its First Class lounges over the past three years.
In April 2016, they parted ways with luxury hotel operator Peninsula in favor of Plaza Premium. Now, there's no doubt Plaza Premium knows how to run lounges (they were already managing Cathay's Bridge and Arrival lounges at the time), but they're clearly not in the same league as a team managed by a world-renowned five star hotel. In the end, they just couldn't step up to the demands of First Class. The catering was met with almost universal derision, and Plaza Premium got the boot in January 2018.
Their replacement? French hospitality company Sodexo. Yes, that Sodexo, the one responsible for maggot-infested tomatoes, raw chicken and mouldy eggs served to the UK Armed Forces. To be perfectly fair, Sodexo manages the Virgin Atlantic Clubhouses, which by all accounts get pretty good reviews. Sodexo also handles lounges for Singapore Airlines, Air France, United and Emirates, so it's not like they have no experience with haute.
And yet, travelers still aren't impressed. For the record, I didn't dig through any of these reports before going, in order to keep an open mind. I was vaguely aware that CX had been through a few different caterers, but I wasn't familiar with the details. So here goes…
Drinks were served before the mains were brought. The Milelioness had coffee, I had a glass of Thienot Brut 2008. I know, right? Who drinks coffee so early in the morning.
You can't come to a Cathay lounge and not have wonton noodles, and although the iteration served in the SFO lounge was dismal, these weren't that much better. The noodles, once again, were completely cooked through and not springy at all. The broth was bland, and I daresay I've had better wonton noodles at Crystal Jade.
The Milelioness had the Chinese set, which was served with har gau, beef siu mai, BBQ pork bun, fried rice noodle and pumpkin congee. Given where we were, I felt the dim sum was a big let down. It tasted like the kind of mass produced, frozen then steamed variety you'd find in any supermarket. The noodles were an oily mess, and the congee was bland. Plus, this wasn't really more assembled-to-order than made-to-order; every item here could be found on the buffet.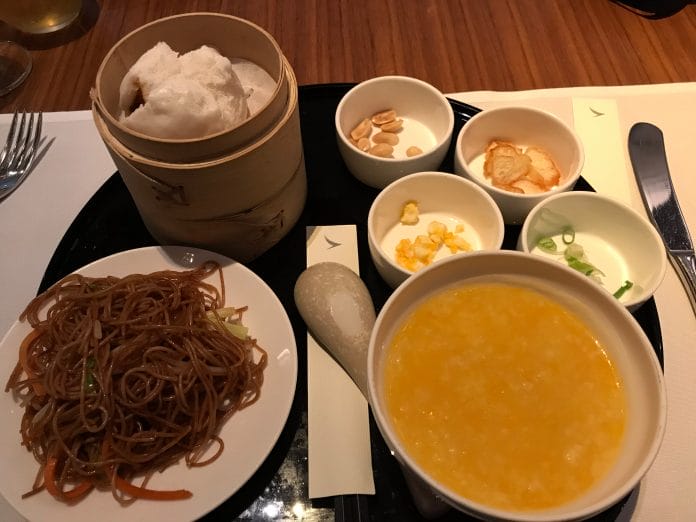 I also requested the portobello mushroom, which was served with scrambled egg and toasted bagel. They gladly added smoked salmon on the side, but I was deeply disappointed that instead of serving a whole portobello mushroom, all I got was small, chopped up bits mixed into the egg. Did someone say budget cuts?
My overall take was that the food tasted overwhelmingly mediocre. Moreover, the vast majority of the menu items could be found on the buffet spread itself- they were just replated with some garnish. This kind of defeats the idea of made-to-order dining, and it clearly was not a highlight of the experience.
Apart from the menu, passengers can help themselves to a small buffet.
The items here are rather similar to the ones outside the lounge, with the same bread, pastries and preserves…
…and juices and cheese…
…some fruit and yogurt…
…and some cold cuts.
Most of the western items found on the menu could also be self-assembled at the buffet, like eggs, bacon, mushrooms, beans, and very dry pancakes.
The hot Chinese food items featured fried rice, BBQ pork buns, and the same dim sum they plated for the Chinese set.
After breakfast, I spent some time reading through past reviews (pre-2016) of The Wing. I gather that passengers would often skip meals before arriving at the airport, just because the F&B and service standards were so high. Now, it seems like most just pop in for a quick pick-me-up en route to the plane. That's sad, considering how this is meant to be Cathay's flagship lounge.
Dawn had well and fully broken now, which meant it was time to head on to Hanoi.
Conclusion
What did I love about The Wing? The cabanas, definitely, and the champagne lounge. Those are things you won't find in too many lounges around the world.
It's just a shame that the more fundamental things like F&B were such a let down. I'd go as far as to say that my dining experience at Hong Kong's Plaza Premium First lounge (which is apparently staffed by the same team which used to work at The Wing/Pier) was way superior. There's a vague sense of irony in that, if nothing else.
Has anyone else experienced the catering at The Wing/Pier in the "good old days"? How does it compare to now? 
(Cover photo: thedesignair)