Introduction: It's the most wonderful time of the year
A Tale of Two Lounges: SATS Premier T2 and the Qantas SIN Lounge
Malaysia Airlines B737 Business Class SIN-KUL
Malaysia Airlines Business Class Golden Lounge KUL
Malaysia Airlines A330  Business Class KUL-NRT
Japan Airlines Business Class Sakura Lounge NRT
Japan Airlines B77W Business Class NRT-LAX
The Westin LAX
The Westin Westminster
Aloft Boston Seaport
The Consolidated AA Domestic First Class Experience
American Airlines Flagship Lounge JFK
American Airlines B772 Business Class JFK-LHR
American Airlines Arrivals Lounge LHR
The Great Northern Hotel, London
Sheraton Grand Park Lane, London
Westin Paris Vendome
Courtyard by Marriott Madrid Princesa
Four Points by Sheraton Barcelona Diagonal
The Consolidated Intra-Europe Business Class Experience
Sheraton Casablanca
Royal Air Maroc Business Class Lounge CMN
Royal Air Maroc B737 Business Class CMN-ACC
Ethiopian Airlines B787 Business Class ACC-ADD
Ethiopian Airlines Cloud 9 Business Class Lounge ADD
Ethiopian Airlines Q400 Business Class ADD-DAR
Protea Hotel by Marriott Dar Es Salaam Courtyard
Qatar Airways A320 Business Class DAR-DOH
Qatar Airways Al Safwa First Class Lounge DOH
Qatar Airways A330 "First" Class DOH-MCT
Oman Air Business Class Lounge, MCT
Oman Air E175 Business Class MCT-DXB
The Grosvenor House Dubai
W Doha
Qatar Airways Business Class Lounge DOH
Qatar Airways B772 Business Class DOH-BLR
The Ritz Carlton Bangalore
Vistara A320 Business Class BLR-DEL
Cathay Pacific A330 Business Class DEL-HKG
Cathay Pacific Arrivals Lounge HKG
W Hong Kong
Touring Cathay Pacific's HKG Lounges
Cathay Pacific A350 Business Class HKG-SIN
---
In my time doing this hobby, I've seen some pretty spectacular lounges- the Lufthansa FCT in Frankfurt, the Virgin Clubhouse in JFK, the Thai Airways Spa, and perhaps the Turkish Airlines lounge in Istanbul. Heck, I'd even include TPR in a pinch, even though it's probably more high quality than spectacular.
But in spite of all this, I was quite certain the Al Safwa lounge in Doha would be a whole new kind of spectacular. Perhaps it's the reputation the region has for over-the-top luxury. Perhaps it's because I've never experienced Qatar's hard or soft product before. Whatever the case, it was finally time to scratch this visit off the travel hacker pilgrimage.
We arrived from DAR at a remote gate and were bused to the terminal. Given that Business Class passengers had a special bus, we reached the terminal ahead of anyone else and were able to re-clear security in no time at all.
Doha airport was deathly quiet, probably a combination of the lateness of the hour plus the reduced travel volumes to and from Qatar due to the blockade.
There are numerous signs around the airport directing people to either Qatar's First or Business Class lounge. I eventually found myself standing at the bottom of a long escalator leading up to the lounge. I was disappointed said escalator was not gold plated. This is why Qatar will never be the pre-eminent airline in the Middle East, I thought.
The escalator leads you to the reception area of the lounge, high above the main concourse.
At this point, you still have no idea of what awaits you within. You're still on the outside of the lounge, in the airport with all its hustle and bustle. Here's your first and only encounter with the lounge dragons.
The staff who checked my boarding pass were warm and cheerful, despite the fact it was past midnight. There's a whole row of clocks on the wall reminding you what time it is elsewhere.
By the way, you'll see a lot of "45" signs in the photos. These signs are everywhere- the dining area, the sleeping rooms, the sitting areas, the bar, the reception. They're reminding you to be at the boarding gate 45 minutes before departure. That's clearly excessive, and QR is known to really overbudget the time you need for boarding, but I suppose some people are so lost in paradise they don't want to leave.
I entered the lounge and marveled at how elegantly minimalist the architecture was. I was worried that Qatar might have taken a cue from Emirates and designed its lounges with an amount of bling that would put a prepubescent Arab to shame. Fortunately, they chose to go with something much more subtle, more classy and less in your face.
I loved how understated everything was, from the confidence to have bare walls to the high, unadorned ceilings. No ugly carpets or faux gold here.
I approached the central junction in the lounge and started looking for the sleeping rooms.
My gameplan was all laid out. It was past midnight and I could have the sleeping room for 6 hours max. I would take it from 12-6am, then get up, have breakfast and explore the lounge until my flight departed at 7.40am.
The sleeping rooms are located in the "quiet area", which coincidentally is right where the spa is. Spa treatments are not free in this lounge, which is a major miss if you ask me. Read Ben's trip report on the lounge to see the price list, but to give you a flavor of the cost-
50 minute body massage- S$228
60 minute facial- S$254
30 minute foot massage -S$127
80 minute oil massage- S$291
55 minute pedicure- S$138
I mean, holy moley, ain't nobody got time/money for that. I guess the idea is that if you're the sort who flies revenue first class, you won't blink at those prices, but the treatment duration is too long to make sense for a lounge. Most lounges do 10-15 minute treatments (a noticeable exception is the Thai Airways spa where 1 hour massages are de rigueur), and that makes sense for busy business travelers. And they're also free.
The atmosphere here is soothing- the lighting seems dimmer, the walls seem more padded and you can hear the running water from the lounges many water features quietly in the background.
The access rules to use a sleeping room are quite strict. No reservations are allowed, you have a maximum 6 hour block (a second 6 hour block is payable at QAR 450, ($167, not a small fee by any means) and you can only use it if there is more than 4 hours remaining till your flight departs. Fortunately I met all the conditions. The front desk welcomed me and checked me in effortlessly. I was assigned Room 6 which was some way in from the reception.
The receptionist walked me in, past many other unused sleeping rooms. She told me there was only one other guest in the 15-20 rooms they had.
At the door I got my card and the receptionist asked me if I needed a tour of the room. I declined and she bade me goodnight and disappeared.
The first thing I noticed about the room was how stuffy it was. I was certain the air conditioning was busted, but after switching to a new room realised that they were all the same. Even after turning up the A/C to the max, there was very little movement in the air. I thought it'd get better after a few minutes, but it turned out to be a very stuffy night.
The room had a single bed, but if you're traveling with a companion you can request a room with two single beds.
No prizes for spotting the 45 sign above.
There's a TV and a work desk in the room. It really is as close to a hotel room as you'll find in a lounge. (Well, except for maybe the Swiss lounge in Zurich, which would put the Al Safwa to shame…)
There's a bottle of water and a full kleenex box at the table. Perhaps 45 is the new 42?
These are the A/C controls I was referring to earlier. They're digital and easy to use, but for the life of me I could not get more air into that room.
In the corner is a storage closet for clothes and your bag. They provide hangers too.
Having your own private bathroom is definitely a perk of this lounge, and I must say it was when brushing my teeth and showering that it dawned on me that I was going to get a chance to sleep overnight, in a lounge, in a proper bed. I'm not sure how to express that properly to you but it was quite a novel experience, given that previous overnighting experiences in lounges had been nothing short of miserable.
The bathroom comes fully stocked with a toothbrush kit, a shaver, cotton buds, makeup remover, basically everything you need to be comfortable. I liked that they weren't like other lounges where all this is kept under lock and key, on an "on demand" basis. Seriously, how much does a disposable toothbrush cost?
The shower had great water pressure. A bathtub would be nice but this isn't the FCT…
The toiletries available were Rituals branded, the same sort as what you'd find in Qatar's cabins.
I mentioned before that I changed rooms because I was convinced the A/C wasn't working in the first room. But not before I showered and brushed my teeth in the old room. I then packed up my stuff and did the room change. It was only about an hour later when in bed that the doorbell rang and a staff member returned the toothbrush I left in the old room to me. I certainly appreciated the gesture, but I thought it displayed a bit of a lack of thought. Wouldn't it make more sense to leave the item at the check-in counter so the guest would get it when he departs instead of waking him up?
In the end my sleep experience wasn't great. The lounge was quiet, but the non-functioning A/C meant the room was so stuffy I ended up sleeping shirtless (control yourselves, ladies). It was disappointing that there was absolutely no way of getting more ventilation inside, and I wonder if anyone else has experienced this or if I'm just lucky.
After a fitful night's sleep I checked out and headed for breakfast. The dining area is a huge enclave within the lounge on the far side from where I entered.
I'm ever so slightly disappointed I got a "lite" version of the lounge in that it was Ramadan when I visited and hence there was no Krug (or any alcoholic beverage for that matter) on offer, but they were doing regular food service in any case.
The dining area was virtually empty (emptiness would be a recurring theme throughout my exploration) at this early hour, and you can see they really staffed and outfitted this place for a lot more people.
The breakfast menu was presented to me, along with a tall bottle of Voss water (classy!). I was surprised that the menu selection was rather slim-  the first few items are basically a bread basket, then you have cereal, then a choice of an Arabic or Western breakfast, with pancakes/waffles optional and fruits. It's not unfair to think that in a top tier lounge they'd give more options like eggs benedict or something.
I had the English breakfast, which as we all know just isn't the same without pork. At least the hashbrowns were freshly made and crispy. Nothing worse than soggy hashbrowns. Minus marks that they served the eggs with one yolk burst.  I didn't really care, but the expectation when you run a facility like the Al Safwa is nothing short of perfection.
I also had the most exciting white toast. Note: I did not ask them to remove the crusts but they did so anyway. I am amazed how they pegged me as a non-crust eater, which I am.
The waffles sounded promising so I ordered a batch. Unfortunately they were not crisp at all.
And then, to assuage my guilt, a fruit platter. The fruit wasn't in season and very sour.
I'm going to peg the food experience as "meh". Perhaps it's just the breakfast menu and the lunch/dinner offerings are better, or maybe they do a limited selection during Ramadan. I don't know, but this dining was definitely not the same quality as what you'd get in The Private Room.
After breakfast I went to explore further. Here's the famous water feature that seems to characterise so many photos of the lounge. The water flows down from a pillar attached to the ceiling.
Because my photos is slanted and because you guys deserve better, here's a much nicer shot from BravoTV, whatever that is
There is certainly no shortage of seating in the lounge. Every few meters you go there's a new enclave of couches and single seats.
For example, you had these individual reclining slash work areas (as best as you could work without a table…)
Each pod is quite private, with the ears of the chair providing additional solace. If you stare at it hard enough it sort of reminds you of SQ's old First Class Skysuites on the 747…
Each pod also had a tablet which had internet and digital newspapers. You could also check the gate at which your flight was leaving via the Qatar app.
At the centre of the lounge is the Qatar concierge, who are there to serve your every whim. Although they seem to spend most of the time pointing people to the nearest toilet.
There's a large business centre in the lounge for getting proper work done, with many computer terminals and printing facilities.
They have Mac computers, but for the unpretentious don't worry, they have Windows computers too.
I think we should have a running challenge to see how many of these 45 signs people can count.
If you wander to a far corner of the lounge there's actually a separate dining area, albeit for lighter fare like fruits and sandwiches.
The sandwiches aren't your usual clingwrapped lounge fare. They're made to order and you can go for whatever fillings you please.
Juices, fruit and cookies were also available.
There were small plates with yogurt, muesli and other hamster food.
There are just endless seating areas to be found around the lounge, and I wonder why they felt the need to build so many. It's all the more surprising given that QR doesn't really believe in First Class, what with its CEO constantly spouting off how their Business Class is better than other airline's First Class (I'll wait to review the QSuite before passing judgement on that though…). Qatar only has First Class on inter Gulf routes plus routes served by its A380, so I can't imagine this lounge sees a whole lot of traffic.
At the far end of the lounge they had these really cool chairs with high backs and tablets.
Nested far in a  small corner of the lounge is a movie screening room.
At least I think it was supposed to screen movies. They were showing the news when I stepped in.
People in the Middle East region tend to travel with large families, and the lounge caters to their needs too. In one corner you'll find a game room plus a parent's area.
This space has a dedicated play area for young kids.
Complete with educational toys, books and television.
For older kids (and younger adults), the lounge has gaming consoles which didn't seem to be switched on when I visited. Both Xbox Ones and PS4s were available.
But the highlight had to be the F1 simulator. Qatar is quick to remind anyone who'll listen that they sponsor an F1 team. The simulator looks really cool but again it didn't seem to be in operation.
What I like is the family and games areas have their own catering too. Nothing fancy here, mostly light bites and drinks, but it's thoughtful nonetheless.
The lounge has its own duty free area as well, where you can stare at items you can't afford through impeccably polished glass (I noted the staff wiping the display discretely after I left to remove the marks my unwashed hands left).
The sun was by now in full force and all that was left to do was wait for the boarding call. If I wanted to be nit picky, I'd say that it wouldn't be too much to expect the lounge to arrange buggies to gates, given how long the walking times can be.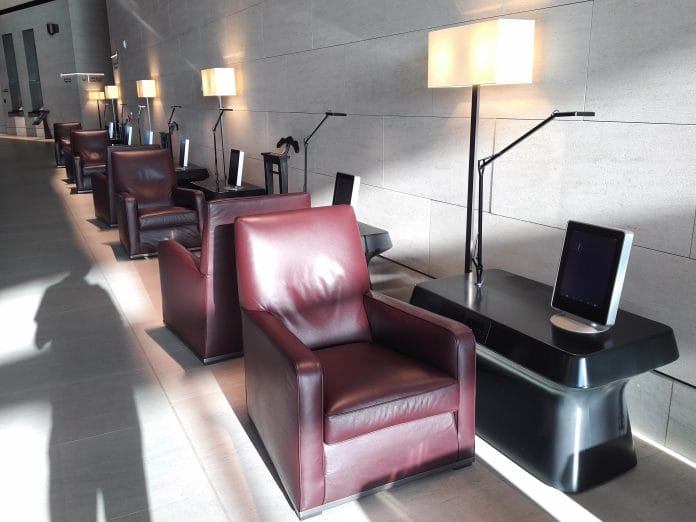 But never mind, I took the scenic route towards my bus gate and saw the famous airport teddy bear. I must say that the airport during the morning did seem a whole lot busier- perhaps the blockade hadn't hit as hard as I thought.
If you asked me to rank the Al Safwa lounge in my pantheon of lounge experiences, I'm going to be really honest with you and say it won't be in the top 3. Although the staff were great at every interaction, the issues with the ventilation in the sleeping rooms, lack of free spa services and average food quality kept it from being an amazing die die must try experience (it didn't help that the F1 simulator wasn't working either) I guess it also didn't help that there was no booze, but I'm not going to count that against them because it's simply a fact of life.
Think about the wow factors the other lounges have-the Luftansa FCT drives you to your car on the tarmac in a Porsche. The Thai Airways lounge gives you an hour long massage in a proper spa. The Virgin Clubhouse gives you haircuts while watching the runway. The Turkish Airlines lounge has a race car track and a golf simulator.
The biggest wow factor I can think of for the Al Safwa is the hotel rooms, but like I mentioned I didn't have the most comfortable of stays. Look, if you really want to try the lounge then you could book yourself a cheap one-way fare ex-BKK going through Doha to a place like Muscat or Kuwait for as little as S$1.5K. You'd fly Business Class from Bangkok to Doha, then First Class from Doha to Kuwait. Arrange a long layover and you can enjoy the lounge to your heart's content. Good luck figuring out what to do in Kuwait though (or simply don't fly that last leg…but this creates problems if you've checked luggage and Singaporeans do need a visa for Kuwait, so they may not let you board at Bangkok without one. Oman might be a better choice, but it's slightly more expensive at S$1.8K)
I definitely think you should visit the Al Safwa at least once, because it truly is a gorgeous place to see, but if you're ticking items off your travel hacking bucket list, I'd go for some other experiences first.