KrisFlyer Spontaneous Escapes for November 2019 have been announced, with 30% off selected Singapore Airlines and SilkAir flights.
View this month's Spontaneous Escapes here
All Spontaneous Escape awards must be booked and ticketed by 31 October 2019 and are for travel between 1-30 November 2019 (both dates inclusive, blackout dates apply). This gives you 16 days to book, slightly longer than usual.
Ground Rules of Spontaneous Escapes
Tickets cannot be changed or cancelled. Be sure about your travel plans or buy a travel insurance policy that covers miles bookings

Tickets must be booked online; no phone bookings are permitted

Cannot be used in conjunction with the $100 stopover trick

Discounts may apply in one direction only e.g. SIN-BKK may be on discount but BKK-SIN may not. Be sure to read the offers carefully

You must ticket your award during the promotion period. If your waitlist clears after the promotion period ends, you'll pay the regular price

Blackout dates apply. If you're not seeing discounts, this may be why

Your travel must be completed within the Spontaneous Escapes promotion period to qualify. For example, if you fly on the last day of the month but land on the first day of the following month, no discount applies
Remember that the discount will only appear once you've clicked on the selected award
54 destinations on offer for November 2019
November 2019 features 54 destinations in total (I count Tokyo Haneda and Tokyo Narita as two separate destinations), which is more than average compared to previous months.
Data nerd? Check out 24 months of historical Spontaneous Escapes pricing
here!
Here's the summary of what's available for SIA and SilkAir in November 2019:
What's good this month?
After a brief absence last month, this month sees Spontaneous Escapes stalwarts Bangkok, Mumbai, Hanoi and Hong Kong return to the fold. There's still plenty of options to Japan and Australia, with deals to be had in Business Class to cities like Tokyo, Fukuoka, Nagoya, Sydney, Melbourne and Adelaide.
SilkAir is only offering Economy awards once more, but I wouldn't really consider redeeming my miles for their current Business Class products anyway.
Here's what caught my eye:
Europe bonanza
I noted in my meta-analysis of Spontaneous Escapes that we don't really see Europe feature all that often. So imagine my surprise to see nine European destinations this month, including never seen before cities like Milan.
Unfortunately, the bulk of these destinations are only available in Economy or Premium Economy. Even with a discount, I'd find it hard to recommend burning your hard-earned miles on these cabins. I suppose, however, that if you were just trying to get as many people as possible to Europe for a vacation, then this might be a deal for you.
The only European cities with discounted Business Class awards are Dusseldorf and Frankfurt. On the bright side, these are great places to use as springboards to the rest of Europe via Lufthansa. Moreover, Dusseldorf is available in both directions this time round, versus the usual one-way offer we see in previous months.
San Francisco and New York on sale
It's rare to see Business Class awards to the USA get discounted, so it's good to see San Francisco available to and from Singapore for 66,500 miles each. This is a great price, although it's available on the one-stop SQ1/2 via HKG only (i.e. not the non-stop options). This route is served by a B77W with the 2013 Business Class seat.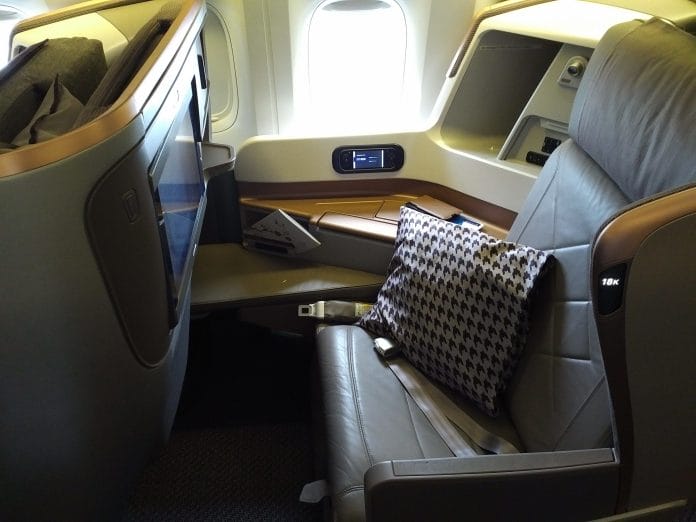 This month also sees a Spontaneous Escapes debut for New York JFK as the elusive SQ25/26 finally goes on offer, albeit in Economy Class only.
The sharp-eyed among you may be wondering if it makes sense to get to JFK by combining these two awards:
SIN-FRA in Business Class (64,400 miles)
FRA-JFK in Economy Class (15,750 miles)
This costs a total of 80,150 miles, for which you'll enjoy 13h 10 mins in Business Class (60%), and 8h 55 mins in Economy (40%). Given the regular price to fly this entire route in Business Class is 99,000 miles, I'd have to say the math doesn't make sense.
Singapore Airlines has historically released Spontaneous Escapes to the USA two months in advance of travel, but this month's deals are meant for travel in November, just like all other destinations.
Plane to Busan
Singapore Airlines will be taking over SilkAir's Busan routes from 28 October, and it's not because of capacity shortages arising from the 737 MAX 8 groundings. Rather, it's because demand to Busan is strong enough to warrant an upgauge from a B737-800 to an A330-300 (an additional 123 seats)
Unfortunately, the A330 isn't a plane I'd advise you to redeem miles on, even with Spontaneous Escapes. Save your miles for a better Business Class experience.
Conclusion
Spontaneous Escapes are a great way of stretching your miles, especially if you're traveling with your family. Remember to ticket your awards before 31 October!
Here's the full list of destinations available (best viewed on desktop):
Singapore Airlines
South East Asia
| FROM | MILES REQUIRED FOR ECONOMY CLASS | FLIGHT NO. | BLACKOUT PERIOD | MILES REQUIRED FOR BUSINESS CLASS | FLIGHT NO. | BLACKOUT PERIOD |
| --- | --- | --- | --- | --- | --- | --- |
| Singapore to Kuala Lumpur | 5,250 | SQ112, SQ116, SQ118 | – | 13,300 | SQ112, SQ116, SQ118 | – |
| Kuala Lumpur to Singapore | 5,250 | SQ107 | – | 13,300 | SQ107 | – |
| Singapore to Bali | 5,250 | SQ946, SQ948 | – | 13,300 | SQ938, SQ942, SQ946, SQ948 | – |
| Bali to Singapore | 5,250 | SQ939, SQ949 | – | 13,300 | SQ939, SQ943, SQ947, SQ949 | – |
| Singapore to Jakarta | 5,250 | SQ950, SQ958, SQ960, SQ962, SQ964, SQ968 | – | 13,300 | SQ950, SQ958, SQ960, SQ962, SQ964, SQ968 | – |
| Jakarta to Singapore | 5,250 | SQ951, SQ953, SQ955, SQ957 | – | 13,300 | SQ951, SQ953, SQ955, SQ957 | – |
| Singapore to Surabaya | 5,250 | SQ930, SQ932 | – | 13,300 | SQ930, SQ932 | – |
| Surabaya to Singapore | 5,250 | SQ931, SQ933 | – | 13,300 | SQ931, SQ933 | – |
| Singapore to Bangkok | 8,750 | SQ970, SQ976, SQ982, SQ978 | 21 – 30 November 2019 | 15,050 | SQ970, SQ976, SQ982, SQ978 | – |
| Bangkok to Singapore | 8,750 | SQ983, SQ981 | – | 15,050 | SQ973, SQ983, SQ981 | – |
| Singapore to Ho Chi Minh City | 8,750 | SQ184, SQ186 | – | – | – | – |
| Ho Chi Minh City to Singapore | 8,750 | SQ183 | – | – | – | – |
| Hanoi to Singapore | 8,750 | SQ187 | – | – | – | – |
| Singapore to Yangon | 8,750 | SQ998 | – | 15,050 | SQ998 | – |
| Yangon to Singapore | 8,750 | SQ997 | – | 15,050 | SQ997 | – |
North Asia
| FROM | MILES REQUIRED FOR ECONOMY CLASS | FLIGHT NO. | BLACKOUT PERIOD | MILES REQUIRED FOR BUSINESS CLASS | FLIGHT NO. | BLACKOUT PERIOD |
| --- | --- | --- | --- | --- | --- | --- |
| Singapore to Beijing | 14,000 | SQ802 | – | 27,300 | SQ800, SQ802, SQ806 | – |
| Beijing to Singapore | 14,000 | SQ805, SQ807 | – | 27,300 | SQ801, SQ805, SQ807 | – |
| Singapore to Shanghai | 14,000 | SQ826, SQ828 | – | 27,300 | SQ826, SQ828, SQ830, SQ836 | – |
| Shanghai to Singapore | 14,000 | SQ825, SQ827, SQ833 | – | 27,300 | SQ825, SQ827, SQ831, SQ833 | – |
| Singapore to Busan | 17,500 | SQ616 | – | 32,900 | SQ616 | – |
| Busan to Singapore | 17,500 | SQ615 | – | 32,900 | SQ615 | – |
| Singapore to Seoul | – | – | – | 32,900 | SQ600, SQ602, SQ608, SQ612 | – |
| Seoul to Singapore | – | – | – | 32,900 | SQ603, SQ607, SQ609, SQ611 | – |
| Singapore to Fukuoka | – | – | – | 32,900 | SQ656 | – |
| Fukuoka to Singapore | – | – | – | 32,900 | SQ655 | – |
| Nagoya to Singapore | 17,500 | SQ671 | – | 32,900 | SQ671 | – |
| Singapore to Tokyo | 17,500 | SQ630 | 28 – 30 November 2019 | 32,900 | SQ630 | – |
| Tokyo to Singapore | 17,500 | SQ639 | 1– 4 November 2019 | 32,900 | SQ639, SQ11 | – |
| Singapore to Hong Kong | 10,500 | SQ890, SQ860, SQ856, SQ866, SQ872, SQ868, SQ2 | – | 21,350 | SQ890, SQ860, SQ856, SQ866, SQ872, SQ868, SQ2 | – |
| Hong Kong to Singapore | 10,500 | SQ857, SQ891, SQ863, SQ861, SQ865, SQ871, SQ1, SQ3 | – | 21,350 | SQ857, SQ891, SQ863, SQ861, SQ865, SQ871, SQ1, SQ3 | – |
| Hong Kong to San Francisco | 23,100 | SQ2 | 28 – 30 November 2019 | 62,300 | SQ2 | – |
| San Francisco to Hong Kong | – | – | – | 62,300 | SQ1, SQ3 | – |
South Asia
| FROM | MILES REQUIRED FOR ECONOMY CLASS | FLIGHT NO. | BLACKOUT PERIOD | MILES REQUIRED FOR BUSINESS CLASS | FLIGHT NO. | BLACKOUT PERIOD |
| --- | --- | --- | --- | --- | --- | --- |
| Singapore to Ahmedabad | – | – | – | 27,300 | SQ530 | 1 – 12 November 2019 |
| Ahmedabad to Singapore | 12,950 | SQ531 | 1 – 10 November 2019 | 27,300 | SQ531 | 1 – 12 November 2019 |
| Singapore to Bangalore | 12,950 | SQ504 | – | 27,300 | SQ504 | – |
| Bangalore to Singapore | 12,950 | SQ505 | – | 27,300 | SQ505 | – |
| Singapore to Chennai | – | – | – | 27,300 | SQ528 | – |
| Chennai to Singapore | – | – | – | 27,300 | SQ529 | – |
| Singapore to Dhaka | 12,950 | SQ448 | – | 27,300 | SQ448 | – |
| Dhaka to Singapore | 12,950 | SQ449 | – | 27,300 | SQ449 | – |
| Singapore to Kolkata | 12,950 | SQ516 | 14 – 30 November 2019 | 27,300 | SQ516 | – |
| Kolkata to Singapore | – | – | – | 27,300 | SQ517 | – |
| Mumbai to Singapore | 12,950 | SQ425 | 1 – 10 November 2019 | – | – | – |
| Singapore to Malé | 12,950 | SQ452 | – | 27,300 | SQ452 | – |
Australia and New Zealand
| FROM | MILES REQUIRED FOR ECONOMY CLASS | FLIGHT NO. | BLACKOUT PERIOD | MILES REQUIRED FOR BUSINESS CLASS | FLIGHT NO. | BLACKOUT PERIOD |
| --- | --- | --- | --- | --- | --- | --- |
| Singapore to Adelaide | – | – | – | 43,400 | SQ279 | – |
| Adelaide to Singapore | – | – | – | 43,400 | SQ278 | – |
| Singapore to Brisbane | 19,600 | SQ235, SQ255 | – | 43,400 | SQ245, SQ255, SQ265 | – |
| Brisbane to Singapore | 19,600 | SQ246, SQ256 | 15 – 30 November 2019 | 43,400 | SQ246, SQ266 | – |
| Canberra to Singapore | 19,600 | SQ288 | 15 – 30 November 2019 | 43,400 | SQ288 | – |
| Melbourne to Singapore | 19,600 | SQ218 | 15 – 30 November 2019 | 43,400 | SQ208 | – |
| Singapore to Sydney | – | – | – | 43,400 | SQ231 | – |
| Sydney to Singapore | – | – | – | 43,400 | SQ222 | – |
Middle East and Turkey
| FROM | MILES REQUIRED FOR ECONOMY CLASS | FLIGHT NO. | BLACKOUT PERIOD | MILES REQUIRED FOR BUSINESS CLASS | FLIGHT NO. | BLACKOUT PERIOD |
| --- | --- | --- | --- | --- | --- | --- |
| Singapore to Istanbul | 17,500 | SQ392 | 20 – 30 November 2019 | – | – | – |
| Istanbul to Singapore | 17,500 | SQ391 | – | – | – | – |
Europe
| FROM | MILES REQUIRED FOR ECONOMY CLASS | FLIGHT NO. | BLACKOUT PERIOD | MILES REQUIRED FOR BUSINESS CLASS | FLIGHT NO. | BLACKOUT PERIOD |
| --- | --- | --- | --- | --- | --- | --- |
| Singapore to Barcelona | 26,600 | SQ378 | 2, 9, 16, 23, 30 November 2019 | – | – | – |
| Singapore to Düsseldorf | 26,600 | SQ338 | – | 64,400 | SQ338 | – |
| Düsseldorf to Singapore | 26,600 | SQ337 | – | 64,400 | SQ337 | – |
| Singapore to Frankfurt | 26,600 | SQ326 | – | 64,400 | SQ326 | – |
| Frankfurt to Singapore | 26,600 | SQ325 | – | – | – | – |
| Frankfurt to New York | 15,750 | SQ26 | – | – | – | – |
| New York to Frankfurt | 15,750 | SQ25 | – | – | – | – |
| Singapore to Munich | 26,600 | SQ328 | – | – | – | – |
| Munich to Singapore | 26,600 | SQ327 | – | – | – | – |
| Singapore to London | 26,600 | SQ306, SQ308, SQ318, SQ322 | 1 – 3 November 2019 | – | – | – |
| London to Singapore | 26,600 | SQ305, SQ317, SQ319, SQ321 | 1 – 8 November 2019 | – | – | – |
| Singapore to Zurich | 26,600 | SQ346 | – | – | – | – |
| Zurich to Singapore | 26,600 | SQ345 | – | – | – | – |
USA
| FROM | MILES REQUIRED FOR ECONOMY CLASS | FLIGHT NO. | BLACKOUT PERIOD | MILES REQUIRED FOR BUSINESS CLASS | FLIGHT NO. | BLACKOUT PERIOD |
| --- | --- | --- | --- | --- | --- | --- |
| Singapore to San Francisco | 26,600 | SQ2 | – | 66,500 | SQ2 | – |
| San Francisco to Singapore | – | – | – | 66,500 | SQ1, SQ3 | – |
| Singapore to New York | 28,000 | SQ26 | – | – | – | – |
| New York to Singapore | 28,000 | SQ25 | – | – | – | – |
SilkAir
South East Asia
| FROM | MILES REQUIRED FOR ECONOMY CLASS | FLIGHT NO. | BLACKOUT PERIOD |
| --- | --- | --- | --- |
| Singapore to Kuala Lumpur | 5,250 | MI320, MI326, MI328, MI330, MI340, MI342 | – |
| Kuala Lumpur to Singapore | 5,250 | MI319, MI321, MI323, MI325, MI341 | – |
| Singapore to Penang | 5,250 | MI348, MI350, MI352, MI354, MI356 | – |
| Penang to Singapore | 5,250 | MI345, MI347, MI349, MI351, MI353, MI355 | – |
| Singapore to Balikpapan | 5,250 | MI134, MI138 | – |
| Balikpapan to Singapore | 5,250 | MI133, MI137 | – |
| Singapore to Bandung | 5,250 | MI192, MI196 | – |
| Bandung to Singapore | 5,250 | MI191, MI195 | – |
| Singapore to Lombok | 5,250 | MI124, MI128 | – |
| Lombok to Singapore | 5,250 | MI123, MI127 | – |
| Singapore to Makassar | 5,250 | MI142, MI144 | – |
| Makassar to Singapore | 5,250 | MI141, MI143 | – |
| Singapore to Medan | 5,250 | MI238, MI234 | – |
| Medan to Singapore | 5,250 | MI237, MI233 | – |
| Singapore to Semarang | 5,250 | MI102, MI104 | – |
| Semarang to Singapore | 5,250 | MI101, MI103 | – |
| Singapore to Surabaya | 5,250 | MI224, MI226 | – |
| Surabaya to Singapore | 5,250 | MI223, MI225 | – |
| Singapore to Yogyakarta | 5,250 | MI152, MI154 | – |
| Yogyakarta to Singapore | 5,250 | MI151, MI153 | – |
| Singapore to Phnom Penh | 8,750 | MI602, MI606 | 13 – 17 November 2019 |
| Phnom Penh to Singapore | 8,750 | MI601, MI605 | 7 – 11 November 2019 |
| Singapore to Yangon | 8,750 | MI518, MI520 | – |
| Yangon to Singapore | 8,750 | MI519, MI521 | – |
North Asia
| FROM | MILES REQUIRED FOR ECONOMY CLASS | FLIGHT NO. | BLACKOUT PERIOD |
| --- | --- | --- | --- |
| Hiroshima to Singapore | 17,500 | MI867 | 1 – 7 November 2019 |
South Asia
| FROM | MILES REQUIRED FOR ECONOMY CLASS | FLIGHT NO. | BLACKOUT PERIOD |
| --- | --- | --- | --- |
| Singapore to Kochi | 12,950 | MI462, MI468 | 20 – 30 November 2019 |
| Kochi to Singapore | 12,950 | MI461, MI467 | – |
Australia
| FROM | MILES REQUIRED FOR ECONOMY CLASS | FLIGHT NO. | BLACKOUT PERIOD |
| --- | --- | --- | --- |
| Singapore to Darwin | 14,000 | MI801, MI803 | – |
| Darwin to Singapore | 14,000 | MI802, MI804 | 23 – 30 November 2019 |
| Singapore to Cairns | 19,600 | MI812, MI814 | 1 – 10 November 2019 |
| Cairns to Singapore | 19,600 | MI811, MI813 | 20 – 30 November 2019 |
Singapore Airlines Premium Economy awards
North Asia
| FROM | MILES REQUIRED FOR PREMIUM ECONOMY CLASS | FLIGHT NO. | BLACKOUT PERIOD |
| --- | --- | --- | --- |
| Singapore to Beijing | 22,400 | SQ800, SQ802, SQ806 | – |
| Beijing to Singapore | 22,400 | SQ801, SQ805, SQ807 | – |
| Singapore to Shanghai | 22,400 | SQ828, SQ830, SQ836 | – |
| Shanghai to Singapore | 22,400 | SQ825, SQ831, SQ833 | – |
| Singapore to Tokyo | 24,150 | SQ634 | – |
| Tokyo to Singapore | 24,150 | SQ11 | – |
| Singapore to Hong Kong | 17,150 | SQ860, SQ856, SQ866, SQ2 | – |
| Hong Kong to Singapore | 17,150 | SQ863, SQ861, SQ865, SQ1, SQ3 | – |
Australia
| FROM | MILES REQUIRED FOR PREMIUM ECONOMY CLASS | FLIGHT NO. | BLACKOUT PERIOD |
| --- | --- | --- | --- |
| Brisbane to Singapore | 32,900 | SQ246 | 23 – 30 November 2019 |
| Canberra to Singapore | 32,900 | SQ288 | – |
| Melbourne to Singapore | 32,900 | SQ228 | – |
| Singapore to Sydney | 32,900 | SQ231 | – |
Europe
| FROM | MILES REQUIRED FOR PREMIUM ECONOMY CLASS | FLIGHT NO. | BLACKOUT PERIOD |
| --- | --- | --- | --- |
| Singapore to Düsseldorf | 45,150 | SQ338 | – |
| Düsseldorf to Singapore | 45,150 | SQ337 | – |
| Singapore to Frankfurt | 45,150 | SQ326 | – |
| Frankfurt to New York | 32,900 | SQ26 | – |
| New York to Frankfurt | 32,900 | SQ25 | – |
| Singapore to London | 45,150 | SQ306, SQ308, SQ318, SQ322 | 1 – 3 November 2019 |
| London to Singapore | 45,150 | SQ305, SQ317, SQ319, SQ321 | 1 – 8 November 2019 |
| Singapore to Paris | 45,150 | SQ334, SQ336 | – |
| Paris to Singapore | 45,150 | SQ333,SQ335 | 1, 4, 5, 9 November 2019 |
| Singapore to Milan | 45,150 | SQ356 | – |
| Singapore to Rome | 45,150 | SQ366 | – |