Introduction: Finding my Seoul-mate
Review: Cathay Pacific Lounge Singapore Changi Airport Terminal 4
Review: Cathay Pacific Business Class B777-300ER Singapore – Hong Kong
Mini-Review: Cathay Pacific Business Class A330-300 Hong Kong – Seoul Incheon
Review: ibis Styles Ambassador Seoul Myeongdong
Review: Conrad Seoul
Review: Millennium Hilton Seoul
Review: Asiana Airlines Lounge Seoul Gimpo Airport
Review: ANA Regional Business Class B787-8 Seoul Gimpo – Tokyo Haneda
Review: Hilton Tokyo
Review: United Club Tokyo Narita Airport
Review: ANA Lounge Tokyo Narita Airport
Review: EVA Air Business Class A321 Tokyo Narita – Taipei Taoyuan
---
The bus ride to Tokyo Narita took close to 2-hours that day and after arriving at the departures area, I headed straight for the EVA Air check-in desks. EVA Air, along with most if not all Star Alliance carriers operates out of Tokyo Narita Terminal 1 so be sure to get off at the correct bus stop.
There was a short queue at the Royal Laurel (i.e Business Class) line and the entire check-in process took me close to 15-minutes.
The Business Class line at EVA Air also catered to American Express Platinum EVA Air co-brand cardmembers from Taiwan as well.
Tokyo's Narita airport participates in the Star Alliance Gold Track scheme which features dedicated fast track security lines and there was a map showing you how to get there. 
After a short chat with the gate agent with regards to my tight connection in TPE, we decided that there wasn't any high risk I'd miss my connecting flight back to Singapore and I was handed my boarding passes for both the NRT – TPE and TPE – SIN legs for that day's flight. Near the EVA Air check-in desks was a seating area with great views of the apron. If you look hard enough, you'll spot ANA's A380 in the background as well as SQ637 at its gate waiting to depart.
The Gold Track line was completely empty and I was through in a jiffy.
After clearing security, you will be greeted with a map of the departures area showing you the location of the lounges. The ANA Lounge was located at the furthest end of the terminal and I noticed that there was a United Club present. Thus, the review (duh).
I trotted off to the United Club lounge first to check out its luxuries. Walking past duty-free, there was an Amex booth with ANA's Flying Honu as its backdrop. I really wish I had the chance to experience ANA's Flying Honu between Narita and Honolulu one day.
After a short walk past duty free, the United Club came into view. I still fondly recall that the United Club was once known as the United Red Carpet Club. The lounge is located just next to Gate 31.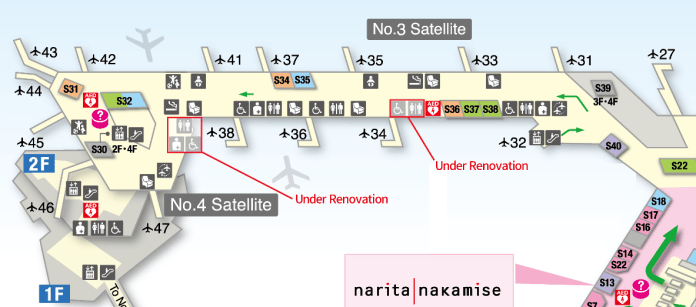 Access to the United Club in Tokyo Narita can be had via the following means:
United Club / Air Canada Maple Leaf Club membership + Same Day Star Alliance Boarding Pass
Star Alliance Gold members with valid same-day Star Alliance Boarding Pass
Star Alliance Business Class/First Class passengers
When I visited the lounge at around 11.30 am, it was almost completely empty. Which made it great for taking photos. One thing I liked a lot about the United Club was that it offered excellent views of the apron and I sat there for at least 30 minutes just watching the planes land.
US Two-pin plugs and USB-A charging ports are available between each armchair. These armchairs were plush and perfect for a nap.
The lounge itself was actually pretty large but it felt rather dated to me. There were two food areas in this lounge and the food offerings were…shall I say "meh". Here's the first food area which can be found to the left of the lounge entrance.
The drink offerings that were on offer were pretty decent though. No champagne was on offer.
As expected for an airline lounge in Japan, a beer machine was on offer.
Some of the hot food that was on offer that morning included overly salty hotdogs, overboiled vegetables, and a rice salad thing.
In the middle of the lounge was the main seating area bathed in warm yellow light. Plenty of seating was available here and thankfully so since United has quite a large number of flights from Narita and probably ton of MileagePlus Elite members on these flights.
A small snack counter can be found towards the back of the lounge where bananas and some packaged snacks were available for consumption.
Close to the toilets and showers was another food area and it only had pastries and sandwiches on offer. Sadly, they didn't look appetizing so I skipped this section too.
There are showers in the United Club lounge and while they were clean, they are terribly dated. I thought I walked back into the 2000s. The showers and toilets are located at the back of the lounge.
Individual shower rooms are available (and this lounge is probably much older than the SilverKris lounge in T3). The toiletries which were provided were good to me and toothbrushes were available on request.
Although the shower rooms weren't that stuffy, a tower fan was placed in the room for extra ventilation.
After my shower, I trotted over to the ANA Lounge for some proper food.
Concluding Thoughts
While this isn't a Polaris lounge, the United Club in Tokyo Narita is actually a pretty decent place to kill time especially if you just want to kick back and stare out at the apron. If food is what you're after, I highly recommend taking a stroll to the ANA Lounge.