Update: CardUp has extended this offer till 31 December 2020. Refer to the latest post here
CardUp is service that lets you pay rental, income tax, condo fees, insurance, car loans and more with your credit card, earning rewards points in the process.
The regular processing fee is 2.6%, but from now till 30 June 2020, CardUp is cutting the fee to 2.25%.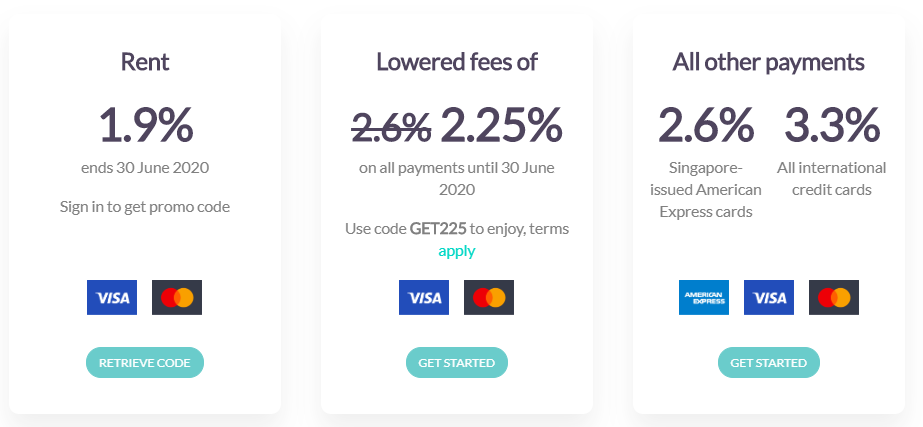 A minimum payment of S$130 is required, and the payment must be set up on or before 30 June 2020 with a due date on or before 3 July 2020. This applies to Singapore-issued Visa and Mastercard transactions on any of the payments supported by CardUp. Here are the links to the T&Cs and the FAQ.

As a reminder, CardUp is offering a discounted fee of 1.9% on rental payments made by 30 June 2020. Have a read of that promotion here. You can also pay rent at a slightly lower rate of 1.85% via RentHero
To take advantage of this lower fee, you'll need to use the code GET225 when setting up your payments. If you have existing payments scheduled, there's no need to cancel them- you can edit them in the dashboard to add this promo code instead.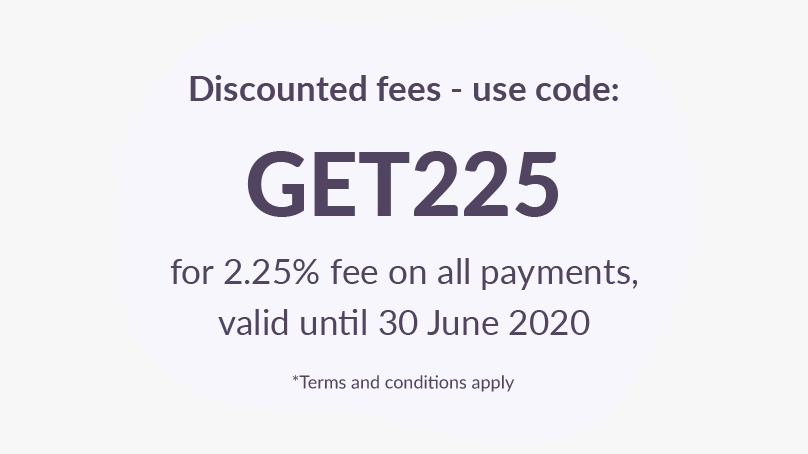 If this is your first payment with CardUp, you can use the code MILELION to get S$20 off your first payment of S$1,000 or more. You can't stack the two promo codes, so set up your first payment with MILELION and subsequently switch to GET225 for maximum savings.
What does this mean for the cost per mile?
Here's what a 2.25% fee means for your cost per mile with various credit cards.
As far as the cost of buying miles in Singapore goes, these are fairly competitive prices. The catch is that you need to have a bona fide payment to make- as part of the payment setup process, you'll be asked to submit an NOA, tenancy agreement, MCST invoice or insurance bill as supporting documentation.
CardUp FAQ
I'm attaching the usual CardUp FAQ below. Be sure to have a read, because it answers commonly asked questions like whether CardUp payments count towards sign up bonuses (they mostly do) and whether there are any 10X opportunities (there aren't).
CardUp FAQ
Q: What cards earn miles with CardUp? 
A: CardUp keeps a running list of all the cards which earn points with CardUp here. Broadly speaking, any general spending card will earn points with CardUp

American Express® Singapore Airlines KrisFlyer Credit Card

American Express® Singapore Airlines KrisFlyer Ascend Credit Card

American Express® Singapore Airlines PPS Club Credit Card

American Express® Singapore Airlines Solitaire PPS Club Credit Card

Bank of China Elite Miles World Mastercard

Citi PremierMiles Visa Card
Citi PremierMiles American Express Card
Citi Prestige Card

Citi ULTIMA Card

DBS Altitude Visa Signature Card

DBS Altitude American Express Card

DBS Insignia Visa Infinite Card

DBS Treasures Black Elite American Express Card

HSBC Visa Infinite Credit Card

OCBC Voyage Card

OCBC 90ºN Card

Standard Chartered Priority Banking Visa Infinite Credit Card

Standard Chartered Visa Infinite Credit Card

Standard Chartered Visa Infinite X Credit Card

UOB PRVI Miles Visa Card

UOB PRVI Miles American Express Card

UOB Reserve Card

UOB Visa Infinite Metal Card
Q: Do any cards earn 10X with CardUp?
A: No. Citi Rewards Visa/Citi Rewards Mastercard, OCBC Titanium Rewards, DBS Woman's World Card and the like will not earn 10X on CardUp
Q: Does CardUp spending count towards sign up bonuses/promotional bonuses?
A: For most cards, CardUp spending is treated the same way as any other retail spend. However, some banks (SCB X Card, UOB PRVI Miles) have excluded it from the spending requirement to hit sign up bonuses. Always read the T&C carefully for specific exclusions

Q: Do I earn miles on the CardUp fee too?
A: Yes. Suppose you make a payment of $100 with a promotional fee of 1.99%. The total amount charged to your card is $101.99, and you'll earn miles based on $101.99 of spending
Conclusion
CardUp's fee cut continues the trend of cheaper ways to buy miles in Singapore. That can only be a good thing, although it does make you wonder when we'll see the next KrisFlyer devaluation.