Introduction: Finding my Seoul-mate
Review: Cathay Pacific Lounge Singapore Changi Airport Terminal 4
Review: Cathay Pacific Business Class B777-300ER Singapore – Hong Kong
Mini-Review: Cathay Pacific Business Class A330-300 Hong Kong – Seoul Incheon
Review: ibis Styles Ambassador Seoul Myeongdong
Review: Conrad Seoul
Review: Millennium Hilton Seoul
Review: Asiana Airlines Lounge Seoul Gimpo Airport
Review: ANA Regional Business Class B787-8 Seoul Gimpo – Tokyo Haneda
Review: Hilton Tokyo
Review: United Club Tokyo Narita Airport
Review: ANA Lounge Tokyo Narita Airport
Review: EVA Air Business Class A321 Tokyo Narita – Taipei Taoyuan
---
Ah yes, the least favourite flight of the entire trip report. When I got to the airport that fateful day, I was informed that the flight would be slightly delayed and this meant that my connection in Taipei would be tight. Very, very tight.  Like, 30 minutes tight.
Since I booked my flights well within the minimum connecting time that EVA Air had mandated, I kindly asked to be rebooked onto an alternative flight leaving Tokyo Narita that day. I was given the choice of SQ11 which was leaving a good 6 hours later from Narita as compared to my already delayed EVA Air flight.
After a short phone call, I decided to take the risk and stay on the EVA Air flight and I was told ground staff in Taipei would be fully prepared to escort me to my Singapore Airlines flight and that they would hold the flight for me.
As soon as boarding started, I headed straight onto the plane and tried to calm myself down..with a pre-departure guava juice. It's now officially my favourite pre-departure beverage (after water of course). A hot towel was also given on a tray which is far classier than what Singapore Airlines does.
Waiting at my seat was a pillow and a blanket as well.
The pillow was large as you can see and was super fluffy.
A pair of slippers and headphones were placed in the seatback pocket.
I'm pretty impressed that EVA Air gives out slippers on such a short flight. These slippers were of good quality as well and did not come in a plastic bag. (SQ you listening?) The headphones were Thunder branded and they sounded pretty good.
Shortly after the pre-departure beverages were collected, thick coloured printed menus were presented. At this point, I was really blown away by EVA Air and was dying to try their long haul product.
There were a few options for lunch on this flight, including one that featured dishes from Din Tai Fung. No prizes for guessing which one I went for.
Here's the drinks menu:
Sadly, no Krug was on offer. Fiji Water was also unavailable on these short flights.
Here's the food menu:
The cabin crew came along to take orders and my choice of Din Tai Fung was noted.
The seat had universal power sockets located near the footrest of the seat and the reclining of the seat are all controlled by buttons.
The tray table was your average airplane business class tray table size. Nothing fancy.
Individual air nozzles were available for each seat.
Once boarding was completed, we pushed back almost immediately and headed straight for runway 16R.
After a short take-off roll, we were airborne.
Shortly after take-off, lunch service commenced with a post-departure beverage and rice crackers. I had some whiskey and it was great (Kavalan for those wondering).
The first course of soup and appetiser came at once and my goodness it was amazing. The chicken was flavourful and cold (duh) and the soup was sweet from the flavour of the beef.
I polished these off quickly and my next course of dumplings in chilli oil and noodles were served. I had never been happier eating airplane food in my life.
The dumplings were amazing and the noodles weren't soggy at all. Next came dessert and I had a UCC Iced Coffee to go with it. Again, probably the best airplane iced coffee I had and I dare say it can rival some iced coffees on the ground.
The yam pastry was warm and flaky.
Feeling slightly ballsy, I requested for the mochi ice cream dessert from the Japanese menu and it was promptly served. Needless to say, EVA Air's catering impressed me.
After finishing my dessert, I headed straight for the toilets. Harnn x Hello Kitty branded amenities were available. No other toiletries were available on this flight.
Returning to my seat, I continued watching Avengers: Endgame on the in-flight entertainment which had a good selection of very recent movies.
However, the best in-flight entertainment is still out the window.
The descent into Taipei Taoyuan was amazing and I started doing some stretching in preparation for the mad rush to catch my connecting flight.
We had a long taxi and to my horror, the flight landed at a remote stand. Joy. Oh, joy. I guess this close up of the A321 made up for it.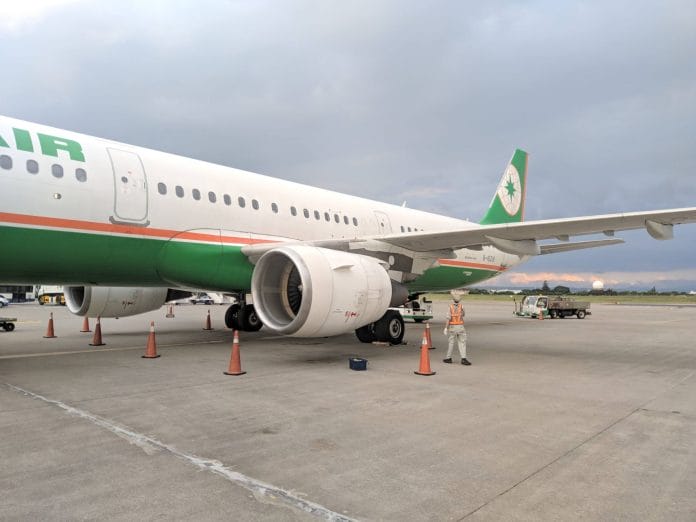 An EVA Air representative was waiting for me at the bus gate arrivals area and I was escorted through security and we literally, ran to catch my connecting flight which departed from the furthest gate at Taipei Taoyuan.
Concluding Thoughts
My first time on EVA Air really impressed me. Although I was slightly annoyed (read: super annoyed) that my flight had a last-minute aircraft swap from the Boeing 787-9 to the A321, the service and catering blew me away.
And on that note, thank you for reading the entire trip report!
(Cover: Wikipedia Commons)
---
Purchases made through any of the links in this article may generate an affiliate commission that supports the running of the site. Found this post useful? Subscribe to our Telegram Channel to get these posts pushed directly to your phone, or our newsletter (on the right of your screen) for the latest deals and hacks delivered to your inbox.