From 1 July 2020, UOB will add some new rewards exclusions to the T&Cs of the KrisFlyer UOB Credit Card.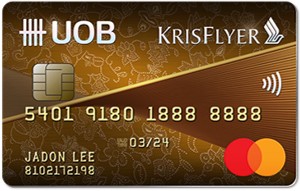 As a reminder, cardholders currently earn 1.2 mpd on general spending, and 3.0 mpd on SIA-related transactions (Singapore Airlines, SilkAir, Scoot, and KrisShop).
If they spend at least S$500 on SIA-related transactions in a membership year, they'll also earn 3.0 mpd on food delivery, travel, transport, and online shopping transactions.
It's the online shopping category where the changes are taking place. From 1 July 2020, the following merchants will no longer earn accelerated miles (1.8 mpd). They will still continue to earn base miles (1.2 mpd).
WEF 1 July 2020, please be informed that any online payment made to Computer Software Stores (5734) , Direct Marketing Merchants (5964 – 5969), Artist Supply Stores, Craft Shops (5970) and Florists (5992) will be excluded from the awarding of Accelerated Miles.
👍 As of right now, I don't see any corresponding change to the T&Cs of the UOB Preferred Platinum Visa. Online shopping transactions under MCC 5964-5969, 5970 and 5992 will still earn 10X (4 mpd), subject to the usual caps.
On the surface, these changes seem innocuous enough- just don't charge software, art supplies or flowers to the card and you'll be fine. Be warned though, because MCCs don't always code the way you think.
MCC 5734: Computer Software Stores
MCC 5734 ostensibly covers computer software stores, but it's also used by some online businesses which have very little to do with software.
For example, the following transactions have been reported to code under MCC 5734:
Adobe Creative Cloud

Baby Tula Asia
Caroupay
Crazy  Egg
DigitalOcean
Discord
Dropbox
Flower Chimp
Helpling
Indiegogo
Klook
Mealpal
Mint Home
Policypal
Ryde
Shopify
Straits Times 



Wix

⚠️

Based on crowdsourced data points from HWZ, Whatcard, and Milelion Telegram Group
Some of these make sense, but others are unexpected- Klook (you'd think it'd use MCC 4722 for travel agencies), Ryde (Grab/gojek use MCC 4121) and Helpling, to name a few.
I can also see some people using the KrisFlyer UOB Credit Card for MealPal, thinking it falls under dining. It doesn't- MealPal doesn't operate any kitchens of its own; it's purely a tech platform connecting restaurants to diners.
MCC 5964- 5969: Direct Marketing Merchants
This MCC range covers what's known as "direct marketing merchants":
MCC 5964: Direct Marketing- Catalog Merchant
MCC 5965: Direct Marketing- Combination Catalog and Retail Merchant
MCC 5966: Direct Marketing: Outbound Telemarketing Merchant
MCC 5967: Direct Marketing- Inbound Telemarketing Merchant
MCC 5968: Direct Marketing- Continuity/Subscription Merchant
MCC 5969: Direct Marketing- Others
Here's what we know about this range:
AliExpress (5964)
EA Origin (5968)
Economist (5968)
Google Drive (5968)
Google Play Music (5968)
Linkedin (5968)
NYTimes (5968)
YouTube Premium (5968)
Zoom (5968)
⚠️ Based on crowdsourced data points from HWZ, Whatcard, and Milelion Telegram Group
If you happen to have the KrisFlyer UOB saved as your default card for any of these merchants, you'll want to swap it out before July.
Conclusion
As you can see, MCCs can be rather counter-intuitive, and this affects the bonus points that you earn.
It's already hard enough to track bonus points on the KrisFlyer UOB Credit Card, what with the delayed bonus crediting. Although the bonus did come in earlier than expected, it's still one lump sum comprised of many months' transactions, and reconciling it is going to be a pain. So spare yourself the hassle, and swap your cards accordingly before 1 July 2020.