So the news broke yesterday that BOC is well and truly nerfing the BOC Elite Miles card.
From 15 June 2020, the earn rates will be cut to a paltry 1 and 2 mpd for local and overseas spending respectively. That's thanks to a 50% increase in the cost of redeeming KrisFlyer or Asia Miles, which applies to all points, existing or future.
Current

From 15 June 2020

Earn Rate

Local: 1.5 mpd
FCY: 3.0 mpd
Local: 1.0 mpd
FCY: 2.0 mpd
30,000 points
= 10,000 miles
45,000 points
= 10,000 miles
18,000 points
= 6,000 miles
27,000 points=
6,000 miles
There will also be new exclusion categories for insurance, education, hospital transactions and more. Read this article for the full details. 
Looking at the watered-down version we'll have from June, it's hard to believe this was the same card that set the market alight when it debuted in July 2018 with 2 and 5 mpd for local and overseas spending.
In with a bang, out with a whimper. Something something die a hero something something.
How do you cash out your BOC points for miles?
Now, needless to say, you're going to want to cash out all your points before 15 June 2020. Any points remaining that fateful Monday will lose 33% of their value, at least where conversions to miles are concerned.
You can check your points balance through online banking. Navigate to Credit Card → Account Information → Select your card on top → Click Inquiry. You'll see the balance reflected under "Rewards Points", right down to 2 decimal points.
☝️ Don't have BOC online banking? You'll need to go down to a physical branch to set it up. If you already have a BOC online banking account but got a credit card subsequently, you'll again have to head down to a physical branch to link the card to the ibanking account. 
For those of you who haven't transferred BOC points before, you're in for a treat. The process involves filling up this form (hopefully you have a PDF editor, or else you'll have to print, fill, and scan) and emailing it to [email protected] A manual form, in 2020. This is truly the dawning of the Age of Aquarius.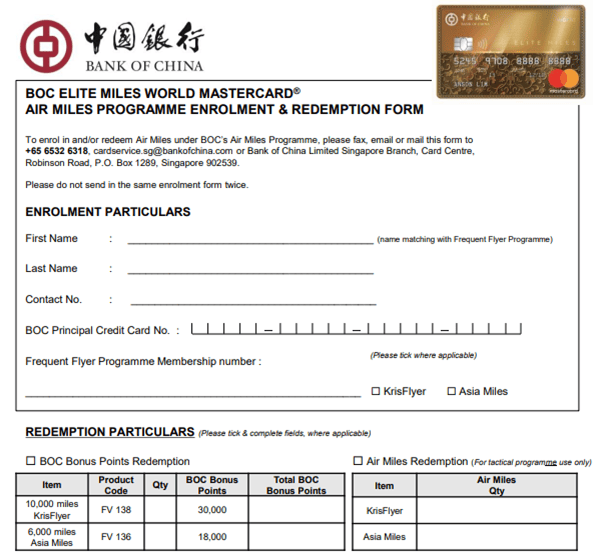 Officially, BOC's points transfer process can take up to 3 weeks. Fortunately, my two previous experiences were much faster than that, taking 3 and 11 days respectively. However, this is really a case of YMMV, so I wouldn't leave it till too late.
| | |
| --- | --- |
| Form Submitted | Received |
| 30-Oct-19 | 2-Nov-19 |
| 13-Nov-19 | 24-Nov-19 |
If you're lucky enough, your points balance will be at or almost at a nice multiple of 30,000 (KrisFlyer) or 18,000 (Asia Miles). This will allow you to cash out your balance with zero or close to zero orphan points.
⚠️ Remember that BOC, rather ludicrously, limits you to a maximum of 10 blocks of points per transfer. There's no technical or logical reason for this, it's simply because they can. 10 blocks means 100,000 KrisFlyer miles, or 60,000 Asia Miles. If you want to transfer more than this, you'll need to submit a separate request and pay a second S$30 fee
But some of you may be stuck in between- too many points to forfeit, too few to make it worthwhile spending up to the next block. What do you do then?
How do you burn orphan points?
Apart from miles, here are the other options you can redeem BOC points for:
BOC Rewards Catalogue




Merchant (Code)

Item 

Points

Bengawan Solo (FV 126)

$10

5,000

AsiaMalls (FV 102)

$10

5,000

The Clementi Mall (FV 104)

$10

5,000

Isetan (FV 107)

$10

5,000

Metro (FV 108)

$10

5,000

Paragon (FV 110)

$10

5,000

Popular Bookstore (FV 111)

$10

5,000

The Seletar Mall (FV 114)

$10

5,000

Takashimaya (FV 115)

$10

5,000

UOL Malls (KINEX, United Square, Velocity) (FV 117)

$10

5,000

GNC (FV 121)

$10

5,000

Watsons (FV 125)

$10

5,000

NTUC FairPrice (FV 119)

$10

5,000

Sheng Siong (FV 120)

$10

5,000

Golden Village (FV 130)

Movie voucher

5,300

WE Cinemas (FV 131)

2D Movie voucher

5,500

Swensen's (FV 128)

$20

10,000

Crocodile (FV 105)

$20

10,000

RISIS (FV 113)

$20

10,000

TANGS (FV116)

$20

10,000

Best Denki (FV 103)

$30

15,000

Harvey Norman (FV 106)

$30

15,000

Long Beach Seafood Restaurant (FV 127)

$50

25,000

OSIM (FV 124)

$50

25,000

$20 Statement Rebate (FV 146)

$20

30,000

$50 Statement Rebate (FV 147)

$50

60,000
The first thing you'll notice is that where vouchers are concerned, BOC points attract a fixed value of 0.2 cents each. That means there's no "better" or "worse" deal here- it all depends on what tickles your fancy.
Given the BOC Elite Miles' current earn rate of 4.5 points per S$1 on local spending and 9 points per S$1 on overseas spending, taking 0.2 cents per point is like earning a 0.9% and 1.8% rebate respectively. It's not fantastic, but better than leaving value behind.
You also have the option to take a statement rebate, but the value per point drops to a dismal 0.07-0.08 cents. That's a 0.3%-0.75% rebate, and you can flat out forget about it.
The redemption process is, you guessed it, manual. You'll need to call up BOC customer service at 1 800 338 5335 and make the redemption over the phone. All vouchers issued are valid for 3 months (or the actual date stated on the voucher itself).
What am I doing with my BOC points?
As the previous screenshot showed, I've got 186,283 points left. 180,000 of those will go to Asia Miles (I'm warming up to them now that there's no more fuel surcharges, plus I need some oneworld diversification), and of the 6,283 balance, I'll take a S$10 NTUC voucher for 5,000 and consider the remaining 1,283 points a cost of doing business with BOC.
That represents ~S$285 of wasted spending, which as sheer coincidence would have it, is the exact annual fee I'd otherwise pay for my principal (S$190) and supplementary card (S$95). There's something awfully poetic in that.
Conclusion
Please make it a point to tell everyone you know: cash out your BOC points before 15 June 2020. Get miles, get vouchers, get whatever, just don't leave them there.
I wonder what BOC's gameplan was with all this. It was very clear that the 2/5 mpd rates offered upon launch were not sustainable, but wasn't the whole idea that this card would serve as a loss leader for customer acquisition? Get people on board, start cross selling them bank accounts and other products, turn them into lifelong customers and make the money back…
Well, as the bank's going to find out over the next couple of weeks, that really hasn't worked out. It's going to be a full on rush for the lifeboats, and the BOC Elite Miles will be relegated to an interesting footnote in the history of the Singapore miles game.