At midnight tonight, ISPs are going to see a surge in traffic to the KrisShop website. It's going to be a madhouse, and I fully intend to be among the throng.
Why? Because tonight's the night Restaurant A380 @Changi goes live. This is arguably the most highly-anticipated among all three "Discover Your Singapore Airlines" experiences (and certainly the shortest in supply).

Restaurant [email protected] takes place over the weekend of 24-25 October 2020, with an as-yet unspecified number of seats available for lunch.
What's happening, how much does it cost, and what card should you use to pay for this? Let's find out.
What is Restaurant A380 @Changi?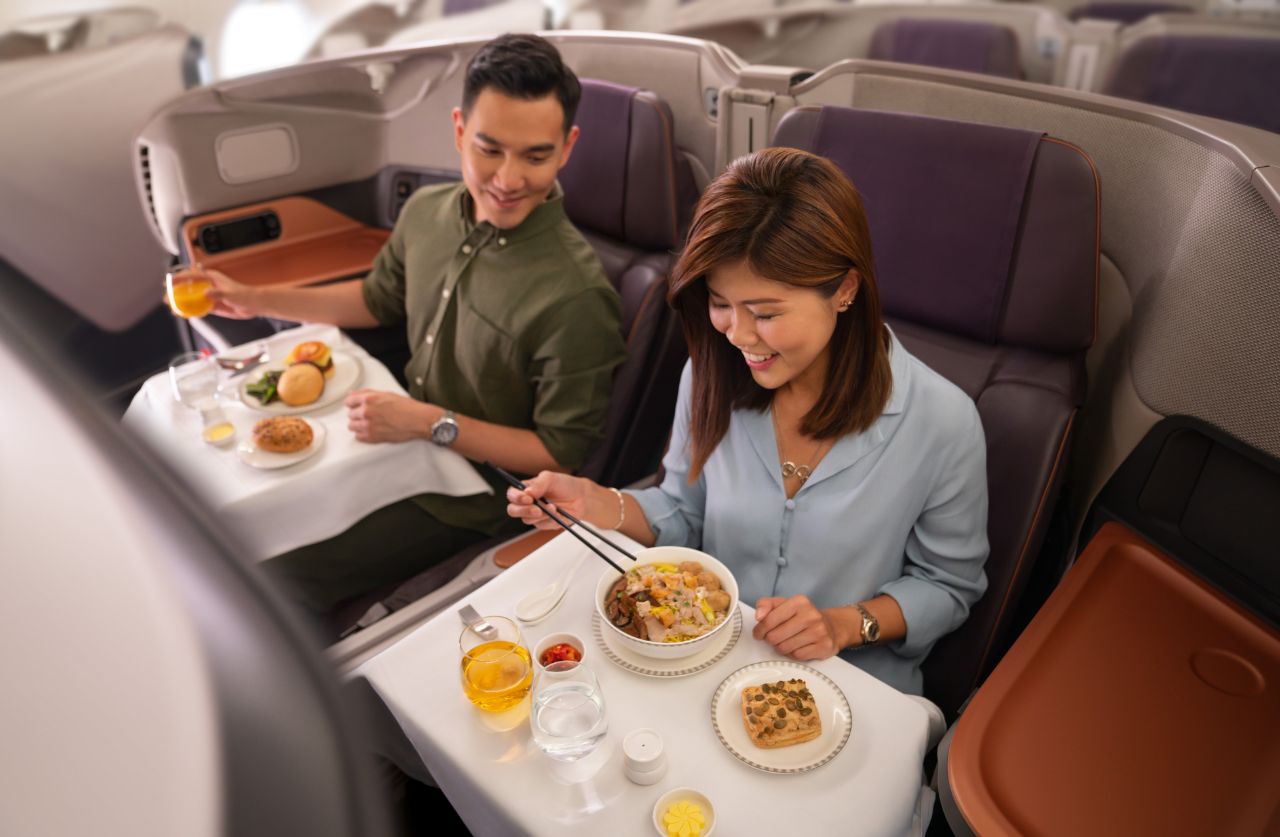 Restaurant A380 @Changi
For two days only, our A380 double-decker superjumbo will be hosting diners. Join us for a memorable dining experience in your choice of cabin class, topped with our award-winning service.
Savour signature international Singapore Airlines dishes in this unique restaurant. Or enjoy the best dishes from our Peranakan menu, specially designed by acclaimed Singaporean chef Shermay Lee who has volunteered her time in support of this event. Pair your meal with two complimentary alcoholic drinks and a free flow of other beverages.
Bookings open on 12 October 2020
Restaurant A380 @Changi, as the name suggests, allows you to dine on a Singapore Airlines Airbus A380-800 aircraft parked at Changi.
With the downturn in air travel caused by COVID-19, the days of the A380 could well be numbered. Singapore Airlines may not reintroduce the aircraft for a few years, and half its fleet could be scrapped. In other words, if you haven't experienced the A380 yet, it'd be advisable not to wait too long.
Customers can look forward to the following activities and tours during Restaurant A380 @Changi.
Heritage Showcase
Customers will be treated to a showcase of our cabin crew uniforms through the years, and those who turn up for the Restaurant A380 @Changi experience in traditional heritage wear, such as the sarong kebaya, cheongsam, saree, batik shirt or even a kilt, will receive a special gift.
A380 tour
Customers can sign up for an exclusive tour of the A380 aircraft, where they will get to explore our award-winning interiors furnished by renowned international designers, and get a rare behind-the-scenes look at private access areas. Limited spots available on a first come, first served basis.
Dining experience
Diners can look forward to an exclusive dining experience, featuring international cuisines and the best dishes from our Peranakan menu specially designed for Restaurant A380 @Changi by acclaimed Singaporean chef Shermay Lee. To complete the experience, our air sommeliers will recommend fine wines to accompany the meals. Each meal comes with two complimentary alcoholic drinks and free flow of other beverages.
KrisWorld entertainment
With KrisWorld, customers will be able to choose from over 1,000 entertainment options including movies, television shows, and music on demand.
Receive limited edition souvenirs and exclusive KrisShop privileges
To commemorate this unique experience, limited edition souvenirs will be given to all participants. Customers will also get to enjoy exclusive discounts when they make purchases online via KrisShop.com or at our shopping gallery on the day.
Enhanced health and safety measures in place
The health and safety of our customers and staff is our top priority. Before and after every dining experience, the aircraft will be thoroughly cleaned, with extra care taken to sanitise common surfaces. The aircraft is equipped with HEPA filters, which remove more than 99.9% of the microbes in the air.
Diners will be seated in groups of up to five, with safe distancing between groups. Diners and crew will be required to undergo temperature screening and complete the SafeEntry digital check-in before boarding the aircraft. They are also required to wear a face mask at all times, except when consuming food or drinks.
All in all, it sounds like a really fun afternoon. I just hope you have the option to buy more than two glasses of alcohol and turn the seats into beds.
How many tickets will be available?
We don't know how many sessions Singapore Airlines will run a day. Hopefully they'll do two seatings for lunch, to maximize the number of people who can attend.
What we do know is that Singapore Airlines is using their latest A380 aircraft for this event, which means there'll be a total of 471 seats, split as follows:
6 Suites Class
78 Business Class
44 Premium Economy Class
343 Economy Class
They won't be able to sell all the seats (especially in Premium Economy and Economy) due to social distancing restrictions, so we'll see maybe 250-300 or so seats made available per seating. That's just a figure I pulled out of thin air, and I think it also depends on how many groups they've catered for (groups of 5 or less people are allowed to sit together, which makes for a more space efficient layout).
How much will Restaurant A380 @Changi cost?
Surprisingly reasonable, at least in the cheaper cabins.
Package
Cash Price (With GST)
Miles (With GST)

Economy

S$50
(S$53.50)
6,250
(6,687)

Premium Economy

S$90
(S$96.30)
11,250
(12,037)

Business

S$300
(S$321)
37,500
(40,125)

Suites

S$600
(S$642)
75,000
(80,250)
Prices for the A380 dining experience will start at just S$53.50 in Economy, going all the way up to S$642 in Suites. For all you're getting, I'd argue it's even more worth it than those S$480 [email protected] First Class meal kits.
It's possible to pay for these with your KrisFlyer miles, but once again, this is a terrible option unless you have so many on hand you don't know what to do. When you spend KrisFlyer miles on KrisShop, you get a value of 0.8 cents per mile. That's way below the 2-5 cents you could get when redeeming an award ticket (yes, we will fly again). Heck, you could get just over 1 cent per mile if you used your miles as cash to pay for Singapore Airlines revenue fares.
What card should I use to pay on KrisShop?
All KrisShop transactions earn 1.5 mpd by default, regardless of what payment method you use. These will be posted to your account within 30 business days of the transaction.
If you're paying with a Mastercard, enter the code MASTERCARD at check-out to enjoy a free adult ticket to S.E.A Aquarium, with a minimum S$200 spend. You may also win a 3D2N hotel stay at Hotel Michael in RW Sentosa. More details here
On top of this, you can also double dip on miles with your credit card. KrisShop.com transactions will be processed as online duty free transactions (MCC 5309), so you can consider using the following cards:
This could be a good opportunity for KrisFlyer UOB Credit Card members to hit the minimum S$500 spend on SIA Group transactions required to trigger the 3 mpd earn rate on dining, food delivery, online shopping, online travel and transport transactions.
Conclusion
Make no mistake- if you don't stay up tonight, there won't be any Restaurant A380 @Changi tickets when you wake up tomorrow morning.
Be smart about it, login to your KrisFlyer account before midnight and camp out on the site. Practice using autofill forms. And pray that a localized EMP takes out all computers in Singapore except yours.
Good hunting, and do share what you got.