Here's something to chew on: when Singapore Airlines unveiled its new A380 cabin products, management predicted that all 14 older A380s would be refitted by the end of 2020.
That's…not gone according to plan. As of today, Singapore Airlines has only refitted 3 of 14, which together with the five that were delivered with the new cabin products pre-installed, makes seven aircraft in total.
 

A380-800




(New)

A380-800




(Old)

Total Count

8/19

11/19

Reg. Nos

•9V-SKN (refit)
•9V-SKS (refit)
•9V-SKT (refit)
•9V-SKU
•9V-SKV
•9V-SKW
•9V-SKY
•9V-SKZ

•9V-SKF
•9V-SKG
•9V-SKH
•9V-SKI
•9V-SKJ
•9V-SKK
•9V-SKL
•9V-SKM
•9V-SKP
•9V-SKQ


•9V-SKR
With 96% of the fleet grounded and just a bare bones route network now in operation, it's been speculated that Singapore Airlines might use this time to accelerate the A380 refits.
While that's certainly possible, I think it's unlikely. In fact, I think it's almost certain now that the refit project will never be completed.
Some of the A380s will be too old by the time they get refit
Singapore Airlines has four versions of the A380:
Versions 1 and 2 have the older cabin products
Version 3 came with the new cabin products pre-installed
Version 4 are refitted aircraft, identical to Version 3 in capacity
 

Version 1

Version 2

Version 3

/4

Suites

12

12

6

Business

60

86

78

Premium
Economy

36

36

44

Econo

my

333

245

343

Total

441

379

471

Reg No.

-SKF




-SKG




-SKH




-SKI




-SKJ




-SKK

-SKL




-SKM




-SKP




-SKQ




-SKR

-SKN
-SKS


-SKT




-SKU


-SKV


-SKW




-SKY




-SKZ

Age Range
(May 2020)
10.6-12.2
years
8.7-9.8
years
2.2-8.4
years

Version 3 aircraft were delivered with the new A380 cabin products, Version 4 aircraft (9V-SKN/SKS/SKT) were retrofitted from Version 2 aircraft.
It took Singapore Airlines eight months to refit 9V-SKS, the first of the old A380s. The second refit to 9V-SKT took 11 months, and the third to 9V-SKN took eight months. There will no doubt be some learning curve benefits that accelerate future refits, but the track record thus far doesn't exactly inspire confidence.
| | | | |
| --- | --- | --- | --- |
|   | Started Refit | Finished Refit | Duration |
| 9V-SKS | Oct 2018 | Jun 2019 | 8 months  |
| 9V-SKT | Feb 2019 | Jan 2020 | 11 months |
| 9V-SKN | Oct 2019 | Jun 2020 | 8 months |
Assuming 9V-SKT was an aberration and regular refits can be accelerated to a pace of six months, it could take six years to finish the remaining 12 aircraft.
The Version 1 aircraft would be due to fly to the great boneyard in the sky (or in the desert, more accurately) by then. Singapore Airlines prides itself on a young fleet (the average fleet age last year was 6 years 7 months), so it simply doesn't make sense to refit an aircraft, only to fly it for a couple years more at most.
There may be some hope for all six of the remaining Version 2 aircraft to be refitted, but I don't think that's likely either, given how at least a couple of them would be pushing 12 years by the time the refits are done. Singapore Airlines kept the B777-200ERs for up to 16 years, but it's hard to see the gas-guzzling A380s kept around that long.
The current A380 Business Class product is "good enough"
Another argument against refitting all the A380s comes from the fact that the existing seats in the high-yielding Business Class cabin are "good enough".
Version 1 & 2 aircraft use the 2006 Business Class seat. It's 34 inches wide (wider than some airlines' First Class), goes fully flat and offers 100% direct aisle access in a 1-2-1 configuration. Factor in Singapore Airlines' usual high quality service, and I'd argue that the overall product, while dated, can hold its own against the competition.
For comparison, here's what other airlines are offering on some of Singapore Airlines' A380 routes:
Route

Competition
(Seating Config)

London

British Airways*
(2-4-2)
Paris
Air France
(1-2-1)
Frankfurt
Lufthansa
(2-2-2)
Zurich
SWISS
(1-2-2/2-2-1)
Auckland
Air New Zealand
(1-1-1)
Mumbai/Delhi
Air India
(2-3-2)
Melbourne/Sydney
Qantas
(1-2-1)
*British Airways is planning to fly its new Club Suite seat to Singapore by 2022, but the Covid-19 outbreak could well delay that
Obviously the quality gap differs depending on the route, but in no case is Singapore Airlines' Business Class significantly behind the competition (remember they also operate the B77Ws on some of these routes, with the 2013 Business Class seat).
Don't get me wrong- I still think the 2006 seat is tired and in need of an upgrade. But as David Flynn from Executive Traveler once quipped to me- once you've gone full flat, you can't go any flatter. Once you grant all-aisle access, there's no more aisle to give. Sure, you could add doors, you could add a bigger IFE screen, but at the end of the day it's about hygiene factors- a flat bed, and direct access to the aisle will suffice for most business travelers.
Besides, there's another aircraft that needs more immediate refitting…
The refitting of SilkAir's fleet should take priority
Back in 2018, a decision was made to dissolve the SilkAir brand and merge it into Singapore Airlines. That meant Singapore Airlines would inherit SilkAir's narrowbody fleet, and refit them with full-flat Business Class seats.
The plan at the time was for Singapore Airlines to take on the six Boeing 737 MAX 8s (plus the 31 on order), with 14 of the remaining 17 Boeing 737-800s going to Scoot, and the remaining three plus the Airbus A319/320s retiring.
Unfortunately, the MAX 8's grounding has complicated things. Singapore Airlines has now undertaken to refit "a number" of Boeing 737-800s from SilkAir, with work supposed to start between January to June 2020 (no doubt the coronavirus will throw yet another spanner into the works).
Now, there's nothing stopping Singapore Airlines from refitting both the B737s and A380s at the same time, but assuming resources are tight (and they are), where would you choose to allocate your budget?
After all, the gulf between a recliner seat and a full flat one is much greater than a full flat seat and a better full flat seat. The MAX 8, when re-certified, will stick around a lot longer then the A380. If we expect regional travel to recover before long haul, then it's all the more important for the narrowbody fleet to be brought up to standard ASAP.
What does this mean for the A380s?
If Singapore Airlines chooses not to upgrade all of its A380s, the 2017 Suites and Business Class might earn the dubious legacy of being the rarest SQ seats of all time- researched and developed at a great cost, but only deployed on a handful of aircraft.
Singapore Airlines new A380 Suites
And that, in my opinion, is a downright shame. I didn't think the new Suites was perfect, far from it. In fact, I thought there were several design flaws that were pretty glaring for an airline normally so obsessed with the small details.
Yet, I thoroughly enjoyed the novelty of having my own room in the sky, an absolutely massive bathroom (complete with dressing table), and spinning the armchair everywhich way while saying "Full ahead, warp factor five".
Given how unlikely we are to see another aircraft the size of the A380 again, this could be the last opportunity to see what Singapore Airlines could do, if given a canvas where space isn't a constraint.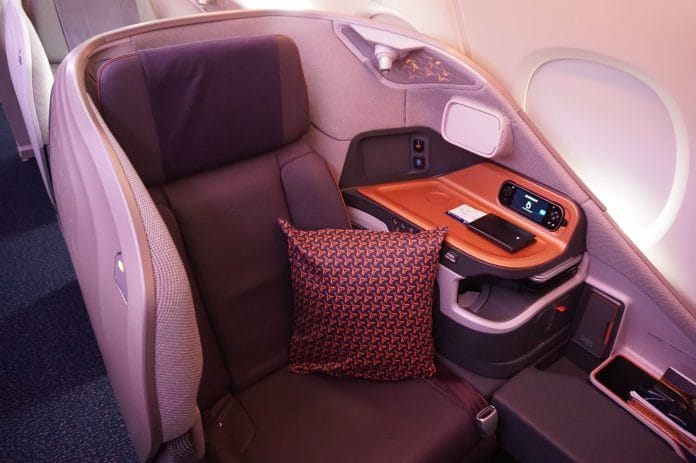 The new Business Class is likewise a great experience. Yes, it's not the best in the world (that accolade goes to ANA's phenomenal THE Room), but it was aesthetically pleasing, comfortable, and private. It also marked a switch in the Singapore Airlines design philosophy, not requiring you to stand up and convert it into a bed. I'd be disappointed if only gets installed on barely a dozen aircraft.
Conclusion
Singapore Airlines flew four of its new A380s to Alice Springs last week for storage. This suggests the priority is to preserve these airframes, as there's little point exposing them to harsh tropical weather while they perform few to no flights.
Hopefully this means Singapore Airlines intends to keep them for some time to come, although on the flip side, it also means the new cabin products will be extremely rare at the moment (not that anyone will notice).
I really hoped there'd come a day when all 19 A380s had the new cabin products, improving the chances of snagging award seats on the new Business or Suites. Sadly, it looks like that's wishful thinking. The age of the Version 1 aircraft, relative competitiveness of the existing seat, and need to divert whatever limited cash there is to the B737 refit all point towards a mixed-product A380 fleet.
If you haven't already tried Singapore Airlines' new A380 cabin products, I strongly suggest you do as soon as travel resumes. They may never become as commonplace as originally envisioned.
I'd love to be proven wrong though.