From now till the end of Sunday, 21 February 2021, Traveloka is running a weekend flash sale, with an additional 30% off available from 6 p.m to 12 a.m. This is stackable with further savings from DBS cards or SingapoRediscovers Vouchers (SRV), and there are some great deals to be had.
Traveloka Weekend Sale
Let's talk about the promo codes first. Each day will have three codes, all with no minimum spend required. The exact codes will change from day to day, so be sure to visit this page from 6 p.m daily to get the latest. For Saturday (20 Feb), the codes are:
LUCKYSALESRV: 30% off, capped at S$50, can be stacked with SRV
LUCKYSALETVLK: 30% off, capped at S$40, cannot be stacked with SRV
DBSSRVH: 15% off, capped at S$15, can be stacked with SRV (payment must be made with DBS/POSB card)
As far as discounts go, this sale is slightly weaker than the previous one held over Valentine's Day. Previously, you could enjoy 20% off, capped at S$188- so if the hotel you're looking at costs more than S$250, you'd save more under the previous sale.
But that doesn't mean you can't save big this time round too, and the ability to triple stack HAPPYSALESRV, DBSSRVH and the S$100 SRV is lucrative indeed.
For example, you could book a Fullerton Hotel staycation for S$331 nett, which includes breakfast and S$120 F&B credit. After the various codes (and S$100 SRV), you'd pay just S$165.50.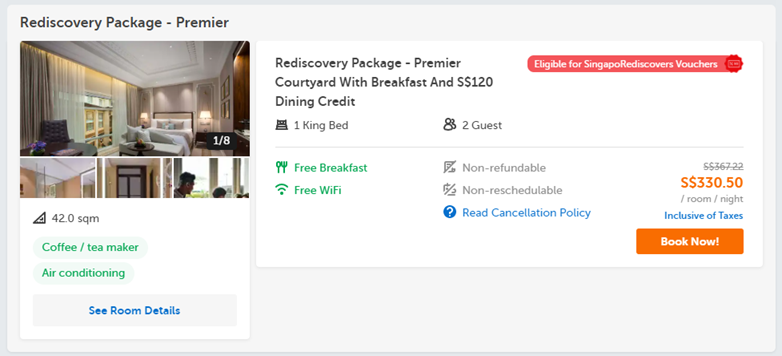 Alternatively, Mandarin Oriental's Celebrating Heroes package (which is now open to the general public) costs S$339 nett, with breakfast and S$80 F&B credit. Take away the various codes (and S$100 SRV), and you're paying S$174. Some people have posted in the Telegram Group that they even managed to find this package for S$288 nett (very limited dates), which would come down to S$124 after all the savings.
The Fairmont's upsized staycation package costs S$341 nett (cheaper than the S$359 nett on the official website) with S$100 of F&B credits; take away the various codes (and S$100 SRV) and the price goes down to S$176.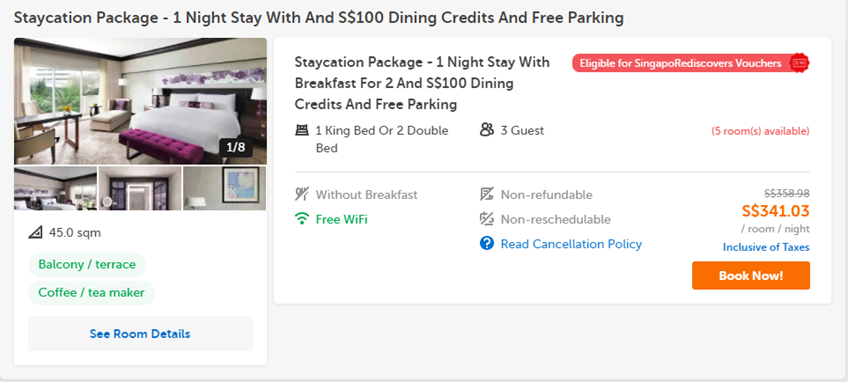 Pan Pacific's 100% dining credit offer (where you get the entire room rate back as dining credit) is also available on Traveloka for S$350 nett, which becomes S$185 after discounts (you'll still get credit based on S$350 as the discounts are on Traveloka's side).
Another good option is the Barracks Hotel at S$621 nett, or S$456 nett after all discounts.
I'm sure there's more deals out there beyond this, so play around a bit and see what comes up. Do note that cheaper rates will appear from 6 p.m to 12 a.m, and you may see lower prices if you register for a Traveloka account and log in.
Conclusion
I find that Traveloka is currently some of the most compelling SRV deals right now, and I personally locked in a Villa Samadhi stay for just S$345 (starting price: S$575) during the Valentine's Day sale.
Remember to make your bookings before 2359 on 21 February 2021 to secure your rates.