Decades from now, Australian constitutional scholars will probably still be debating the legality of Australia's border measures during COVID-19.
Australia closed its borders to all non-residents in March 2020, which was par the course for many countries. What was unprecedented was its strict quotas on the number of residents who could return each week, stranding tens of thousands of its citizens overseas. Not only that, but Australians could not leave the country without a travel exemption from the Border Force.
Despite legal challenges, the draconian measures persisted, and at one point the plan was to keep the borders closed until at least mid-2022. This led Foreign Policy's Amelia Lester to dub Australia "the new hermit kingdom".
But little by little, the doors are opening. Singapore (well, Singapore citizens at least) has become only the second country after New Zealand to enjoy quarantine-free access to Australia, in an agreement covering New South Wales, Victoria and ACT for now. Further reopening is planned in December for fully vaccinated Japanese and Korean citizens.
This means I'll have the unique privilege of being one of the first in the world to visit a post-pandemic Australia, and here's the plan.
🦘 Journey to the Hermit Kingdom
Recap: Australia VTL requirements
First, a brief recap of the to-do list before you depart for Australia or Singapore.
✈️ Summary: Australia VTL

To Australia 🇦🇺
Only valid for Australian citizens, permanent residents and immediate family, and Singapore citizens

No restrictions on 14-day travel history

Fully vaccinated with a TGA-approved vaccine
Complete Australia Travel Declaration 72h before flight

Take pre-departure PCR test 72h before flight

Take non-stop flight to Australia (Melbourne or Sydney only)

Take PCR test within 24 hours of arrival in Australia (day of arrival is Day 0)

Melbourne: Further test between Day 5 and 7

Sydney: Further test on/after Day 7

To Singapore 🇸🇬
14-day travel history only features Singapore or any VTL country

Purchase travel insurance with min. S$30K coverage (short-term visitors only)

Apply for VTP (short-term visitors and long-term pass holders only)
Fully vaccinated with any vaccine in the WHO EUL

Take pre-departure ART/PCR test 2 days before flight

Take designated VTL flight to Singapore

Take PCR test on arrival in Singapore
Official Resources
Singapore ➞ Australia
Australia ➞ Singapore
Flights
✈ Journey to the Hermit Kingdom: Flights
To Sydney
To Singapore
SQ211
23 Nov 21
Depart: 1030
Arrive: 2120
SQ222
30 Nov 21
Depart: 1610
Arrive: 2120
In a previous post, I mentioned that the plan was to fly on Qantas to Sydney, which would give me an opportunity to review both Qantas' Business Suite on the A330-200, as well as the Qantas First Lounge in Singapore.
However, there've been some new developments which have pretty much wrecked this plan.
First, Qantas will not be reopening its Singapore lounges until December, and when it does, only the Business Lounge will be in operation. This is unlike the pattern we saw in Sydney and Melbourne, where the First Lounges reopened first and all lounge-eligible passengers were welcome (a very nice upgrade indeed, for some folks).
Second, Singapore Airlines has revealed that its new SilverKris Lounge will be soft opening on 23 November. While this is only Phase 1 of a project that's expected to finish by Q1 2022, nothing beats being one of the first in the world to check it out.
And so I've rejigged the outbound flight to SQ211, which departs on the very morning the lounge opens. I'm half tempted to head to the airport at 5 a.m so I can literally be the first one in, but maybe I'm too old for that kind of craziness now.
I've also changed the return flight to SQ222, in order to review the Sydney SilverKris Lounge. According to Executive Traveller, this facility is currently only open for the evening flights, so I assume passengers on the morning flight are sent to another facility (Plaza Premium?).
The outbound flight is on a regional A350-900 with the 2018 Regional Business Class seat, and the return flight is on a longhaul B777-300ER with the 2013 Business Class seat. So there's nothing new to review in terms of cabin products, and I'll skip these.
Hotels
🏨 Journey to the Hermit Kingdom: Hotels

Night
Hotel
Cost
1

Meriton Suites Sussex St.

A$119

2

QT Sydney

A$270

3

Shangri-La Sydney

A$280

4

Fullerton Hotel Sydney

AS$307

5

Hilton Sydney

Media stay

6

Park Hyatt Sydney

30,000 Hyatt points

7

Sofitel Darling Harbor

StayPlus night
I'm staying in Sydney for seven nights, which of course means seven different hotels. Thank you to everyone who shared their hotel recommendations; I've tried to review as many as possible!
Meriton Suites Sussex St.
I'm landing in Sydney at 9.20 p.m on the first day, which means there's no point paying through the nose for a fancy hotel.
But that doesn't mean I'll have to slum it either. I found a great rate at the Meriton Suites Sussex Street that will cost just A$119 per night (~S$117). This 301-suite property opened in July 2019, and it's just a short walk from the Town Hall station where the Sydney Airport Train terminates.
QT Sydney
"Sexy, sassy and stylish, QT Sydney boutique hotel has her party shoes on and is ready to dance."
So says luxury hotels booking platform Mr. & Mrs. Smith, and while I'm not much for dancing, I'm all for trying the #3 ranked hotel on TripAdvisor, especially when I can find a lower-than-average A$270 rate (~S$266).
QT is under the DISCOVERY umbrella, and while there's no more Local Experiences to earn (I've been meaning to write about the new programme, but only when they release the full details and stop this drip feeding) I'll still get my regular Black benefits such as a two-category room upgrade and up to 6 p.m check-out.
Shangri-La Sydney
The Shangri-La Sydney was a difficult choice, since I'd read rather lukewarm reviews about the property and in particular its breakfast. I mean, if there's one place you shouldn't tolerate mediocre breakfasts, it's Sydney.
But HoteLux was offering a pretty incredible Virtuoso rate- for A$280 (~S$276), I'd get a US$100 hotel credit, a one-category room upgrade, complimentary breakfast and a welcome amenity. I'd also be able to earn Shangri-La Golden Circle points as per normal, since Virtuoso bookings are treated the same way as direct bookings.
Fullerton Hotel Sydney
I've already reviewed both The Fullerton Hotel and The Fullerton Bay Hotel in Singapore, so I figured I might as well complete the trifecta and visit the outpost in Sydney.
Just like the Singapore properties, The Fullerton Hotel Sydney is steeped in history, housed in the former General Post Office Building and within walking distance of landmarks like the Royal Botanic Garden, Barangaroo and the Sydney Opera House.
The hotel was offering a "reopening special" with 20% off the BAR and daily breakfast for A$307 (~S$302), which books me into a Tower Premium King Room, a couple of categories above the lead-in.
I also have iPrefer Elite status, which should give me additional perks like a room upgrade plus an F&B amenity.
Hilton Sydney
The "Hilton" name may conjure images of stodgy corporate hotels following tired old design templates, but as my recent visit to the Hilton Munich showed, the brand still has the potential to surprise.
The Hilton Sydney could well be another case in point, having recently completed an A$25 million refurbishment that covered all 547 rooms and 40 suites. The hotel also has an executive lounge, and dining options include Luke Mangan's Glass Brasserie restaurant.
Full disclosure: this will be a media stay hosted by the property itself.
Park Hyatt Sydney
The Park Hyatt Sydney is something of a pilgrimage for points collectors, and I'm finally doing mine this year.
I'll be staying on a Guest of Honor booking (30,000 Hyatt points), which means I'll enjoy full Globalist perks like free breakfast, room upgrades and early check-in/late check-out. The Park Hyatt Sydney does not offer suite upgrades sadly, but I think I'd be happy enough with an Opera View room.
Sofitel Darling Harbour
I had more or less written off the Sofitel Darling Harbour because of its astronomical rates, until realised it had Stay Plus availability.
For the uninitiated, Accor Plus members enjoy up to two free hotel nights each year as part of their perks, along with discounts of up to 50% on dining. I have a complimentary Accor Plus membership courtesy of my AMEX HighFlyer Card, and decided this would be a great place to burn the certificate.
Unfortunately, the free night certificate books me into the base room, and doesn't come with breakfast. I emailed to ask how much it would cost to upgrade to a club room, and was quoted a staggering A$390 for 1 pax/ A$450 for 2 pax. That's…not economical, and I think I'll pass.
Lounges
New SilverKris Lounge Changi Airport
The obvious highlight will be Singapore Airlines' new SilverKris Lounge at Changi Airport. Again, this won't be the finished product (that only comes early next year), but it'll give us a very good idea of the direction SIA is going in.
Sydney SilverKris Lounge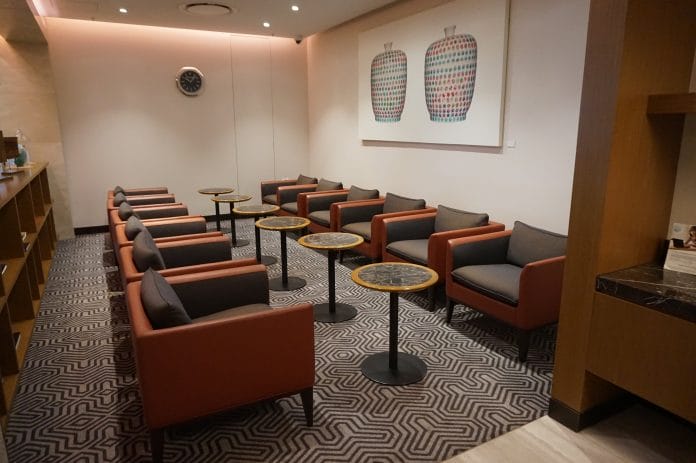 While I've visited and reviewed the Sydney SilverKris Lounge in 2018, I think it'll be good to get an update on what the amenities and F&B options are like during this time- whether they've been scaled back, and whether it's still worth a visit.
COVID-19 Testing
All fully vaccinated passengers (including unvaccinated children under 12 who are accompanied by a fully vaccinated adult) must take a PCR test within 24 hours of arrival, and on or after day 7 of arriving in New South Wales.
This need not be done at the airport; testing is free of charge and can be done at any of the locations below.
There is no requirement to isolate while waiting for the results, unless you have symptoms.
However, pre-departure tests (for return to Singapore) are chargeable. You can't use a free test to board a flight, since it won't provide you with a results certificate with information like your passport number and date of birth.
Since Singapore now accepts ART swabs as pre-departure tests, the simplest option would be to do this at the Histopath clinic at Sydney Airport. An ART swab costs A$59 with a 30-minute turnaround, and as far as I can tell, this is one of the only (if not the only) professionally-administered ART in Sydney that would come with the necessary certificate for travel.
Odds and Ends
A few other logistical matters which didn't fit into any of the other sections:
For SIM cards, I paid S$20.90 for an ICC Australia SIM card with 35GB of data and unlimited calls
I'll take the Sydney Airport Train to and from the airport, which will cost about A$18
Be sure to complete the following prior to travel:

Australia ETA: You'll need to download the AustralianETA app (Apple | Android) to apply; it's not possible to do it from your desktop. Application fees are A$20 per person, and the app works surprisingly well
Australia Travel Declaration: You'll need to fill in the Australia Travel Declaration 72h before your flight. This is a long form, and make sure you do it somewhere with a stable internet connection- having to start over is a pain. No fee is applicable
While Sydney residents use the Service NSW app to display their vaccination status, the app is not interoperable with Singapore vaccination certificates. You'll have to show your paper certificate to gain access to venues (it remains to be seen how widely accepted Singapore certs are, but I guess I'll find out…)
Conclusion
This trip will be longer than my usual 3-4 day VTL jaunts because I'll be taking some meetings in Sydney, but on the flip side, it's a chance to review additional hotels plus the Day 7 testing requirement.
I'll also be posting regular updates on Instagram (yes, The Milelion has Instagram), so you can get some quick answers there before I have time to bang out a full post.
Stay tuned for the full report on the Australia VTL arrivals process, as well as post-COVID life in Sydney.