Singapore Airlines recently announced some schedule changes for the Northern Winter season, boosting flights to Japan and India, while increasing Los Angeles and Paris services to twice daily and 12x weekly respectively. This comes on the back of strong demand, with capacity estimated to reach 81% of pre-pandemic levels by end-December.
While that's good news for some, others will be less happy. The reshuffle has had a knock-on effect on other flights, and the aircraft musical chairs has resulted in some passengers getting downgraded from their original cabin. There's been several reports of this in the Telegram Group, as well as a dedicated Flyertalk thread.
If you're on the receiving end of a downgrade, here's what's going on, and what your options are.
The "Flight Update" email
The news of a downgrade is presented rather innocuously, in the form of an email with the subject line "SQXXX" Flight Update". It's so innocuous you might even miss the punchline if you're not paying close attention.
Here's an email a reader received regarding a change to his SQ326 flight from Frankfurt.
The timing change is plain to see, but what's not mentioned is the cabin change. SQ326, formerly operated by a B777-300ER with First Class seats, is now operated by an A350-900 that maxes out at Business Class.
It's only after clicking the "accept" button that a second email is generated showing the downgrade.
We regret to inform you that due to operational requirements, we are unable to provide you with the original seat and/or cabin class that you have selected.

….

If there has been a change in your cabin class, we will be contacting you to assist with your bookings. We seek your patience as we will be contacting affected customers progressively.

For urgent requests for bookings made directly via the Singapore Airlines website, mobile app, reservation hotline or local office, please contact your local Singapore Airlines office. For bookings made through a travel agent or partner airline, please contact them directly for assistance.

Please be informed that rebooking to your original seat and/or cabin class is subject to availability.
Needless to say, this is very, very poor UX. While the first email may be a generic notification used for all sorts of changes, it's a rude shock for customers to click "accept" and find that there's a cabin downgrade lurking too. I'd wager that cabin downgrades hit just as hard (if not harder) than any schedule change, and as such they need to be prominently signposted. 
It's something that needs immediate fixing, and I sure hope the relevant teams are looking at it.
Why is this happening?
To understand what's going on, you first need to understand the different types of aircraft in the Singapore Airlines fleet.
✈️ Singapore Airlines Fleet

 

F

J

PY

Y

A350-900 (ULR)

 

✓

✓

 

A350-900 (LH)

 

✓

✓

✓

A350-900 (MH)

 

✓

 

✓

A380-800

✓

✓

✓

✓

B737-8

 

✓

 

✓

B737-800

 

✓

 

✓

B777-300ER

✓

✓

✓

✓

B787-10

 

✓

 

✓

F= First, J= Business, PY= Premium Economy, Y= Economy
ULR= Ultra-long range, serving the non-stop routes to EWR, JFK, SFO
LH= Long-haul (2013J seat, row 22 is last row of Business Class)
MH= Medium-haul (2018RJ seat, row 21 is last row of Business Class)
While all Singapore Airlines flights have Business and Economy Class, First and Premium Economy Class are only offered on selected aircraft:
Suites/First Class: A380-800, B777-300ER
Premium Economy: A350-900ULR, A350-900LH, A380-800, B777-300ER
Therefore, what's happened is that the aircraft operating your flight been swapped to a different type, without the cabin you originally booked.
For example, the boosting of Paris services requires more B777-300ERs, which need to come from somewhere. These get taken off routes like Frankfurt and London, to be replaced by A350-900s without First Class cabins.
⚠️ Equipment downgrades are not downgrades!
While frequent flyers know that not all seats are made equal, an equipment downgrade does not constitute a downgrade.
For example, if your Business Class flight was originally operated by a B737-8 but got downgraded to a B737-800, you've gone from a full-flat seat to a recliner. That's unfortunate, but as far as Singapore Airlines (and consumer protection laws) sees it, Business Class is Business Class. You might receive some goodwill compensation, but you're not entitled to anything beyond that.
What should you do?
I looked through Singapore Airlines' Conditions of Carriage, which interestingly enough is silent regarding the matter of involuntary downgrades.
What I can tell you based on personal experience is that the default behaviour of CSOs is to offer two options: 
Cancel the flight, with a full refund and waiver of any applicable fees
Accept the changes, with a partial refund of the difference in miles and taxes (if any) 
If you opt for (1), that's the end of the story. 
If you opt for (2), make sure the adjustment is calculated on the basis of the award chart in place at the time of booking (remember: on 5 July, Singapore Airlines devalued the KrisFlyer award chart).
For example, suppose I redeemed 125,000 miles or a First Class Saver award to London before the KrisFlyer devaluation. I'm now downgraded to Business Class. I should be receiving a refund of 33,000 miles, based on the pre-devaluation 92,000 miles cost of a Business Class Saver award to London.
What should not be happening is that I receive a refund of 18,000 miles, based on the post-devaluation 107,000 miles cost of a Business Saver award to London. CSOs need to manually calculate the refund, and some may goof up, so be alert!
Anything beyond options (1) and (2) is a product of negotiation, and here's where the usual YMMV caveat applies: you're more likely to get a favourable outcome if you're a Solitaire PPS Club member than a lowly KrisFlyer member, for example. 
I should also add that the frontline CSOs have only so much discretion. As frustrating as the situation may be, don't take it out on them. Escalate the matter to a supervisor if necessary, and keep in mind you're more likely to catch flies with honey than vinegar.
❓ Does EU261 apply?
People have been asking me if EU261 applies in this scenario, and my honest answer is I don't know. 
What I can tell you is that EU261 applies in the following scenarios:
If your flight is within the EU and is operated either by an EU or a non-EU airline
If your flight arrives in the EU from outside the EU and is operated by an EU airline
If your flight departs from the EU to a non-EU country operated by an EU or a non-EU airline
If you have not already received benefits (compensation, re-routing, assistance from the airline) for flight related problems for this journey under the relevant law of a non-EU country.
Note: Norway and Switzerland are not part of the EU, but are still covered under this legislation. The UK has a similar provision.
Therefore, a customer flying SIN-FRA on Singapore Airlines would not be covered, but a customer flying FRA-SIN on Singapore Airlines would be. Compensation for downgrades is:
30% – flights of 1,500 km or less

50% – flights within the EU of more than 1,500 km (except flights between the EU and French overseas departments), and all other flights between 1,500 and 3,500 km

75% – flights not falling under (a) or (b), including flights between the EU and French overseas departments.
There's two points of uncertainty here. First, while EU261 is equally applicable to flights redeemed with frequent flyer miles, there's no clear indication on how the downgrade compensation calculation is done. Based on Flyertalk reports, compensation may include a refund in miles, but cash may also be offered.
The second is how much notice invalidates the need for compensation. EU261 compensation for cancellations does not apply if the cancellation is made at least 14 days before departure. However, the legislation is silent on a timeframe for downgrades.
tl;dr: It's worth enquiring about assuming you meet the eligibility criteria, but I can't advise as to your chances of success.
Below are some of the things I would propose if I were in this situation. 
Scenario 1: First Class/Premium Economy still available
In some scenarios, First Class/Premium Economy will still be available on the route in question, just not your particular flight.
For example, one reader told me his flight to London had been downgraded from First to Business Class. If I had to guess, he's on SQ318, which gets swapped from a B777-300ER to an A350-900 starting 30 October 2022. However, there are still other flights to London offering First Class, namely SQ306, SQ308, and SQ322. 
In this case, I would push for Singapore Airlines to reaccommodate me on a same-day flight on a different flight number. 
If no seats are available (and by available, I'm referring to physical capacity, not award capacity- I don't think passengers should be subject to the vagaries of award space through no fault of their own), then I would look at the same route on different days, or perhaps a nearby destination (within the same award zone) that has a similar cabin.
Scenario 2: First Class/Premium Economy no longer available
If First Class/Premium Economy is no longer available on the route in question, then the options get more straightforward.
I'd tend to accept the downgrade in this case, since it's genuinely a case of that cabin no longer being available to this destination. You can still try asking for a change to a nearby destination (within the same award zone) that has a similar cabin, but like above it's a bit of a long shot.
❓ What about reaccommodation on a different airline?
Reaccommodation on a different airline is a trickier question.
Per my understanding, SIA only allows rebooking on a different airline when there are last minute changes and no SIA alternatives available. Given that SIA is swapping aircraft rather than cancelling flights, and given that passengers are getting almost four month's notice (the changes affect flights from 30 October onwards), I think your chances are close to zero.
Further complications
Multi-leg journeys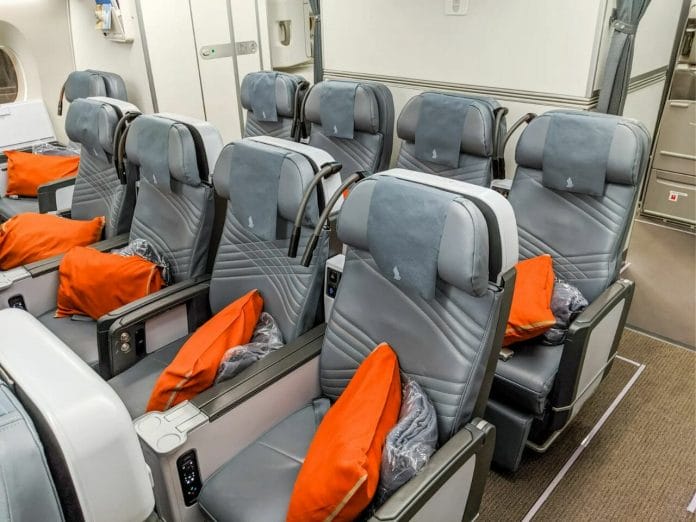 In all of the above analysis, I've assumed that you're flying out of Singapore. It gets significantly more complicated if you're flying through Singapore. 
For example, suppose a passenger books FRA-SIN-SYD in Premium Economy, and the SIN-SYD leg gets downgraded to Economy due to an aircraft swap.
Technically speaking (and I know this will infuriate a lot of people) no refund of miles is due. Why? Because there's no price difference between a FRA-SIN-SYD itinerary in Premium Economy, and a FRA-SIN-SYD itinerary with the first FRA-SIN leg in Premium Economy and the SIN-SYD leg in Economy. 
That sounds counterintuitive, but it's a by-product of how the KrisFlyer award chart works- the highest cabin determines the pricing of the entire itinerary (in an extreme case, a CGK-SIN-JFK award with CGK-SIN in First and SIN-JFK in Economy would price as a First Class award!)
In an ideal world, they'd do some sort of pro-rated refund of the distance flown in the lower cabin, but you need to be mentally prepared for the CSO to tell you "no dice". If they go by the book, the only way you'll receive a refund is if you downgrade the entire journey to the lower cabin, e.g. FRA-SIN in our example above. 
If you're in this situation, I'd be very interested to know what you're offered by way of compensation. 
Subsequent aircraft swaps
Given that aircraft rosters aren't set in stone, it's not impossible that your aircraft type may change again before you fly. 
In a hypothetical scenario, you may be initially downgraded to an aircraft without First Class or Premium Economy Class, only for a subsequent swap to restore that same aircraft type again!
I have no idea whether this has actually happened to anyone before, but if so I'd say you have every right to ask for a restoration of your original booking, with applicable mileage and tax adjustments. Of course this will require manual intervention, and probably a few long phone calls, but that's my take on such a situation. 
Conclusion
Singapore Airlines' Northern Winter schedule sees expanded service to certain destinations, but with no additional First Class capacity until the B777Xs get here, paying Paul means robbing Peter (new aircraft with Premium Economy cabins are still being delivered, however).
If you've been downgraded, I'd definitely get on the phone with customer service ASAP and see what can be worked out (especially if different flights on the same route still offer your original cabin, since it's first come first serve). 
Have you been downgraded? What options were you offered?