Back in October 2021, Standard Chartered launched the somewhat unimaginatively-named Smart Credit Card, which had a surprisingly solid value proposition: Up to 7.7 mpd on fast food, streaming entertainment, and SimplyGo.
This 7.7 mpd rate was positioned as a limited-time offer, set to lapse on 31 December 2022. Standard Chartered has now extended the rate until 31 December 2023, giving you a further year to enjoy upsized miles on these categories.
SC Smart Card extends bonus earn rates for 2023
Apply
T&Cs
Income Req.
Annual Fee
FCY Fee

S$30,000

None

3.5%

Regular Earn

Bonus Earn

Cap

0.46/0.64 mpd

5.6/7.7 mpd on fast food, streaming, SimplyGo

S$818 per statement month
First, a brief recap of how the no annual fee Smart Card works.
Cardholders normally earn a very underwhelming 1.6 points per S$1 spent (equivalent to 0.46/0.64 mpd- as for why, see the explainer below) on all spending.
❓ Why the difference in earn rates?
StanChart's rewards ecosystem is much more favourable to those with a Visa Infinite or X Card. These cardholders can redeem KrisFlyer miles at an enhanced rate of 2,500 points = 1,000 miles.
All other StanChart cardholders redeem KrisFlyer miles at a rate of 3,500 points= 1,015 miles.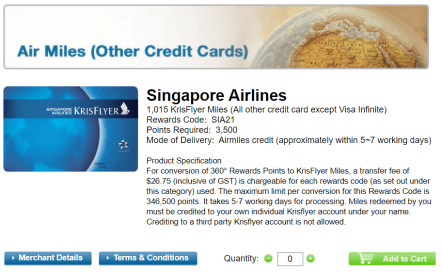 But StanChart pools points, and if you have a Visa Infinite or X Card, all your rewards points can be redeemed at the 2,500 points = 1,000 miles rate. You can see this illustrated in my example below- the 100 points on my Rewards+ card are pooled with those from the X Card.
This means that 1 point= 0.4 miles for Visa Infinite cardholders, and 0.29 mpd for all others.
However, if cardholders spend on fast food, streaming entertainment or public transportation (no min. spend required), they'll earn:
the regular base rate of 1.6 points per S$1 (0.46/0.64 mpd), and
a bonus of 17.6 points per S$1 (5.10/7.04 mpd)
This means a total earn rate of 19.2 points per S$1 (5.57/7.68 mpd), capped at S$818 per statement month.
Category
Merchants
🍔 Fast Food

McDonald's

KFC

Subway

Burger King

Ya Kun Kaya Toast

Toast Box

Fun Toast

📺 Streaming

Disney+

Netflix

Spotify

YouTube

🚆 Bus/MRT
For comparison, the best alternative cards would earn "only" 4 mpd on such transactions (e.g. UOB Preferred Platinum Visa for mobile payments at fast food merchants, or the Citi Rewards Card for monthly streaming subscriptions).
I suppose the question is: how much can you realistically spend on these three verticals each month? Unless you're a KFC addict (and believe me, they do exist), it's unlikely you'll max out the S$818 cap.
Still, since Standard Chartered pools rewards points and the Smart Card has no annual fee, there's really no reason not to get it if you already use a StanChart Visa Infinite or X Card as your day-to-day spending card.
It helps that Standard Chartered has a wide variety of transfer partners, making its points more valuable than most other banks.
Frequent Flyer Programme

Conversion Ratio




(SC Points: Partner)

2,500: 1,000

2,500: 1,000


2,500: 1,000

2,500: 1,000

2,500: 1,000

3,000: 1,000

3,500: 1,000

3,500: 1,000

3,500: 1,000

5,000: 1,000
I'm personally a fan of cashing out SC Rewards Points to ALL, especially since they've got a 50% transfer bonus ongoing now. With this promotion, 5,000 SC Rewards Points becomes 1,500 ALL points, worth €30.
Put it another way, the Smart Card is letting you get an effective rebate of ~16% on your bonus spending, assuming you take those ALL points at face value.
Sign-up offer for Smart Card
Apply
❓
New-to-bank Definition
New-to-bank customers are defined as those who do not currently hold a principal Standard Chartered card, and have not in the 12 month period before application. Debit cards, supplementary cards and corporate cards do not count.
If you don't hold any Standard Chartered cards at the moment, SingSaver is offering S$350 cash to new-to-bank sign-ups for the Smart Card who spend S$500 in the first 30 days. For context, this is the largest offer we've ever seen- previous ones maxed out at S$300.
For the full details, including definitions of eligible spend, refer to the post below.
Biggest-ever offer: S$350 cash with a new Standard Chartered Smart Card
Conclusion
Standard Chartered has extended the Smart Card's bonus earn rate on fast food, streaming entertainment, and SimplyGo till 31 December 2023.
If these are big categories for you, then it's a card you can consider getting- especially if you're eligible for the S$350 cash offer that SingSaver is currently running.