When COVID shut down global air travel in April 2020, Singapore Airlines turned its flagship Singapore lounge into a skeleton operation and closed its entire overseas network of 13 SilverKris Lounges. Adelaide, Kuala Lumpur and New Delhi were permanently shuttered, while the rest went into cold storage.
With travel gradually returning to normal, the lounge in London was the first to resume operations in September 2021, and to date a total of 7 out of 10 overseas SilverKris Lounges have reopened.
The three hold outs? Hong Kong, Seoul and Taipei. 
Current status of SilverKris Lounges
🍸 Overseas SilverKris Lounges
(in order of reopening)

Lounge

Status


(Reopening date)

London (LHR)

Open


(Sep-21)

Melbourne (MEL)

Open


(Nov-21)




Sydney (SYD)

Open


(Nov-21)




Perth (PER)

Open


(Mar-22)




Brisbane (BNE)

Open


(Mar-22)




Manila (MNL)

Open


(May-22)




Bangkok (BKK)

Open


(Sep-22)

Hong Kong (HKG)

Closed

Seoul (ICN)

Closed

Taipei (TPE)

Closed
Singapore Airlines has been reopening its overseas SilverKris Lounges at a steady clip, with 70% of the network now back in operation. 
This just leaves Hong Kong, Seoul and Taipei- perhaps not surprising, given how long these three countries took to reopen in earnest. I reached out to Singapore Airlines to check if they had any updates on the matter, but unfortunately, no joy:
The re-opening plans for the SilverKris lounges in Taipei, Seoul and Hong Kong have yet to be finalised. We will announce more details in due course. 

-Singapore Airlines spokesperson
If you're flying from one of these airports, here's the current arrangement, and what you can look forward to when the SilverKris Lounge eventually (we hope!) reopens. 
Hong Kong
Schedule and current arrangement
Singapore Airlines currently operates three daily flights out of Hong Kong, including a high-capacity A380-800. That's a lot of potential passengers with lounge access, not to mention a fourth daily flight will be added from October 2023.
Flight
Schedule
Schedule
A/C

SQ883

Dep. 1410
Arr. 1810

Daily

B77W

SQ893

Dep. 1555
Arr. 2000

Daily

A359

SQ895

Dep. 1850
Arr. 2250

Daily

A388
Unfortunately the on-ground situation is far from ideal. Due to a lack of Star Alliance alternatives in HKG (the United Club is still closed), SIA passengers are being funnelled to the Plaza Premium Lounge, which often runs so full there's a queue out the door (the fact that Plaza Premium accepts passengers with credit cards doesn't help either).
If you find yourself flying out of Hong Kong, you'd be better off trying to access one of the following instead:
Priority Pass/LoungeKey: Chase Sapphire Lounge (7 a.m to 11 p.m daily)
AMEX Platinum Charge/Centurion: Centurion Lounge (3 p.m to 12.30 a.m daily)
Overview: SilverKris Lounge Hong Kong
The 913 sqm SilverKris Lounge in Hong Kong received a makeover in 2014, which introduced the "Home Away From Home" design concept by Ong&Ong now found throughout other SilverKris Lounges worldwide. This design philosophy focuses on creating personal spaces that evoke a sense of being at home, like a dedicated living room, kitchen and dining area, together with Singapore-sourced artwork and food.
What the lounge lacks in natural light, it makes up for in amenities. Guests can look forward separate dining and seating areas, a tended bar, productivity pods, and three shower suites, each featuring a rain shower, vanity area and attached toilet (the shower rooms were notorious for being frequently out of service in the pre-COVID days; let's hope that's changed).
Inside the First Class section, you'll find an a la carte menu with local favourites like wanton noodle soup and roast goose, as well as Singaporean classics like nasi lemak and laksa. Veuve Clicquot champagne is poured, though you'll want to save your liver for the Krug and Taittinger Comtes de Champagne onboard. 
The Business Class section has a more traditional buffet setup, but still serves up a variety of hot Western and Asian items, including Indonesian-style fried rice and sauteed conchiglie with vegetable and tomato sauce. There's also a fridge full of Haagen-Dazs ice cream, and champagne is available in the form of Moet & Chandon Imperial Brut. 
Seoul
Schedule and current arrangement
Singapore Airlines currently operates three daily flights out of Seoul.
Flight
Schedule
Schedule
A/C

SQ607

Dep. 0900
Arr. 1445

Daily

A359

SQ601

Dep. 1635
Arr. 2220

Daily

A359

SQ605

Dep. 2315
Arr. 0455 (+1)

Daily

B78X
A fourth daily flight (SQ611) will be added from May 2023.
SIA passengers are currently directed to the Asiana Lounge near Gate 11 (East). 
I visited this lounge back in November 2021, where there was a complete absence of hot food (cup noodles don't count!) and nothing much to do. I gather the food selection has improved since then, but it's nowhere as exciting as what the SilverKris Lounge has to offer…
Overview: SilverKris Lounge Seoul
The SilverKris Lounge in Seoul received its "Home Away From Home" makeover in October 2019, and visually speaking, this is a stunning lounge. It plays it all modern and sophisticated in parts, like an upscale coworking space decked out with communal seating and individual productivity pods (is that Korean Airlines blue I spot?).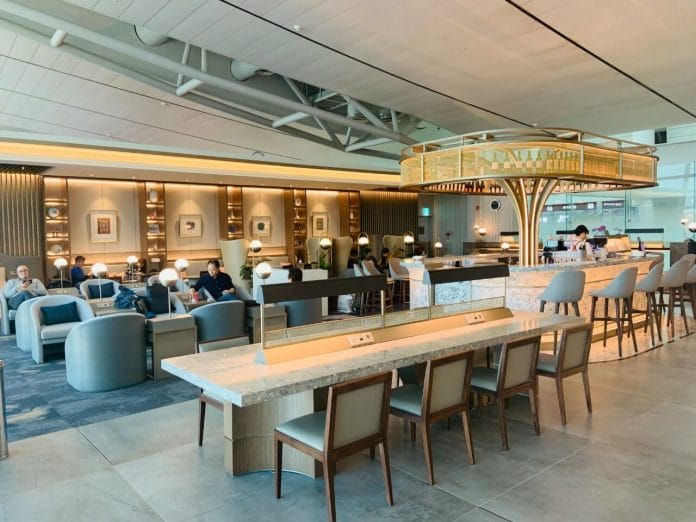 At the same time, it's equally capable of turning on a dime and wowing you with retro Singapore décor, like this Peranakan-inspired corner complete with display cabinets and trinkets.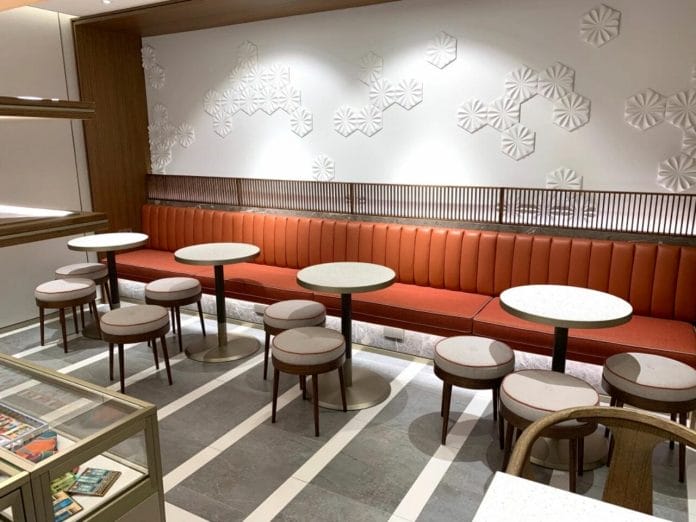 The centrepiece of the lounge is its tended bar, which serves up various cocktails including a mean espresso martini. Champagne, unfortunately, is not served. You'll have to make do with a Louis Perdrier or a Henkell Trocken sparkling wine, depending on what's in stock. 
The buffet spread pre-COVID consisted of items like beef bulgogi, miso salmon, fried tofu, chicken congee, Western breakfast staples and various salads plus cold cuts and desserts.
Shower rooms are also available. 
Taipei
Schedule and current arrangement
Singapore Airlines currently operates seven weekly flights out of Taipei.
Flight
Schedule
Schedule
A/C

SQ877

Dep. 1410
Arr. 1855

4x weekly

B78X

SQ879

Dep. 1735
Arr. 2220

3x weekly

B78X
This is a relatively low volume, but will increase to 10x weekly from end-March 2023, and then to 14x weekly in June 2023. 
SIA passengers are currently sent to the Plaza Premium Lounge at Zone A; a surprise, given how Taipei is EVA Air's home ground. I suspect there are cost reasons behind this (presumably Plaza Premium charges less than EVA), but there's nothing stopping them from visiting The Infinity or The Star lounges if they wish.
Update: Per the comments, SIA passengers are now being directed to EVA Air's lounges instead of Plaza Premium. The Singapore Airlines website has not been updated at this time
Overview: SilverKris Lounge Taipei
Unlike the Hong Kong and Seoul lounges, the Taipei lounge never got the "Home Away From Home" makeover. It's basically one long rectangular room, with seating reminiscent of the late noughties, and somehow manages to be naturally lit and dark at the same time.
I snapped these photos back in 2017, way before my Pixel days, so forgive the potato-quality shots.
Pre-COVID food options included scrambled eggs, dumplings, sweet and sour chicken, assorted vegetables and fried noodles, with additional Singapore touches like bak kut teh. Champagne is absent from this lounge, sadly, with the only sparkling option being a very mediocre Martini Asti. Business Class passengers should save their weekly allowance for the Charles Heidsieck served onboard. 
Universal power outlets with USB charging ports can be found throughout the lounge, though productivity pods have not been installed. Shower rooms with attached toilets provide a place to freshen up. 
One cute and unique feature of the Taipei lounge is their "memorabilia closet", displaying a range of kitsch Singapore Airlines accessories like fans, Hummelesque figurines, an A380 playset, even a SQ-branded Monopoly kit. 
Conclusion
While there's no official word from Singapore Airlines, my guess is that we'll see the remaining three lounges reopen in the following order:
Hong Kong
Seoul
Taipei
At least that's what would make sense to me, seeing as how Hong Kong has the highest capacity and the lowest number of alternative lounges. 
I'm also rather surprised that the Taipei SilverKris Lounge didn't get the chop during COVID, because it's the smallest and oldest lounge in the network, and wasn't even deemed worthy of renovations. That's why I have it pegged as the last lounge to reopen- if at all! 
Which SilverKris Lounge do you hope to see reopened next?