"Please be informed that The Ritz-Carlton, Millenia Singapore does not participate in the Marriott Bonvoy programme".
This disclaimer, woven into every message from the reservations team to the point it might as well be an email signature, sets the tone for the hotel as a whole: We play by different rules. Deal with it. 
And I could deal with it, if the Ritz-Carlton Millenia Singapore offered a stay beyond the ordinary. I mean, that would certainly be the expectation, what with its prime location, lofty room rates and laundry list of awards (not Marriott Bonvoy awards, of course, because the Ritz-Carlton Millenia Singapore does not etc. etc.).
Alas, I found little here worth bending the rules for.
🏨 tl;dr: Ritz-Carlton Millenia Singapore

Is the Ritz-Carlton Millenia the best hotel in Singapore? On the evidence, it's not even the best hotel in Marina Bay.

👍 The Good
👎 The Bad

The best location to catch Marina Bay festivities, bar none

A well-curated breakfast spread

Oversized gym with equipment in impeccable condition

Underwhelming service experience from start to finish

Room design feels a few decades out of date and lacks high-end amenities like bidet seats

One of the priciest hotel breakfasts in Singapore
Booking a Ritz-Carlton Millenia Singapore staycation
During the pandemic, the Ritz-Carlton Millenia, like many Singapore hotels, was offering staycation deals left right centre. At one point you could get rooms for as little as S$398 nett, unheard of at a property like this. 
But now that borders have reopened and occupancy rates recovered, it's like COVID never happened. The cheapest room I can now find starts from S$695 nett, and barring another global pandemic, I doubt you'll ever pay below S$500 again. 
In any case, I was redeeming a free night voucher I earned through the American Express Member-Get-Member programme. At the start of January, I emailed the reservations team with all the details necessary to set up the booking, only to be told that the AMEX promotion was not yet live, and to reach out again next week to make the reservation. 
Fair enough, but the reply still struck me as odd. Wouldn't it be more hospitable to say "the promotion is not yet live, but thank you for the details; we'll get back to you as soon as the booking has been created"? By throwing it back to the customer, it felt like the reservations associate simply didn't want this on their plate. 
I asked if they could email me when everything was set up from their end, and despite saying they would, no one got back to me. I eventually had to send a chaser, after which I was told the booking had been confirmed.
Not the best first impression, and that wouldn't be the only service let-down I encountered with the hotel…
Ritz-Carlton Millenia Singapore: Arrival & Check-In
The Ritz-Carlton Millenia Singapore is located at 7 Raffles Avenue, perched on the tip of Marina Bay with million-dollar-views. Its enviable location makes it the go-to spot for any big celebration, like New Year's Eve, F1 and National Day (although not for the next few years, as NDP relocates to the Padang and National Stadium before NS Square is ready in 2026). 
In terms of accessibility, the closest MRT station is at Promenade, from which you can walk to the hotel under shelter the whole way. Onsite parking is available, with a single exit pass per stay. That's a little stingy, as some hotels give guests unlimited in/out privileges, others one exit pass per day.
We arrived at the hotel around 12 p.m on a Wednesday afternoon, pulling up at the huge sheltered driveway in front of the lobby.  A doorman offered to help with our bags immediately.
Suspended above the entrance foyer is a sculpture called Cornucopia, by American artist Frank Stella. This weighs a whopping 3,000 kg, and serves as an introduction to the Ritz-Carlton's penchant for art. Elsewhere in the hotel are glass sculptures by Dale Chihuly, as well as other works by Andy Warhol and David Hockney. 90% of the 4,200 art pieces were specially commissioned for the hotel, and you can download an app for an augmented reality art tour if that's your sort of thing. 
A common criticism of Ritz Carlton hotels, especially the larger ones, is that they don't feel so much luxury as they do luxury factory. What this means is despite having all the high-end trappings, the way they're set up to service guests is more assembly line in nature. 
The first hint of this is at check in, which unlike the St. Regis or Shangri-La Valley Wing, is done at counters instead of seated. There's nothing wrong with this, mind you, especially if the process were speedy— not everyone is interested in a hot towel and welcome drink — but in my case we ran into a lengthy snag. 
I mentioned in the previous section that I was using an AMEX Member-Get-Member reward to book this stay. That comes in the form of a code which you quote to the reservations team. At check-in, however, the front desk asked for a copy of the physical voucher.
Thus began a prolonged back and forth between me, the front desk and the reservations department, with them being very adamant a physical voucher was required otherwise I couldn't check-in (I later figured out that the front desk had confused this with the annual complimentary stay voucher from the AMEX Platinum Charge. That one comes in physical form, and yes, you need to present it during check-in). 
I'm not sure what happened, but after about 20 minutes it was decided that I did not need the physical voucher after all, and check-in proceeded from there. I thought I'd heard the last of the matter, so it was extremely frustrating that at check-out, I was asked by a different associate to "present the voucher" once again!
Here's the other thing. During the delay, we were just standing around in the lobby. At a more service-oriented hotel, the natural thing to do would be to invite the guest to take a seat, offer a drink perhaps, and say "we're sorting this out with the reservations team and will get back to you as soon as possible". Nothing of the sort here. In fact, the vibe I got from the front desk was that I was being difficult by not complying with a simple request. 
On a separate note, I did ask how much it would cost to upgrade the free AMEX stay (Deluxe Kallang room, no breakfast) to a room with club privileges, and was quoted S$300++ for two guests. I declined.
The room was ready for check-in at 1.45 p.m.
Ritz-Carlton Millenia Singapore: Grand Kallang Room
The 608 guest rooms and suites at the Ritz-Carlton Millenia Singapore are spread over 32 floors, and split into the following categories:
| | | |
| --- | --- | --- |
| Type | Size | No. of Rooms |
| Deluxe Kallang | 51 sqm | 136 |
| Grand Kallang | 51 sqm | 87 |
| Elevated Kallang | 51 sqm | 89 |
| Deluxe Marina | 51 sqm | 92 |
| Grand Marina | 51 sqm | 60 |
| Club Deluxe Kallang | 51 sqm | 33 |
| Club Deluxe Marina | 51 sqm | 32 |
| Premier Suite | 72 sqm | 19 |
| Deluxe Suite | 72 sqm | 19 |
| Club Premier Suite | 72 sqm | 10 |
| Club Deluxe Suite | 72 sqm | 9 |
| Millenia Suite (1BR) | 102 sqm | 18 |
| Millenia Suite (2BR) | 153 sqm | 3 |
| The Ritz Suite | 219 sqm | 1 |
While there are a handful of specialty suites, the inventory is dominated by one type of room (51 sqm) and one type of suite (72 sqm). The main difference is the floor and views; some rooms face Marina Bay, others face Kallang. 
Obviously, everyone hopes to score a room on the Bay-facing side, where they can take in all the action. Ritz-Carlton is aware of this, and prices them accordingly; the highest-category Kallang-facing room is cheaper than the lowest-category Bay-facing room. 
At 51 sqm, Ritz-Carlton claims it has the largest entry-level hotel rooms in Singapore. I can't factcheck that, but it feels about right; step inside and it's hard not to be impressed by the size. It's no surprise that the Ritz-Carlton was the jackpot hotel for SHN guests, with buses reportedly breaking out into audible applause when they pulled up to the hotel (to minimise the chances of passenger unrest, bus drivers were under strict instructions not to inform SHN guests of their destination). 
My AMEX voucher had booked us into the lead-in Deluxe Category room, but I believe we got assigned to a Grand Kallang room- the giveaway was the floor level (we were in 1825; floors 18 and higher are part of a different category) and the presence of a daybed. 
While the hardware is in good shape, the room's design is decidedly dated, drawing its stylebook from the early noughties. It goes heavy on the high-gloss wood, with beige and cream colours aplenty. That said, the hotel has made some subtle updates over the years, incorporating bedside charging outlets and electronically-controlled blinds. 
Oversized windows let in a good amount of natural light, which makes the already large room feel even more spacious. Sheer and blackout curtains keep the fierce daytime sun at bay, and ensure those sleeping in won't be woken up prematurely. The views, unfortunately, were far from prime. Someone's gotta face the expressway and construction, after all.
In a corner of the room is a chaise sofa, which can be converted into an additional bed if need be. 
The king-sized mattresses at the Ritz-Carlton are from Simmons, and are part of the "Ritz-Carlton Sleep Experience" line. The medium-firm surface breathed well and offered good back support. 
Each bedside table had pull-out drawers with light switches and a universal power port. 
No USB charging was available, but one bedside table had a wireless charging pad, on top of a digital alarm clock. 
Opposite the bed was a generously-sized work desk, with glass-topped writing area and universal power outlets hidden beneath flaps. 
On the desk were sanitary wipes, disposable masks, and hand sanitisers, together with a coupon for S$50 off a spa treatment. 
Wi-Fi speeds were lightning fast, one of the best I've seen at any hotel in Singapore. This is the kind of connection that would let you stream HD Netflix while downloading Wikileaks dumps and performing on your webcam (as one does), with no stuttering at all.
🌐Hotel Wi-Fi Speeds
Hotel
🔽Down
🔼 Up

Mandarin Orchard

273 Mbps

294 Mbps

Sofitel City Centre

95 Mbps

92

Mbps

Regent Singapore

88 Mbps

93

Mbps

Ritz-Carlton Millenia Singapore

79 Mbps

63 Mbps

Hilton Singapore Orcha

rd

64 Mbps

63 Mbps

Villa Samadhi

62 Mbps

53 Mbps

M Social Singapore

46 Mbps

49 Mbps

Conrad Centennial

40 Mbps

44 Mbps

YOTELAir Changi

29 Mbps

49 Mbps

W Sentosa Cove

34 Mbps

34 Mbps

Ascott Orchard

29 Mbps

29 Mbps

St. Regis Singapore

29 Mbps

29 Mbps

Duxton Reserve

28 Mbps

29 Mbps

PARKROYAL Beach Road

28 Mbps

29 Mbps

Mandarin Oriental

28 Mbps

28 Mbps

Oasia Resort Sentosa

28 Mbps

25

Mbps

The Fullerton Bay Hotel

24 Mbps

24

Mbps

The Fullerton Hotel

23 Mbps

24 Mbps

PARKROYAL Pickering

24 Mbps

23 Mbps

Oakwood Premier AMTD

20 Mbps

20 Mbps

Shangri-La Singapore

19 Mbps

18 Mbps

Pan Pacific Singapore

19 Mbps

19 Mbps

Dusit Thani Laguna Singapore

19 Mbps

19 Mbps

JW Marriott Singapore

16 Mbps

14 Mbps

InterContinental Bu

gis

15 Mbps

15

Mbps

The Capitol Kempinski Hotel

16 Mbps

13 Mbps

PARKROYAL COLLECTION Marina Bay

9.4 Mbps

18 Mbps

Grand Hyatt Singapore

14 Mbps

13 Mbps

Hilton Singapore

13 Mbps

14 Mbps

One Farrer Hotel

11 Mbps

21 Mbps

Marina Bay Sands

11 Mbps

11 Mbps

The Clan Hotel

9.6 Mbps

9.6 Mbps

Andaz Singapore

8.0 Mbps

9.5 Mbps

Four Seasons Singapore

6.7 Mbps

9.8 Mbps

Goodwood

Park Hotel

7.8 Mbps

7.

5 Mbps

The Barracks Hotel

7.3 Mbps

7.7 Mbps

Hotel 81 Tristar

7.0 Mbps

6.8 Mbps

Raffles Hotel

6.9 Mbps

6.8 Mbps

Hotel Soloha

4.7 Mbps

5.1 Mbps

Hotel G Singapore

4.4 Mbps

4.8 Mbps

Internet speeds based on Speedtest.net scores
Each room has a 55-inch LED HDTV, with built-in support for Netflix and YouTube. It can swivel out from the wall towards the bed, and supports streaming from personal devices.
Below the TV was the room's minibar, with a Nespresso machine (plus real UHT milk, not the fake creamer) and six 350ml bottles of water. Inside the drawers were six coffee capsules, teabags, a kettle and ice bucket. 
The mini-fridge was completely empty, allowing you to store personal items inside.
Next to the mini-bar was a walk-in wardrobe, with an umbrella, safe, ironing board and spare pillows. A built-in luggage storage rack will take up to a medium-sized bag.
Bathrobe quality was disappointing for a hotel of this calibre (Waldorf Astoria and their boca terry bathrobes are unmatchable), and for whatever reason, they were mismatched. One was heavier and thicker, the other lighter and more translucent. His and hers perhaps? 
The marble bathrooms were first built in the mid-1990s, but they show an uncanny amount of foresight in being one of the most Instagrammable hotel shots in all of Singapore. 
The vanity area is wide enough that they could easily have built his and hers sinks, but I suppose a single one provides more countertop space for personal items. 
The bathing area had both a rain shower and wall-mounted shower head, but the lack of a hand shower made it difficult to wash certain bits of your body. Water pressure was excellent. 
And of course, what would the Ritz-Carlton Millenia Singapore's bathrooms be without their legendary bathtubs? The signature octagonal windows form the perfect backdrop for a million derivative #bathtubgoals posts, with mistakenly-attributed inspirational quotes and a healthy dose of bare flesh. The view from our bathroom wasn't anything special, but I'm sure those staying on the other side of the hotel would have an experience to remember. 
It'd probably be difficult for anyone on the outside to spot you, especially during the day when it's bright outside, but if you're bashful a set of electric blinds can be lowered at the press of a button. 
As for the tub, it's single occupancy only. Bath salts are provided, and the butler can draw a bath (for an additional charge). Bath pillows are available too, but only on request. 
The toilet was basic to say the least, and it's been a long time since I've seen anything other than a wall-mounted concealed cistern in a luxury hotel. Given how many Japanese and Korean visitors the Ritz-Carlton sees (there's even Japanese on the lift buttons), I find it inconceivable that they didn't see fit to install bidet seats.
Ritz-Carlton's bathroom amenities are from Asprey's Purple Water line. Asprey, for the uninitiated, is a high-end UK retailer of jewellery, silverware and home goods. I'm a bit surprised that Ritz hasn't switched to bulk toiletries just yet, since all Marriott brands were supposed to do so by December 2020. Perhaps that's another area where the Ritz-Carlton Millenia Singapore doesn't participate in Marriott Bonvoy? (Ritz-Carlton tells me the switch will be made this year).
Ritz-Carlton Millenia Singapore: Facilities
| | | |
| --- | --- | --- |
| Pool | Gym | Spa |
| Yes: 7 a.m to 9 p.m | Yes: 24h | Yes: 9 a.m to 9 p.m |
| Kids' Club | Business Centre | Others |
| N/A | N/A | N/A |
Swimming Pool
The Ritz-Carlton's 25-metre swimming pool is open from 7 a.m to 9 p.m daily, set amidst greenery and a three-tiered timber pool deck. 
Complimentary floats and kickboards are available at the towel counter, together with sunscreen, body lotion and aloe vera gel. After collecting towels, guests are ushered by a staff member to a set of pool chairs. I appreciate that they drape the chairs with towels for you, since way too many high-end hotels don't even bother to do that. 
Seating is arranged in pairs, with a few cabanas available on a first-come-first-serve basis. I found it odd that the cabanas had no overhead cover though, only side blinds for privacy. 
As for the pool, it's very no-nonsense, measuring 1.2 metres deep in a regular rectangular shape that makes it well-suited for lap swimming. Those looking for a more resort-like environment for kids would do better at the Shangri-La Singapore or Village Hotel Sentosa. Do also note that because the pool sits in the shadow of the hotel building, the water can be a bit chilly during the day. 
Gym
The fitness centre is open 24 hours a day, with trainers on hand during daytime hours. 
While some gyms have a lingering odour of stale sweat and fragile masculinity, this was impeccably maintained. Not only that, the TechnoGym equipment was in absolute tip-top condition. I assumed it was new, and was very surprised when the staff told me it was a few years old already. 
A separate annex holds a fitness studio, with medicine balls, yoga balls, and plenty of space to spread out a Pilates mat. 
Spa
The Ritz-Carlton spa is open from 9 a.m to 9 p.m daily. 
A copy of the spa menu can be found here. Prices start at S$180++ for a 60-minute body massage, and one of the signature treatments is a "Cello Concerto" massage, where for S$480++, a cellist plays a one-hour piece synchronised to a body massage. I can't be the only one who finds that weird, but it kind of sums up the spa's target market. 
As mentioned, previously, all in-house guests receive a S$50 credit for use with any 60 or 90-minute ESPA facial or body massage- this voucher must be used during the stay. 
If that's not your cup of tea, then the spa facilities are available to in-house guests free of charge, including a sauna, steam room, and heated whirlpool. 
These are pleasant enough, though I'd still rank the St. Regis spa facilities as the best I've seen in Singapore. 
Ritz-Carlton Millenia Singapore: Breakfast
Served at
Cost
Style

Colony

Adults: S$56++
Children (6-12): S$28++


Buffet

Hours
Sparkling Wine?
Discounts?
7 a.m to 10.30 a.m


No

No
Breakfast is served at Colony from 7.00 a.m to 10.30 a.m daily, and costs S$56++ (~S$67 nett) per adult. Children aged 6-12 pay half price, and children five and below eat for free. No pre-booking of slots is required. 
After Raffles Hotel (S$72++), this was the most expensive hotel breakfast I'd encountered in all of Singapore. If it's any consolation, the overall quality was solid. I can't say whether it's definitively worth the price tag, but at the very least I didn't go away feeling ripped off.
Near the entrance, a sweets station offered delectables so enticing they should really come with a health warning. Think crisp waffles and fluffy pancakes (ask for a reheat, as the heat lamp doesn't do a good job of keeping it warm), with your choice of spreads (try the banana compote) or a selection of ice creams. Nothing says "Asian hotel buffet" like ice cream at breakfast!
On the opposite end is the cold food area, which features cereals, deli sandwiches (including avocado toast, though unfortunately made with tubed avocado instead of fresh), salads, cold cuts, cheese and granola.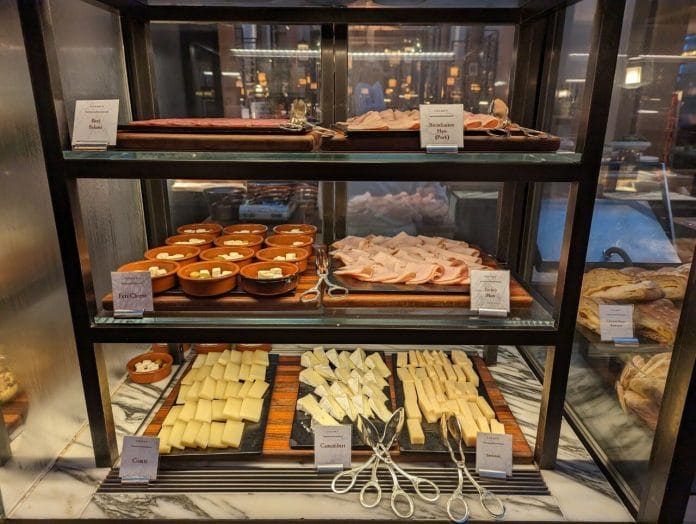 Here's where you'll also find the Japanese section, with soba noodles, smoked salmon, jellyfish and pickles. They'll put together an onsen egg with various toppings, but the absence of the all-important Japanese rice surprised me. 
Beyond that is the main buffet area with hot items, an egg station and the bakery.
A selection of bread and pastries adorns the circular table in the middle of the hall. Bonus points for offering Isigny Sainte-Mere butter, which is one of my favourite brands. 
The hot food section had Western breakfast staples like fried eggs, mushrooms, scrambled eggs, baked tomatoes, baked beans, sausages, bacon and potato wedges. 
Asian hot items included otah, stir fried pea sprouts, chicken karaage, sambal fish and coconut rice- everything you'd need to put together a fusion-style nasi lemak. 
There was also an Indian food section, although I feel the prata would really have benefitted from a live station. Buffet line prata is always disappointing; it just can't hold up under heat lamps without getting soggy. 
Speaking of misses, the noodle station served a very insipid Teochew Fish Ball Noodles, and I'd be sad if tourists went away thinking it was meant to taste that way. I also have no idea what goes into vegan bak ku teh, but I know it is a vile abomination that must be stopped immediately. 
Likewise, the dim sum (chicken char siew bun, chicken siew mai, chicken glutinous rice) looked unappealing and tasted even worse, as if it were reheated rather than made fresh. 
The egg station serves up eggs any way you like. 
I've been to hotels so obsessed with the fine details that they'll even put decorative garnishes on something as simple as eggs. Here? They didn't think twice about sending out this order. This, for the record, is supposed to be "over-easy".
Coffee was dispensed from a machine that served up bland, tepid stuff (at this price you'd really expect a barista). I'm no expert, but I'm quite certain a flat white shouldn't look like this. 
At least juices were freshly-squeezed. Various pre-mixes were available, and they happily whipped up a green apple juice for me. 
It would also have been nice if they offered a sparkling wine option, just to make proceedings a little more bubbly, but on the whole, I felt breakfast had more hits than misses (and for the price they're asking, it'd better). 
Service
Ritz-Carlton talks a big game about service, and to be fair, I have had excellent experiences at the properties in Tokyo and Bangalore. Unfortunately, the philosophy seems to have gone walkabout at the Ritz-Carlton Singapore, because from start to finish, service felt disjointed and poorly-coordinated. 
I've already talked about the snafu at check-in (and check-out) arising from a lack of communication between the reservations and front desk teams, but that wasn't the only instance of the left hand not knowing what the right was doing. 
We were celebrating our wedding anniversary during this staycation, and I arranged for a bouquet to be delivered to the hotel. At check-in, I asked the front desk to send it to the room when it arrived.
The delivery window was 2-5 p.m. I still hadn't heard anything by 6 p.m, but I did get a missed call while I was in the shower. No one picked up when I called back, so I headed down to the concierge, only to be told that no one called me, and there was no record of my request. Eventually, they rummaged around in the back room and found the flowers.
Simple tasks took herculean efforts to fulfil. I requested an ice bucket and champagne glasses, and after a long wait, only the ice bucket showed up. It took two more calls to get the champagne glasses delivered, and 10 minutes after I took delivery of the first pair, a second pair came to the room- suggesting the staff weren't so much checking on existing requests as creating new ones. A request for more bottled water took almost 30 minutes to come. 
The evening turndown service was a mess. Rubbish bins were not cleared, empty water bottles were left in the bathroom, a bathrobe had been haphazardly shoved into a storage shelf instead of hung up, and amenities were only set up on one side of the bed, as if the room were single occupancy. Slippers were absent, and it was almost like the staff had been called away halfway through and forgot to return. It was such a stark contrast to the Ritz-Carlton Tokyo, where staff neatly folded clothes and bundled up loose cables with velcro ties, and tidied to the extent it felt like a brand new room. 
Given that we were celebrating our anniversary, I found it weird the room had no decorations (even a few flower petals on the bed would have been something). In fact, I was starting to think they'd forgotten all about it, until a small cake showed up about three hours after check-in. 
To be sure, there are occasional flashes of the warm service that Ritz-Carlton is renowned for. At breakfast, I overheard the egg station chef greet a guest with "same as yesterday?" During check-out, I saw the concierge assisting a lady who had lost her luggage claim tag. "No worries, I remember you from before". But these are all too infrequent, suggesting that they're the exception rather than the rule. 
I highlighted these issues at check-out, and asked if I could share my feedback with the management team. The front desk waived my breakfast charges, but demurred on the request to speak to management. Instead, I was shown a laminated piece of paper with a generic email address to send my feedback to. 
That little bit of impersonality perhaps sums up my Ritz-Carlton service experience in a nutshell. I expected a seamless check-in experience, but the front desk couldn't get past "computer says no". I expected some special touches for an anniversary celebration, but got a stock room and misplaced flowers. I expected to share my feedback with a person, but instead was given a faceless email address.
After posting about my stay on Instagram, I received a call from the EAM of Rooms. We had a good chat and he was extremely apologetic; I could sense that he really understood why each of the service issues I highlighted was simply not good enough.
I was invited for a return stay, which I'll be taking in a personal capacity (i.e. no review content-what's the point when it's no longer anonymous?). I'm confident it'll go flawlessly, but I'd much rather things have been done right the first time round.
Verdict
The Ritz-Carlton Millenia Singapore is undoubtedly capable of excellence- I've read enough glowing reviews from sources I trust to know that. However, what these reviews all have in common is that they stayed in club rooms which, at the end of the day, make up just 17% of the hotel's total room capacity. If you want to call yourself a top-end property, you need to do right by the other 83% of guests as well.
That, sadly, did not happen during my stay, and I walked away wondering what all the fuss was about. Perhaps somewhere beneath the dated rooms and indifferent service is a good hotel, but on the evidence, the competition has little to worry about.
🏨 In Summary
Is the Ritz-Carlton Millenia the best hotel in Singapore? It might not even be the best hotel in Marina Bay.
Do say: The Ritz-Carlton Millenia Singapore does not participate in Marriott Bonvoy

Don't say: Seriously, the Ritz-Carlton Millenia Singapore does not participate in Marriott Bonvoy
🏨 Milelion Staycation Ratings

Ritz-Carlton Millenia Singapore