At the start of this year, Singapore Airlines operated a total of 15 SilverKris lounges worldwide, at the following airports:
As of today, it's down to just one. Ahead of the impending shift of all Singapore Airlines operations to Terminal 3, the Terminal 2 SilverKris lounge has closed its doors, leaving the Terminal 3 lounge as the last man standing. A note on the Singapore Airlines website simply reads:
Due to the Covid-19 outbreak, all of our SilverKris lounges are closed except for the SilverKris Lounge (Business Class) at Singapore's Changi Airport Terminal 3. Please note that we have suspended buffet meal services and reduced all other food and beverage offerings at the lounge with the welfare of our customers and staff in mind.
How on earth did we get here in such a short period of time?
All outstation lounges are closed
Singapore Airlines' route network for April has been cut to just 13 outbound destinations, of which six (BKK, ICN, KUL, LHR, MNL, SYD) have SilverKris lounges. Obviously, the reduced volume simply doesn't justify the costs of staffing, supplying, and running an outstation lounge.
| | |
| --- | --- |
| Destination | Total flights in April (to SIN) |
| Bangkok (BKK) | 12 flights |
| Seoul (ICN) | 9 flights |
| Kuala Lumpur (KUL) | 13 flights |
| London Heathrow (LHR) | 13 flights |
| Manila (MNL) | 8 flights |
| Sydney (SYD) | 12 flights |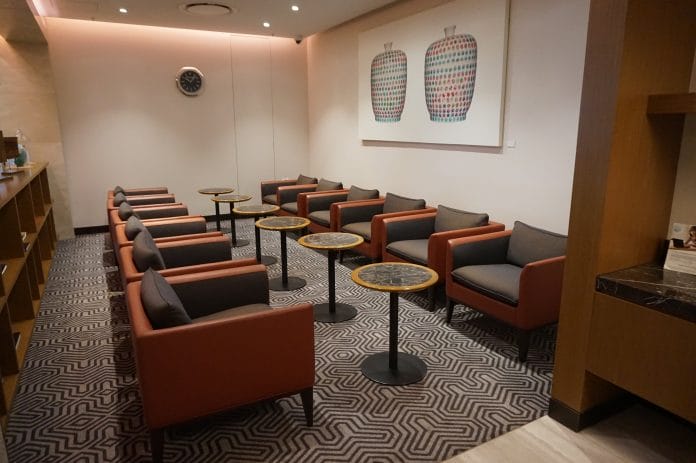 There's no word from Singapore Airlines regarding what alternative arrangements have been made for departing passengers, but I'm guessing that lounge access is the least of their concerns right now.
In any case, all of the airports above will have a selection of Priority Pass lounges (or restaurants, in the case of SYD), although one wonders if those facilities are operating either.
The First Class & Private Room have been closed in Terminal 3
Departing passengers from Singapore will all be channeled into the Business Class section of the SilverKris Lounge in Terminal 3, even if they're flying in First Class or hold Solitaire PPS status.
That's because the First Class and Private Room sections have been closed until further notice. I suppose with an average of 4-5 flights departing daily, there's just no need to incur the costs of operating a bigger facility.
If you happen to be traveling during this period (why?), don't expect too much. The website notes that buffet meal services have been suspended, and only a reduced range of F&B is available. I take this to mean prepackaged sandwiches, canned drinks, and fruit. It'll be an austere selection for sure, kind of apt given the time we find ourselves in.
What about the renovations?
In 2019, Singapore Airlines announced a S$50M makeover for the Terminal 3 lounges, with construction scheduled to finish by 2021.
Construction has already started on sections of the SilverKris Business Class lounge, with overflow passengers being funneled to the existing KrisFlyer Gold lounge (and the marhaba lounge becoming the new KrisFlyer Gold facility).
I highly doubt there'll be any trouble with overflow at the moment, as even the reduced-sized Business Class section should be more than capable of accommodating all eligible passengers. So one wonders if this presents an opportunity for Singapore Airlines to accelerate the renovation process, perhaps starting work on the First Class and Private Room sections early.
The proposed renders of the new lounges look like quantum leaps over the existing ones, incorporating lots of natural lighting and more modern interior design. I have high hopes in particular that the new Private Room will be able to give the Qantas First Class lounge at Changi a run for the money, and the new Business Class lounge can stand its own against Qatar's fantastic Terminal 1 lounge.
Conclusion
With flight and passenger volumes way down, there's little point in keeping the lights on, and Singapore Airlines' closure of the lounges will preserve a little more precious cashflow.
On the bright side, it could mean that renovations are accelerated, and I for one can't wait to visit the new lounges once some sense of normalcy returns.