If you're one of the lucky few people who has a UOB Preferred Platinum Visa (they've officially stopped taking applications but you can still apply through the SMS method…could this be the new PPA?), you might be interested in knowing that contrary to popular belief, there isn't any transaction size restriction apart from your credit limit.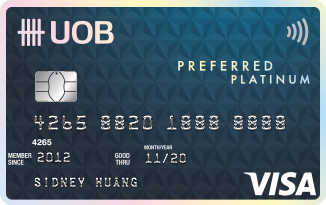 When Paywave was first launched in Singapore, there was a transaction limit of S$100. However, in May 2016 UOB issued a press release saying that the S$100 limit would be fully removed from all terminals by "the end of next year". In other words, if all has gone according to plan then by December this year there won't be any more restrictions. In fact, based on the rate of progress it should now be the exception rather than the rule that you find a terminal that still has the old restriction.
I'm going to fess up and say I was totally clueless about this development, discovering it by accident when I tapped a $130 payment successfully at a Wine Connection store a few days back. Similarly, at a physiotherapy session (rugged man that I am) today I was able to pay the $140 fees with Paywave.
Remember that the UOB PPV earns 10X points (4 mpd) on Paywave transactions (unless the merchant also issues SMART$, in which case you'll earn SMART$ and nothing else) subject to a cap of $1,000 each month. The cap is a pity, because Paywave has become so ubiquitous that the PPV could even become a general spending card.