The Philly Pho Fare: Trip Planning
Cathay Pacific Business Class Lounge Terminal 4 SIN
Vietnam Airlines A321 Economy SIN-HAN
Qatar Airways B77W Business Class HAN-DOH
Qatar Airways A350 Business Class DOH-PHL
Aloft Philadelphia Downtown
Exploring Philly
British Airways Business Class Lounge PHL
Qatar Airways A350 Business Class PHL-DOH
Qatar Airways Arrivals Lounge DOH
Qatar Airways Complimentary Doha Stopover Package (Westin Doha)
Qatar Airways Al Mourjan Business Class Lounge DOH
Vietnam Airlines Business Class Lounge HAN
Silk Air B737 Business Class HAN-SIN
---
After my excellent (but long) Qatar Airways flight, I was in Philly bright and early. Perhaps a bit too early, because on a weekend morning you're going to be waiting a long time for the SEPTA train that takes you straight to City Centre for a mere $7 or so.
I had chosen to stay at the newly-opened Aloft Philadelphia Downtown for the first night before moving on to my AirBnB. The hotel is a short walk from the Suburban train station, which is itself a mere 4 stops from PHL. I reached in under 30 minutes.
Location-wise you couldn't ask for a better place to be. The hotel is a short walk from major attractions like City Hall, the Reading Terminal Market (much, much more to follow on this) and the Independence Hall/Liberty Bell area. In fact, I found Philly to be an immensely walkable city. I didn't even need to take public transport a single time I was there.
As I rolled up my bag to the hotel entrance I saw this interesting banner on the church directly opposite.
Can't see that clearly? Here's a close up.
It seems that the Aloft Philly Downtown's opening didn't go down well with everyone. When you follow the link on the banner you end up on this site: 
HRI, the developer of the Aloft, received a hefty amount of subsidies from the Philadelphia public authority, and people are starting to question where all that money went. $33M is a lot of money for what is essentially a for-profit enterprise, and when you consider the situation in Philly (I saw a lot of homeless people) you wonder if that could have been better spent elsewhere. There have been sit-in protests at the hotel last month, but fortunately I avoided any of that.
The website provides a breakdown of how much subsidy money the developer has received, and points out that a "destination restaurant" was promised that never materialized.
For the record, the Aloft does not have a restaurant, but they've got a pretty cool bar in the lobby. The lobby itself is welcoming, with high ceilings and plenty of natural light. This used to be the Liberty Tile & Trust Building, but was converted into a hotel with 179 rooms and opened at the start of September.
The Aloft is marketed as a sort of "baby W", in that you'll find the quirky design and young vibe that you'd expect at a W, but at a cheaper price point.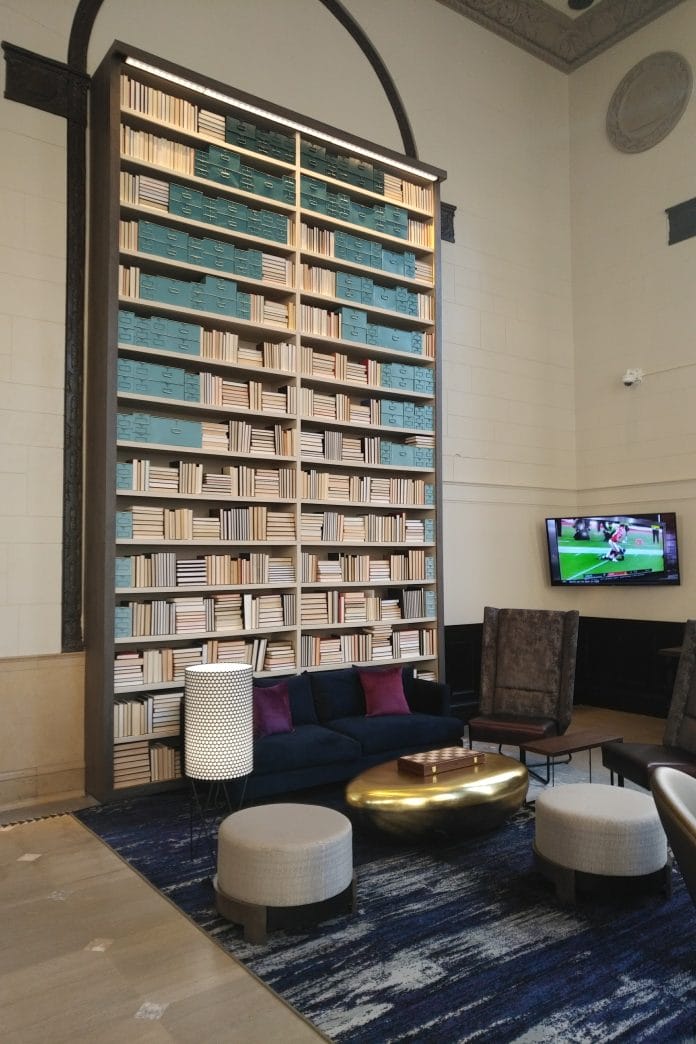 The lobby's definitely meant to be the hang-out place for the hotel, and you'll find things like a pool table and lazy lounging chairs to get people to linger.
The lobby got a bit more busy towards the evening as you'd expect, when the bar opened, the lighting got moodier and the music got louder.
I mentioned there's no restaurant, but there is an Aloft mini-mart selling (overpriced) snacks and sundries. Perhaps this is what Aloft means by a destination restaurant?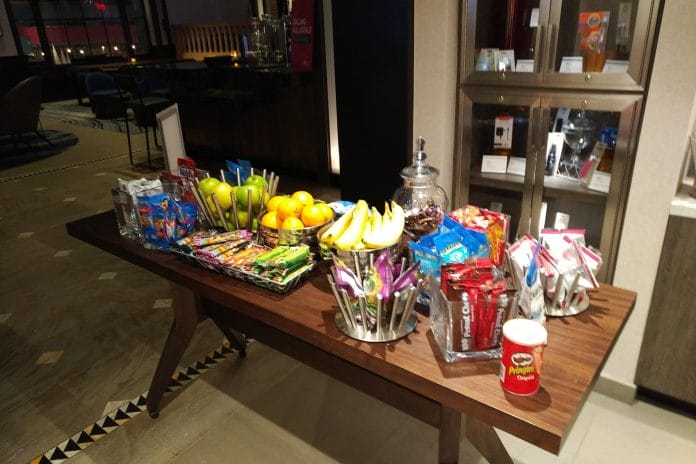 I had some issues with the hotel confirming my Your24 request- it was originally approved for a 9am check-in on a cancellable reservation. I later made a non-refundable one and requested the existing Your24 request be transferred to that, but was denied. Eventually after a few phone calls and emails they confirmed a 10am check-in for me and said they'd try and accommodate me immediately upon arrival.
As it turned out all that fuss was for nothing because the lovely front desk manager Misha ensured my room was ready the moment I arrived, jetlagged and haggard after a 14 hour flight. I found the staff here great in general but she was especially helpful, giving me ideas of events in town and walking tour routes, and ensuring my Amazon packages were kept properly (even those that arrived after I departed).
Although I'd been upgraded from the base Aloft King room to a Savvy Corner room, hotel rooms in Philly are still on the small side and this was no exception. Once you enter the room you'll have the wash basin and mirror on your right.
The room then opens up a bit into the work area and the bedroom, which are separated by a half wall but still in the same room.
The work desk was large and had a chair with good back support. I liked that they didn't clog it with useless junk. Just a phone, a very useful power outlet cum USB hub and a lamp.

The bed was a full sized King and although it's no W Bed, it was still very comfortable for a good night's sleep. The hotel faces the main road but there's good sound insulation so light sleepers shouldn't be too bothered.
In front of the bed you'll find a SmartTV. I find TV in the US to be so fascinating- Americans virtually worship their TVs and during Black Friday (that's another story) fights sometimes break out for who gets the last TV on sale.
At the foot of the bed was a bench for luggage storage.
I've talked about this repeatedly but I'll keep doing it until every hotel has this- power plugs and USB outlets by the bed. It's amazing how many so-called "modern hotels" don't think about this simple feature. It's a real bummer when you need to reach behind a dusty bedside table to find a power outlet, or have to *gasp* not sleep next to your phone. Can you imagine not sleeping next to your phone without its warm glow that irradiates you silently.
The bathroom has a shower (don't think I've ever seen an Aloft with a tub) that's stocked with bliss bath amenities in pump dispensers. I don't get why so many travel bloggers make a big fuss about pump dispensers, like it's some cheap cop out. It minimizes wastage and there's nothing stopping you from filling up an empty bottle or two if you're that sort.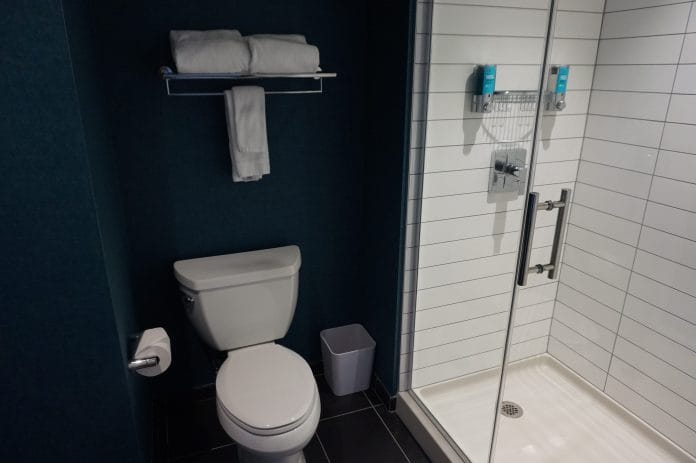 Outside the bathroom you'll find a Mr Coffee machine (no comment) and a safe.
So my overall thoughts on the room was that it served its purpose perfectly. Clean, comfortable and quiet. If I were coming to Philly again I'd definitely put this place high on my list.
Conclusion
I found this hotel to be fantastic value for a US$140 one night stay. Great location, friendly staff and comfortable rooms meant there was little more I could have asked for. It is a Category 4 hotel but given the revenue rates are generally below US$150 it makes little sense to spend the 10,000 points needed to redeem for a free night.