The Philly Pho Fare: Trip Planning
Cathay Pacific Business Class Lounge Terminal 4 SIN
Vietnam Airlines A321 Economy SIN-HAN
Qatar Airways B77W Business Class HAN-DOH
Qatar Airways A350 Business Class DOH-PHL
Aloft Philadelphia Downtown
Exploring Philly
British Airways Business Class Lounge PHL
Qatar Airways A350 Business Class PHL-DOH
Qatar Airways Arrivals Lounge DOH
Qatar Airways Complimentary Doha Stopover Package (Westin Doha)
Qatar Airways Al Mourjan Business Class Lounge DOH
Vietnam Airlines Business Class Lounge HAN
Silk Air B737 Business Class HAN-SIN
---
After my marvelous Hanoi adventure I was now seated safely in my seat on A7-BAT, the Qatar 77W that would bring me to Doha via Bangkok. Not many people know this, but Qatar operates a fifth freedom route between HAN and BKK that has really reasonable business class fares, insofar as it's reasonable to pay for business class on a 90 minute flight.
Qatar's 77Ws are equipped with full flat beds, but they're in a 2-2-2 configuration that leaves you totally exposed. Qatar's CEO has gone on record to say that all 77Ws would be retrofitted with the QSuites by the end of 2018, but I wouldn't hold my breath given that we're at the end of 2017 and only Paris and London have the new product so far.
There are many problems with 2-2-2 seating, especially with the design that Qatar has adopted. You can see in the shot below that there's zero privacy in this seat. In fact, the setup looks more akin to an angled-flat configuration than a true lie flat.
The classic test I use for cabin privacy is the "stand test"- when you stand up, how many other people can you see? SQ passes this with flying colors- the high walls of the 2006/2013/2017 business class seat mean it's very difficult to see other passengers other than your immediate neighbours when you stand up. For Qatar's 77W product, however, it means seeing everyone.
2-2-2 also means that someone's going to get stepped over en route to the loo, and you can see in the photo below that if you're in the aisle seat on the side you'd better hope your seatmate doesn't have a small bladder.
Seats like this don't have an awful amount of personal storage space, but Qatar tries its best with the footprint available .You have a small compartment in front of you for your shoes/small bag, and a side pocket that can securely stow items like laptops. Apart from that, though, it's slim pickings unless you want to engage in an armrest war with your seatmate.
There's a reading light recessed into the shoulder of each seat
And seat controls are in your armrest. There was a massage function but all that did was make the seat vibrate uncontrollably.
I had a chat with a very pleasant Ukrainian crew member before takeoff and related my just made it story. She dutifully brought me two glasses of water, in view of my disheveled state, along with a generous pour of the Lanson Brut they were serving. You can see a further issue with this seat is that ownership of the space on the centre divider is ambiguous. I didn't have a seatmate from HAN-BKK but had one from BKK-DOH and it seemed to be a pretty much first come first serve thing.
I'm always fascinated to see what airlines offer on short haul, widebodied premium cabin flights. After all, the hard product is there, but there's not much in the way of time to deliver a good soft product. For example, SQ occasionally operates the A380 to Bangkok during Songkran. Can you imagine 2h 20 minutes of flight time in Suites? Would they offer a full caviar service? Would they turn down your bed if you asked for it? The inquiring mind wants to know (and if you have flown on one of these flights please chime in).
Well, Qatar doesn't offer an amenities kit or PJs on this 90 minute flight, as you might expect, but I did receive a proper menu and drinks list.
Qatar really seeks to impress with its drinks list, providing full length photos of each of the wines and champagnes it serves onboard.
There was also a non alcoholic drink list:
A light meal service would be done after takeoff.
There was a choice between a cold salad or some hot savory pastries. I went for the hot option, which turned out to be a moneybag, a samosa and something I think was a fishcake. It was oily and greasy, not exactly haute cuisine but hey, 90 minutes.
After that the crew served a small tray of deserts, which I didn't touch.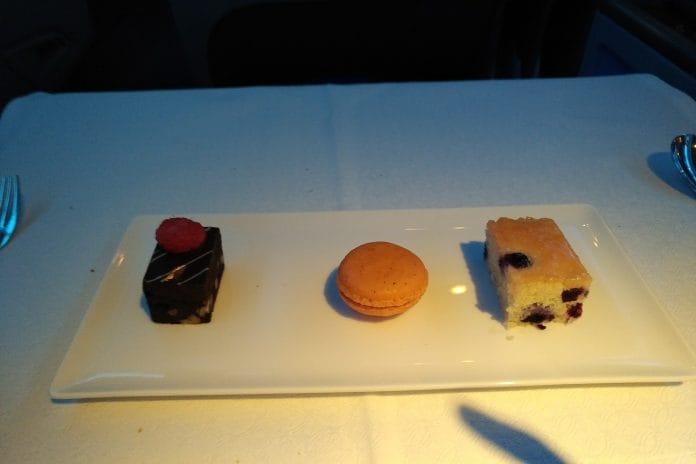 I was really hungry by now but resolved to wait for the second leg for some "real" food. Before long we landed in Bangkok, where about half the passengers in business class got off.
I don't think I can recall too many instances where I've transited and been allowed to remain on the aircraft (ok, there was this one time in Africa…). For example, when flying SIN-FRA-JFK or SIN-HKG-SFO you need to disembark. Perhaps that's a US-specific safety measure, however, because we were instructed specifically to stay on the plane.
This created an interesting opportunity to observe firsthand how the ground crew turns around an aircraft. And let's just say you'd really want to wipe the tray table yourself because it doesn't get anything more than a token wipe. In fact, apart from trash removal and changing the head rest cover, I didn't see an awful lot of actual cleaning for the seats.
While we waited on the ground a new crew joined us and distributed amenities kits and PJs for the long haul flight to Doha.
They also gave out bottles of Evian water, which fit into a compartment in the centre divider.
The PJs were good quality, comfortable  and had Qatar branding on them. The Milelioness didn't even realise they were PJs when I sent across a selfie, and remarked how they looked better than any other clothes I had in my wardrobe.
The amenities kit comes in male and female versions. I went for the male version, intending to get the yellow female one on the return trip. Inside there is facial mist, lip balm, moisturiser, an eye mask, earplugs and socks. The kit is BRICs branded and contains Monte Vibiano Vecchio products. These were launched fairly recently, as per Qatar's PR.
I went for water and some nuts as my pre-departure drink on the ground.
We took off again without much fanfare for the 8 hour trip to Doha. After take off I explored the expanded menu:
A small prawn cake on a stick with sweet chili was served as the amuse bouche.
The meal proper started with creamy tomato basil soup. I really like the mixture of tomato and basil, so this was a hit with me.
Instead of the Arabic mezze, I went with the roast beef tenderloin. It was bland dry and awful.
I went with the mie goreng noodles for the main, but this isn't the mie goreng we're used to in Singapore. Instead of thick noodles, this version used thin ones. Four prawns were served with the dish, along with a few fancy cut carrots. It tasted passable to me, but I've never been all too impressed with QR's catering.
For desert I went with the "gourmet ice cream" (I never did find out what brand they used), which was a mixture of chocolate and vanilla.
And after the meal was concluded the crew went through the cabin with small boxes of the Godiva chocolates that are made specially for Qatar.
I went to the bathroom to freshen up after the meal. The crew had stocked some toothbrush kits for the flight, and razors too.
I had a good laugh at the caption on the Rituals hand cream. I mean, yeah, you can't slaughter your enemies if your hands don't have just the right silky smooth texture now can you. They must have got Samurai tips from Tom Cruise.
I returned to my seat to nap. You can see that there is a privacy divider between seats, but it's almost useless. It extends maybe 10-15 cm from the partition between the seats, and it's purely psychological.
Qatar doesn't provide any bedding on this flight, but the seat was comfortable enough for a couple hours of nap time. Before landing the crew served a refreshment meal. I went for the snapper with szechuan noodles, which wasn't life changing. The noodles were soggy and drowned in sauce. Come to think of it, I've yet to have a Qatar meal that impresses me, as even my previous experiences were quite underwhelming.
We landed in Doha on time and, surprisingly, did not taxi to a remote gate (I've become so used to remote gates in the Middle East where airline growth has outstripped airport capacity).
Conclusion
If you look at Qatar's current fleet, you'll see that just under 60% of its aircraft are configured with 1-2-1 full flat seats. 40% (the 77L and 77Ws) have the 2-2-2 seating that this flight had.
The plan is that the 77W fleet will get retrofitted with the QSuites, and that retrofit cannot happen soon enough. 2-2-2 on long haul flights is simply not good enough for any airline that wants to compete with the best in the world. The current seat lacks privacy, storage space and doesn't give off the vibe you'd expect from a premium airline.
Fortunately, on my connecting flight to Philly I'd get to experience Qatar's A350, and that was a completely different story…