The Philly Pho Fare: Trip Planning
Cathay Pacific Business Class Lounge Terminal 4 SIN
Vietnam Airlines A321 Economy SIN-HAN
Qatar Airways B77W Business Class HAN-DOH
Qatar Airways A350 Business Class DOH-PHL
Aloft Philadelphia Downtown
Exploring Philly
British Airways Business Class Lounge PHL
Qatar Airways A350 Business Class PHL-DOH
Qatar Airways Arrivals Lounge DOH
Qatar Airways Plus Qatar Doha Stopover Package (Westin Doha)
Qatar Airways Al Mourjan Business Class Lounge DOH
Vietnam Airlines Business Class Lounge HAN
Silk Air B737 Business Class HAN-SIN
---
After exploring Qatar's arrival facilities it was time to head over to my complimentary stopover hotel. Qatar Airways has two types of stopover packages. The first is STPC, and the second is Plus Qatar.
STPC is for passengers with a transit time of 8-24 hours. If your directional ticket value (your total fare plus fuel surcharge divided by two) is above US$400 and there is no immediate connection available between 8-24 hours, you're eligible for a complimentary hotel. If your directional value is less than US$400 then you need to pay a fee of US$125 for economy class passengers or US$150 for business class passengers. The STPC comes with transport to your hotel (most likely the Oryx Rotana for business class passengers, the hotel that Qatar runs) and a meal voucher. I strongly recommend you read the full Wikipost on FT here for more details.
Plus Qatar (or +Qatar) is an initiative run in conjunction with the Qatar Tourism Ministry to encourage passengers to explore Qatar during a long layover. If your transit time is >12 hours you're eligible for this, regardless of what your directional value is. You're given one free night at a hotel (the list of hotels will be different for economy vs business class passengers), and a second night can be purchased for US$100. You can read the full T&C here.
Given that I was flying on a mistake fare, my directional value wasn't high enough for an STPC. In any case, I didn't really fancy staying at the Oryx Rotana, and the list of properties available for +Qatar was much more enticing. I ended up selecting the Westin Doha, which opened about a year and a half ago. Incredibly, this is the first Westin in Doha.
I had to take an Uber from the airport given that +Qatar doesn't come with airport transfer (or technically, the +Qatar package I booked did not come with airport transfer. Depending on the hotel you book, certain properties may include it with your stay). A word of warning to those taking Uber in Qatar- although Uber has this new upfront fare feature that is supposed to guarantee you the cost of your trip, never in my four or five trips did my actual fare match the upfront guarantee. The amount was always higher by about 20-30%, because of the route used by the drivers. I wrote in each time and got the fare adjusted.
The Westin is spanking new and about 25 minutes away from the airport. My Uber pulled up on an impeccably kept driveway where I was helped from the car and my luggage taken care of.
The lobby had plenty of natural light (a welcome change from all those Sheratons) and was very quiet when I arrived around nine in the morning.
One thing about these Plus Qatar packages: unlike with STPC hotels, early check-in is not guaranteed. Fortunately, there was a room available when I arrived and the check-in staff graciously placed me in it (I assume my SPG Platinum status had something to do with it as well, even though these complimentary stays do not qualify for elite night credit or points earning). They even upgraded me to an Executive Room with Club Lounge access and told me if I wanted I could go to the lounge for breakfast right now. They didn't have any obligation to do that so I really appreciate the gesture.
I rode a bubble lift up to the nineth floor I was on. There's this trippy spiral something or other that appears to rotate as you travel upwards.
The thing I kept noticing about the hotel was how incredibly quiet it was. It was pindrop silence kind of stuff. Perhaps it was just the hour of the day I arrived, but even throughout my stay I never had a single complaint about noise. And trust me, I'm noise sensitive.
The room they'd giving me was stunning, much larger than your run of the mill hotel room. It was also tastefully furnished with very nice color tones, which isn't a given when you're in the Middle East.
In a corner of the room was a large working desk that had everything you needed to stay productive. The chair had very good back support too.
One issue I had with the design of the desk was the power ports were all recessed in this nook, and the angle you had to position the plug put strain on the wire (you have no idea what I'm talking about, do you) because it had to bend upwards and out.
The other winning feature for me was the bathroom, which was huge.
There was a stand alone tub (it looks like it's exposed to the room, but you can lower some blinds. Or not).
And a shower with a sit down bench.
Two sinks were available, plus ample bottled water.
A toilet and bidet. With an eagle (falcon?) to watch you poop because why not.
A very large wardrobe plus bag storage space was also available.
I napped for a couple of hours and decided to find lunch after I awoke. I didn't fancy heading out of the hotel, so I explored the grounds trying to find something reasonably priced.
The hotel grounds are immaculately kept and were pleasant to stroll, especially now it's November and the day temperatures in Doha are about 23 degrees. Trust me, I was there in June where it was pushing 50 and you don't want to be caught outside then.
There's a massive swimming pool in the inner courtyard of the hotel.
The most interesting feature by far was an artificial beach/lagoon that had been built. I wasn't quite sure what the purpose was though, but I've learned not to ask such questions when I'm in the Middle East. The answer, invariably, is "because we can".
On Instagram someone had recommended Sabai Thai to me, and after a week of Philly food (not that there's anything wrong with it) I was missing something remotely Asian so I opted for this.
The interior decor is kitsch, kind of like what people who have never been to the far east think of when they think of the far east.
Sabai Thai is supposedly one of the best Thai restaurants in Doha, and they've got a pretty affordable business set lunch menu @ QAR 95 per person.
The food was excellent, especially the tom kha taley. High marks for the fried rice too.
The only unpleasant thing about the experience was having to fight to get them to honor the SPG Cravings 20% discount. They kept insisting that it didn't cover sets, and I kept insisting it said nothing of the sort on the website. In the end they gave me the discount, but I wish it didn't have to be this hard getting properties to honor what's been agreed upon already with corporate.
Later that day I checked out the Executive Lounge, also known as the Westin Club.
The Club had a business centre with printing facilities.
And plenty of indoor and outdoor seating.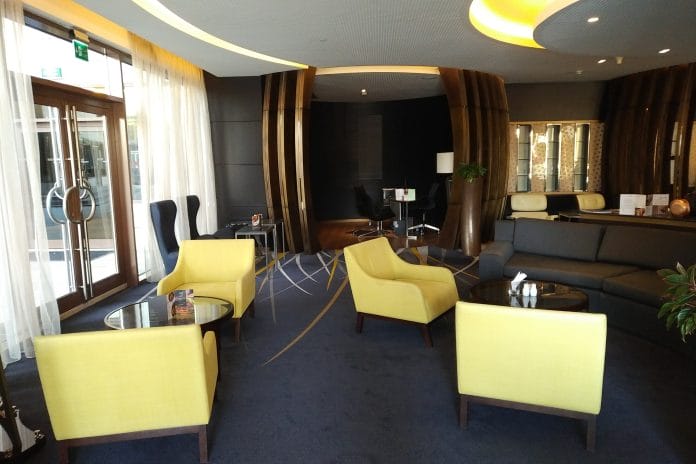 The happy hour spread was decent (it runs from 6-8pm), with a very standard spread of small bites, salad, a couple of hot items and dessert.
Sparkling wine is available, in the form of a very passable Freixenet cava.
My onward flight to Hanoi departed at about one thirty in the morning, so I left just before midnight. You really can't complain about free, and the Westin Doha didn't disappoint. Highly recommend choosing this one if you're on a +Qatar package, even if you're not a Starwood loyalist.