A leap of faith begins with baby steps, at least this was what a wise man once told me. And this leap of faith can set up a new paradigm that one has not discovered before.
Back in April of this year, I chanced upon The Milelion over his 'in your face'  open letter to some influencers whom were promoting the Krisflyer UOB debit card. That was a eureka moment for me. Who needs that debit card if there are 4mpd generating credit cards out there?  I also could not understand why food bloggers are engaged commercially to market credit cards, apart from the fact they have more followers than you and I have combined. And the ultimate 'why travel in cattle class if you can sit comfortably in business' notion got stuck in me. Ok, enough of the up-selling but you get the drift.
So in the middle of this year, I started as a novice mile hacker. It began with a lot of reading on the Internet over articles, digging through forums and blogs (The Milelion being one) plus some self-convincing. There was a niggling thought  that made me wonder if it still made sense to join this mile hacking trend when many had already been doing so much earlier before me. But seeing the trend of banks dishing out miles cards over the years, the value that miles can bring and the ability to explore something new won me over to take the leap of faith. Rome wasn't built in one day. In this article I will share my experiences ever since taking that leap and how it has wrecked changed my life.
Applying for more new credit cards
First and foremost, credit cards become my main source of miles generation apart from actual flying. Before this, I could easily count the number of credit cards I have with slightly more than one hand; some cashbacks, a DBS Altitude, an Amex KrisFlyer Gold card (yes it is an antique).
Soon I stared in disbelief (it gets better now) at the number of credit cards I have applied over the short span of 6 months (there are one or two more still yet to arrive). These cards are the much talked about UOB PriviMiles, UOB PPV, UOB VS (I got my inactive card activated, yay!), DBS WWMC ($70 cashback with min. $500 spend in first month), Citi PremierMiles (yes, both the Amex and MC ones), Citi Rewards Visa, Maybank Horizon VS and so on. These days I pray hard that no one in the company will volunteer to pay at team gatherings first before getting the cash back and I also find every opportunity to pay by credit cards or PayWave even for a $1.50 ice tea.
At the same time I also applied for some non-miles generating credit cards because of good sign-up bonuses; The Amex CapitaCard (for the free $80 SPC vouchers & Capitalmall vouchers) and the Standard Chartered Unlimited Cashback card ($138 cashback upon 3 retail spending).
To snag the Maybank signup goodies, I signed up for an additional Maybank Manchester United Premium Visa card and a Creditable account for 1 pair of Universal Studios tickets and 2 pairs of Adventure Cove Waterpark + a Man United limited edition shoebag (I gave the shoebag to a colleague and cut up the Manure card on the first day, YNWA!). And yes, the unicorn eluded me.
Reading the T n Cs (use a magnifying glass and don't skip a line)
One thing that I have never did so much was reading the Terms and Conditions regarding limitations of credit cards usage in the past. This mile hacking has made me look intently at the many fine prints (e.g. calculation of bonus points, validity of promotion period, exclusions, "Qualifying transactions") that are usually hidden behind an inconspicuous link among the flowery phrases of credit card marketing. And don't forget, the Terms and Conditions of every card are reviewed and changed by the banks from time to time. And don't get me started on the merchants' MCCs  for which bonus points are awarded for, that is a black hole altogether. Know your cards and know them well, people.
Trawling the web  in search for sweet deals
As I said earlier, the Internet hosts a godzillion amount of useful and useless information. It takes a good amount of effort to sift through the rough and get to the gold. Websites such as The Milelion (again), HWZ, Flyertalk, OMAAT and TPG have became bookmarks in my Internet browsers.
These informative sites give good run down on the goings and in-between about the airline, hotel and credit card industries and once a while a really good deal pops up either intentionally or unintentionally. But there are always periodic good promotions for a mile chaser in the Singapore context. These are some of the promotions that took my money and accelerated some miles earning:
Citi Rewards card – 8mpd on Lazada (till 31 Dec 17)  and Amazon Prime Now (29 Jan 18). Spent hundreds on Black Friday deals and remember that topping up Amazon gift cards counts as well.
Citi PremierMiles card – 6mpd on Agoda (31 Dec 17) and 10mpd on Kaligo (31 Dec 17, for Amex version only). Used it for BnB bookings on Agoda during June school holidays.
UOB PRVI Miles card – 6mpd on Expedia, Agoda and UOB Travel (all till 31 Dec 17).
AMEX Singapore Airlines card – up to 5.3mpd (31 Mar 18) spent on mobile wallet (Apple, Android and Samsung Pay) capped at $300 spent. Used it all in my Cold Storage shopping. $300 is not a lot eh, Amex.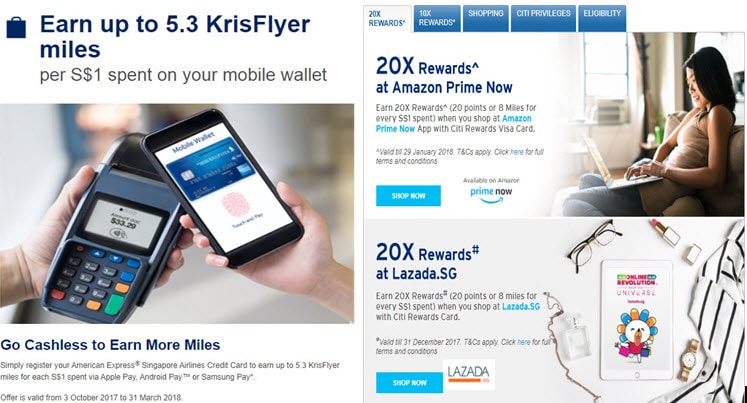 Apart from focusing on credit cards, I got myself acquainted with entities such as Lifemiles, Mileslife and Priority Pass. I also have/opened accounts with almost all major hotel chains and major airlines FFPs which I am registered with or think I may have the chance to use their products or for miles accumulation in future (I have them as mobile apps as well, convenience on hand).
By the way, make sure you are subscribed to their newsletters and alerts (e.g. Marriott Twitter Challenge, Mileslife X'mas Challenge) and check your emails daily to see if there are any targeted promotions that come as a nice surprise. I learned it the hard way on my SPG, losing out a few targeted promotions.
Phone apps
One area that I had found to be very useful is having the hotels, airlines, banking, shopping apps downloaded to my cell phone. These apps give me a direct link with the entities while I am on the move or away from the laptop. Online shopping apps such as fave, Lazada, Qoo10, Zalora and Amazon allow me to shop while on the move (remember to save the right credit card to get the most rewards).
I have the apps of all the banks that issue me credit cards so that I can do real-time validations on the credit card spending and limits. Some other apps which I have found useful are the Priority Pass app (useful to know which lounge in which airport accepts PP entry), Lounge Buddy app (shows almost all the lounges worldwide and reviews them) and Mileslife app (loved this the most, ever since UOB PPV grants 10X rewards on Mileslife spending). And of course, how can I miss out the Telegram app that has got The Milelion chat group followers joined in for all good things related to miles hacking.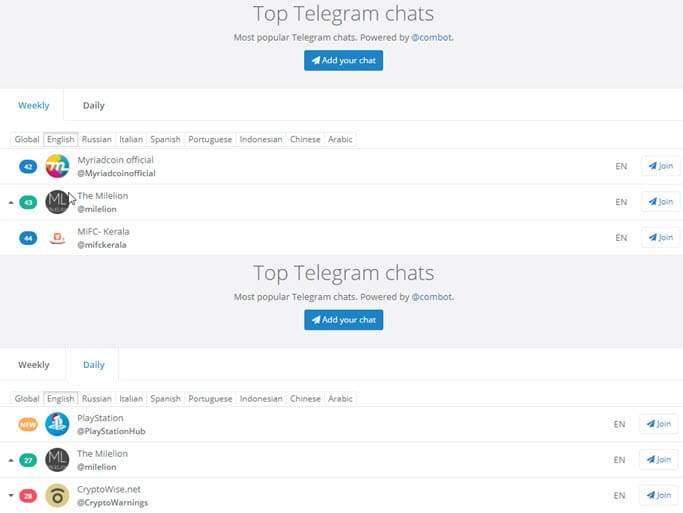 Keeping track of points and miles – the hard work starts here
So far what you have read are the easy stuff. The real hard work is when I start to manage all the credit card accounts and track their spending and associate the reward points/miles for every single transaction. This is done as and when I have accumulated a substantial stack of credit card receipts in my wallet.
For every receipt, I wrote down which card was used and tracked all the spending on an excel sheet, month by month (and keep those receipts). At the point the statement is ready I download and keep a copy of each credit card's e-statement. This gives me an understanding how many reward points were given from the bank side. Then correspondingly I calculate the points (basic and bonus) based on the nature of each transaction and correlate with the bank statements.
When I first started doing this, I almost wanted to give up but with practice this became second nature. And very importantly I can verify the points from the banks versus the points I manually calculated. I also did up a page that summarizes the various credit cards that I hold so that it allows me to have an easy look on the intrinsic and extrinsic details of each card.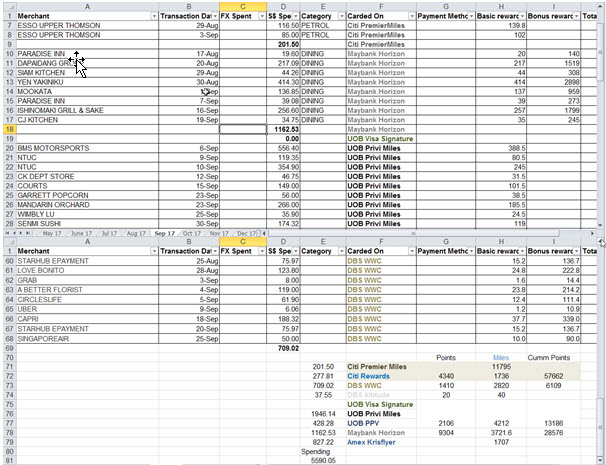 Besides tracking the points and miles earned, it is also equally important to check their expiry and conversion blocks in order to avoid orphan miles, even though sometimes it may be forced out of a circumstance. Another mental note I made was to convert the points into miles before the annual fee starts to kick in so that the points do not get deducted for an annual fee waiver.
Most times, the points awarded by the banks are not same as what I had calculated and there could be many reasons for it; the merchant's MCC in not in the list for 10x, the transaction was done off-line, own calculations incorrect etc. What needs to be done is some engagement with the lovely CSOs whom may or may not be able to give me the right answers. Most times, they will have to check with their marketing counterparts if I pressed harder on my queries.
From my experience, 9pm on weekdays is the best time to call up the banks' hotline for such queries. Amex always gives me a good vibe after ending the call, Citibank never really gives me a reason to call them because the reward points are so well summarized for every single transaction while the other local banks usually leave me going away not fully satisfied, and at times with more queries than at the beginning. For one, DBS Bank used to have a good feature that allowed customers to send a private message via internet banking on such queries but had since cut this feature and replaced it with a live chat. I can only say that it is not as good as before.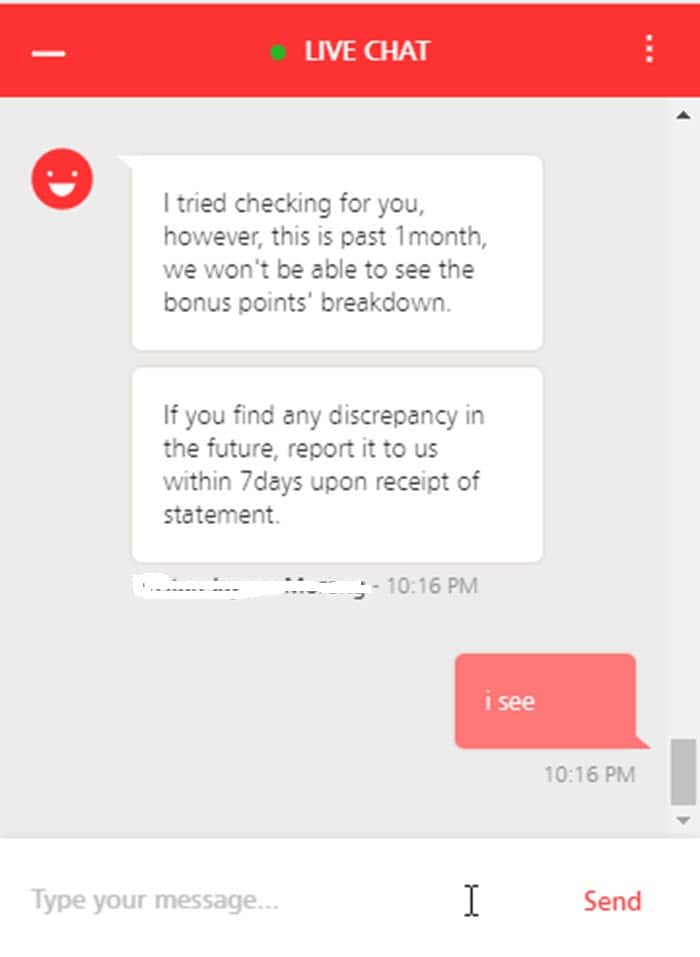 Lessons learnt
Learning lessons from others is always 'cheaper' than learning them yourself. This is related to the point earlier about trawling the web. Apart from sweet deals, I have also learnt a lot of lessons about points and miles hacking and sometimes these are heartbreak moments that nobody wants to get into. Some of the lessons I have learnt over this year (some heartbreak moments myself):
Priority Pass complimentary visits –   keep track when it was used and used how many times. PP issued by Citibank renews the 2 complimentary visits every calendar year while PP from my DBS Altitude renews on the 17 Nov (which is when my card got approved). Priority lounges charge US$27 outside complimentary visits.
The Premium Plaza Lounge near Gate 1 at the HKIA does not allow PP holders to utilise more than 1 pass per visit. I had wanted to get my whole family of 5 to go in using all three PP cards but was told I can only utilize one PP and bring in one guest. Duh..
Read the fine prints – I can never stop emphasizing on this.
Missing out on at least 2 SPG promotions because I activated the DND. Sigh…
Tiffany and Cartier do not give 4mpd on Citibank Rewards card. This was a more than $2,000 lesson.
UOB PPV has a $1,000 limit for 4mpd. I happily used Paywave and contactless payments on my UOB PPV and didn't leave enough for a year end dinner that was paid with Mileslife. $300 lesson. The upcoming OCBC TR should circumvent this.
UOB VS conditional 4mpd. A combined S$1,000 spending from S$500 spent on Caltex petrol and S$500 equivalent of overseas spending do not earn 4mpd.
Tracking my dues, every card every month. I was overwhelmed with too many credit cards in the initial months and some of the credit card payments skipped my mind and I had to call up CSOs and asked for waiver of late fees. This is very troublesome so go with GIRO as much as possible.
Use the right formula to calculate the points/miles from the credit card transactions. Nothing is more embarrassing than challenging a CSO and then found out that you had over calculated the points (face-palm).
Live and let live. I try not to be too anal about points issued by the banks that do not tally with my own calculations. A difference of 500 points is not a live or die situation.
Know which cards' bonus limits are by calendar and which are by statement period. UOB VS for one tracks the spending over a statement period. My statement period is 9th of current month to 8th of next month.
Cold Storage is not a UNI$ merchant, and so is Giant. Took me 1 month to know that after discovering it here.
SPC does not issue UNI$, period. Took me 3 months before I know that.
Maybank Horizon VS bonus points are awarded for more than $300 spend. One of my statements was $298.
Plan credit card usage properly. For cards with laid out conditions e.g. UOB PPV up to $1,000, UOB VS more than $1,00 and up to $2,000, Maybank Horizon VS more than $300, DBS WWMC up to $2,000, it is important to plan their usage especially on the month when I have to travel overseas.
Conclusion
In essence, the second half of 2017 marked the start of my mile chasing life and every day I am overwhelmed by the immense information and like-minded experiences that are being shared out there. The fact that many are willing to share makes me feel that this community will only set to grow and become more consolidated. So if you were like me previously and wondered if this is worth doing or whether it is right for you, I hope this article has helped to crystallize your thoughts. Learning never stops and miles are out there to be earned!