For expenses on my current RTW trip, the first port of call is my UOB Visa Signature. So long as I put a minimum of S$1,000 on it within a given statement period (not the same as calendar month, so call up customer service to confirm when your period starts/ends), I'll earn 4 mpd up to a maximum of S$2,000.
Once that's exhausted, however, I'm not exactly spoiled for choice. Yes, if it's dining I can whip out my UOB PP AMEX(4 mpd, capped at S$6,000 per year) where AMEX is accepted, and if it's big ticket shopping I might use the Citibank Rewards card (4 mpd, capped at S$12,000 per year, though I hate how Citibank points don't pool).
But if it falls into neither category, I'm stuck with the UOB PRVI Miles card (2.4 mpd) as backup. 2.4 mpd is a decent rate (and since I travel for work and get reimbursed, the 3.25% fee doesn't bother me too much), but I keep thinking I could do better. And now that I have my Titanium Rewards card, I can.
It all goes back to the promotion for mobile payments that OCBC is running for Titanium Rewards which offers 4 mpd, capped at $12,000 of spending per card anniversary and valid until 31 Dec 2018. To recap, here's the list of which countries accept what mobile payments: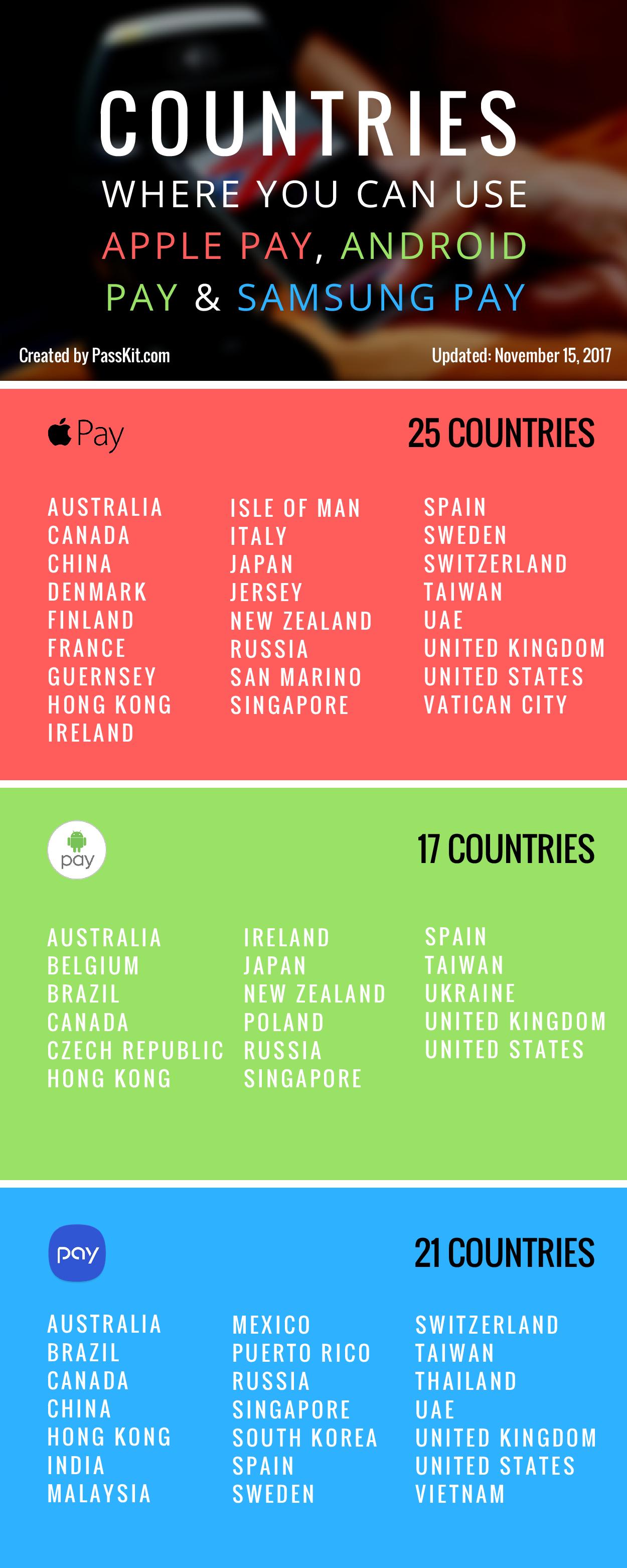 I was surprised that there were so many supposedly developed countries that didn't support mobile payments. For example, I was surprised that Germany wasn't on the list. I ended up maxing out my UOB Visa Signature on expenses there.
Fortunately my second port of call, Spain, did have Android Pay, and I found acceptance to be widespread. I ended up using it at several restaurants that didn't take AMEX (including, interestingly enough, some of the vendors at La Boqueria market). I used it at Zara. I used it at a random ice cream store. And, best of all, I used it at the Le Meridien Barcelona, which happily allowed me to tap my phone on their contactless reader to pay for my stay. I think that's the first time I've paid for a hotel stay with my phone. Every tap, every vibration means 4 mpd.
One thing to be careful about- using Android Pay does not necessarily protect you from the evils of DCC. The merchant is still entitled to select on their side the transaction currency. So be alert.
Sidenote: if you have a Samsung phone that has MST, then the Titanium Rewards card is an absolute gold mine for you. For those of you who don't know, MST (magnetic secure transmission) is a marvelous new technology that imitates the swiping of a card's magnetic strip. You can see a quick explainer below:
The benefits of MST should be very obvious- you're effectively able to earn 4 mpd almost everywhere that credit cards are accepted until you hit your card cap, regardless whether they accept contactless payments. So long as there's a terminal that accepts cards, MST should work (although there will always be older terminals which are the exception to the rule).
At this rate I'll probably burn through the $12,000 annual cap on my Blue Titanium Rewards card before long, so at some point this year I'll apply for the Pink version to double my cap. OCBC does pool points from different cards together, FYI.