The Milelion's RTW Trip 2018: Trip Planning
Singapore Airlines SilverKris Lounge T3 SIN
SWISS Intl Airlines B77W Business Class SIN-ZRH
Cosmo Hotel Berlin
Westin Grand Berlin
The Intra-Europe Business Class Experience, 2018 Edition
Turkish Airlines A330 Business Class IST-AMM
Sheraton Amman Al Nabil
Royal Jordanian Crown Lounge AMM
Egypt Air B737 Business Class AMM-CAI-NBO
Tribe Hotel Nairobi
Sheraton Kampala
Ethiopian Airlines B737 Business Class NBO-ADD
Ethiopian Airlines B787 Business Class ADD-GRU
Marriott Sao Paulo Airport
Avianca Brasil A330 Business Class GRU-SCL
San Cristobal Tower Santiago
Air Canada B77W Business Class SCL-YYZ
Air Canada Express E175 Business Class YYZ-BOS
W Boston
United Airlines B757 First Class BOS-SFO
W San Francisco
United Airlines B77W Polaris Business Class SFO-NRT
ANA B787 Business Class NRT-SIN
---
Berlin has a surprising abundance of Starwood hotels, although four of them were only added to the portfolio when Starwood acquired Design Hotels back in 2015. I did fancy checking them all out, but only the Cosmo Hotel was participating in Starwood's Q4 2017 Explore More promotion (which ends on 15 Jan 2018) which gives 1,000 bonus points. Yes, practicality must always trump exploration.
The Cosmo Hotel has a pretty sweet location, all things considered. It's fairly close to Alexanderplatz and walking distance to the big shopping area around Galleries Lafayette. There's an Aldi (or was it Lidl, I always confuse the two) about a 5 minute walk away that allows you to stock up on water.
I had broken up my four night stay in Berlin so I'd alternate between the Cosmo and the Westin Grand, because each was participating in the Earn More promotion so that was an easy 1,000 additional points each night.
The hotel lobby is bright and welcoming, despite the rather dreary weather outside. As you'd expect from a Design Hotel, each property has its own personality and that really comes through in the styling of the lobby.
Despite arriving at the hotel at 10 in the morning, there was no problem checking in early. I was wondering how well trained the staff were about SPG benefits, although at Design Hotels they're limited to 500 bonus points and elite stay credit. No room upgrades, no guaranteed late checkout. That said, the staff still upgraded me to a dexlue room and told me I'd get 500 points as my Platinum amenity (the points never posted, I'm chasing them up with customer care).
The Cosmo has only 84 rooms in total, and I was on the 7th floor. Deluxe rooms are the corner ones, with additional space for you to stretch out. When you enter the door you have the bathroom on your right, and the room expands out into the bedroom.
There's a small seating area in one corner of the room.
And a TV mounted on a low pole, writing desk and bed complete the room.
The bed was plenty comfy. What I thought was interesting was that instead of a single large blanket, you had two smaller ones bundled up beneath the bed runner.
The writing desk had plenty of space to put two laptops, but unfortunately only one charging port (non universal).
There was one complimentary bottle of Evian water provided, but no bottle opener. I tried for the longest time to open it on the side of table before giving up and calling for one.
There was also a fancy coffee machine, but the coffee capsules had not been replenished properly and there was only one left. There was also an opened brown sugar package spilled inside the capsule box.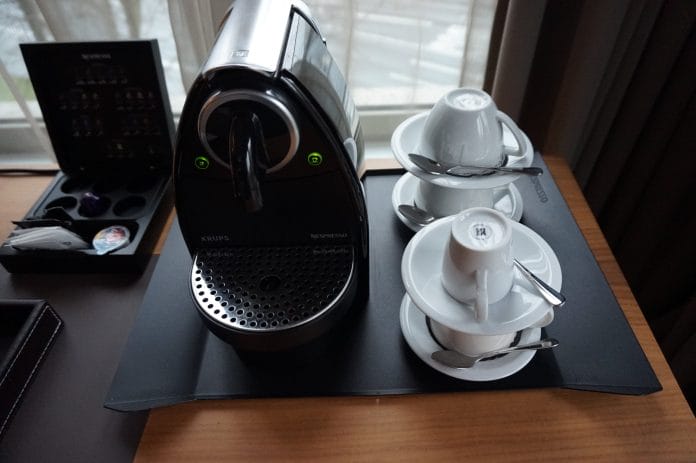 I quite enjoyed the size of the bathroom, which had dual sinks.
No bathtub, but a good shower with strong water pressure. Surprisingly there was no bidet, because we know how particular the Europeans are about their bums.
Breakfast is served at Scent Restaurant in the lobby. It costs 18 Euros and let's be honest, if you're expecting Asian hotel levels of variety you're going to be disappointed. This is Europe, and people don't do big breakfasts. Think continental breakfasts in buffet format.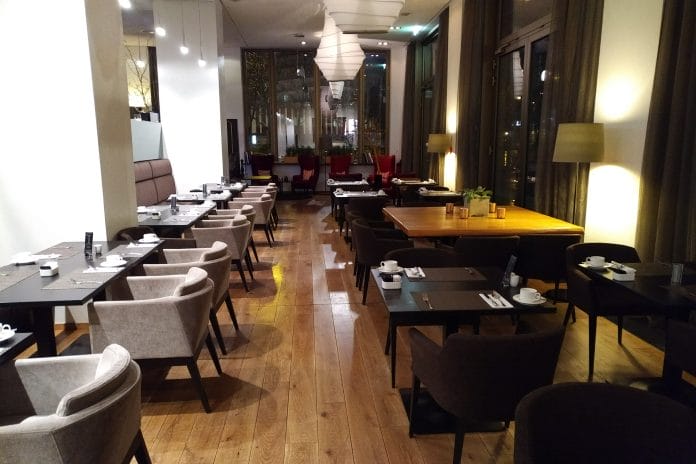 At least there's a lot of fruit
And yogurts
And cold cuts
And muslei
You'll also find some fresh baked breads and fresh squeezed juices
Limited hot options are available from a tiny laminated menu.
Conclusion
I have to admit I was expecting to be wowed a bit more by a Design Hotel, but the Cosmo didn't really do that. Maybe I was expecting some super hipster avant garde for the sake of avant garde setup, but either way the hotel was still nice enough (and cheap enough, at 100 euros a night) and I had no real complaints.