The Longest Flight in the World: Introduction
SQ22 Inaugural Gate Party
Singapore Airlines A350-900 ULR Business Class SIN-EWR
AMEX Centurion Lounge IAH
United Polaris Lounge IAH
ANA B77W Business Class IAH-NRT
ANA B787-9 Business Class NRT-SIN
---
I wasn't able to find good award space out of EWR or JFK, and besides, the hotels in New York were just too expensive. So after getting off The World's Longest Flight, I took a connecting United Airlines hop straight to IAH. From IAH, I redeemed an ANA flight back to Singapore for 78,000 LifeMiles and US$44 of taxes.
My flight from Houston to Tokyo was scheduled for an 11.30 am departure, and I got to the airport very early at around 8 am. Terminal D was deserted at this early hour.
The ANA counters were also closed- the website says they open at 8.15 am but the time posted on the digital displays was slightly later at 8.20 am.
At about 10 minutes before 8.20 am, the ground staff arrived at the desks and started getting ready. With two minutes to go, they all assembled in front of the counters in a neat line. The manager thanked everyone for choosing ANA, and they bowed in unison. It was delightfully Japanese.
My bags were tagged straight through to Singapore and both boarding passes were issued. ANA participates in TSA PreCheck, so if you've applied for Global Entry you'll be able to enter your Trusted Traveler Number when you check in online and use the expedited security lane.
ANA Business and First Class passengers get access to the pretty incredible Polaris lounge, and I'm glad ANA explicitly prints that on their boarding passes. Why? Some other Star Alliance carriers (Air China, Lufthansa, EVA Air) refer their premium cabin passengers to the vastly inferior Executive Club lounge, even though they're entitled to Polaris access. You'd be surprised how many people wouldn't know what they're entitled to.
Boarding was supposed to begin at 11 am, but was delayed for 5 minutes. The ANA gate announcer expressed sincere apologies for the delay. You've got to love how over the top Japanese culture is about these things…
Boarding started with First Class and Diamond Club passengers, followed by Business Class and Star Gold. ANA's 77W has 8 First Class and 52 Business Class seats with a total capacity of about 250 passengers, so throw in the Star Gold passengers and there's actually quite a fair bit of the aircraft entitled to priority boarding.
I've flown on ANA's 787s numerous times before, but I don't think I've actually done Business Class on a 77W (I've done First, though). The seats in Business Class are pretty standard, however, with a 1-2-1 configuration offering all aisle access. There are some slight differences between this seat and the one you'll find on some 787s, which I'll highlight in the final trip report.
All the seats at the sides were filled, so I went for 8E, which at least was positioned away from the aisle. The ANA seats offer a great level of privacy, because when you sit back the side tables shield you from public view. It's also difficult to see your center column seatmate unless you really try (which might not be a good thing for couples traveling together).
What I like the best about this seat is the abundant storage space. You have a whole side counter for your items(certain seats on the 787 can have up to two storage counters). ANA crew are a bit inconsistent about the policy on items in this area during TTOL; some will insist it must be clear of all items, no matter how large, others will permit small items like passports, phones and wallets, others won't bat an eyelid at laptops.
Below the side table there's the IFE controller and buttons to adjust your seat. You can also toggle the side table light on and off, but it's not a particularly strong light. Think Tron lighting.
In front of you is the IFE display. Unlike other aircraft, the ANA design has the screen mounted in a fixed position. It does not swing out towards you.
Below the screen is a flap that opens to reveal a USB and EmPower port. I actually felt the positioning of the ports below the IFE screen instead of on the side table was a big design flaw- if you're sleeping, there's no way to plug in your devices without the cables running across your body.
Your alternative is to pull out the table beneath the IFE screen to put your devices, but you risk injuring yourself if you wake up in the middle of the night and forget the table is extended.
ANA provides a pair of noise cancelling headphones, but note that their selection is not consistent across the fleet. On the subsequent 787 flight from NRT to SIN, I received a pair that fit a lot more comfortably around the ears. This pair of on-ear headphones became uncomfortable after a while.
Each seat also had an amenities kit with toiletries from Neal's Yard. There was lip balm, facial mist, hand cream, a pair of earplugs, an eye mask and a toothbrush. The crew also placed a supplementary amenities basket in the galley which had additional earplugs, toothbrushes, and those ever-confusing "leg refresh sheets".
The crew came around with pre-departure beverages, which ANA serves in plastic cups even in premium cabins. They serve sparkling wine on the ground, but it's a much cheaper version that tastes pretty awful. The champagne is reserved for after take off.
The captain came on the PA to announce the flight time from Houston to Narita: just over 13 hours. Shortly after that we pushed back and after a very short taxi, took off. Traffic at IAH must have been pretty minimal during the lunchtime departure slots.
After take off the crew came around to distribute menus. A word about the crew- most of the ANA crews I've had so far have been nothing short of fantastic. Their English may not always be the best, but I've never doubted their sincerity and eagerness to help.
This crew, in contrast, was way below par. They weren't overtly rude, and the service they offered was still head and shoulders over what you might expect on BA or United, but there were very obvious service missteps. Attendant call buttons went unanswered for long periods of time, the meal service took forever to finish, and one side of the plane was served much faster than the other. Requests were responded to with a curt nod in most cases, and I just felt that I had experienced much better from ANA in the past.
Anyway, the Japanese selection for lunch:
And the Western selection:
ANA has a choice of two reds and two whites, with Champagne by Castelnau.
But there's also a "special wine selection" menu of seven wines, of which one bottle is loaded on a given flight. I never found out which one it was because the crew didn't offer it.
Here's how the various wines measure up, with ratings from Vivino.com.
| | | | |
| --- | --- | --- | --- |
| Wine | Origin | Type | Vivino Rating |
| Main Street Winery- Cabernet Sauvignon 2016 | California, USA | Red | 3.8 |
| Cune Roble 2016 | Ribera del Duero, Castilla y Leon, Spain | Red | 3.3 |
| Duckhorn Vineyards Napa Merlot 2013* | Napa Valley, California, USA | Red | 4.2 |
| Drumheller Chardonnay Columbia Valley* | Columbia Valley, Washington, USA | White | 3.7 |
| Slyph South Australia, ANA Original 2017* | South Australia, Australia | Red | N/A |
| Valcanto Garancha Tintorera 2013* | Almansa, Albacete, Spain | Red | 3.5 |
| Colterenzio Altkirch Chardonnay Alto Adige DOC 2015* | Alto Adige, Italy | White | 3.5 |
| Drumheller Cabernet Sauvignon, Columbia Valley* | Columbia Valley, Washington, USA | Red | 3.9 |
| Nymph South Australia ANA Original 2017* | South Australia, Australia | White | N/A |
| Callaway 2016 | California, USA | White | 3.3 |
| Dourthe No 1 Blanc 2016 | Bordeaux, France | White | 3.6 |
| Champagne Castelnau- Cuvee Brut Reserve | Champagne, France | Sparkling | 3.7 |
The wines with a * next to them are part of ANA's Special Wine Selection, and only one of them is served on a given flight.
ANA wouldn't be ANA without sake, shochu or umeshu, so here's what was offered:
And the rest of the drinks:
As mentioned earlier, the meal service took forever to start. It was easily 90 minutes into the flight before the post take-off drinks were served. No prizes for guessing my choice.
Two hours after takeoff, the amuse bouche appeared.
I'm not really big on ANA's amuse bouches, to be honest. I always find the mix to be really weird, or maybe I'm just too much of a Philistine to appreciate it. For what it's worth, there's burrata cheese and semi-dried tomato, caramelized pecan nuts, pork salami and green olive.
Even though we were flying out of IAH and not NRT, I decided to go with the Japanese option. The starter plate of Zensai, Kobachi and Otsukuri were served together.
At the top left is the Kobachi: deep-fried tofu fishcake with mushroom sauce. At the top right is the Otsukuri: seared tuna and seared salmon. It looks like sashimi, but you obviously can't serve raw fish on an aircraft. The fish has been smoked, cured or otherwise, processed to kill any potential pathogens. And at the bottom is the Zensai: grilled channel rockfish with soy-based miso sauce, simmered lobster in soy-based sauce, squid sushi, marinated garland chrysanthemum in soy-based sauce. I left most of the items uneaten.
Now the main course was saikyo miso-grilled sablefish, as per the menu. It came with steamed Japanese rice, which had way too much water added. Given how finicky the Japanese are about their rice, I was amazed this passed muster.
I could have sworn the fish looked more like salmon, but apparently it really is sablefish, otherwise known as black cod. Sablefish actually has more omega-3 than salmon and is supposedly better for the environment.
Dessert was served off a cart, and I went for something that looked like tiramisu.
Given the poor quality rice and starters that were too exotic for me, I was still feeling pretty hungry after meal service. Fortunately, ANA has a snack menu with numerous options available.
I requested for a serving of the Ippudo ramen. Remember what I said about service? When the stewardess brought the tray to my seat, she didn't even wait for me to make room. She simply slid the tray onto the side and walked off without a word.
Ippudo ramen on ANA has rarely steered me wrong, but this was a disappointment too. The noodles were undercooked (and this coming from a man who asks for very hard noodles at every ramen-ya he goes to) and the soup was overpoweringly salty. I could feel myself getting high blood pressure with every sip.
So I requested the curry and rice instead. This was slightly better, even if it didn't look particularly appetizing. It's hard to go wrong with fat and starch, anyway.
After lunch I fiddled around with the IFE. ANA doesn't have anywhere near as many options as Singapore Airlines, but there's still a decent selection of recent and classic movies.
Besides, where else can you find movies with titles like "When I get home, my wife always pretends to be dead"?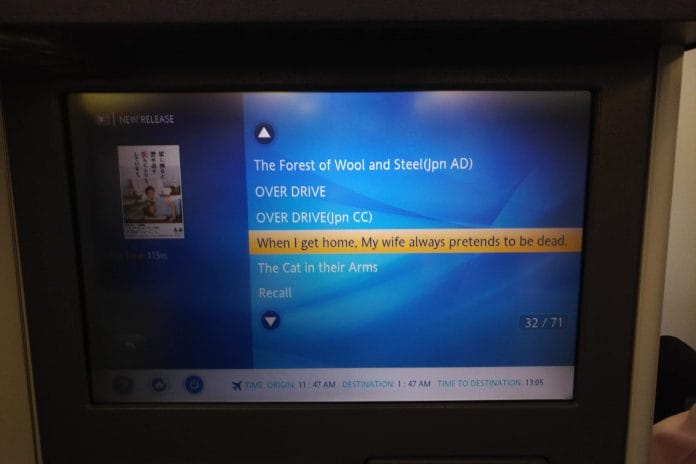 I settled for Incredibles 2. I distinctly remember watching the first movie after my 'O' Levels back in 2004 and thinking "that Brad Bird really loves Ayn Rand"
All things considered, I did enjoy the sequel, especially audio-spotting the two cast members from Better Call Saul.
ANA doesn't do anything special with their loos, apart from the awesome bidet feature that's standard across all Japanese aircraft.
The toilets were kept clean throughout the flight. The amenities inside the loo were by Awake, a Japanese brand.
I wanted to take a rest, so I put the seat into bed mode. The lighting in the cabin was bad so I didn't get a good photo, but here's a similar picture from a past trip report that gives you an idea. Unlike SQ's "flip over" seat, this seat allows you to recline at exactly what angle you wish. I've found the optimal angle is actually just shy of 180 degrees- for whatever reason that relieves stress on the lower back.
ANA has a special sleeping mat and blanket for each passenger, and I easily got four, five hours of sleep.
I got up later to stretch my legs, spotting at the rear of the cabin a snack station that the crew had set up. There was water, a red and a white wine, rice crackers, and additional amenities.
A few more movies, a little more dozing and we were almost over Japan.
The crew took orders and started serving a light meal before landing. Or rather, I wandered into the galley and they said "you want to eat?" , which means I'd probably slept through the ordering process and had I not shown up in the galley they probably wouldn't have asked me.
Again, it's a choice between a Japanese or Western option for the light meal:
I went with the Japanese option, and this time the rice was served in a small paper wrapped packet. It still wasn't very good, though.
We eventually landed in Narita right on time, and I now had a three hour layover before catching NH801 back to Singapore.
Conclusion
I love ANA's Business Class hard product, even if it's been around for a while. There's a lot of privacy, you can decide what angle you want to sleep at and there's a good amount of storage space. I'm probably never going to be able to properly appreciate all the small Japanese starters that they serve, and I was disappointed in the quality of the rice (and ramen) on this flight, but I'm willing to overlook that as a once-off.
The service on this flight was definitely not up to ANA's high standards (and indeed, I'd get much better service on my connecting flight from Narita to Singapore), which is a bit of a shame. Again, I know that ANA usually delivers to a much higher level than this, so it's not going to deter me from taking ANA or anything.