The Long Way to New York: Trip Planning
Singapore Airlines SilverKris Lounge, Singapore
Singapore Airlines A330 Business Class SIN-BKK
Thai Airways First Class Lounge & Spa, BKK
Thai Airways B747 First Class BKK-HND
Getting from HND to NRT
ANA First Class Lounge, NRT
ANA B77W First Class NRT-ORD
United Club ORD
United B767 Economy ORD-EWR
Visiting the US Open
Sheraton New York Times Square
Hilton New York Midtown
Wingtips Lounge JFK & Delta to DC
Exploring Washington DC
Element New York Times Square West
Virgin Atlantic Clubhouse, JFK
Singapore Airlines A380 Suites JFK-FRA
Lufthansa Senator Lounge FRA
Singapore Airlines A380 Suites FRA-SIN
---
I'd reviewed ANA's First Class before when flying from Seattle to Narita. My conclusion was both the hard and soft product were excellent, and would measure up to SQ any day of the week. That said, the trip was more than a year ago and I was keen to see whether ANA could continue living up to the high standards they set the first time round.
The gate wasn't too far from the lounge so I arrived just as boarding began. I love how in Japan all the boarding staff gather in a line to bow to the passengers before boarding begins. It's just so quintessentially Japanese. If you happen to look out the window when the aircraft pushes back from the gate, you'll also see the ground staff bowing. Only in Japan.
ANA's long haul First Class product is called the First Square. Here's what it looks like in the publicity photos.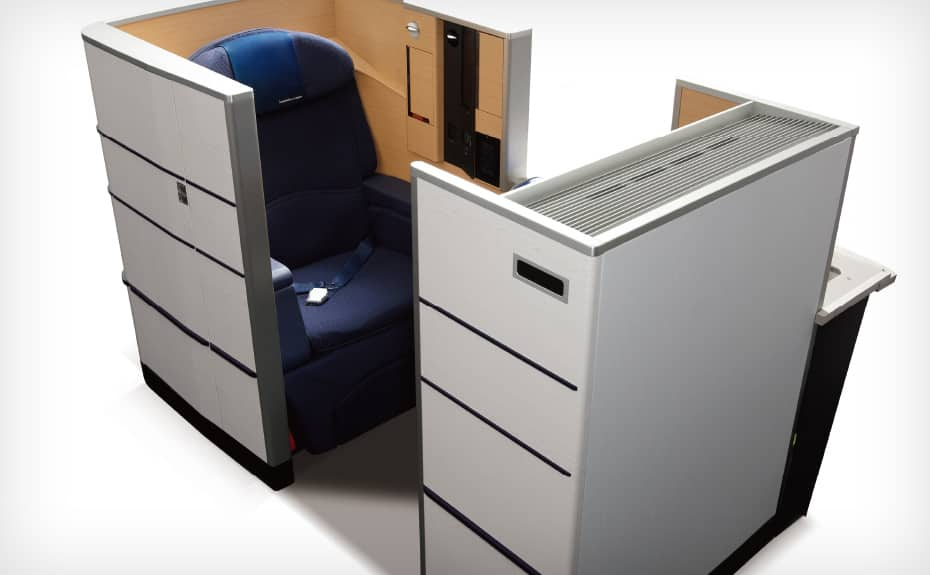 And here's the First Class seat IRL. The high walls of the suite provide serious privacy, and although the seat is finished in cloth rather than leather, it doesn't really affect the comfort factor.
I was greeted by the chief pursuer at the door and escorted to my seat, 1F. She was bubbly and probably the very definition of lao chio. After introducing herself and the flight time for today, she looked super apologetic and said-
"Unfortunately Mr Wong, you are the only passenger in First Class today."
I blinked. She was either having difficulty with syntax, or believed that I was the type who relished the contact of other human beings. I assured her I would endeavor to survive this disappointment and set about taking photos like there was no tomorrow.
Normally when I board an aircraft it is a mad rush to snap as many photos as possible before the cabin fills up and people (A) get in the way of my photos or (B) believe that taking photos is somehow a great threat to aviation security and start getting tetchy. But today I was having a veritable pick of the litter in terms of shots and angles.
I'm sure that more than adequately covers all the seat photos you need. Suffice to say that the 1-2-1 layout of the 8 seats, the high walls of the suite, the width and the legroom afforded are all excellent.
But just in case that's not enough, here is the user's manual. That's right, they provide a user's manual at every seat.
The seat has a ton of useful storage spaces. Here's a holder just for your reading glasses.
There is a small storage closet where you plug in your headphones.
Here are your usual assortment of charging ports (only 1 USB port though, boo)
IFE wise they were still using one of the older systems. Although I'm not a big fan of the new touchscreen IFE interface that SQ has because it's prone to hanging.
The seat controls are all digital on this mini detachable wall tablet here. The only thing that is perhaps slightly confusing is that it's not immediately apparent how you adjust the seat outside of the 3 preset modes. You click the bottom right "Adjuster" and you'll get a menu that lets you recline at whatever angle you wish.
There are even separate buttons to control the light around your feet.
There was a variety of goodies waiting for me at my seat. ANA has its usual excellent Sony noise cancelling headsets for First Class passengers (spoiler alert: SQ has upgraded from Bose QC15s to QC25s in First Class, look out for that in the return Suites trip report)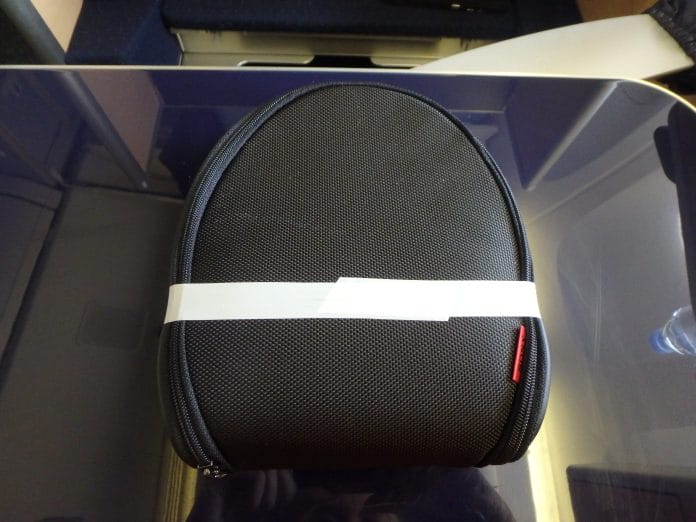 A sleeper suit was also offered. There is actually both a cardigan and a set of PJs (top and bottom). ANA doesn't have a branding tie up for their PJs (like CX and Shanghai Tang for example) but the PJs are still top notch.
There was also an amenities kit by Samsonite. The crew comes by with a basket and lets you pick out additional amenities above and beyond whatever you already have in the kit. I wanted to keep the kit intact for a giveaway, so I got an extra eye mask, earplugs, toothbrush, leg refreshing sheet (this has to be a Japanese thing because I had no idea what they were used for), socks and 2 of the lip balms (they're Shiseido branded and really good)
Now I'm personally fine with Samsonite, but there was a big hoo hah on the travel bloggersphere when ANA replaced their old Rimowa kits. Here's a photo of what the amenities kits used to look like a few years ago.
The chief pursuer came back with a selection of magazines. I always find magazine selection on aircraft to be a very pressurizing decision. On the one hand, I would very much like to indulge in the mindless hedonism of Men's Health. On the other, I feel my choice of reading material is highly self-reflective.
I decided in the end on the selection above, choosing Time Magazine in particular because I love its kid friendly approach to adult issues.
The captain came on the PA to welcome everyone aboard NH12 to ORD airport. The flight time would take approximately 11 hours and clear skies were expected.
I settled in very contently and took a look at my connecting UA flight to remind myself of the intransigence of luxury. Seeing United and "FY" never seemed more appropriate…
After takeoff the crew came by with the menu. I've found ANA's catering to be excellent (but then again, Japanese are so proud of their food culture it's hard to imagine anything else)
The drinks list was spearheaded by an old favourite…
And there was an excellent snack menu with many options. This is where ANA is head and shoulders above SQ, in my opinion. Even in First Class SQ's snack selection is limited to a few prepackaged items and instant noodles.
Before proceedings started, the champagne was brought out.
And after pouring, it was time to start with the accompaniment to the aperitif.
Now, it could be that I'm something of a slack jawed yokel, but I just couldn't figure out what the amuse bouche was supposed to be.
So here is supposed to be "Dressed scallops and dried sea lettuce with yuzu citron pepper, burdock roots rolled with conger eel, smoked salmon trout mousse with broccoli flavor and soft dried beef rolled with watermelon radish", but for the life of me I could not figure out which was which.
In any case I wasn't big on the flavours. I'm sure this is a carefully thought through and conceptualized dish and a non-Philistine would be able to enjoy it, but i sort of mashed it up and moved it around so the crew would know I was done with it.
The next course had salt-steamed sea urchin, simmered abalone in soy sauce, Japanese tiger prawn sushi, grilled beef and Japanese leek with teriyaki sauce and simmered Akita Nikaho-shi fig in grape juice. Again, lovely plating, dainty eats, but at this point I wish I had just gone with the Western selection.
Fortunately, the next course was a bit more familiar to my tastebuds- a surf clam sopu and prawn fishcake
After which some seared bonito was served.
We finally made it to the main course.  This featured simmered herring and eggplant in soy sauce, dried maitake mushroom, kombu kelp with herring roe and red king crab meat and steamed Greenland halibut. The fish was amazing. How ANA manages to get a delicate fish to hold up so well in the air is beyond me. There was also excellent Japanese rice to go with it.
For desert I went with the fruit platter. Most of the fruit was so-so, but I realised in the top left hand corner- could it be?
It was muskmelon, the real king of fruits that I had been hankering for ever since I tasted a small piece back in Singapore. At a $150+ price point back home, it's certainly out of my budget, but if you remember my RTW trip report I managed to get a mid range melon at about $50 during my pop out from the airport in NRT. That melon was orgasmic.
Back to the present. After telling them how much I loved Japanese melon, the crew were more than happy to give me the rest of the melon they had on board. It's probably a bit telling of how expensive this is that they only load 4 pieces in total on board.
Heaven.
Oh, I got some B&J vanilla ice cream too.
And some pralines.
After the meal I went to the bathroom to freshen up while the crew prepped the bed. ANA has probably gone the conventional route with their loos. Nothing fancy (apart from the bidet, which is any way mandatory on all Japanese airlines) regular sized loos with a nice selection of amenities. Will Emirates and Etihad continue to be the only ones crazy enough to put a shower onboard?
The crew were waiting to take my clothes after I'd changed into PJs. There were 2 bottles of Evian waiting at the made up bed, which is every bit as comfortable as it looks.
You'll note that the bed is really private- from the side it's very difficult to look in.
I slept a solid 6 hours and woke up for a snack. Here's the fried chicken, ramen and chicken rice bowl from the snack menu.
After eating, I went for another nap only to have to wake up again for breakfast before landing. It's a hard life.
Breakfast was a more simple affair- just one tray with fish, rice and soup.
I found the fish to be way too bony, but the crew managed to get a different kind of fish from somewhere in the galley.
I don't need to say how amazing the service was because every interaction with the crew was a pleasure. It's also the small things- I had some coins in my jeans pocket which I guess must have fell out when the crew took my clothes to hang them. They put the coins in a small ziplock bag and brought them over. They also gave me a set of ANA postcards just before landing. 
We landed on time in ORD, where I had about 2.5 hours to connect to my United flight to EWR. Given that I had my APEC card, I wasn't really concerned about immigration queues but there weren't any in any case.
When it comes to First Class, ANA's overall product is definitely up there with the best of the best. The food, the service, the seat all make for an amazing experience. If you're into Lifemiles, you will be happy to know that ANA F space is frequently available (99,000 miles from Singapore to USA, one way. Not bad considering SQ would run you 93,750 at the saver award level, if available. Much fewer surcharges through Lifemiles though, I paid maybe $60-70 in total)
After that amazing experience with ANA, it was time to snap back to reality and that started by visiting the United Club in Chicago's domestic terminal…