The Milelion's RTW Trip 2016: Trip Planning
Introduction: Around the world in 28 days
EVA Air B77W Business Class Singapore to Taipei
EVA Air B77W Business Class Taipei to Los Angeles
Silvercar LAX
Avenue of the Arts Costa Mesa
Sheraton Gateway Los Angeles
United A319 First Class Los Angeles to Mexico City
Le Meridien Mexico City
United A319 First Class Mexico City to Houston
United B767 Business Class Houston to Sao Paulo
Sheraton Sao Paulo WTC
South African Airways A330  Business Class Sao Paulo to Johannesburg
Hilton Sandton
Ten Bompas Johannesburg
Turkish Airlines A330 Business Class Johannesburg to Istanbul
Turkish Airlines A319 Business Class Istanbul to Zagreb
Westin Zagreb
Croatia Airlines A319 Business Class Zagreb to Frankfurt
Lufthansa First Class Terminal Frankfurt
Lufthansa A330 First Class Frankfurt to Riyadh
Four Points Riyadh
Air India B77W Business Class Riyadh to Mumbai
St Regis Mumbai
ANA B787 Business Class Mumbai to Tokyo
Asiana A330 Business Class Tokyo to Seoul
Westin Chosun Seoul
W Walkerhill Seoul
Asiana B744 Business Class Seoul to Tokyo
ANA B787 Business Class Tokyo to Singapore
---
I realise there were supposed to be two intervening trip reports between the St Regis Mumbai and the flight to Seoul where I go from Mumbai to Varanasi. However, my SD card crashed on me and I have lost all evidence of ever flying with Spicejet and Indigo. Which is a shame, because those two budget flights were way better than Air India. I'm trying to get the data recovered but apparently even the experts can't do it. If anyone wants to step up and be a hero now is the time.
TL;DR version, after returning to Mumbai from Varanasi I stayed one more night in the St Regis, and then it was time to head over to Seoul for the final site visit of my business trip. I'd been to Seoul before, technically, if you count the 90 minute layovers in Incheon en route to San Francisco. This would be my first time exploring the city and although I'm not the biggest fan of Korean food (I know, I know) I am the biggest fan of Korean women.
Star Alliance offers two direct options from BOM-ICN, but the Asiana flights would be on their A330s with angled lie flat seats and the less said about Air India the better.
It's hard to believe that Asiana commands a 5 Star rating on Skytrax (and yes I know Skytrax rankings are more rigged than FIFA) when it doesn't even have full flat seats on many of its long haul routes.  I can almost picture myself sliding off the seat in this photo.
Given that it was a red-eye flight, I would much rather take the long way via Tokyo on ANA's 787s with their excellent full flat product.  Besides, the 787 is an awesome plane to fly. It's quiet, your skin doesn't get as dried out, the button-dimmed windows are really cool. Yes, it meant a 4 hour layover in Tokyo, but since when has that stopped me?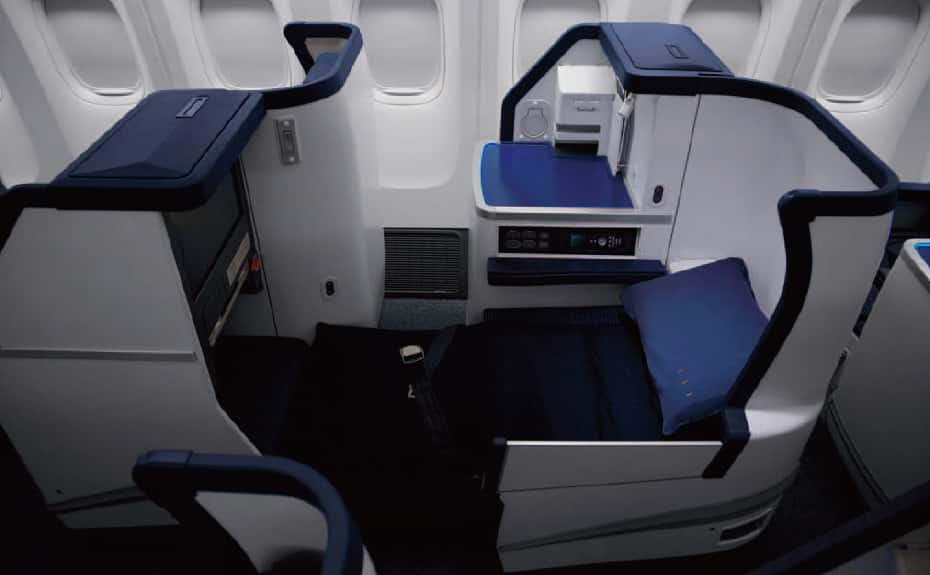 It was about a 40 minute drive from the St Regis to the airport. When I first came to Mumbai in 2013 to start my job, the old airport was still in use. This was a sad, depressing place of dimly lit corridors, long queues at security, leaking bathrooms and a lingering smell of dank.
The new terminal, on the other hand, is a truly beautiful work of art. Think of high ceilings, lots of natural light, artwork everywhere
The difference between the old and new terminal is night and day. While I would dread going to the old airport, the new airport is actually a place I wouldn't mind spending a bit more time.
A quick primer on the lounge situation in Mumbai International Airport. When the airport was being constructed, the airlines were told that there would not be individual airline lounges like in the old airport. Instead, there would be one large lounge that all airlines would use.
Well technically that did and didn't happen. There is one large lounge and it's very good. But there are also a couple of smaller lounges that airlines send their riff raff to. If you're flying Singapore Airlines and you're a Star Gold member in economy, you get the "Loyalty Lounge", a sad, sad place with nothing but harsh florescent light, a poor selection of food and no alcohol. Thanks for your loyalty, guys! (The reason for this, obviously, is that SQ needs to pay a higher reimbursement rate to the airport for use of the good lounge than the "Loyalty Lounge". To be fair, I don't think this practice is confined to SQ)
I realise the above publicity photos aren't the best illustration of my point. But trust me, the place looks dark in real life. And when you see the good lounge you'll sing a different tune.
We checked in 2 hours ahead of departure. I have photos of the check in desk and architecture of the airport, but those died along with my SD card. I realised something was wrong when the camera refused to read the card anymore. I hurried out and bought a new card at duty free so I could continue taking photos.
Here's the entrance to the good lounge, the GVK lounge. I suspect I'll have an opportunity to review the crap lounge sometime soon, so stay tuned for that…
The lounge is actually one floor below the entrance floor. So once you enter you take a left and an elevator one floor down. On the right of the entrance is the first class area, something I've not experienced before (and would be very keen to read a trip report about)
The architecture of the business class lounge is very nice. It fits very organically with the design of the airport as a whole, with lots of natural light.
There were big screens in the lounge showing departure times. As you can see, it gets pretty busy in Bombay at night…
There are 2 separate bar areas in the lounge serving a limited selection of liquor. Champagne is not available but Chandon sparkling wine is (protip: don't bother. I mean I can't tell Dom from Moet, but I can tell Chandon from champagne)
Elsewhere, there is ample seating throughout the lounge with plenty of natural light and views of the tarmac.
At the far end of the lounge you'll find a sit down dining area and buffet
The spread is a mixture of hot and cold items. You could find fresh cut fruit
The usual assortment of salad
An assortment of prunes, nuts, dates and other small bites
Sandwiches, wraps and mini burgers. They called them "sliders" but I refuse to call just any mini burger a slider. Especially when it's cold and uses processed meat.
Deserts and cakes were available too
On to the hot items. Apologies for the photos, but I'm no Ansel Adams.
Because I am horrible at taking photos in any sort of light, here's a photo of a plate I assembled. There is pasta, some sort of chicken, some battered prawns and the delightfully named "Manchurian Noodles". Welcome to Indianized Chinese food. Try 2 years of that and let me know how that goes with you.
There is a relaxation area at the far end with some reclining chairs and a big green wall.
One of the best things about this lounge (and probably why the reimbursement rate paid by airlines is high) is that they have a full service spa inside. Passengers get a complimentary 15 minute treatment with the option of extending to a 30 or 45 minute block for an upcharge.
The treatment area is nice and quiet, with a lush green wall.
As for the massage- it did the job. It's not the same as the spa in the Etihad lounge of course. I remember in that spa for a foot massage you lay down on a proper treatment table and they dim the lights and play music. That's outstanding for a 15 min treatment. This wasn't anywhere near that but still pretty darn good.
After the massage I decided to take a quick shower before getting on the red-eye flight. The showers are located just next to the spa and I was given the full compliment of amenities
Shower rooms were spotlessly clean and had their own loo too. I still can't get over the fact that SQ's flagship First Class lounge in Singapore has not built individual shower cubicles (they're currently located within the toilet itself). Come on guys, get with the times.
Boarding was about to start but before I left the lounge I snapped a few miscellaneous photos of the business center. No shortage of power plugs here! Printing facilities were also appreciated
We would be departing from the far end of Mumbai's new terminal today. This is the same general area that SQ flights depart from, around gate 74. There was a special queue for business class which was empty when we got there.
Boarding was orderly and quick and I was back in one of my favourite business class cabins. Unlike Asiana, I firmly believe that ANA deserves its five star ranking.
ANA has a full flat 1-2-1 configuration in business class, although given the design of the 787's cabin it can be 1-1-1 in some rows.
This 1-1-1 creates a throne seat in the middle that is super private with 2 armrests. See the photo below. You can store a ridiculous amount of personal items in the space.
Versus the regular seats which only have 1 armrest. There's still plenty of storage space even with one armrest.
The seat is awesome because there is a lot of privacy and you can recline it to any degree you wish. Versus SQ's where you only have a very narrow range of recline or go full flat. Seats also had a very large amount of legroom.
Now we do the usual seat feature rundown (I keep thinking: is there a better way of doing a trip report? They're all pretty standard. Initial impressions of the seat–> seat features–> menu–> meal–> loo–> seat in reclined position–>last thoughts. But it works pretty well for onemileatatime, so…)
ANA has not upgraded to the latest generation of IFE controllers and I'm glad. I think SQ's touchscreen controllers hang way too often. It's an example of an innovation not really needed . I don't see what having a second screen helps.
Seat controls are simple enough and allow you to specify whatever angle you want to recline at.
The tray table is under the TV and slides out in front of you after you release the latch. It's huge and gives plenty of space for both your meal and barang barang.
ANA provides a very high quality pair of noise cancelling headphones by Panasonic. Again, I prefer using my own, but these delivered very solid performance.
Slippers were provided (they're mandatory on any flight by an Asian airline, but even more so for a Japanese one). However, despite this being a red-eye the sleeping pad was not given. I thought this was disappointing given that I got the sleeping pad on a similar duration flight from NRT-SIN.
Each seat has a reading light. In general the ambient lighting is very good. You can press a button to get Tron-esque lighting around your seat.  Very subtle.
There's also a literature pocket.
And the usual assortment of ports.
I popped into the bathroom to change into sleeping attire before the flight took off. I love the bathrooms on the 787 because they all have a window view and no-touch flushing technology (just wave your arm). ANA's bathrooms go one step further, adding bidets. Because Japan.
No amenities kit was provided on this flight (ANA doesn't give out amenities kits in business class) but the toilet was well stocked with the essentials. Anyone want to tell me what a face and body sheet does?
When I got back to my seat I was offered a selection of magazines.
Takeoff was on time, which is surprising for a busy airport like Mumbai.  We quickly got up to cruising attitude and the crew prepared the cabin for dinner service.
I was particularly intrigued to see the food because I've found the catering out of BOM to be very poor quality. Given how obsessive the Japanese are about what they eat, I was curious to know if ANA could enforce their strict standards at their outstation locations.
I was debating between the international and the Japanese menu. I decided to go for the international menu on this and try the Japanese menu on the trip from NRT back to SIN later on. The international menu, after all, was a collaboration with The Taj Mahal Palace in Mumbai and I was intrigued to see if the BOM station could do a good butter poached lobster.
Drinks were served before dinner. I always wondered why airlines never used the traditional champagne flutes in the air, and this seems to explain why (also I think the flute design might contribute to a more fragile glass, not a good idea for the cramped confines of the cabin)
The champagne on this flight was from a champagne house I'd never heard of before- Canard Duchene. Shows what I know, because it's actually one of the grandes marques, or the premier league of champagne. Maybe I should just stick to drinking moscato.
I've never been a fan of the amuse bouches (bouchi?) that ANA serves. I usually find it very puzzling, and this selection of scallop and pine nuts salad, two kinds of olives and caper berry to be no exception.
The appetizer of chicken and prune roll with yellow pepper sauce and marinated prawn with wasabi mayonnaise was a bit better.
The main did not disappoint. I requested for steamed rice because I knew no self-respecting Japanese airline would ever condescend to serve anything other than Japanese rice. I guess they must import this from Japan specially, probably at great expense. But the rice was fluffy and sticky and much better than basmati.
Oh, right, the lobster. The lobster was on the small side, as you might expect, but very tasty. I'm not a fan of figs so I'm surprised the fig sauce with polenta wasn't too offensive. The mushroom ragout was excellent, like a dry version of mushroom soup (does that make sense?)
I did not fancy anything on the desert cart so just had some fruit.
After dinner it was time to explore the IFE. ANA's system is simple enough to use.
The movie selection was surprisingly small, quite disappointing actually.
The list is actually deceptively long because they list 2 entries for different soundtracks of the same movie. So Olympus is Fallen (Chinese) gets one listing, as does Olympus is Fallen (Portuguese)
Gerard Butler still sounds equally unintelligible in both versions. And every time I look at him I can't help but think of SPARTAAAAAAAAAAAAAAAAA
Bottled water was distributed. ANA doesn't offer branded water (not that I care), it seems like theirs was all sponsored by some company called Toray.
There was a good sized snack menu too  to pick from.
Before I went to bed I had to order the famous Ippudo ramen. I know there is better ramen out there (go to Holland Village and try Yoshimaru. You won't regret it), but Ippudo sets a decent standard. ANA made a big hue and cry when they launched it.
I was wondering how the noodles would hold up in the pressurized environment of the cabin. Apparently the noodles used in the ANA cabin are different, perhaps reflecting the unique constraints of cooking in a galley –
In the second year of this project, ANA and Chikara no Moto took up the challenge of jointly developing Full Flavor "Daichi ramen noodles". No meat is used in producing these noodles. Instead, soybeans are used to create a topping with the texture and flavor of meat, making the ramen even healthier. The noodles used in the dish are also unique, as they are cut into flat strips.
I thought it was passable. The noodles were a bit too cooked for my liking but that was more an issue in execution rather than design. I requested they don't put vinegar in it and that was honored. On the ground I'd say it was bad, but somehow dining at 37,000 feet excuses basic culinary mistakes.
I put the bed all the way down. Well not really, more like 170 ish degrees. I've found that the 180 degree recline causes a lot of strain on my lower back, but I'm probably just weird that way. The bed was very comfortable, even if the sleeping pad wasn't provided. I simply got another blanket and laid it over the seat.
The throne seat feels particularly cozy (or claustrophobic if you don't like that kind of thing) because you've got high walls on both sides of you. I slept for about 4 hours and awoke when it was time for landing.
Call me crazy but I actually was ok with them not doing a second meal service before landing. On not quite short not quite long flights like this it's all about maximising sleep. I know some may say "well they should offer it at least but you don't need to take it". That's true, but it's hard to sleep when the lights come on and there's a lot of movement around the cabin while the crew prep for the meal.
We landed on time at Narita and headed on to the ANA lounge to wait for the connecting flight to Seoul.