SingSaver is running a GSS sale on Standard Chartered (SCB) credit cards for three consecutive days from 25 to 27 June. The following cards are eligible:
Standard Chartered Unlimited
Standard Chartered Spree
Standard Chartered Rewards+
Standard Chartered Visa Infinite
The first 15 successful new-to-bank applicants from 9 a.m each day will receive $400 cash from SingSaver- that's a total of 45 x $400 cash prizes. The 16th and onwards successful new-to-bank applicants will receive $100 cash, so no one goes home empty-handed.
In addition to the cash, all new-to-bank applicants for the Unlimited, Spree and Rewards+ can get $100 instant cashback from Standard Chartered just by activating their card, without needing to spend anything.
Apply for an SCB card here and get up to $400 cash + $100 cashback
FAQs: Link 
T&Cs: Link
A new-to-bank applicant is defined as one who does not have any existing or previously cancelled Standard Chartered principal credit cards in the past 12 months.
How does it work?
Step 1: At 9 a.m sharp on 25, 26 or 27 June, click on the apply button on this special landing page. Fill out your email address and click "confirm".
Step 2: You'll then be redirected to the SCB website, where you'll fill out your application as per normal.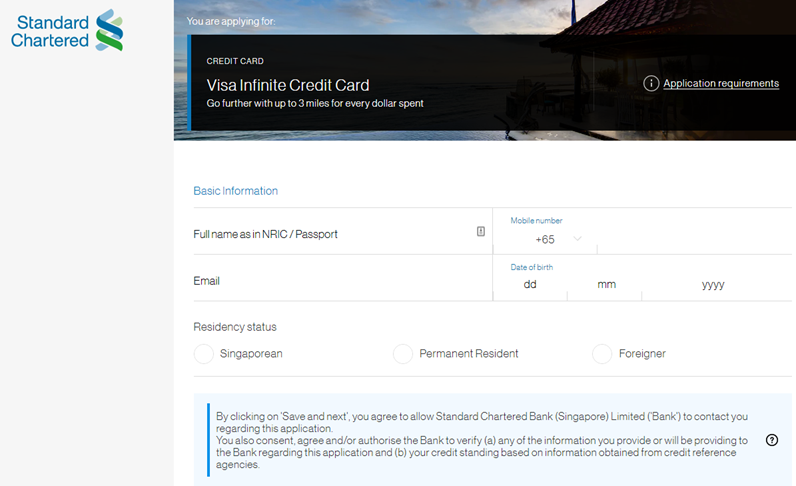 Step 3: At the end of the process, you'll get a reference number from the SCB website. Check your email for the SingSaver rewards form.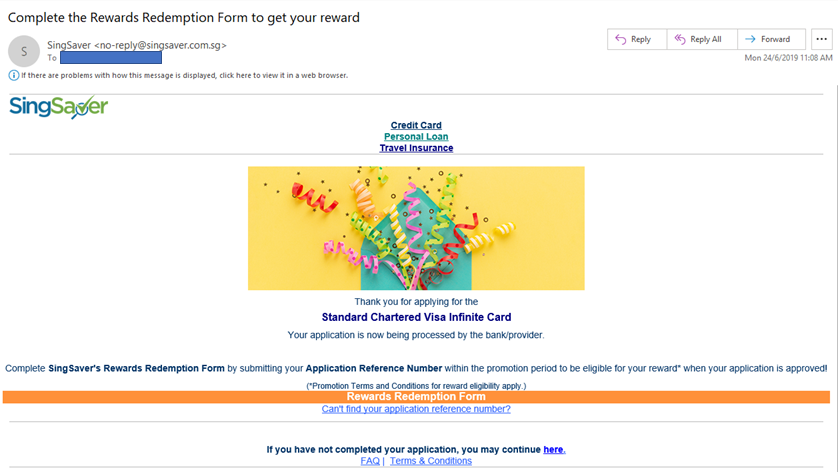 Step 4: Click on the orange button, fill out your details and reference number, and you're done!
Other points to note
The winners are based on the first 15 successful new-to-bank applicants who hit the "Confirm" button on the Rewards Redemption Form each day (pro-tip: using SingPass MyInfo will help you save a lot of time, plus you'll get your card approval and issuance instantly)
To avoid confusion, note that you can only start your application (defined as submitting your email address in Step 1) at 9:00:00 am. The system takes a time stamp of when each email address is submitted, so anyone who begins before that time will not be eligible to win.
Winners will be notified by 28 Sept 2019 and published on SingSaver's social media pages. Each person is only entitled to win a maximum of one $400/$100 cash gift.
Which card should I apply for?
Here's a rundown of the key details of each of the eligible cards:
Income Req

Annual Fee

Key Features

SCB Visa Infinite
Officially $150K, but possible to get with $80K+

$588.50

1.4/3 mpd on local/overseas spending (>$2K p.m).

1.0 mpd otherwise
6 complimentary lounge visits
35,000 miles upon approval
SCB Rewards+

$30K

$192.60 (2 years free)

1.45 mpd on local dining, 2.9 mpd on overseas spend (capped 20K bonus points per year, ~$2.2K FCY/$5K dining)

SCB Spree

$30K

$192.60 (2 years free)

2% cashback on local online spend and contactless payments, 3% cashback on FCY online spend. Total cashback capped at $60 monthly

SCB Unlimited

$30K

$192.60 (2 years free)

1.5% cashback on everything, no cap
The one card I'd be looking at for this promotion is the SCB Visa Infinite. Assuming you managed to get the $400 cash, you'd be paying $188.50 for 35,000 miles, or just 0.54 cents each. Even if you only got the $100, you'd be paying a price of 1.40 cents each, which is great value given the value of a KrisFlyer mile.
Conclusion
If you're a new-to-bank applicant, the worst you'd walk away from this is with $100 cash + $100 cashback (if you apply for the Spree, Unlimited or Rewards+), which is none too shabby.
Be sure to set a calendar reminder for 9 a.m on the day of your choice!