KrisFlyer Spontaneous Escapes for January 2020 have been announced, with 30% off selected Singapore Airlines and SilkAir flights.
View this month's Spontaneous Escapes here
All Spontaneous Escape awards must be booked and ticketed by 31 December 2019 and are for travel between 1-31 January 2020 (both dates inclusive, blackout dates apply). This gives you 15 days to book, on par with what we historically see.
Ground Rules of Spontaneous Escapes
Tickets cannot be changed or cancelled. Be sure about your travel plans or buy a travel insurance policy that covers miles bookings

Tickets must be booked online; no phone bookings are permitted

Cannot be used in conjunction with the $100 stopover trick

Discounts may apply in one direction only e.g. SIN-BKK may be on discount but BKK-SIN may not. Be sure to read the offers carefully

You must ticket your award during the promotion period. If your waitlist clears after the promotion period ends, you'll pay the regular price

Blackout dates apply. If you're not seeing discounts, this may be why

Your travel must be completed within the Spontaneous Escapes promotion period to qualify. For example, if you fly on the last day of the month but land on the first day of the following month, no discount applies
Remember that the discount will only appear once you've clicked on the selected award
32 destinations on offer for January 2020
January 2020 features 32 destinations in total (I count Tokyo Haneda and Tokyo Narita as two separate destinations, and exclude 5th freedom flights), which is lower than average compared to previous months. Just like last month, we're seeing relatively fewer destinations on offer given it's peak travel period for people in Singapore.
Data nerd? Check out 26 months of historical Spontaneous Escapes pricing
here!
Here's the summary of what's available for SIA and SilkAir in January 2020:
What's good this month?
Dusseldorf is available again in Business Class from mid-January onwards, so my advice last month still holds if you want to see winter in Europe. Istanbul makes a rare appearance, but only in Economy and Premium Economy Class. There's nothing to Australia, and only options from Adelaide and Darwin, making it hard to hack a trip to the Australian Open.
Here's my thoughts on this month's destinations.
Early January getaway to Bali (or the Maldives?)
If you fancy taking the first week of January 2020 off, then a discounted Business Class award to Bali may hit the spot at 26,600 miles round-trip. Do note that your return flight from Bali to Singapore must be 7 January or later.
You'll be able to try Singapore Airlines' 2018 Regional Business Class seat on this route with SQ942 and 946. I flew on this route for the first part of my honeymoon, and although the flight is short, it's enough for a quick meal, a short movie and a brief nap.
Unfortunately, beyond Bali there aren't really many options for a regional getaway. Bangkok isn't on the list, nor Ho Chi Minh, nor Phuket, nor Koh Samui. You could do Penang, which has availability for the early part of January, if that floats your boat.
The other option is Male, because January is a great time to visit- hot, sunny days with excellent water visibility. There aren't any Business Class awards, sadly, but 25,900 for a round-trip Economy Class ticket might be good for those trying to stretch their miles. Spontaneous Escapes awards are available for the whole of January.
South Korea and Japan, if you're not afraid of the cold
I sleep with the air conditioning close to 16 degrees, so it's safe to say I fear no cold. If you feel the same way, then rejoice because Seoul, Fukuoka, Tokyo, Nagoya (to Singapore only), and Osaka are all available in Business Class.
The first week of January is mostly blocked out, but from the second week onwards things open up. I hear the January weather in Tokyo is 2-10°C, so pack (or shop) accordingly. You'll find a mixture of aircraft plying the routes to Japan, including the 2013 Business Class seat.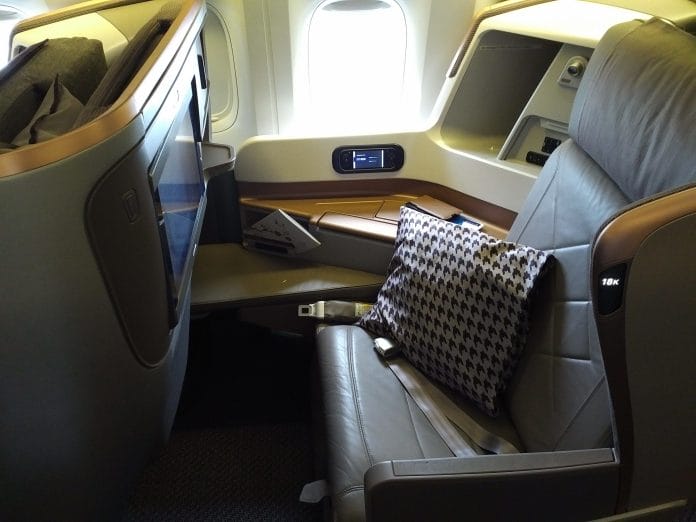 SilkAir Business Class options available again, but don't expect much
Just like last month, SilkAir is offering both Business and Economy Class awards again (most of the times it's just Economy). However, I wouldn't consider redeeming my miles for their current Business Class products.
Until Singapore Airlines fully integrates SilkAir and refits their aircraft with full-flat Business Class seats, you're going to encounter tired, uncomfortable recliners that are well past their prime. The ergonomics are terrible, and it's really not much better than Economy.
We do know that Singapore Airlines has used the enforced downtime on the B737 MAX 8 to paint some of them in SQ livery, and this shot of 9V-MBN gives some hope we may see the new narrowbody products soon.
Conclusion
Slim pickings for January 2020, but if you've found a destination you're heading to anyway, then this is a great way of stretching your miles, especially if you're traveling with family. Remember to ticket your awards before 31 December!
Here's the full list of destinations available (best viewed on desktop):
Singapore Airlines
South East Asia
| FROM | MILES REQUIRED FOR ECONOMY CLASS | FLIGHT NO. | BLACKOUT PERIOD | MILES REQUIRED FOR BUSINESS CLASS | FLIGHT NO. | BLACKOUT PERIOD |
| --- | --- | --- | --- | --- | --- | --- |
| Singapore to Kuala Lumpur | 5,250 | SQ106, SQ112, SQ116, SQ118 | 22 – 25 January 2020 | 13,300 | SQ106, SQ112, SQ116, SQ118 | – |
| Kuala Lumpur to Singapore | 5,250 | SQ107, SQ113, SQ117, SQ119 | 25 – 29 January 2020 | 13,300 | SQ107, SQ113, SQ117, SQ119 | – |
| Singapore to Jakarta | 5,250 | SQ950 | 1 – 10 January 2020 | – | – | – |
| Jakarta to Singapore | 5,250 | SQ951 | – | – | – | – |
| Singapore to Surabaya | 5,250 | SQ930, SQ932 | 1 – 10 January 2020 | 13,300 | SQ930, SQ932 | 1 – 10 January 2020 |
| Surabaya to Singapore | 5,250 | SQ931, SQ933 | – | 13,300 | SQ931, SQ933 | – |
| Singapore to Bali | – | – | – | 13,300 | SQ938, SQ942, SQ946, SQ948 | – |
| Bali to Singapore | – | – | – | 13,300 | SQ939, SQ943, SQ947, SQ949 | 1 – 6 January 2020 |
| Singapore to Hanoi | 8,750 | SQ188 | – | – | – | – |
| Hanoi to Singapore | 8,750 | SQ187 | 27 – 31 January 2020 | – | – | – |
North Asia
| FROM | MILES REQUIRED FOR ECONOMY CLASS | FLIGHT NO. | BLACKOUT PERIOD | MILES REQUIRED FOR BUSINESS CLASS | FLIGHT NO. | BLACKOUT PERIOD |
| --- | --- | --- | --- | --- | --- | --- |
| Singapore to Seoul | 17,500 | SQ600, SQ602, SQ608, SQ612 | 23 – 28 January 2020 | 32,900 | SQ602, SQ608, SQ612 | – |
| Seoul to Singapore | 17,500 | SQ609, SQ603, SQ607, SQ611 | 1 – 12 January 2020, 22 – 24 January 2020 | 32,900 | SQ603, SQ607, SQ611 | 1 – 5 January 2020 |
| Singapore to Fukuoka | 17,500 | SQ656 | 1 – 6 January 2020, 23 – 26 January 2020 | 32,900 | SQ656 | 1 – 5 January 2020, 23 – 27 January 2020 |
| Fukuoka to Singapore | 17,500 | SQ655 | 1 – 5 January 2020 | 32,900 | SQ655 | 1 – 6 January 2020 |
| Singapore to Tokyo | 17,500 | SQ630, SQ632, SQ634, SQ636, SQ638, SQ12 | 1 – 7 January 2020, 22 – 26 January 2020 | 32,900 | SQ630, SQ634, SQ638 | 1 – 7 January 2020, 22 – 26 January 2020 |
| Tokyo to Singapore | 17,500 | SQ631, SQ633, SQ635, SQ639, SQ637, SQ11 | 1 – 12 January 2020 | 32,900 | SQ639 | 1 – 6 January 2020 |
| Nagoya to Singapore | 17,500 | SQ671 | 1 – 6 January 2020 | 32,900 | SQ671 | 1 – 7 January 2020 |
| Singapore to Osaka | 17,500 | SQ618, SQ620, SQ622 | 2 – 7 January 2020, 22 – 26 January 2020 | 32,900 | SQ618, SQ620, SQ622 | 2 – 5 January 2020 |
| Osaka to Singapore | 17,500 | SQ619, SQ621, SQ623 | 1 – 7 January 2020 | 32,900 | SQ619, SQ621, SQ623 | 1 – 5 January 2020, 10 – 12 January 2020 |
| Singapore to Hong Kong | 10,500 | SQ890, SQ860, SQ856, SQ866, SQ872, SQ868 | 28 – 31 January 2020 | 21,350 | SQ890, SQ860, SQ856, SQ866, SQ872, SQ868 | 28 – 31 January 2020 |
| Hong Kong to Singapore | 10,500 | SQ857, SQ891, SQ863, SQ861,SQ865, SQ871 | 21 – 27 January 2020 | 21,350 | SQ857, SQ891, SQ863, SQ861, SQ865, SQ871 | 21 – 27 January 2020 |
South Asia
| FROM | MILES REQUIRED FOR ECONOMY CLASS | FLIGHT NO. | BLACKOUT PERIOD | MILES REQUIRED FOR BUSINESS CLASS | FLIGHT NO. | BLACKOUT PERIOD |
| --- | --- | --- | --- | --- | --- | --- |
| Singapore to Ahmedabad | – | – | – | 27,300 | SQ530 | 1 – 5 January 2020 |
| Ahmedabad to Singapore | – | – | – | 27,300 | SQ531 | 1 – 5 January 2020 |
| Singapore to Kolkata | 12,950 | SQ516 | 1 – 6 January 2020 | 27,300 | SQ516 | 1 – 5 January 2020 |
| Kolkata to Singapore | – | – | – | 27,300 | SQ517 | 1 – 5 January 2020 |
| Bangalore to Singapore | 12,950 | SQ502, SQ504 | – | 27,300 | SQ504 | – |
| Singapore to Mumbai | 12,950 | SQ424, SQ426 | 1 – 6 January 2020 | 27,300 | SQ424, SQ426 | 1 – 6 January 2020 |
| Singapore to Dhaka | – | – | – | 27,300 | SQ448 | – |
| Dhaka to Singapore | – | – | – | 27,300 | SQ447, SQ449 | – |
| Singapore to Malé | 12,950 | SQ452 | – | – | – | – |
| Malé to Singapore | 12,950 | SQ451 | – | – | – | – |
Australia
| FROM | MILES REQUIRED FOR ECONOMY CLASS | FLIGHT NO. | BLACKOUT PERIOD | MILES REQUIRED FOR BUSINESS CLASS | FLIGHT NO. | BLACKOUT PERIOD |
| --- | --- | --- | --- | --- | --- | --- |
| Adelaide to Singapore | – | – | – | 43,400 | SQ278, SQ276 | 1 – 5 January 2020 |
Turkey
| FROM | MILES REQUIRED FOR ECONOMY CLASS | FLIGHT NO. | BLACKOUT PERIOD | MILES REQUIRED FOR BUSINESS CLASS | FLIGHT NO. | BLACKOUT PERIOD |
| --- | --- | --- | --- | --- | --- | --- |
| Singapore to Istanbul | 17,500 | SQ392 | – | – | – | – |
| Istanbul to Singapore | 17,500 | SQ391 | – | – | – | – |
Europe
| FROM | MILES REQUIRED FOR ECONOMY CLASS | FLIGHT NO. | BLACKOUT PERIOD | MILES REQUIRED FOR BUSINESS CLASS | FLIGHT NO. | BLACKOUT PERIOD |
| --- | --- | --- | --- | --- | --- | --- |
| Singapore to Düsseldorf | – | – | – | 64,400 | SQ338 | 1 – 11 January 2020 |
| Düsseldorf to Singapore | – | – | – | 64,400 | SQ337 | 3 – 12 January 2020 |
| Singapore to London | 26,600 | SQ308, SQ318 | 1 – 14 January 2020 | – | – | – |
| London to Singapore | 26,600 | SQ305, SQ317, SQ319, SQ321 | 1 – 14 January 2020 | – | – | – |
| Frankfurt to New York | 15,750 | SQ26 | 1 – 8 January 2020 | – | – | – |
| New York to Frankfurt | 15,750 | SQ26 | 1 – 7 January 2020 | – | – | – |
SilkAir
South East Asia
| FROM | MILES REQUIRED FOR ECONOMY CLASS | FLIGHT NO. | BLACKOUT PERIOD | MILES REQUIRED FOR BUSINESS CLASS | FLIGHT NO. | BLACKOUT PERIOD |
| --- | --- | --- | --- | --- | --- | --- |
| Singapore to Kuala Lumpur | 5,250 | MI320, MI322, MI324, MI326, MI328, MI330, MI340, MI342 | 22 – 25 January 2020 | 13,300 | MI320, MI322, MI324, MI326, MI328, MI330, MI340, MI342 | – |
| Kuala Lumpur to Singapore | 5,250 | MI319, MI321, MI323, MI325, MI341 | 25 – 29 January 2020 | 13,300 | MI319, MI321, MI323, MI325, MI327, MI329, MI339, MI341 | – |
| Singapore to Penang | 5,250 | MI348, MI350, MI352, MI354, MI356 | 21 – 26 January 2020, 31 January 2020 | 13,300 | MI346, MI348, MI350, MI352, MI354, MI356 | 22 – 25 January 2020 |
| Penang to Singapore | 5,250 | MI345, MI347, MI349, MI351, MI353, MI355 | 1 – 2 January 2020, 23 – 31 January 2020 | 13,300 | MI345, MI347, MI349, MI351, MI353, MI355 | 26 – 29 January 2020 |
| Singapore to Surabaya | 5,250 | MI224, MI226 | 1 – 10 January 2020 | – | – | – |
| Surabaya to Singapore | 5,250 | MI223, MI225 | – | – | – | – |
| Singapore to Bandung | 5,250 | MI192 | – | – | – | – |
| Bandung to Singapore | 5,250 | MI191, MI193, MI195 | – | – | – | – |
| Singapore to Bali | – | – | – | 13,300 | MI176 | – |
| Bali to Singapore | – | – | – | 13,300 | MI175 | 1 – 6 January 2020 |
| Singapore to Yangon | 8,750 | MI518, MI520 | 1 – 7 January 2020, 26 – 31 January 2020 | – | – | – |
| Yangon to Singapore | 8,750 | MI519, MI521 | 1 – 7 January 2020, 26 – 31 January 2020 | – | – | – |
| Mandalay to Singapore | 8,750 | MI523 | 2 – 4 January 2020 | | | |
North Asia
| FROM | MILES REQUIRED FOR ECONOMY CLASS | FLIGHT NO. | BLACKOUT PERIOD | MILES REQUIRED FOR BUSINESS CLASS | FLIGHT NO. | BLACKOUT PERIOD |
| --- | --- | --- | --- | --- | --- | --- |
| Singapore to Hiroshima | 17,500 | MI868 | 1 – 9 January 2020 | 32,900 | MI868 | – |
| Hiroshima to Singapore | 17,500 | MI867 | 1 – 5 January 2020 | 32,900 | MI867 | 1 – 5 January 2020 |
South Asia
| FROM | MILES REQUIRED FOR ECONOMY CLASS | FLIGHT NO. | BLACKOUT PERIOD | MILES REQUIRED FOR BUSINESS CLASS | FLIGHT NO. | BLACKOUT PERIOD |
| --- | --- | --- | --- | --- | --- | --- |
| Singapore to Kochi | 12,950 | MI462 | 1 – 5 January 2020 | 27,300 | MI462 | 1 – 5 January 2020 |
| Kochi to Singapore | – | – | – | 27,300 | MI461 | 1 – 5 January 2020 |
| Singapore to Hyderabad | 12,950 | MI472 | – | 27,300 | MI472 | – |
| Singapore to Chennai | 12,950 | MI436 | – | 27,300 | MI436 | – |
| Singapore to Bangalore | 12,950 | MI424 | – | – | – | – |
| Malé to Singapore | 12,950 | MI479 | – | – | – | – |
| Singapore to Kathmandu | 12,950 | MI416 | – | 27,300 | MI416 | – |
| Kathmandu to Singapore | 12,950 | MI415 | – | 27,300 | MI415 | – |
Australia
| FROM | MILES REQUIRED FOR ECONOMY CLASS | FLIGHT NO. | BLACKOUT PERIOD | MILES REQUIRED FOR BUSINESS CLASS | FLIGHT NO. | BLACKOUT PERIOD |
| --- | --- | --- | --- | --- | --- | --- |
| Darwin to Singapore | 14,000 | MI802, MI804 | 1 – 5 January 2020 | 25,550 | MI802, MI804 | 1 – 5 January 2020 |
Singapore Airlines Premium Economy awards
North Asia
FROM

MILES REQUIRED FOR PREMIUM ECONOMY CLASS

FLIGHT NO.

BLACKOUT PERIOD

Singapore to Tokyo

24,150

SQ634, SQ638

1 – 6 January 2020, 24 – 25 January 2020

Tokyo to Singapore

24,150

SQ11, SQ637

1 – 11 January 2020

Singapore to Seoul

24,150

SQ612

–

Seoul to Singapore

24,150

SQ611

1 – 7 January 2020, 22 – 24 January 2020

Singapore to Hong Kong

17,150

SQ860, SQ856, SQ866

28 – 31 January 2020

Hong Kong to Singapore

17,150

SQ1, SQ863, SQ861, SQ865

SQ1: 1 – 6 January 2020, 23 – 27 January 2020




SQ863, SQ861, SQ865: 21 – 27 January 2020

Tokyo to Los Angeles

46,200

SQ12

1 – 14 January 2020

Los Angeles to Tokyo

46,200

SQ11

1 – 18 January 2020
South Asia
| FROM | MILES REQUIRED FOR PREMIUM ECONOMY CLASS | FLIGHT NO. | BLACKOUT PERIOD |
| --- | --- | --- | --- |
| Singapore to Mumbai | 22,400 | SQ424 | 1 – 7 January 2020 |
Turkey
| FROM | MILES REQUIRED FOR PREMIUM ECONOMY CLASS | FLIGHT NO. | BLACKOUT PERIOD |
| --- | --- | --- | --- |
| Singapore to Istanbul | 25,900 | SQ392 | – |
| Istanbul to Singapore | 25,900 | SQ391 | – |
Europe
| FROM | MILES REQUIRED FOR PREMIUM ECONOMY CLASS | FLIGHT NO. | BLACKOUT PERIOD |
| --- | --- | --- | --- |
| Singapore to London | 45,150 | SQ308,SQ318 | 1 – 13 January 2020 |
| London to Singapore | 45,150 | SQ305, SQ317, SQ319, SQ321 | 1 – 13 January 2020 |
USA
| FROM | MILES REQUIRED FOR PREMIUM ECONOMY CLASS | FLIGHT NO. | BLACKOUT PERIOD |
| --- | --- | --- | --- |
| Frankfurt to New York | 32,900 | SQ26 | 2 – 6 January 2020 |
| New York to Frankfurt | 32,900 | SQ25 | 1 – 7 January 2020 |