KrisFlyer Spontaneous Escapes for March 2020 have been announced, with 30% off selected Singapore Airlines and SilkAir flights.
View this month's Spontaneous Escapes here
It has to be said that this is no ordinary period, however. With the Covid-19 spread showing no signs of abating, many people are thinking twice about travelling.
If you're planning to book a Spontaneous Escapes nonetheless, take note that these bookings, by right, are not changeable or refundable. Although Singapore Airlines is making an exception for Spontaneous Escapes booked in January (for travel in February), you should not go into this expecting that they'll do the same for travel in the following month.
All Spontaneous Escape awards must be booked and ticketed by 29 February 2020 and are for travel between 1-31 March 2020 (both dates inclusive, blackout dates apply). This gives you 12 days to book, slightly less than what we historically see (but this is a short month anyway).
Ground Rules of Spontaneous Escapes
Tickets cannot be changed or cancelled. Be sure about your travel plans or buy a travel insurance policy that covers miles bookings

Tickets must be booked online; no phone bookings are permitted

Cannot be used in conjunction with the $100 stopover trick

Discounts may apply in one direction only e.g. SIN-BKK may be on discount but BKK-SIN may not. Be sure to read the offers carefully

You must ticket your award during the promotion period. If your waitlist clears after the promotion period ends, you'll pay the regular price

Blackout dates apply. If you're not seeing discounts, this may be why

Your travel must be completed within the Spontaneous Escapes promotion period to qualify. For example, if you fly on the last day of the month but land on the first day of the following month, no discount applies
Remember that the discount will only appear once you've clicked on the selected award
55 destinations on offer for March 2020
March 2020 features 55 destinations in total (I count Tokyo Haneda and Tokyo Narita as two separate destinations, and exclude 5th freedom flights), which is higher than average compared to previous months.
No doubt load factors have suffered on account of Covid-19, so we're seeing a fairly wide range of destinations despite the March school holidays.
Data nerd? Check out all the historical Spontaneous Escapes destinations
here!
Here's the summary of what's available for SIA and SilkAir in March 2020:
What's good this month?
Before we get into what's good, let me emphasize how important it is to give your travel plans some serious thought before pulling the trigger. If you think there's a chance you may not want to travel should the Covid-19 situation worsen, then you either sit this one out, or buy travel insurance that covers miles and points.
It's no surprise that Singapore Airlines has excluded all mainland China destinations this month (Shanghai and Beijing are usually nailed-on certainties to appear in Spontaneous Escapes)- they hardly want to be seen encouraging people to travel there! Hong Kong and Taiwan are likewise missing.
However, we are seeing quite a few European and Australian destinations, as well as good value opportunities within the region.
Here's my thoughts on this month's destinations.
Some attractive European options
Barcelona, Dusseldorf, Rome and Zurich are all available in Business Class, and although it's not as good as last month's 51% off bonanza, 64,400 miles plus no fuel surcharges is an excellent price to pay for a 12+ hour Business Class flight.
These routes are operated either by B77Ws or the long-range configured A350-900s, which means a chance to try the 2013 Business Class seat.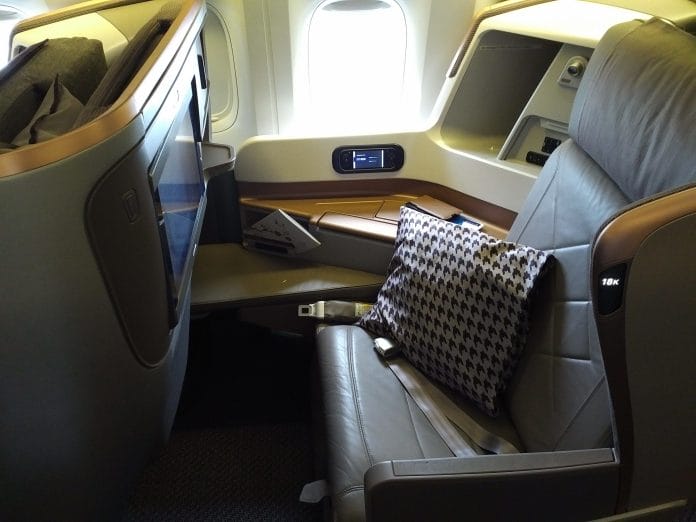 The exception is Zurich, where the A380-800 flight is operated by Singapore Airlines' latest 2017 Business Class. This is still a relatively rare quantity in the SQ fleet, on account of the airlines' glacial rate of refitting.
San Francisco, non-stop
March sees San Francisco popping up on the deals list, and 66,500 miles for Business Class is a fantastic bargain. This is available both to and from the city, on SQ1/2. Do note that this flight will go non-stop from 17 Feb to 28 Mar 2020, as Singapore Airlines seeks to avoid Hong Kong.
This means the flight will be operated by an A350-900 instead of a B77W, but in any case the seat is the same.
Bonanza down under
Sydney, Brisbane and Adelaide are all available in Business Class both to and from Singapore (there's also Canberra, but who wants to go there?). You'll pay just 43,400 miles one-way, and there's a mix of 2013 and 2018 Business Class seats.
Regional getaway?
If you'd prefer to stay within the region, then Bangkok, Koh Samui, Phuket, and Bali are my picks. You'll pay 15,050 miles for one-way Business Class for the first 3, and 13,300 miles for Bali.
If you're lucky, you'll get an aircraft with the 2018 Regional Business Class seat. If you're not, well, at least it'll be short flight on the 2009 Regional Business Class. Learn how to find out about what seats you can expect with this handy guide.
Conclusion
I've decided to do a short trip to Koh Samui in March 2020, so these Spontaneous Escapes have come at a good time. If you're hoping to hop on, remember to ticket your awards before 29 February 2020.
Here's the full list of destinations available (best viewed on desktop):
Singapore Airlines
South East Asia
| FROM | MILES REQUIRED FOR ECONOMY CLASS | FLIGHT NO. | BLACKOUT PERIOD | MILES REQUIRED FOR BUSINESS CLASS | FLIGHT NO. | BLACKOUT PERIOD |
| --- | --- | --- | --- | --- | --- | --- |
| Singapore to Kuala Lumpur | 5,250 | SQ104, SQ106, SQ112, SQ116, SQ118 | – | 13,300 | SQ104, SQ106, SQ112, SQ116, SQ118 | – |
| Kuala Lumpur to Singapore | 5,250 | SQ105, SQ107, SQ113, SQ117, SQ119 | – | 13,300 | SQ105, SQ107, SQ113, SQ117, SQ119 | – |
| Singapore to Jakarta | 5,250 | SQ950, SQ958, SQ960 | – | 13,300 | SQ950, SQ958, SQ960 | – |
| Jakarta to Singapore | 5,250 | SQ953, SQ967 | – | 13,300 | SQ953, SQ967 | – |
| Singapore to Surabaya | 5,250 | SQ930, SQ932 | – | 13,300 | SQ930, SQ932 | – |
| Surabaya to Singapore | 5,250 | SQ931, SQ933 | – | 13,300 | SQ931, SQ933 | – |
| Singapore to Bali | – | – | – | 13,300 | SQ938, SQ940, SQ942, SQ946, SQ948 | – |
| Bali to Singapore | – | – | – | 13,300 | SQ939, SQ941, SQ943, SQ947, SQ949 | – |
| Singapore to Bandar Seri Begawan | – | – | – | 13,300 | SQ148 | – |
| Bandar Seri Begawan to Singapore | – | – | – | 13,300 | SQ147 | – |
| Singapore to Yangon | 8,750 | SQ998 | – | 15,050 | SQ998 | – |
| Yangon to Singapore | 8,750 | SQ997 | – | 15,050 | SQ997 | – |
| Hanoi to Singapore | 8,750 | SQ175, SQ187 | – | – | – | – |
| Singapore to Ho Chi Minh City | 8,750 | SQ184, SQ186 | – | – | – | – |
| Ho Chi Minh City to Singapore | 8,750 | SQ183, SQ185 | – | – | – | – |
| Singapore to Bangkok | 8,750 | SQ970, SQ976, SQ978, SQ982 | 13-15 March, 20-22 March 2020 | 15,050 | SQ970, SQ976, SQ978, SQ982 | 13-15 March, 20-22 March 2020 |
| Bangkok to Singapore | 8,750 | SQ973, SQ981 | 13-15 March, 20-22 March 2020 | 15,050 | SQ973, SQ981, SQ983 | 13-15 March, 20-22 March 2020 |
| Singapore to Manila | 8,750 | SQ912, SQ916, SQ918 | – | 15,050 | SQ912, SQ916, SQ918 | – |
| Manila to Singapore | 8,750 | SQ915, SQ919, SQ921 | – | 15,050 | SQ915, SQ919, SQ921 | – |
| Singapore to Phuket | 8,750 | SQ992 | 13-15 March, 20-22 March 2020 | 15,050 | SQ992 | 13-15 March, 20-22 March 2020 |
| Phuket to Singapore | 8,750 | SQ993 | 13-15 March, 20-22 March 2020 | 15,050 | SQ993 | 13-15 March, 20-22 March 2020 |
North Asia
| FROM | MILES REQUIRED FOR ECONOMY CLASS | FLIGHT NO. | BLACKOUT PERIOD | MILES REQUIRED FOR BUSINESS CLASS | FLIGHT NO. | BLACKOUT PERIOD |
| --- | --- | --- | --- | --- | --- | --- |
| Singapore to Seoul | 17,500 | SQ602 | 13-16 March, 21-23 March 2020 | 32,900 | SQ602, SQ608 | – |
| Seoul to Singapore | 17,500 | SQ603, SQ609, SQ607 | – | 32,900 | SQ603, SQ607, SQ609 | – |
| Singapore to Fukuoka | – | – | – | 32,900 | SQ656 | 18-30 March 2020 |
| Fukuoka to Singapore | – | – | – | 32,900 | SQ655 | – |
| Tokyo to Singapore | 17,500 | SQ631, SQ635, SQ637, SQ639 | 19-22 March, 25-29 March 2020 | 32,900 | SQ11 | – |
| Nagoya to Singapore | 17,500 | SQ671 | 4-14 March 2020 | 32,900 | SQ671 | 25-29 March 2020 |
| Osaka to Singapore | 17,500 | SQ621 | 18-22 March 2020 | – | – | – |
South Asia
| FROM | MILES REQUIRED FOR ECONOMY CLASS | FLIGHT NO. | BLACKOUT PERIOD | MILES REQUIRED FOR BUSINESS CLASS | FLIGHT NO. | BLACKOUT PERIOD |
| --- | --- | --- | --- | --- | --- | --- |
| Singapore to Ahmedabad | 12,950 | SQ530 | – | 27,300 | SQ530 | – |
| Singapore to Kolkata | – | – | – | 27,300 | SQ517 | – |
| Kolkata to Singapore | – | – | – | 27,300 | SQ516 | – |
| Dhaka to Singapore | – | – | – | 27,300 | SQ447 | – |
| Singapore to Malé | 12,950 | SQ452 | – | – | – | – |
| Malé to Singapore | 12,950 | SQ451 | – | – | – | – |
Australia & New Zealand
| FROM | MILES REQUIRED FOR ECONOMY CLASS | FLIGHT NO. | BLACKOUT PERIOD | MILES REQUIRED FOR BUSINESS CLASS | FLIGHT NO. | BLACKOUT PERIOD |
| --- | --- | --- | --- | --- | --- | --- |
| Singapore to Adelaide | 19,600 | SQ279 | 1-10 March 2020 | 43,400 | SQ279 | – |
| Adelaide to Singapore | 19,600 | SQ278 | 26-31 March 2020 | 43,400 | SQ278 | – |
| Singapore to Brisbane | 19,600 | SQ255 | – | 43,400 | SQ255, SQ265 | – |
| Brisbane to Singapore | 19,600 | SQ236 | – | 43,400 | SQ236, SQ266 | – |
| Singapore to Canberra | 19,600 | SQ288 | – | 43,400 | SQ288 | – |
| Canberra to Singapore | – | – | – | 43,400 | SQ288 | – |
| Singapore to Melbourne | 19,600 | SQ207, SQ227, SQ237 | – | – | – | – |
| Singapore to Sydney | 19,600 | SQ211, SQ221, SQ231 | – | 43,400 | SQ231, SQ241 | – |
| Sydney to Singapore | 19,600 | SQ222, SQ232, SQ288 | – | 43,400 | SQ288 | – |
| Singapore to Wellington | 19,600 | SQ247 | – | – | – | – |
| Wellington to Singapore | 19,600 | SQ248 | – | – | – | – |
Africa & Middle East
| FROM | MILES REQUIRED FOR ECONOMY CLASS | FLIGHT NO. | BLACKOUT PERIOD | MILES REQUIRED FOR BUSINESS CLASS | FLIGHT NO. | BLACKOUT PERIOD |
| --- | --- | --- | --- | --- | --- | --- |
| Singapore to Dubai | 17,500 | SQ494 | – | 34,300 | SQ494 | – |
| Dubai to Singapore | 17,500 | SQ495 | – | 34,300 | SQ495 | – |
| Singapore to Johannesburg | 17,500 | SQ482 | – | 34,300 | SQ482 | – |
| Johannesburg to Singapore | 17,500 | SQ481 | – | 34,300 | SQ481 | – |
Europe
| FROM | MILES REQUIRED FOR ECONOMY CLASS | FLIGHT NO. | BLACKOUT PERIOD | MILES REQUIRED FOR BUSINESS CLASS | FLIGHT NO. | BLACKOUT PERIOD |
| --- | --- | --- | --- | --- | --- | --- |
| Paris to Singapore | 26,600 | SQ333 | – | – | – | – |
| Singapore to Barcelona | 26,600 | SQ388 | – | 64,400 | SQ388 | – |
| Barcelona to Singapore | 26,600 | SQ387 | – | 64,400 | SQ387 | – |
| Düsseldorf to Singapore | – | – | – | 64,400 | SQ337 | – |
| Singapore to London | 26,600 | SQ308 | – | – | – | – |
| London to Singapore | 26,600 | SQ305, SQ317 | 20-31 March 2020 | – | – | – |
| Milan to Singapore | 26,600 | SQ355 | 20-31 March 2020 | – | – | – |
| Rome to Singapore | 26,600 | SQ365 | 21-28 March 2020 | 64,400 | SQ365 | – |
| Singapore to Zürich | 26,600 | SQ346 | – | – | – | – |
| Zürich to Singapore | 26,600 | SQ345 | – | 64,400 | SQ345 | – |
USA
| FROM | MILES REQUIRED FOR ECONOMY CLASS | FLIGHT NO. | BLACKOUT PERIOD | MILES REQUIRED FOR BUSINESS CLASS | FLIGHT NO. | BLACKOUT PERIOD |
| --- | --- | --- | --- | --- | --- | --- |
| Singapore to San Francisco | 26,600 | SQ2 | – | 66,500 | SQ2 | – |
| San Francisco to Singapore | 26,600 | SQ1, SQ31 | – | 66,500 | SQ1 | – |
SilkAir
South East Asia
| FROM | MILES REQUIRED FOR ECONOMY CLASS | FLIGHT NO. | BLACKOUT PERIOD | MILES REQUIRED FOR BUSINESS CLASS | FLIGHT NO. | BLACKOUT PERIOD |
| --- | --- | --- | --- | --- | --- | --- |
| Singapore to Kuala Lumpur | 5,250 | MI322, MI324, MI326, MI328, MI330, MI340, MI342 | – | 13,300 | MI326, MI328, MI330, MI340, MI342 | – |
| Kuala Lumpur to Singapore | 5,250 | MI321, MI323, MI325, MI327, MI329, MI339, MI341 | – | 13,300 | MI321, MI323, MI325, MI341 | – |
| Singapore to Penang | 5,250 | MI346, MI348, MI350, MI352, MI354 | 13-15 March, 20-22 March 2020 | 13,300 | MI346, MI348, MI350, MI352, MI354 | – |
| Penang to Singapore | 5,250 | MI345, MI347, MI349, MI351, MI353 | 13-15 March, 20-22 March 2020 | 13,300 | MI345, MI347, MI349, MI351, MI353 | – |
| Singapore to Bandung | 5,250 | MI192, MI194, MI196 | 15-31 March 2020 | – | – | – |
| Bandung to Singapore | 5,250 | MI191, MI193, MI195 | 15-31 March 2020 | – | – | – |
| Singapore to Bali | – | – | – | 13,300 | MI176 | – |
| Bali to Singapore | – | – | – | 13,300 | MI175 | – |
| Singapore to Surabaya | 5,250 | MI226 | – | 13,300 | MI226 | – |
| Surabaya to Singapore | 5,250 | MI225 | – | 13,300 | MI225 | – |
| Singapore to Lombok | 5,250 | MI124, MI128 | – | 13,300 | MI124, MI128 | – |
| Lombok to Singapore | 5,250 | MI123, MI127 | – | 13,300 | MI123, MI127 | – |
| Singapore to Medan | 5,250 | MI234, MI238 | – | – | – | – |
| Medan to Singapore | 5,250 | MI233, MI237 | – | – | – | – |
| Singapore to Davao City | 8,750 | MI562 | – | 15,050 | MI562 | – |
| Davao City to Singapore | 8,750 | MI562 | – | 15,050 | MI562 | – |
| Singapore to Cebu | 8,750 | MI562 | – | 15,050 | MI562 | – |
| Cebu to Singapore | 8,750 | MI559 | – | 15,050 | MI559 | – |
| Singapore to Phuket | 8,750 | MI750, MI756, MI758 | 13-15 March, 20-22 March 2020 | 15,050 | MI750, MI756, MI758 | 13-15 March, 20-22 March 2020 |
| Phuket to Singapore | 8,750 | MI749, MI751 | 13-15 March, 20-22 March 2020 | 15,050 | MI749, MI751 | 13-15 March, 20-22 March 2020 |
| Singapore to Koh Samui | – | – | – | 15,050 | MI774 | – |
| Koh Samui to Singapore | – | – | – | 15,050 | MI771 | – |
| Singapore to Yangon | 8,750 | MI518 | – | 15,050 | MI518 | – |
| Yangon to Singapore | 8,750 | MI519 | – | 15,050 | MI519 | – |
| Singapore to Siem Reap | 8,750 | MI614, MI616 | – | 15,050 | MI614, MI616 | – |
| Singapore to Phnom Penh | 8,750 | MI602, MI606, MI608 | – | 15,050 | MI602, MI606, MI608 | – |
| Phnom Penh to Singapore | 8,750 | MI601, MI605, MI607 | – | 15,050 | MI601, MI605, MI607 | – |
North Asia
| FROM | MILES REQUIRED FOR ECONOMY CLASS | FLIGHT NO. | BLACKOUT PERIOD | MILES REQUIRED FOR BUSINESS CLASS | FLIGHT NO. | BLACKOUT PERIOD |
| --- | --- | --- | --- | --- | --- | --- |
| Singapore to Hiroshima | – | – | – | 32,900 | MI868 | – |
| Hiroshima to Singapore | – | – | – | 32,900 | MI867 | – |
South Asia
| FROM | MILES REQUIRED FOR ECONOMY CLASS | FLIGHT NO. | BLACKOUT PERIOD | MILES REQUIRED FOR BUSINESS CLASS | FLIGHT NO. | BLACKOUT PERIOD |
| --- | --- | --- | --- | --- | --- | --- |
| Singapore to Chennai | 12,950 | MI436 | – | 27,300 | MI436 | – |
| Chennai to Singapore | – | – | – | 27,300 | MI435 | – |
| Singapore to Hyderabad | 12,950 | MI472 | – | – | – | – |
| Singapore to Kochi | 12,950 | MI468 | – | 27,300 | MI468 | – |
| Kochi to Singapore | – | – | – | 27,300 | MI467 | – |
| Singapore to Colombo | 12,950 | MI428 | – | – | – | – |
| Colombo to Singapore | 12,950 | MI427 | – | – | – | – |
| Singapore to Kathmandu | – | – | – | 27,300 | MI416 | – |
| Kathmandu to Singapore | – | – | – | 27,300 | MI415 | – |
| Singapore to Malé | 12,950 | MI480 | – | – | – | – |
| Malé to Singapore | 12,950 | MI479 | – | – | – | – |
Australia
| FROM | MILES REQUIRED FOR ECONOMY CLASS | FLIGHT NO. | BLACKOUT PERIOD | MILES REQUIRED FOR BUSINESS CLASS | FLIGHT NO. | BLACKOUT PERIOD |
| --- | --- | --- | --- | --- | --- | --- |
| Singapore to Cairns | 19,600 | MI811, MI813 | – | 43,400 | MI811, MI813 | – |
| Cairns to Singapore | 19,600 | MI812, MI814 | 26-31 March 2020 | 43,400 | MI812, MI814 | – |
Singapore Airlines Premium Economy Awards
North Asia
| FROM | MILES REQUIRED FOR PREMIUM ECONOMY CLASS | FLIGHT NO. | BLACKOUT PERIOD |
| --- | --- | --- | --- |
| Tokyo to Singapore | 24,150 | SQ11 | – |
Australia
| FROM | MILES REQUIRED FOR PREMIUM ECONOMY CLASS | FLIGHT NO. | BLACKOUT PERIOD |
| --- | --- | --- | --- |
| Singapore to Canberra | 32,900 | SQ288 | – |
| Canberra to Singapore | 32,900 | SQ288 | – |
| Singapore to Melbourne | 32,900 | SQ217, SQ227, SQ237 | – |
| Melbourne to Singapore | 32,900 | SQ218 | – |
| Singapore to Sydney | 32,900 | SQ221, SQ231 | – |
| Sydney to Singapore | 32,900 | SQ212, SQ232, SQ288 | – |
Africa & Middle East
| FROM | MILES REQUIRED FOR PREMIUM ECONOMY CLASS | FLIGHT NO. | BLACKOUT PERIOD |
| --- | --- | --- | --- |
| Singapore to Dubai | 25,900 | SQ494 | – |
| Dubai to Singapore | 25,900 | SQ495 | – |
| Singapore to Johannesburg | 25,900 | SQ482 | – |
| Johannesburg to Singapore | 25,900 | SQ481 | – |
Europe
| FROM | MILES REQUIRED FOR PREMIUM ECONOMY CLASS | FLIGHT NO. | BLACKOUT PERIOD |
| --- | --- | --- | --- |
| Singapore to Paris | 45,150 | SQ334 | – |
| Paris to Singapore | 45,150 | SQ333, SQ335 | – |
| Barcelona to Singapore | 45,150 | SQ387 | – |
| Düsseldorf to Singapore | 45,150 | SQ337 | – |
| Rome to Singapore | 45,150 | SQ365 | – |
| Zürich to Singapore | 45,150 | SQ345 | – |
| Frankfurt to New York | 32,900 | SQ26 | – |
| New York to Frankfurt | 32,900 | SQ25 | – |
USA
| FROM | MILES REQUIRED FOR PREMIUM ECONOMY CLASS | FLIGHT NO. | BLACKOUT PERIOD |
| --- | --- | --- | --- |
| Singapore to Los Angeles | 47,600 | SQ36, SQ38 | – |
| Los Angeles to Singapore | 47,600 | SQ35, SQ37 | – |
| Singapore to San Francisco | 47,600 | SQ2 | – |
| San Francisco to Singapore | 47,600 | SQ1 | – |
| New York to Singapore | 51,100 | SQ21 | – |